Superfood Market By Type (Fruits, Vegetables, Grain and Seeds, Herbs and Roots), Distribution Channel (Hypermarkets/Supermarkets, Online Channels, Traditional Grocery Stores, Convenience Stores) & Region - Forecast to 2022 - 2032
Superfood Market - Analysis, Outlook, Growth, Trends, Forecasts
December 2021

REP-GB-11053

350 pages
Superfood Market Overview
[350 Pages Report] As per Future Market Insights (FMI), the global superfood market totaled US$ ~166 Bn in 2022 and is expected to exhibit a CAGR of ~6% to reach the value of ~US$ 299 Bn in 2032.
| | |
| --- | --- |
| Superfood Market Size Value in 2022 | ~US$ 166 bn |
| Superfood Market Forecast Value in 2032 | ~US$ 299 bn |
| Global Growth Rate for superfood market | ~6% CAGR |
| Forecast Period | 2022-2032 |
The importance of 'Super' ingredients has grown significantly over the recent years with product launches, as consumers are pulled towards natural and wholesome ingredients. For example, Quinoa has been gaining popularity as it exhibits high nutrient and antioxidant value that aids in reducing free radicals and in preventing several diseases.
Historical Outlook vs Future Projections for Superfood Market
As per FMI, over the past half-decade, the global superfood market value grew at a CAGR of around ~6% in response to the growing demand for nutrient-rich food items. Additionally, these superfoods are beneficial for maintaining good health and well-being as they contain a high amount of vitamins, minerals, antioxidants, fibers, and fatty acids. Primarily, superfoods constitute of a wide variety of fruits, vegetables, grains, seeds, herbs, roots, meat, etc.
As a result of the decreased nutrient content in food preparations, lifestyle disorders such as diabetes, obesity, and high blood pressure are on the rise. Superfoods help in maintaining good heart health, boosting immunity, enhancing metabolism, higher energy levels, and reducing the effects of aging, precisely why individuals have begun to gravitate toward superfood items like oats and this increasing awareness towards several nutritional benefits of superfoods is primarily driving the market growth.
Furthermore, the superfood market has a diverse product array that caters to a variety of body needs. Superfood options are available for vegans, vegetarians as well as meatatarians hence it has diverse takers. The rise of branding and the advent of online grocery shopping will boost consumption. In terms of product type, the superfood market can be classified into fruits, vegetables, grain and seeds, and herbs and roots. Of these, demand for fruits is likely to remain considerably high through the course of the forecast period.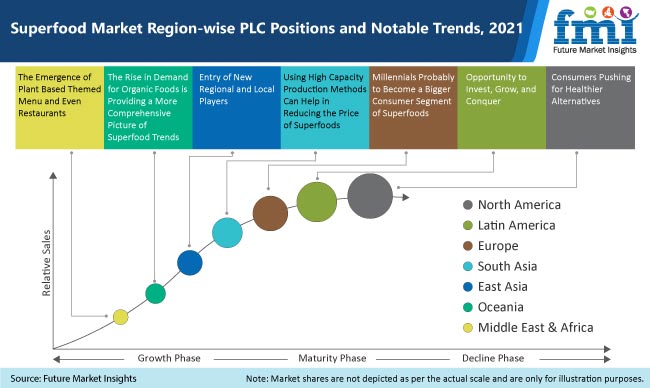 Rising Demand for Fruit will Boost Growth
Among various kinds of superfoods available in the market, the demand for fruit continues to accelerate at an impressive pace. The fruits segment accounted for a significant revenue share in the overall market for superfoods in 2018 and in 2021. With consumers getting increasingly conscious about what they eat in a day, fruit sales are poised to surge in the forthcoming years.
Benefits of fruits like fewer chances of nutrient degradation and spoilage make them a lucrative choice for consumers around the world. Fruits are packed with vitamins, minerals, fiber, and plant compounds called phytonutrients and are considered one of the healthiest foods you can eat. Also, apples, bananas, all kinds of berries, and citrus fruits like oranges, lemons, limes, and grapefruit are readily available to most parts of the world.
Social media encouraging trendy and healthy recipes
The demand for superfoods is influenced by umpteen factors from rising inclination towards trendy diets to changing food habits of baby boomers. In addition to this, social media influences and easy access to information via the internet have been crucial in helping consumers realize the numerous health benefits of superfoods and innovative ways in which they can be cooked, which has ultimately led to their increased sales worldwide.
Rapid urbanization and upsurge in population
Superfood sales and demand for greens are set to experience favorable growth driven by factors of the rising middle-class population, upsurge in disposable income, rapid urbanization, changing consumer lifestyle, and rising popularity of veganism. Vegans and vegetarians have been a target consumer base for the consumption of large amounts of fruits and vegetables. In addition to this, food innovations and a rising geriatric population will continue aiding the expansion of the market through the forecast period.
North America and Europe the dominant Superfood Market
North America currently leads the superfood market, it accounted significant share in 2018 and in 2021. Europe also accounts for a significant share in the global market for superfoods, in 2021. Iberian peninsula, Britain, and Central Europe have a presence of mature, highly intensified farming systems. These systems along with favorable climatic conditions, availability of natural resources, technology, highly educated farmers, and an organized distribution channel dominated by cooperatives feed the increasing superfood demand.
Factors such as the rising income of producers, increasing focus on research and development, optimized farming practices, and efficient infrastructure enable the countries in developed regions to occupy top positions in the global yields for superfoods. The governments in these countries campaign in collaboration with various NGOs in creating more awareness regarding superfoods owing to their aid in leading a healthy lifestyle, especially since the pandemic.
Escalating hype and market around Superfoods
The term superfood has no regulatory or official definition, it is more of a marketing term for foods that confer health benefits. In the wake of the pandemic, the consciousness around fitness and nutrition has soared and so has the demand for superfoods like supergrains and superfruits. Grains such as quinoa, barley, spelt, and millets are marketed as "heritage" or "ancient" superfoods because they have been consumed over centuries, are perceived as whole foods, and require minimal processing.
Superfoods have superior nutritional value, contain polyphenols, anti-oxidants, vitamins, and minerals, and very few calories. The superfood market is driven by consumer preference toward functional and health-based naturally derived products along with the emergence of a large number of options being marketed as 'superfoods'. The popularity of 'super' products is used by food and drink manufacturers globally triggering the demand for these nutritional products.
Restraints to Superfood Market
Some factors restrict the superfood market growth. Increasing competition from other health and well-being items like prebiotics, probiotics, and food supplements like whey protein, casein, and creatine hinders the market growth in the global market during the forecasted period. Moreover, superfood items are not easily accessible in various underdeveloped countries which is another restraining factor. These superfoods are expensive which is not afforded by all which restricts the market growth.
Scope of Report
Attribute

Details

Market Size Value in 2022

~US$ 166 bn

Market Forecast Value in 2032

~US$ 299 bn

Global Growth Rate

~6% CAGR

Forecast Period

2022-2032

Historical Data Available for

2017-2021

Market Analysis

MT for Volume and USD Mn for Value

Key Regions Covered

North America, Latin America, Europe, Japan, APEJ and MEA

Key Countries Covered

United States, Canada, Brazil, Mexico, Argentina, EU5, Russia, Poland, China, ASEAN, Australia and New Zealand, Japan, GCC countries, North Africa, South Africa, others.

Key Market Segments Covered

Product Type, Distribution Channel, Application, and Regions

Key Companies Profiled

Nutiva
Rhythm Superfoods LLC
Superlife Co. Pte LTD.
NUA Naturals
Organic Meets Good
Impact foods International
Nutrisure Limited
Del Monte Pacific Group
Archer Daniels Midland
Creative Nature
Healthy Truth
Nature's Superfoods LLP
Ocean Spray
The Green Labs LLP
Suncore Foods
Apax Partners
Supernutrients
Bulk Superfoods

Pricing

Available upon Request
World's Most Profilic Intelligence Engine
Get Access To The World's Largest Market Research Database.
Sign Up Now
Market Segmentation
By Product Type
Vegetables
Fruits
Grain and Seeds
Herbs and Roots
Other Types
By Distribution Channel
Hypermarkets/Supermarkets
Online Channels
Traditional Grocery Stores
Convenience Stores
Speciality Stores
Other Distribution Channel
By Application
Beverages
Convenience or ready-to-eat and ready-to-drink foods
As it is superfoods
Bakery and confectionary
Supplements
Other food types
Region
North America
Latin America
Europe
APEJ
Japan
Oceania
Middle East & Africa
Key Questions Answered in the Report
What drives the superfood market?
Superfood market gains considerably about the rising awareness among consumers about benefits of maintaining a healthier lifestyle. This, coupled with their increasing disposable income, will boost superfood sales in the coming years. Social media and easy access to information also help the market.
Which factors put superfood market players at risk?
Despite witnessing steady growth opportunities, market players are vulnerable to adverse weather conditions, quality issues, and volatility in food prices. These factors may hamper the sales of the superfoods market.
Which region will lead the global sales of superfood?
North America is expected to lead the global superfood market. Europe and Latin America will offer lucrative growth opportunities as well.
Which product segment offers most lucrative growth opportunities?
In terms of product, fruits constitute the leading segment. The fruit segment is expected to remain dominant through the forecast period.
Which segment based on distribution channel will record the highest growth in the superfood market?
In terms of distribution channels, offline sales via supermarkets/ hypermarkets, traditional grocery stores, and others will remain high. However, online sales of superfoods and groceries are expected to pick up in the coming years.
What has been the impact of Covid-19 on the global superfoods market?
In a way, the pandemic helped boost demand for superfoods. Supply chains were interrupted for some period. Distribution wise the preference has moved towards brick and mortar stores owing to cautiousness about cleaner and hygienic packaging of superfoods.
Need specific information?
Our Clients