Global Superfood Market to Surpass US$ 229 Bn by 2029
The global superfood market is projected to reach US$ 229.2 Bn by the end of 2029. The market was valued at US$ 156.3 Bn in 2019. If these figures hold true, the market will exhibit a CAGR of 4.9% between 2019 and 2029. Regionally, North America is expected dominate the market.
However during the forecast period, Europe and Latin America are likely to exhibit more lucrative growth opportunities. In terms of product type, the market can be classified into fruits, vegetables, grain and seeds and herbs and roots. Of these, demand for fruits is likely to remain considerably high through the course of the forecast period.
Rising Demand for Fruit will Boost Growth
Among various kinds of superfood available in the market, the demand for fruit continues to accelerate at an impressive pace. With consumers getting increasingly conscious about what they eat in a day, fruit sales is poised to surge in the forthcoming years.
In addition to this, social media influences and easy access to information via the internet have been crucial in helping consumers realize the numerous health benefits of superfood, which has ultimately led to their increased sales worldwide.
The demand for superfood is influenced by umpteen factors from rising inclination towards trendy diets to changing food habits of baby boomers. In addition to this, food innovations and rising geriatric population will continue aiding the expansion of the market through the forecast period.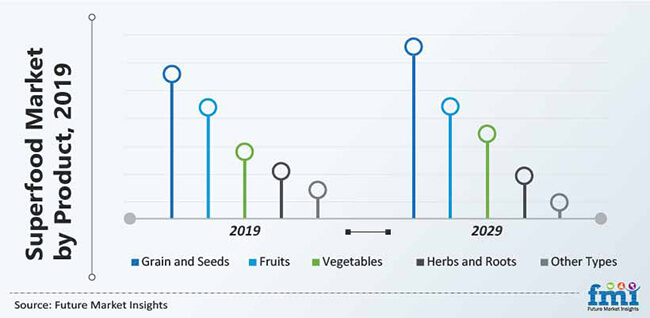 North America Emerges Dominant Backed by Rising Popularity of Nutritious Food
Regionally, the global superfood market covers North America, Latin America, Japan, Asia Pacific excluding Japan, the Middle East and Africa, and Oceania. Among these regions North America currently leads the market. Factors such as rising popularity of food with better nutritional value and increasing focus on research and development are driving the market in North America. In addition to this, the demand for superfood is expected to remain high in Europe and Latin America.
Rising Awareness about Health Benefits of Superfood will Stoke Growth Opportunities
The rising awareness among consumers about the benefits of having superfood will drive the market. In addition to this, the market will benefit from their increasing disposable incomes and consequent willingness to spend on food products with higher nutrition value. According to the report, rising middle-class population and their increasing purchasing power will bode well for the overall market.
Furthermore, with urbanization, an increasing number of consumers are inclining towards vegetarian food. Impelling them are various branding strategies adopted by the leading players. As a result of these factors, the demand for superfood is expected to surge in the coming years.
FREQUENTLY ASKED QUESTIONS ABOUT SUPERFOOD MARKET
What drives the superfood market?
Superfood market gains considerably about the rising awareness among consumers about benefits of maintaining a healthier lifestyle. This, coupled with their increasing disposable income, will boost superfood sales in the coming years.
Which factors put superfood market players at risk?
Despite witnessing steady growth opportunities, market players are vulnerable to adverse weather conditions, quality issues, and volatility in food prices. These factors may hamper their sales as well as the overall superfood market.
Which region will lead the global sales of superfood?
North America is expected to lead the global superfood market. Europe and Latin America will offer lucrative growth opportunities as well.
Which product segment offers most lucrative growth opportunities?
In terms of product, fruits constitute the leading segment. The fruit segment is expected to remain dominant through the forecast period.
Which segment based on distribution channel will record the highest growth in superfood market?
In terms of distribution channel, offline sales via supermarkets/ hypermarkets, traditional grocery stores and others will remain high. However, online sales of superfood are expected to pick up in the coming years.
Market Segmentation
By Type
Fruits
Vegetables
Grain and Seeds
Herbs and Roots
Other Types
By Distribution Channel
Hypermarkets/Supermarkets
Online Channels
Traditional Grocery Stores
Convenience Stores
Other Distribution Channel
Region
North America
Latin America
Europe
APEJ
Japan
Oceania
Middle East & Africa
Need specific information?