Superfood Powders Market Outlook & Key Findings
Market to ride the global wave of 'organic' and 'vegan' trend
Online channels gain prominence due to COVID-19 induced behavior changes
Seeds, berries, and exotic algae powders to stay in-demand
North America largest market, with the US accounting bulk of the demand
Superfood Powders Market Analysis – Nutrition and More
Superfood powders are nutrition-rich products that offer specific health benefits, ranging from imploring immune system and detoxifying the body naturally, to boosting energy levels as well as sexual health.
These products are considered suitable for adding significant nutrients to food and beverages - baked goods, yogurt, smoothies, and lattes - that are consumed on a daily basis.
Consumers perceive their health and well-being comprehensively, embracing a balanced set of lifestyle habits that scale up to a more general sense of feeling well. In addition, consumers are increasingly seeking food products with a functional boost, whether the product is a snack, beverage, or on-the-go meal.
Recent studies reveal that consumers have been increasingly turning to food and beverage choices that provide functional benefits over the recent past, yet the trend has gained significant momentum during the COVID-19 pandemic.
As these themes echo across the world, the global market for superfood powders is slated to follow a healthy growth trail over the decade ahead.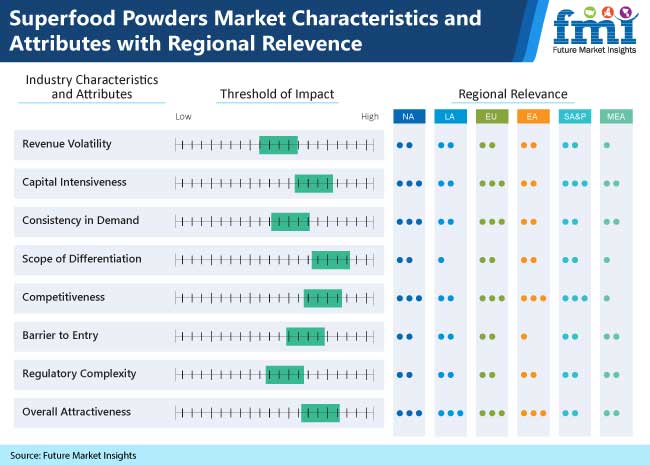 Superfood Powders Market Trends – Choosing the Right Online Platform
Offline channels including, supermarkets, pharmacies, hypermarkets, and convenience stores, have been generating significant sales of superfood powders. Home delivery and click-and-collect services provided by hypermarket and supermarkets have been fetching a larger consumer base to buy superfood powders from these stores.
Conventional brick-and-mortar stores enable consumers to physically verify these products along with expert help. However, the COVID-19 pandemic has compelled retailers to shut down their stores. Also, as a risk reduction measure, consumers are ordering online rather than venturing out.
In order to survive the pandemic repercussions, several brick-and-mortar retail chains are switching to online platforms as the coronavirus keeps consumers at home and away from physical stores.
Market players are developing mobile apps or teaming up with e-commerce giants such as Amazon, Walmart, and Alibaba Group for selling superfood powders.
Moreover, online sales platforms offer convenience to both emerging players and consumers, and have become imperative. Market player must leverage these distribution channels further to compete with local sellers who are also entering the digital arena during the pandemic-induced lockdowns.
Superfood Powders to Make Strong Move into Skincare
Superfood powders are gaining traction as food and beverage producers worldwide are tapping into the demand for these nutritionally rich ingredients. While superfood powders have been a vital component in food and beverages, they are gradually making inroads into beauty domain as present-day consumers are getting substantially familiarized regarding the products they are applying on their bodies.
US-based The Body Deli: Fresh Superfood Skincare is based on juice bar and establish their brand and whole array of product offerings on the theory of "gourmet hand-made bioactive superfood skincare".
Australia-based Skin Juice developed a superfood-instilled skincare range created to facilitate the skin similar to the way healthy diet benefits the body.
Superfood powders equip personal care product companies with an upper hand in marketing, reflecting an impression of exoticism, as well as providing true functional benefits. As such, beauty brands have been striving to include superfood powders in order to gain a competitive edge.
There has been a five-fold surge in worldwide beauty product launches over the past three years that contain superfood powders, and the trend is slated to continue as the industry capitalizes on health benefits of these ingredients.
In addition, the changing consumer preference for skincare formulations infused with natural ingredients is likely to extend and superfood powders will remain high in demand.
That being said, brands and retailers must be careful when it comes to sourcing, as consumers like to know if the ingredients are acquired sustainably, or grown organically.
Superfood Powders Market Regional Analysis – Healthy Eating Trend to Drive Market across Continents
Rising consumption of health-centric food and beverages are critically propelling the superfood powders market in both developed and developing regions, with millennials representing the most lucrative consumer base in both the regions.
The superfood powders market in North America is majorly driven by notable shift towards and plant-based and vegan diet. Further, the regional market is receiving impetus from mushrooming e-commerce industry and prevalence of social media platforms for promotional campaigns.
Many superfood powders are native to tropical regions across the world. As such, transparency of supply chains is crucial, and certification of products is a top priority among for purchasers in Europe. Irrespective of country of origin, wholesale organic superfood powders are prone to strict quality standards and are required to comply with EU organic regulatory requirements.
Asia is home some of the most widely used superfood powders such as moringa powder, turmeric powder, and hemp powder. In addition, moringa oleifera is the most valuable species economically and carries umpteen health benefits, as such, remains highly sought-after among consumers.
Superfood Powders Market Players – Manufacturers to Prioritize New Product Launches
The global superfood powders market is anticipated to remain epicenter of investment opportunities for manufacturers owing to surging demand for healthy and nutritious beverages, especially among millennials. Over the last few years, product launches have been a key business tactic of market players to reach a larger consumer base.
Aduna Ltd. operates under three domains - superfood powders, super teas, and energy bars. The company is developing ADUNA moringa powder, ADUNA baobab powder, and ADUNA super cacao powder.
Barleans Organic Oils LLC develops products under CBD hemp oils, omega pals, and omega 3. The company's majorly produces Chocolate Silk Greens Powder and Organic Greens Powder Natural Flavor.
Creative Nature Ltd. works through several verticals, which include healthy flapjack bars, baking mixes, superfood powders, green powders, and breakfast and wholefoods toppings. The company's chief offerings incorporate Hemp Protein Powder and Hawaiian Spirulina Powder.
Nature's Superfoods run its business operations under various domains such as superfood grains and seeds, superfood breakfast cereals, superfood spices, superfood produce, and superfood bites. The company's key offerings contain Organic Raw Maca Powder and Organic Ceremonial Matcha Powder.
Sports Supplements Ltd. manufactures products under various segments including, sports nutrition, protein, weight loss, health and wellbeing, and foods. The company's primary offerings feature Organic Baobab Powder and Spirulina Powder.
Superfood Powders Market Future Outlook – 'Organic' Trend to Carve the Way Forward
Consumption of organic food products has surged over the last two decades. From vegan recipes to farm-to-table restaurants, the number of consumers expecting their food items to fulfil certain criteria of health and sourcing is reaching new heights.
Consumers are increasingly becoming conscious regarding the relationship between health and diet, and since the COVID-19 crisis, this trend is taking on a new significance.
Companies such as Z Natural Foods have rolled out proprietary superfood assortment - Ultimate 25 Superfood Fusion - that encompasses a mixture of 25 organic superfoods including, raw berries, fruits, roots, greens, and mushrooms. The mixture is rich in vitamins, antioxidants, minerals, healthy phytochemicals, and amino acids.
In the same vein, Love Beets has included 'Love Beets' superfood powder to its product pipeline for health and fitness enthusiasts. These superfood powders are made using 100% beets, contain no additives, sugar or preservatives, and are non-GMO, gluten-free, and organic.
As consumers are increasingly becoming aware of the adverse health and environmental effects of consuming excessive industrial or processed meat products, they are cutting back on them.
These trends are influencing superfood powder manufacturers to reevaluate every facet of their production strategies in order to better serve consumers and grow. Furthermore, FMI finds that the plant-based industry is worth nearly US$ 4.5 Bn, having grown 29% in the past few years, and is expected to generate ten-fold revenues by 2025.
Key Segment
Nature
Sales Channel
Modern Trade
Convenience Store
Specialty Store
Pharmacy Store
Online Retail
Other Sales Channels
Region
North America
Latin America
Europe
East Asia
South Asia
Oceania
Middle East & Africa (MEA)
Need specific information?
Talk Show:
The Rise of Intelligent Packaging
Personalized, Connected and Sustainable
November 18, 2021
11:00-11:45 AM PST (USA & Canada)
This is a LIVE session