Fruit Powder Market Snapshot
The rising demand for clean label ingredients in food products is creating opportunities for fruit powder market growth. In its latest study, Future Market Insights (FMI) has forecast the demand for fruit powder to increase at 7.4% CAGR between 2021 and 2031.
Fruit powder is extensively used in coffee drinks & protein shakes, and tomato paste in a pasta sauce, juice and plant-based beverages. Backed by the rising demand for organic ingredients, leading food brands are adopting fruit powder as a natural functional ingredient to replace the chemicals in smoothies, yogurts and other food products.
Key Points Covered in Fruit Powder Market
Market estimates and forecast 2016-2031
Key drivers and restraints impacting market growth
Segment-wise, Country-wise, and Region-wise Analysis
Competition Mapping and Benchmarking
Brand share and Market Share Analysis
Key Product Innovations and Regulatory Climate
COVID-19 Impact on Fruit Powder and How to Navigate
Recommendation on Key Winning Strategies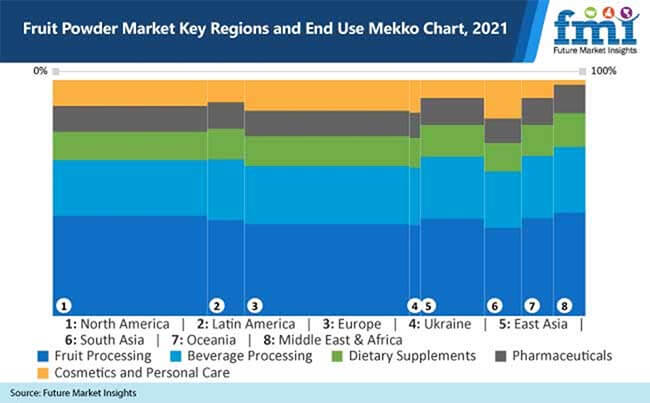 2016-2020 Fruit Powder Demand Outlook Compared to 2021-2031 Forecast
The global fruit powder market grew at a healthy CAGR of 6.3%during the historic period (2016-2020). The rising demand for clean label and organic food products is expected to drive sales opportunities for the market.
Fruit powder is recognized for its water binding, emulsification and gelling capabilities. Due to these properties, food powder has emerged as a highly sought-after ingredient among processed food manufacturers to improve the taste and quality of their food items.
For instance, pectin, which is extracted from citrus fruits, is used in food as a gelling agent, particularly in jams and jellies. Also, apricot powder is used for stabilizing food emulsions containing soybean oil as a source for clean label ingredients. Spurred by diverse applications in the food sector, fruit powder sales are projected to pick up over the course of the forecast period.
What are Prospects for Fruit Powder Applications as Superfoods and in Cosmetics?
Fruit powders are a good source of essential vitamins and minerals. Considering this, their application is increasing both in superfood and skin care items. Owing to the benefits and versatility of the fruit powder, adoption of fruit powder has increased the cosmetics industry for all types of formulations, ranging from masques to cleansers.
These ingredients provide colorful touch to body wraps and masques and offer excellent exfoliating properties in scrubs. Some of the fruit powders include raspberry powder, rosehip powder, bilberry powder, and so on.
The demand for superfood powder is increasing as it is highly nutritious and contains antioxidants which help in monitoring weight management and preventing risk of cardiovascular diseases . Superfoods include berry powder, cranberry powder, acai powder, acerola powder, goji berry powder, baobab powder and so on.
Steered by rising demand from various industries, key manufacturers have increased the production of these superfood ingredients. For instance, US based Van Drunen Farms product portfolio consists of superfoods ingredients which is highly in demand in the current scenario.
How will Extensive Use of Fruit Powder as Replacement of Artificial Flavors Affect Growth?
With growing demand for fruit powders, which are extensively used as replacement of artificial flavors and colors, sales are expected to multiply in the coming years. Use of natural fruit powder retains the flavor, color and texture of the food.
Increasing application of fruit powder, especially in cosmetics industry, is expected to support the growth of fruit powder market. Fruit powder is also a good alternative for pure pectin in food products as it reduces the cost of production and offer clean label ingredient.
Moreover, increasing health issues over the past few years has impacted the demand of nutritional products such as fruit and vegetable powder. As they are a rich source of antioxidants, bioactive nutrient molecules and non-nutritive phytochemicals they reduce the risk of chronic diseases such as cancer, diabetes, obesity, heart disease, arthritis, respiratory disease, stroke, immune deficiency, and so on.
Country-wise Insights
How Big is the Opportunity in the US?
FMI forecasts North America to remain one of the most lucrative markets in the forecast period and it is expected to grow at a CAGR of 5.6%. The U.S. is expected to emerge as a highly lucrative market across North America owing to increasing demand for natural and organic fruit based food products.
Stringent regulations implemented to ascertain the safety of food are expected to propel the demand for clean label ingredients such as fruit powder. Trade is thoroughly linked to food safety, food security and nutrition.
It effects agriculture output, the quality, safety of food and the composition of diet. Hence, key players in the region are focusing on improving the food quality for fast-track approvals. This also will push sales of organic ingredients such as fruit powder in the U.S.
What are the Factors Fueling the Demand for Fruit Powder Market in the U.K.?
With increasing concern regarding animal protein, consumers are transitioning towards plant-based sources for food ingredient. Hence, adoption of fruit powder is expected to increase in the U.K.
As per FMI, the U.K.'s fruit powder market is expected to register positive growth at 4.1% CAGR during the forecast period. Increasing awareness for fitness and health will provide a boost to the fruit powder market as consumers are becoming conscious about their food choices.
Changing lifestyle and hectic work life has caused many health issues. People follow uncertain and unhealthy eating schedule, resulting in various lifestyle disorders such as thyroid, diabetes and others.
With rising cases of lifestyle disorders across the U.K., people are adopting healthy diet which is improving the demand for food products infused with fruit powders. This is expected to create ample of growth opportunities for the key manufacturers over the coming years.
What are the Implications of COVID-19 on China's Fruit Powder Market?
The COVID-19 outbreak had severe implications on food hygiene and food safety as a result of excessive cases of food adulterations and increasing focus on clean label practices. Driven by this, demand for fruit powder is expected to remain high in the country. China holds a share of 42.2% in East Asia market, opines Future Market Insights.
Due to the outbreak of COVID-19, consumers have become more conscious about their food habits. Hence, increasing preference of organic and plant-based foods over traditional foods is stimulating the demand for fruit powder market.
Moreover, healthy ingredients and nutritional labeling for more fresh, frozen and made-to-order diets are highly sought-after. With growing demand for plant based food ingredients, fruit powder infused products are acquiring popularity due to its high dietary content.
How is Demand for Plant-Based Ingredient Impacting the South Korea Market Growth?
According to FMI's analysis, South Korea is anticipated to hold a share of 25.7% of the East Asia market in 2021. South Korea is one of the largest producers of plant-based food in the global market. This has created lucrative opportunities increasing sales of fruit powder in the country. Furthermore, with growing preference for organic food and dietary supplements, production of food products that are infused with fruit powder is increasing.
What is Growth Opportunity for Fruit Powder Market in Spain?
Spain is expected to offer lucrative opportunity for market growth, exhibiting growth at 6.8% CAGR. This is attributable to the increase in the demand for fruit powder owing to the expansion of confectionery and bakery sector.
Category Wise
Why Strawberry Powder Holds the Largest Share in the Market?
Strawberry powder holds lion's share of 13.9% and is expected to grow in coming years. Increasing consumption of fruit powder, as it has various nutritional properties such as fibers and antioxidants, is driving the segment growth.
How is Demand for Organic Fruit Powder Spurring Sales?
In terms of nature, organic fruit powder is expected to dominate the segment, exhibiting growth at a CAGR of 5.6%. Organic fruit and vegetable powder are made from ingredients that has no added preservatives, grown by eco- friendly method of production that contains less residues of pesticides.
How will Increasing Application in Fruit Processing Bolster Market Growth?
In terms of end use, fruit processing holds the largest market share of 40.6%. Growing integration of fruit powders in ready-to-eat and functional food by manufacturers owing to the demand of consumer is boosting the growth of fruit powders.
Due to increasing awareness of benefits from plant based protein, fruits powders are used in supplements, food & beverages, especially in developing nations such as India, Peru, South Africa and Indonesia.
Which Technology Type Holds the Largest Market Share?
Freeze dried fruit powder holds a significant share of 42.3% in fruit powder market. Freeze drying technology combines freezing and drying process in order to obtain dried products for further processing into powder form, hence helping the fruit powder market to grow.
Competitive Landscape
Companies operating in fruit powder market are aiming for strategic mergers and acquisitions with companies focusing on organic and natural food products. Organic food is made without any chemicals, it means it prohibits the use of pesticides, fertilizer and preservatives and farmer are using natural resources.
In addition to merger and acquisition strategy, companies are focusing on increasing the production capacity of manufacturing plants, as there have been few reports of supply-demand gaps in recent years.
For Instance-
In 2020- Confoco SA, a leading company in tropical fruit flakes and powders, acquired Diana to reinforce the position in baby food industry, dedicated to natural ingredients.
In 2020- Valentine, an Indian company, acquired Naturex which is specialized in the production of fruit and vegetable powders and natural colours for the food and beverage industry.
Scope of the Fruit Powder Report
Attribute

Details

Forecast Period

2021-2031

Historical Data Available for

2016-2020

Fruit Powder Market Analysis

US$ Million for value and MT (Metric Tons) for volume

Key Regions Covered

North America, Latin America, Europe, Ukraine, East Asia, South Asia, Oceania and Middle East & Africa

Key Countries Covered

US, Canada, Brazil, Mexico, Argentina, Rest of Latin America, Germany, France, U.K., Spain, Italy, Rest of Europe, Japan, China, India, Australia & New Zealand, ASEAN, Rest of APEJ, GCC Countries, North Africa, South Africa, Rest Of MEA.

Key Segments Covered

Product Type, Nature, End Use, Technology and Region

Key Companies Profiled

European Freeze Dry Ltd.
Drytech Process (I) Pvt. Ltd
Nutradry Pty Ltd
Paradise Fruits Solutions Gmbh & Co.KG
Vinayak Ingredients Private Ltd
Watershed Foods LLC.
Artemis International
DMH Ingredients Inc.
AS Harrison & Co Pty Ltd.
RFI Ingredients
Van Drunen Farms

Report Coverage

Fruit Powder Market Forecast, brand share analysis, competition intelligence, DROT analysis, fruit powder Market Dynamics and Challenges, Strategic Growth Initiatives

Customization & Pricing

Available upon Request
Key Questions Answered in the Report
What is the fruit powder market demand outlook?

As per FMI, the fruit powder market is expected to grow at 7.4% CAGR between 2021 and 2031.

At what rate did the demand for fruit powder increase in the last five years?

The demand for fruit powder increased at 6.3% CAGR between 2016 and 2020.

Which is the most lucrative market for fruit powder?

The U.S. is one of the leading markets for fruit powder. Rising prevalence of diabetes and obesity besides other chronic ailments has been encouraging consumers towards adoption of a healthy lifestyle. This is expected to have considerable impact on the market.

Which are some of the leading companies offering fruit powder?

Some of the leading companies operating in fruit powder market are Kanegrade Ltd., European Freeze Dry Ltd., Drytech Process (I) Pvt. Ltd, The Green Labs LLC., Nutradry Pty Ltd, Paradise Fruits Solutions Gmbh & Co.KG, Vinayak Ingredients Private Ltd, Watershed Foods LLC., Artemis International, DMH Ingredients Inc., AS Harrison & Co Pty Ltd., and RFI Ingredients. among others.

Which are the key factors supporting the growth of fruit powder market?

Some of the key factors supporting the fruit powder market growth include nuanced marketing campaigns, implementation of new production techniques and expansion of product portfolio. Additionally, growing demand for organic food products is supporting the growth of fruit powder market.

What are the key trends shaping the fruit powder market?

Companies operating in the fruit powder market are likely to focus on product differentiation and launches to gain competitive strength. FMI expect this to remain chief trends shaping growth of the market over the forecast period.

Which is the most lucrative country for fruit powder sales in North America?

The U.S. has emerged as the most attractive country for sales of fruit powder within North America. Demand in the U.S. is expected to increase at 5.6% CAGR between 2021 and 2031.

What is driving fruit powder sales in the U.K.?

Expansion of confectionaries will create increasing opportunities for fruit powder sales in the U.K.

What is China's contribution towards fruit powder sales in East Asia?

Over 40% of fruit powder sold in East Asia is expected to concentrate in China.

What is the outlook for fruit powder sales in South Korea?

South Korea is expected to contribute over one-fourth of fruit powder sales in East Asia.
Fruit Powder Market by Category
Based on Product Type:
Strawberry
Blackberry
Black Currant
Raspberry
Blueberry
Peach
Apple
Pear
Apricot
Plum
Based on Nature:
Based on End Use:
Fruit Processing
Beverage Processing
Dietary Supplements
Pharmaceuticals
Cosmetics and Personal Care
Based on Technology:
Freeze Dried
Spray Dried
Vacuum Dried
Drum Dried
Based on Region:
North America
Latin America
Europe
Ukraine
East Asia
South Asia
Oceania
Middle East and Africa (MEA)
Need specific information?
Talk Show:
The Rise of Intelligent Packaging
Personalized, Connected and Sustainable
November 18, 2021
11:00-11:45 AM PST (USA & Canada)
This is a LIVE session