KEY HIGHLIGHTS
FRUIT POMACE MARKET – KEY RESEARCH FINDINGS
The fruit pomace market was valued over US$ 3 Bn in 2019.

Growth prospects of the market, however, will be threatened by the domino effect of COVID-19 in 2020.

Animal feed remains a key application area, while growing usage in dietary supplements is likely to result in increased market share.

Manufacturers are focusing in identifying white space in application of fruit pomace, ranging from dairy products to beverage processing.

The emergence of fruit pomace as plentiful and valuable sources of dietary fiber and bioactive compounds is offering tailwinds to the market growth.
Grapes, used in large quantities for wine production, remain highly preferred source.
Europe and North America are set to account for larger share of the global market value.
KEY FACTORS SHAPING FRUIT POMACE MARKET
Increased Demand for Cost Effective, Nutritious F&B Ingredients
With a rise in demand for health and wellness food products, manufacturers are increasingly seeking for ingredients with strong nutritional profile, which are easily available. Fruit pomace is largely obtained from fruit and vegetable processing and remains in demand for its enhanced nutritional content as well as benefits in agronomic activities. Moreover, significant consumer inclination towards plant-based products is expected to weigh on same scale as growing demand for fruit pomace.
Widening Scope of Application
Fruit pomace is widely used in animal feed, as it is palatable and readily digestible containing high amount of soluble sugars, fibers, and pectin. High nutritional value of fruit pomace is making it a feasible alternative to synthetic feed additives, preservatives, and water supplements. As fruit pomace has been heralded as the reliable and cheap source of dietary fibers, antioxidants, pectin and other nutrients, manufacturers are tapping into new application areas such as healthy snacks, nutraceuticals, and food colorants.
COVID-19 Related Production and Supply Chain Disruptions
The impacts of COVID-19 in the food processing industry in general and fruit pomace market in particular are fast-moving. This market is a connected web of agricultural inputs, fruit procedures, packers, and processors, wine production, transportation, shipping, and more. The domino effect of movement restrictions, factory closures, and logistical delays triggered by the global pandemic is showing fragility in access to fruit pomace, which in turn may impact the revenue growth in 2020.
FRUIT POMACE MARKET STRUCTURE ANALYSIS
The fruit pomace market is operated by a handful of global and regional players.
An embrace of R&D has been underway among these players to reduce extra cost incurred in processing and impact on the environment.
Strategic collaboration and regional expansion remain keys to gaining distinct competitive edge.
Diversification of product portfolio, innovation, new launches, and capitalization on omni-channels will also remain key focus areas.
Base year considered - 2019
Actual estimates/ Historical data - 2014-2018
Forecast period - 2019-2027
Segments covered - Source, form, nature, end use
Regions covered - North America, Latin America, Western Europe, Eastern Europe, APAC, MENA
Key Players - Lemon Concentrate S.L., LaBudde Group, Inc., Citrosuco S.A., Sucocitrico Cutrale Ltd, Agrana Beteiligungs-AG, Marshall Ingredients, LLC, Louis Dreyfus Company B.V., Polyphenolics Inc., FruitSmart Inc., Pacific Coast Fruit Products Ltd., GreenField Sp. z o.o., Appol sp. z o.o., Whole Vine Products, and Yantai North Andre Juice Co. Ltd.
Growth Drivers -

Rising demand for plant-based food ingredients
Increasing scope of application
Growing consumption of food with strong nutrition profile
Animal Feed Mainstays for Fruit Pomace, Dietary Supplements Close in
Fruit pomace, particularly processed from citrus and berries, is traditionally used as an ingredient in animal feed. These pomaces are rich sources of bioactive compounds, making them a feasible alternative as natural preservatives, feed additives as well as water supplements.
While adoption as animal feed continues to generate a large share of the market revenue, the immune-boosting and detoxifying role of fruit pomace are creating new avenues of application in dietary supplements. Moreover, consumer inclination towards wellness products during the pandemic is likely to lead to realignment of manufacturers' sales strategies.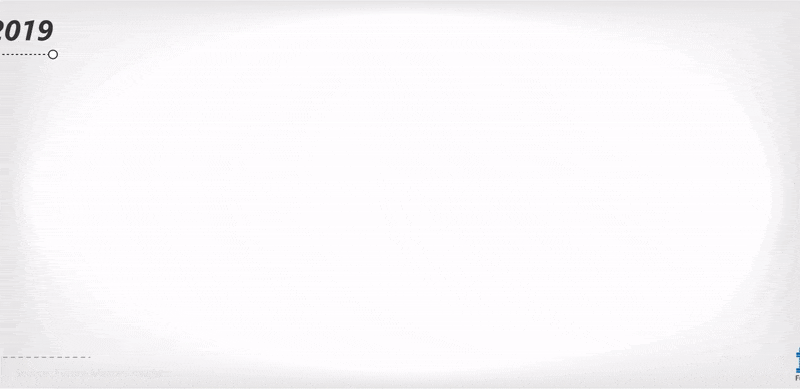 Fruit Pomace Market – Regional Analysis
Europe and North America continue to maintain their lead in the global fruit pomace market, given the concentration of major wineries, where the pomace is produce in large quantities, in these regions. High popularity of organic food consumption and subsequent increase in demand for organic fruit powder are expected to influence the growth prospects of these regional markets.
China and India's dominant role in the world's fruit production continues to offer greater opportunities for the market players. However, COVID-19 related disruptions, especially in China's supply chain, may prevent stakeholders from market consolidation in these countries.
Manufacturers Prioritize to Combat COVID-19 Challenges
The recent outbreak of coronavirus has greatly affected a myriad of industries and consumer's purchasing behavior, and the fruit pomace market is no exception. The panic buying and stockpiling of shelf-stable and processed foods including dietary supplements, fruit snacks, and frozen fruit bars has positively impacted the market growth.
However, movement restrictions, logistical delays, and factory closures are impeding manufacturers from selling their products to regular end users or markets. In addition, halts and delays in transporting fresh fruit produce are bringing up storage concerns which may negatively impact the market growth in the near term.
How Growth will Unfold
Most of the nutrients present in a fruit are located in the pomace discarded during the production of juices and wines. In wine making, only 30% of phenolics are extracted from grape, with the majority remaining in the skin as pomace. Greater awareness of grape pomace as plentiful and rich sources of phenolics is influencing its scope of application in nutraceuticals and food colorants. While grape as source of fruit pomace contributes a major share to the market revenue, manufacturers are targeted towards capitalizing on berries, citrus, and apple.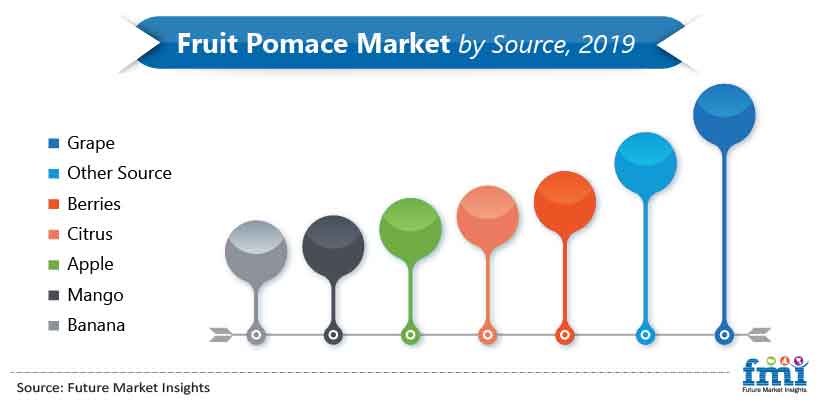 FRUIT POMACE MARKET TAXONOMY
The report segments the global fruit pomace market in detail to present an executive-level blueprint to the reader
Source
Apple
Citrus
Banana
Berries
Grape
Mango
Others
Form
Powder
Pellets
Liquid/ Paste
Nature
End use
Dairy Product
Beverage Processing
Food Processing
Edible Oils and Fat
Animal Feed
Biofuel Production
Cosmetic & Personal Care
Pectin Production
Dietary Supplements
Region
North America
Latin America
Western Europe
Eastern Europe
APAC
MEA
Need specific information?