About the Report
The switchgear market has been witnessing moderate growth since the last few years. This growth is projected to continue due to the increase in demand for energy. A switchgear controls the voltage fluctuations of a building and prevents sudden supply breakdown. Switchgears are used across diverse applications including T&D utilities, commercial, industrial and residential sectors. Switchgear is a combination of component that are found in the grid, used for controlling fluctuation.
In its new study, ESOMAR-certified market research and consulting firm, FMI (FMI), offers insights about key factors fueling the demand for Switchgear. The report tracks the global sales of Switchgear in 20+ high-growth markets, along with analyzing the impact COVID-19 has had on the building and construction industry in general, and Switchgear in particular.
What is the Future Outlook on Switchgear Market in Comparison to Historic Sales?
The electrical industry has been exhibiting increasing demand for high voltage and medium voltage switchgears. As the world is starting to realize the importance of today's smart grid capabilities, manufacturers are likely to invest in the design and development of smart and connected switchgears. Intelligent switchgears enable smart management of power supply systems. They are designed to improve the efficiency, reliability, and safety of the power utilities. Manufacturers are therefore increasing their R&D capabilities to incorporate smart technologies such as the Internet of Things (IoT).
According to FMI's analysis, switchgear sales have grown at 3.8% CAGR between 2016 and 2021. COVID – 19 has caused a major disruption in the electronics industry and the infrastructure sector which are the key growth drivers of the switchgear market. Weakening macroeconomic environment, slowdown in the infrastructure sector and liquidity tightening caused due to the pandemic has caused severe impact on the switchgear market.
With a number of end users affected in regions like East Asia and South Asia Pacific, the supply and shortage in demand are expected to result in a significant drop in Y-O-Y growth yet FMI expects global Switchgear market to grow at 6.9% CAGR through 2031.
What is the Commercial Potential of Switchgears?
Switchgears are mostly used for different applications including transmission and distribution utilities, residential, commercial, and industrial spaces for ensuring seamless and quality power.
Competitive price offering, increase in end user satisfaction on the performance, integration of smart and intelligent technologies within switchgears are the end results of the R&D activities. Increasing research and development activities through collaboration or partnerships on projects are helping manufacturers launch new and innovative products in the market.
Moreover, establishing sales and service facilities in emerging countries coupled with long term partnerships with regional distributors also paves the way for the expansion of channel reach.
Country-wise Insights
Is France a Lucrative Market for Switchgears?
France has the second largest electricity generation capacity in the European Union, and has the second largest low carbon footprint electricity generation mix after Sweden. Renewable energy had almost one fifth share in the total power consumption in mainland France in 2019. Manufacturers in France are collaborating on various renewable projects which involve the design and development of customized switchgear products. Manufacturers are focused on the manufacturing of medium voltage and high voltage switchgears to meet the growing residential demand, reinforcing the transmission grid and improving efficiency, power quality and reliability.
Is Shift to New Energy Mix Really Driving Growth in Germany?
Manufacturers in Germany are developing switchgears to increase substation transmission capacities. The German transmission grid is facing enormous challenges as it is transitioning to a new energy mix. Renewable energy farms which are mostly clustered in the northern part of Germany, require smooth T&D equipment such as switchgears to transport the power to the southern part of the country. These manufacturers are also designing and modifying switchgears to ensure a more climate friendly operation.
What Factors Are Driving Switchgear Sales in India?
Factors such as urbanization, rapid economic expansion, and population growth in India are fuelling the demand for infrastructure development. India has been attracting increasing interest from international investors in the infrastructure space. Owing to its large population, India still has the largest number of households without electricity. The Indian government is focused on the improvement of State Electricity boards which has led to a huge addition of infrastructure for rural electrification, hence creating higher demand for switchgears.
Top manufacturers in India are focusing on developing economical switchgears to expand their channel footprint in rural areas. The paradigm shift towards conservation of energy and lowering the carbon footprint of various industrial and other power consumption activities are some of the other factors fueling the growth of the switchgear industry in India.
What is the role of Grid Advancements in U.S. Switchgear Market?
United States has one of the largest electric utilities in the world with over 3500 distribution utilities. The medium voltage switchgear market is therefore driven by equipment replacements, as a high percentage of the equipment are beyond end – of – life or to enhancing grid reliance. Shift in power generation via renewables and unconventional sources of energy will drive the demand for switchgears in the future. Large number of industries as well as commercial buildings in U.S. is also creating substantial demand for the switchgear industry in the region.
Expanding Smart Grid Market in China to Boost the Switchgear Market
China is one of the global leaders in smart grid implementation and development. The country has established various smart grids to mitigate losses in transmission and distribution. The state grid of China announced an investment of US$ 65 Bn for ultra – high voltage projects, which is expected to create a higher demand for high voltage and ultra – high voltage switchgears. Grid modernization and the nation's power needs are expected to fuel the growth of the switchgear market in China.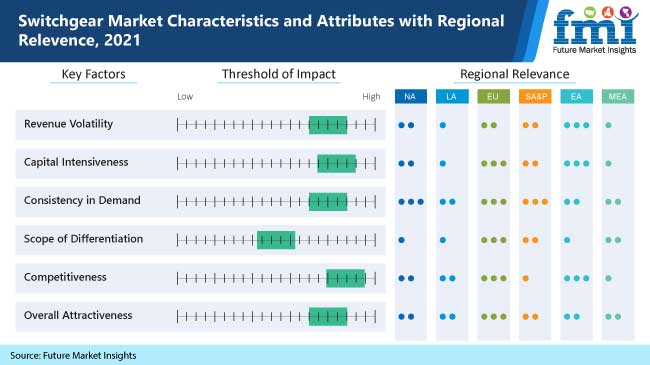 Category-wise Insights
Who is the Leading Switchgear End User?
T&D utilities have been showcasing increasing demand for switchgears. They are thus expected to account for higher share in the market compared to other end user sectors. The T&D Utilities segment accounts for over 46.3% of the total market share. This is followed by the commercial and industrial end use sector which combine has a share of approximately 43.9% and lastly by residential.
Which is the Preferred Switchgear Component?
Power disconnector switch breaker and switch disconnector are most preferred components. Their combined share constitutes nearly 84.6% of the global market. The preferable component which have less share but used along with the switch breaker and switch disconnector are MCCB and MCB.
Which is the Preferred Switchgear Type In terms of Voltage?
Medium and High Voltage Switchgear both account for approximately 47.8% of the Switchgear market globally. Switchgear which have outdoor construction the outdoor segment is expected to have a higher market share, specifically dependent upon the sales of medium and high voltage segment switchgears.
Which Construction and Insulation Types are More Preferred for Switchgears?
Outdoor switchgears have higher sales in terms of construction type. It is expected to register 120 BPS change through the forecast period, sealing its dominance. In terms of insulation, gas insulated switchgear will witness higher sales through the forecast period.
Competitive Landscape
The switchgear market is highly competitive, with presence of large number of players operating in the market. Some of the players are focusing to carve a niche for specific demography. Market players have been focusing on strategic tie-ups and innovations to gain competitive edge.
For instance in April 2020, ABB invested in the expansion of its switchgear portfolio comprising UniGear medium-voltage. Also in January 2020, Siemens AG completed the acquisition of New Delhi-based switchgear and power equipment manufacturer C&S Electric Limited for approximately EUR 267 million.
Some of the leading companies operating in the market are:
IEM
WEG SA
Schlender Electric
Alstom
Toshiba Corporation
Hitachi Limited
Hyundai Electric and Energy Systems
Fuji Electric
Havells India Pvt. Ltd.
BHEL
Noja Power Switchgear Pty. Ltd.
TIPECO
Abdullah Abunayyan Holding
Meta Switchgear
Wahah Electric Supply Company
*The list is not exhaustive, and only for representational purposes. Full competitive intelligence with SWOT analysis available in the report.
Scope of the Report
Attribute

Details

Forecast Period

2021-2031

Historical Data Available for

2016-2020

Market Analysis

USD Million for value and Units for Volume

Key Regions Covered

North America, Latin America, Europe, East Asia, South Asia & Pacific, Middle East & Africa

Key Countries Covered

US, Canada, Mexico, Brazil, Germany, Italy, France, U.K., Spain, Russia, BENELUX, China, Japan, South Korea, India, ASEAN, Australia and New Zealand, GCC Countries, Turkey, Northern Africa, South Africa

Key Segments Covered

Component Types, Voltage Types, Construction Types, Insulation Types, End-User, and Regional

Key Companies Profiled

Powell Industries
Caterpillar
IEM
WEG SA
ABB Ltd.
Siemens AG
Schlender Electric
Eaton Corporation
Alstom
Toshiba Corporation
Hitachi Limited
Hyundai Electric and Energy Systems
Fuji Electric
Havells India Pvt. Ltd.
Crompton Greeves
BHEL
Noja Power Switchgear Pty. Ltd.
TIPECO
Abdullah Abunayyan Holding
Meta Switchgear
Wahah Electric Supply Company

Report Coverage

Market Forecast, brand share analysis, competition intelligence, DROT analysis, Market Dynamics and Challenges, Strategic Growth Initiatives

Customization & Pricing
Key Questions Answered in the Report
Which is the most lucrative market for Switchgears?

Europe currently leads the global market for Switchgears. Sales in Europe will account for nearly 23.6% of total demand in switchgears market throughout the forecast period.

Which are the top-selling Switchgears?

Medium and High Voltage Switchgear are highly sought-after for many applications. The demand for Medium and High Voltage Swithgear is expected to remain high in the near future, especially due to continuously increasing the demand for energy.

Which is the most lucrative end use sector for Switchgear?

Switchgears are widely used in T&D Utility's sector. Switchgears' applications within this sector include transmission and distribution of the required voltage of energy to consumer.

Who are some of the leading Switchgear manufacturers?

Some of the leading companies manufacturing Switchgear are Powell Industries, Caterpillar, IEM, WEG SA, ABB Ltd., Siemens AG, Schlender Electric, Eaton Corporation, Alstom, Toshiba Corporation, Hitachi Limited, Hyundai Electric and Energy Systems, Fuji Electric, Havells India Pvt. Ltd., Crompton Greeves, BHEL, Noja Power Switchgear Pty. Ltd., TIPECO, Abdullah Abunayyan Holding, Meta Switchgear, and Wahah Electric Supply Company

Some of the leading companies operating in the switchgear market are Powell Industries, Caterpillar, IEM, WEG SA, ABB Ltd., Siemens AG, Schlender Electric, and Eaton Corporation among others.
Switchgear Market
By Component Type
Power Distributor Switch Breaker
Switch Disconnector
MCCB
HRC Fuse
Earth Switch
MCB
By Voltage Type
Low Voltage (less than 1kV)
Medium Voltage (1kV to 75kV)
High Voltage (75kV to 230kV)
Extra High Voltage (230kV to 500kV)
Ultra-High Voltage (above 500kV)
By Construction Type
By Insulation Type
Air Insulated Switchgear
Gas Insulated Switchgear
Oil Insulated Switchgear
Vacuum Insulated Switchgear
By End User
T&D Utilities
Commercial
Industrial
Residential
By Region
North America
Latin America
Europe
East Asia
South Asia & Pacific
Middle East & Africa
Need specific information?
Talk Show:
The Rise of Intelligent Packaging
Personalized, Connected and Sustainable
November 18, 2021
11:00-11:45 AM PST (USA & Canada)
This is a LIVE session