Teleradiology Market Snapshot
Future Market Insights (FMI) has pegged the teleradiology market value to surpass US$ 5.15 Bn in 2021. Driven by the increasing adoption of teleradiology system across hospitals, radiology clinics, and ambulatory imaging centers (AICs), sales of teleradiology is set to rise at a robust 9.1% year-on-year in 2021.
Increasing number of medical imaging procedures undertaken to address rising prevalence of diseases such as cancer, cellulitis, arthritis, osteomyelitis, and others across the globe has propelled the demand for teleradiology systems. Future Market Insights (FMI) projects the global teleradiology market sales poised to increase at an impressive CAGR of 12.18% during the forecast period 2021-2031.
Key Points Covered in Teleradiology Market Study
Market estimates and forecast 2021-2031
Key drivers and restraints impacting market growth
Segment-wise, Country-wise, and Region-wise Analysis
Competition Mapping and Benchmarking
Brand share and Market Share Analysis
Key Product Innovations and Regulatory Climate
COVID-19 Impact on Teleradiology Market and How to Navigate
Recommendation on Key Winning Strategies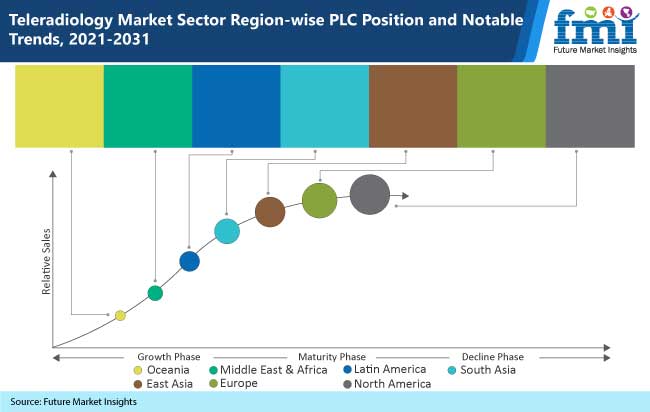 2016-2020 Global Teleradiology Market Outlook in Comparison to 2021-2031 Forecast
Teleradiology market has registered a steady growth at 21%% CAGR over the past forecast period 2016 to 2020, as per Future Market Insight (FIM). Rising incidence of orthopedic, cancer, and other chronic diseases across the globe resulted in increased demand for teleradiology solutions.
There is a shortage of trained radiologists and other medical professionals, especially in sub-specialist segments such as musculoskeletal radiology, neurology, and pediatric, across rural areas.
According to a study conduction by the American College of Radiology, healthcare professionals have stated that hospitals located in rural area in the U.S., often do not have access to any radiologist. Thus, the increasing adoption of teleradiology systems across the hospitals and medical institutions located in rural areas is one of the key market trends prevailing in the market in recent times.
In addition to this, a significant rise in government expenditure on the healthcare information (HCIT) industry and the increasing focus of key industry players toward bringing innovation such as artificial intelligence (AI) to digital diagnostics will further fuel the market growth over the coming years.
However, increasing cases of data breach of imaging reports, decline in reimbursements, and rising regulatory burden in several countries are hampering the market growth to an extent. Nevertheless, rising in the elderly population and increasing number of imaging procedures are expected to propel sales of teleradiology solutions.
As per a study by FMI, the global teleradiology market is projected to exhibit growth at 12.18% CAGR during the assessment period 2021 to 2031.
Rising Demand for Medical Imaging Procedures to Propel Teleradiology Market Growth
The demand for medical imaging procedures such as X-ray scans, CT scans, MRI, scans has substantially increased in the last few years on account of the rising prevalence of diseases such as cancer, cellulitis, osteoarthritis, rheumatoid arthritis, and osteomyelitis among others.
According to an estimate by the National Institute of Cancer, approximately 1,898,160 new cases of cancer are likely to the diagnosed in the U.S., causing nearly 608,570 mortalities by the end of 2021. Also, around 450.5 new incidences of cancer are diagnosed per 100,000 men and women every year in the country.
Teleradiology enables the transfer of diagnostic medical images from one medical location to another, where these images can be scrutinized by skilled radiologists or specialized physicians to provide their expertise without being at the same location as the patient. Thus, the increasing demand for error-free examination of diagnostic medical images for effective treatment will create lucrative growth opportunities for the market.
The unprecedented outbreak of coronavirus has resulted in a sudden rise in the demand for teleradiology systems across the globe. During this pandemic, teleradiology systems were increasingly adopted by numerous hospitals, clinics, and medical institutes for sharing study observations and details information gathered during the treatment of coronavirus patients.
As the use of these systems prevents the exchange of hard copies of diagnostic imaging results and avoids in-person contacts, the demand for teleradiology has witnessed a substantial rise in the epidemic period. Additionally, an increasing number of international teleradiology alliances of radiologists to enhance the speed of clinical trials and studies on preventive measures are anticipated to further facilitate the market growth.
How will Technological Advancements Affect Teleradiology Market Growth
Artificial intelligence has emerged as one of the most promising breakthroughs in the field of teleradiology. A number of players in the market are offering AI-based products as it enhances the accuracy of their digital imaging procedures.
For instance, over 104 companies demonstrated the use of AI-based technologies in the medical imaging space at the Radiology Society of North America (RSNA) annual conference held in the year 2018.
Also, several industry players are increasingly adopting cloud-based solutions to provide secure distribution of full-fidelity medical diagnostics images and offer real-time access to multiple radiologists or medical personal at the same time.
For instance, in December 2018, International Medical Solutions (IMS), a subsidiary company headquartered in the U.S., announced that they will provide access to Google Cloud account users enabling them to distribute, manage, upload, save, view, annotate, download, and delete their medical images in a secure environment. These improvements in digital image processing technologies will enable images to be effectively distributed, thereby, facilitating market growth.
Inclusion of Picture Archiving and Communication System (PACS), and increasing research and development activities pertaining to eHealth are the factors estimated to propel the demand for teleradiology solutions over the assessment period.
Country-wise Insights
Will the U.S Remain at the Forefront of Teleradiology Market?
Over the past few years, the U.S. has been a leading country in terms of healthcare. The U.S. is estimated to account for the highest market share in the North America landscape.
The introduction of favorable initiatives by the government such as the Accountability Act of 1996 and Health Insurance Portability in the U.S. ensures that information of all the patients has end-to-end protection from data breaches and cybercrimes. Hence, every teleradiology service provider in the country must be in compliance with these acts.
Such initiatives improve the confidence of patients as well as physician in teleradiology services, thereby increasing the adoption rate of teleradiology systems in hospitals and radiology across the U.S.
To capitalize on the demand surge registered on account of the COVID-19 outbreak, a number of companies in the U.S. are launching novel products related to respiratory diseases. For instance, Nines, an America-based company, announced the Food and Drug Administration (FDA) clearance 510(k) in March 2021 for its new product, NinesMeasure a novel lung nodule measurement tool that assists in speeding up the pace of diagnoses of several respiratory diseases. Such developments in the landscape are likely to subsequently drive the growth in the U.S.
What are the Factors Supporting the Growth in the India Teleradiology Market?
As per FMI, India is anticipated to emerge as a highly remunerative market for teleradiology over the forecast period. Presence of unmet healthcare needs in remote locations and robust expansion of healthcare infrastructure intended at mitigating the gap are likely to facilitate market growth in the country.
Companies present in the country are aiming at collaboration and partnerships with other industry players to expand their market share. For instance, in May 2018, Qure.ai, a company based in India, announced entering into a partnership with Telerad Tech (T2) and Teleradiology Solutions to lessen the cost and enable faster, smarter diagnosis of X-ray and CT scan data. These initiatives are expected to drive growth.
In India, a substantial proportion of the population resides in suburban and rural areas where they have limited access to advance healthcare. Therefore, hospitals and several organizations are looking forward to tap these areas contemplating the perquisites at the bottom of the pyramid. On account of this, sales of teleradiology are projected to spur across the nation.
What are the Factors Driving Teleradiology Demand in the U.K.?
Rise in the demand for teleradiology systems in the U.K. is attributed to increasing aged population and growing number of hip fractures, and osteoporosis incidence in the country.
According to a study report published by the National Institute for Health and Care Excellence (NICE) around 70,000 to 75,000 incidences of hip fractures are registered every in the country. The number of these incidences will rise to 101,000 in 2020 as per the demographic projection.
As teleradiology plays a life-saving function and benefits both doctors and patients, the demand for teleradiology solutions are expected to propel in the country with this rise in cases of hip fractures.
Leading player in the U.K. market are adopting strategies such as merger, acquisition, and joint venture to increasing their revenue share. For instance recently Medica Group, one of the leading teleradiology provider in the U.K. engaged into joint venture partnership with a pharmaceutical logistics and supply chain company in Canada, MedX. The partnership will assist the company to provide teleradiology reporting service in Australia, New Zealand, and Ireland. This rise in sales across before mentioned countries will contribute to the overall revenue share in the U.K.
How is the Demand for Teleradiology Faring in China?
China is anticipated to dominate the market for teleradiology in Asia Pacific, as per Future Market Insights. Increasing prevalence of chronic diseases such as cancer and arthritis is likely to favor the growth of the market in the country.
According to the GLOBOCAN, approximately 4,285,033 new cases of cancer were estimated to be diagnosed in China in 2018, which includes 1,919,023 females and 2,366,010 males. The report also states that nearly 2,864,174 deaths were to be recorded due to cancer in 2018 across the country.
This coupled with increasing funding by government agencies and rising focus on the usage of teleradiology services in diagnostic centers, hospitals, ambulatory surgical centers, and others will the demand for teleradiology solutions over the coming years in China.
Category-wise Insights
Why is the Demand for CT Scans Rising?
Computed tomography (CT) scans segment is estimated to dominate the market in terms of modality over the assessment period. As CT provides faster and better quality images of complex body organs, such as the cardiac cavities, lungs, and brain, it is highly sought-after for the diagnostics of diseases related to these organs, thereby, contributing to segment growth.
Increasing digitalization and technological advancements in the field are also projected to support growth. For instance, in March 2019, Siemens Healthineers and GE Healthcare announced launching their new product, a Go platform cardiac CT scanner.
X-ray scans segment is expected to witness the fastest growth owing to its wide range of applications across several healthcare domains, such as cardiovascular diagnostics, orthopaedics chest imaging, dental imaging, and cancer screening.
Will Hospitals Remain Primary End Users?
Based on the end user, the market of teleradiology is segmented into hospitals, ambulatory surgical centers, clinics, and radiology centers. Among these, hospitals are expected to account for the lion's share in the end user segment.
Hospitals uses teleradiology services for primary diagnosis, urgent care, and second opinion. These services are extensively preferred in emergency care. For instance, if a patient visits a hospital with a severe hip bone fracture during the absence of orthopedic surgeon, then teleradiology services are used for quicker diagnosis and treatment. Thus, the increasing number of emergency visits in hospitals is estimated to drive the segment in the coming years.
Ambulatory imaging centers (AICs) are anticipated to emerge as a highly remunerative segment owing to increasing demand for imaging procedures, shortage of radiologists, and cost-effectiveness compared to other end users.
Competitive Landscape
The global teleradiology market is dominated by few prominent players naming
Teleradiology Solutions
Argus Radiology
SRL Diagnostics
USARAD Holdings Inc.
Vital Radiology Services
Telemedicine Clinic.
Key players in the teleradiology industry are focusing on developing novel products using advances technologies and aiming at receiving approvals from regulatory bodies for product launches. The top 7 players in the global landscape are anticipated to account substantial share in the market over the next ten years.
Organizations are also adopting other expansion strategies such as collaborations, acquisition, and mergers, and partnership with other industry players to gain the lead position in the industry. For instance,
In September 2020, Radiology Partners announced acquiring a healthcare solution company based in America named, MEDNAX, Inc. The acquisition will assist the company to become one of the biggest provider of comprehensive teleradiology and radiology services in the U.S.
In August 2018, REAL Radiology, LLC, an America-based teleradiology services provider, announce a complete acquisition of a provider of 24/7 teleradiology services named, Argus Radiology Consultants, LLC. The strategy will help the REAL Radiology, LLC to strengthen its footprint in the market.
Scope of Report
Attribute

Details

Forecast Period

2021-2031

Historical Data Available for

2016-2020

Market Analysis

USD Million for Value

Key Regions Covered

U.S. and OUS (Latin America, Europe, Asia Pacific excluding Japan. Japan, and Rest of the World)

Key Countries Covered

US, , Germany, U.K., France, Italy, Spain, Russia, China, Japan, South Korea, India, Thailand, Malaysia, Indonesia, Australia, New Zealand, GCC Countries, Turkey, Northern Africa, and South Africa

Key Segments Covered

Modality, End User, and Regions

Key Companies Profiled

Cerner Corporation,
Siemens Healthineers
McKesson Corporation
Agfa Healthcare
MEDNAX Services, Inc.
ONRAD Inc.
Novarad Corporation
TeleDiagnostic Solutions Pvt. Ltd.
Teleradiology Solutions
Telerad Tech
StatRad LLC
MedWeb LLC
USARAD Holdings, Inc.
Everlight Radiology
SRL Diagnostics,
Vital Radiology Services
Telemedicine Clinic.
Others

Report Coverage

Market Forecast, Company Share Analysis, Competition Intelligence, DROT Analysis, Market Dynamics and Challenges, and Strategic Growth Initiatives

Customization & Pricing

Available upon Request
Key Questions Answered in the Report
What is the current teleradiology market value?

The teleradiology market is expected to surpass a valuation of US$ 5158.6 Mn in 2021

At what rate did the teleradiology market grow during 2020 and 2021?

The teleradiology market witnessed a robust Y-o-Y growth at 9.10% CAGR in 2021.

What rate did the teleradiology market grew between 2016 and 2020?

The teleradiology market witnessed vigorous growth at 21% CAGR between 2016 and 2020.

What are the key trends driving teleradiology sales?

Rising demand for teleradiology owing to increasing shift towards value-based health care model and reforming healthcare IT spending structure.

Who are the leading players of teleradiology?

Teleradiology Solutions, Argus Radiology, SRL Diagnostics, USARAD Holdings, Inc., Vital Radiology Services, and Telemedicine Clinic are the top players leading the teleradiology market.

What is the market outlook for North America teleradiology market?

Demand for teleradiology will continue to rise backed by rising favourable government initiatives in the country, North America market will expand at 10.40% CAGR through 2031.

What is the Europe market outlook for teleradiology?

Europe teleradiology market will exhibit healthy growth at 9.82% CAGR during the forecast period.

What is the current market share of Japan and South Korea in the global teleradiology market?

In 2021, South Korea accounted for approximately 1% market share and Japan accounted for 3% market share.
Teleradiology Market by Category
By Modality:
X-Ray Scans
CT Scans
MRI Scans
Ultrasound Scans
Nuclear Scan
Cardiac Echo
Mammography
Electromammography
By End User:
Hospitals
Clinics
Ambulatory Surgical Centres
Radiology Centres
By Region:
North America
Latin America
Western Europe
Eastern Europe
Asia Pacific excluding Japan (APEJ)
Japan
Middle East & Africa (MEA)
Need specific information?
Talk Show:
The Rise of Intelligent Packaging
Personalized, Connected and Sustainable
November 18, 2021
11:00-11:45 AM PST (USA & Canada)
This is a LIVE session