Wood Charcoal Market Outlook and Key Findings
Sales of wood charcoal to grow at 2.3% CAGR over forecast period, 2020-2030
Application of wood charcoal as reducing agent and decolorizing agent to surge in coming years
Manufacturers to tap into industrial sector and water treatment applications for potential revenue prospects
Softwood charcoal to showcase greater CAGR through 2030
Middle East & Africa (MEA) continues to attract significant stakeholders' investments
Rising Need for Fresh Water to Trigger Substantial Sales
Water stress – when supply and demand of fresh water are disturbed - increases risk for social, environmental, and financial ecosystems. Factors such as climate variations, demographic shifts, and explosive economic progress are aggravating existing water issues.
Given its high surface area for adsorption, wood charcoal helps in warding off impurities such as microbes, oils, chemicals, and odor and taste imparting substances. FMI finds that consumption of wood charcoal in water treatment facilities will register revenues worth about US$ 2 towards the forecast period.
Nearly 4.3 trillion cubic meters of fresh water is withdrawn from water basins, of which agriculture sector accounts for 70%, industrial sector accounts for 19%, and residential sector accounts for 11%.
Ever-growing population in tandem with rising level of water pollution across the world is compelling governments to devise regulations on treating industrial wastewater. Driven by these norms, various industries including, chemicals, paper and pulp, and paints and dyes, are mitigating water crisis to curb their own risk as well as risk of shareholders relying on these systems.
Studies reveal that majority of water basins worldwide can witness supply drop of nearly 10% by 2030 and up to 25% by 2050. The UN estimates that, by 2050, one in four individual are likely to live in regions affected by acute shortages of fresh water.
Furthermore, the World Bank predicts that existing water crisis can hinder GDP by 6% in few countries by 2050 as well. With proactive collective and individual action, businesses can battle water crisis, and these trends are likely to augur well for wood charcoal product in coming years.
Wood Charcoal Market Trends - Tapping White Spaces in Pharmaceutical Industry
Given its toxin eliminating properties, activated wood charcoal finds immense usage in pharmaceutical and nutraceutical industries. Activated wood charcoal is utilized as an emergency poison treatment solution.
Furthermore, activated wood charcoal is beneficial in treating drug overdoses and avoid fish odor syndrome in individuals affected with trimethylaminuria (TMAU).
Moving forward, purity of raw materials as well as finished products is key parameter for pharmaceutical industry. Activated wood carbon helps in offering purification by warding off odor, color compounds, and other impurities that are present in raw materials or manufacturing by-products.
In addition, wood charcoal is largely utilized in nursing supplies, dialysis machines, and respiratory equipment for decolorization, purification, and deodorization purposes. Despite accounting for meagre share of total market stack, demand for wood charcoal in pharmaceutical industry is likely to rise at healthy CAGR over decade ahead.
MEA's Market Continues to Make Material Progress
Accounting for over 60% share, Middle East and Africa wood charcoal market growth continues to engage stakeholders. Wood charcoal demand in the region is coming from increasing industrialization in power generation, rising consumption of barbeque (BBQ) grilled food, and upsurge in industrial manufacturing.
As a response to the situation, city government imposed quotas on business, agricultural, and domestic consumption. Further, FMI reveals that consumption of wood charcoal in industrial and residential sectors in MEA will create value slightly over US$ 11 Bn in 2020, collectively.
In Asia, demand is primarily coming from China and South Korea, which are among key importers of wood charcoal. In China, agriculture sector consumes 65% of water withdrawal, industrial sector consumes 22%, and household applications consume 13%. On the other hand, agriculture sector in India claims 90% of water withdrawals, while merely 2% is put to use for industries.
North America and Europe wood charcoal market also share nearly equal share. In the US, industrial usage of freshwater water hovers around 37%, while agricultural usage stands at 40%. Rise in socio-economic activities such as industrialization and tourism has decreased per capita renewable water sources in Europe by 24%.
Moreover, more that 57% of total water used in several economic activities in the region is contaminated and disposed to surroundings. Consequently, governments are investing to improve water services, thus, creating opportunities for regional water treatment industry.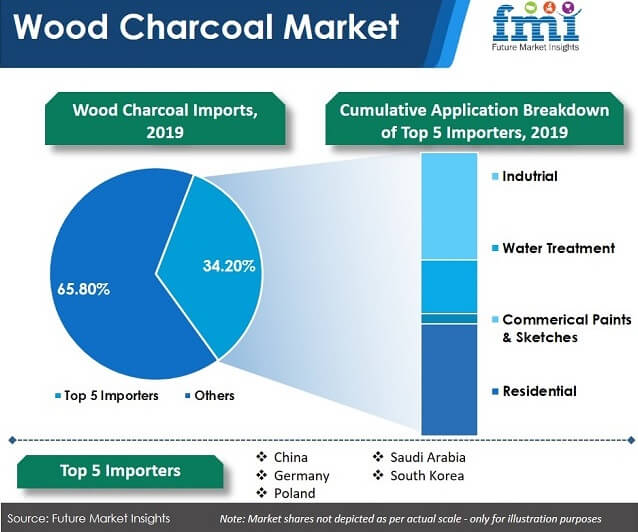 Manufacturers to Center their Focus on Developing Eco-friendly Products
The global market is highly fragmented, with tier-2 and tier-3 manufacturers accounting for prominent share of overall revenue. Driven by rising ecological burden in tandem with stringent regulatory framework, market players are turning to development of eco-friendly wood charcoals. For instance,
K.P. Biocoal has developed wood charcoal made from compressed biomass energy to optimum level. These wood charcoals possess high degrees of carbon content that enable high combustion. These charcoals contain significantly low moisture and dust content. Furthermore, these charcoals are 100% safe to utilize as they do not release toxic gases upon combustion.
Fire & Flavor Grilling Company has created eco-friendly, biodegradable charcoal pod for easy, sustainable grilling - The HERO™ Grill. The rapid lighting charcoal pods are completely natural with low volatile organic compounds (VOC) and an hour of grilling time.
Cooks International LLC has manufactured pure natural wood charcoal derived from coconut shell, and contains no toxic chemicals.
Wood Charcoal Market Players to Adopt Online Sales Channel amid COVID-19 Crisis
The COVID-19 crisis is propelling e-commerce boom as shuttered businesses go online. After enactment of nationwide lockdowns in hard-hit regions, problems of limited availability and fear of contracting the infection triggered new shift in consumer behavior and their purchasing patterns, resulting in new wave of online customers
While conventional brick-and-mortar stores have been seeing steep decline in wood charcoal sales, e-commerce industry is poised to witness double-figure growth in 2020. This trend is majorly driven by buy online, pick up in-store (BOPUS) initiatives such as curbside pick-up that have seen unprecedented growth amidst the pandemic.
Curbside pickup and click-and-collect are likely to continue and see long-term trajectory of e-commerce growth after COVID-19 lesson. As such, manufacturers investing in e-commerce strategies are boosting sales growth, broadening consumer reach, and enhancing consumer retention and loyalty.
Base year considered - 2019
Historical Period- 2015 - 2019
Forecast period - 2020 - 2030
Market Value in 2020 -US$ 20.1 Bn
Segments covered -Product type, wood type, application, end use and region
Regions Covered -East Asia, Europe, Latin America, Middle East & Africa (MEA), North America, Oceania and South Asia
Key Companies-Kingsford Products Company, Royal Oak Enterprises, LLC., Duraflame, Inc., Fire & Flavor Grilling Co., Cooks International LLC, Fogo Charcoal, K.P Biocoal, Hans Enterprises, and Greencoal Namibia CC.
Key Questions Answered in the Report:
Which product type will capture major share in wood charcoal market globally?

Charcoal lumps account for the largest share, both in terms of value and volume. During the forecast period, this product type will account for nearly 60% revenue share

How has the market for wood charcoal evolved over the years?

Wood charcoal market players are focusing on aligning their operations with broader initiatives geared toward environmental conservation.

What is the market scenario right now, and how is it expected to change in the next ten years?

The wood charcoal market is estimated to be worth nearly USD 20 billion in 2020, and is set to reach a valuation of USD 25.3 billion by 2030

What is the present and future market potential of wood charcoal market by product, wood type, application, and end-use?

By product charcoal lumps are the top selling category; by wood type, demand for hardwood is higher than softwood. Application-wise, fuel feedstock single-handedly accounts for high market share, whereas demand from residential sector is highest
General FAQs:
Can I receive market report created as per particular region (s)?

Although the market report is created as per global trends and industry dynamics, our analysts can also offer reports for specific regions or countries according to your needs.

Does the market report provide detailed background of mentioned players?

Apart from the market players covered in the report, we offer insights about other players that are associated with the global wood charcoal market.

Can we get market size and growth rate of any year?

Yes, we provide market size and growth rate (both in terms of value and volume) of any year within the specified historic and projection timeframe.

Can I know how was the research conducted?

Yes, we can provide you with a detailed research methodology.
Key Segment
Wood Type
Product Type
Charcoal Lump
Charcoal Briquettes
Charcoal Powder
Application
Fuel Feedstock
Reducing Agent
Filtration Agent & Gas Masking
Decolorizing Agent
Gas Masking
Sketches & Paints
Soil Conditioning
Gunpowder
Others
End Use
Residential (Cooking Fuel, Gardening)
Commercial Paints & Sketches
Water Treatment
Industrial (Metal & Metallurgy, Explosives & Artillery, Sugar, Alcoholic Beverages, Chemicals & Petrochemicals, Pharmaceuticals, Other Industrial Processes
Region
North America
Latin America
Europe
East Asia
South Asia
Oceania
Middle East & Africa
Need specific information?