Biostimulants Market to Cross US$ 6 Bn Valuation by 2029
The UN Food and Agriculture Organization (FAO) underlines that, agronomists will have to boost crop production by around 70% by 2050 to keep pace with the ever-increasing global food demand. In addition, rapid industrialization and urbanization is shrinking the land for cultivation. This is creating a fundamental challenge for the agricultural industry, and requires sustainable intensification on existing farmlands to improve yield per unit area of cultivation land. Biostimulants capture around one-third of the total global bio-based agrochemicals market. Consumers are becoming more environmentally-conscience, and biologicals easily align with this viewpoint. Following a stellar growth path, the worldwide usage of biostimulants will nearly triple from 2019-2029.
Frequently Asked Questions about Biostimulants Market
Which regions are expected to lead the sales of biostimulants across the globe?
East Asia, South Asia, and Europe are expected to remain the leading regions for growth in the global biostimulants market, whereas, China and India have been identified as emerging markets for growth. Production hubs of biostimulants are concentrated in EU countries that supply to domestic and overseas markets, followed by China-based players who are focused in their domestic market.
Which market dynamics will influence the growth of the global biostimulants market?
Surge in agricultural production to cater to the perennial demand for food items, where increased rate of crop production beyond average land yield is required, is expected to have a strong influence on the influx of biostimulants. Additionally, restrictions on the use of synthetic-based fertilizers, crop growth enhancers, and soil conditioners will also support the growth of biostimulants.
Which end use holds potential growth opportunities for biostimulants market players?
Horticulture involving cultivation of fruits and vegetables is expected to be the major end user driving the consumption of biostimulants. Furthermore, the development of artificial turf and ornamental plantations and gardening also pose as a high value proposition for the biostimulants market.
How will the biostimulants market fare in the future?
Inter-regional trade policies will influence product movement and sales of biostimulants to a significant extent. Also, focus on indigenous production optimizing production costs and related overheads will be pursued by both, tier-1 and local companies, to sustain their business operations in the long run. Lastly, product marketing and accessibility will also be a key differentiator for market participants.
What is the degree of competition in the biostimulants market?
The global biostimulants market is understood to be highly competitive, with a greater weightage of regional and local players than tier-1 players operating on a global scale. Valagro SPA, Koppert B.V., Syngenta, BASF SE, UPL Corporation Limited, Novozymes, Isagro SPA, and FMC Corporation are estimated to account for a prominent share of the global market.
Preference for Acid-based Active Ingredients to Continue
A majority of agricultural professionals prefer acid-based active ingredients for various crop types such as row crops. Acid-based active ingredients enhance crop efficiency, and are widely available. By 2029, the usage of acid-based active ingredients for crop protection will value over US$ 3 Bn. However, they are likely to lose their grip in market revenue in due course of time. Driven by consistent product innovations, novel categories of active ingredients for microbial growth amendment and minerals tracing in plants are likely to gain traction among end users.
Europe - Production Hub of Biostimulants
In Europe, market players are collaborating (over 150 partnerships) with universities and public institutions to promote research activities in the field of biostimulants. The biostimulants market in this developed region will hit US$ 2 Bn in 2027. Governments are imposing regulations and funding awareness programs to restrict the use of pesticides and synthetic fertilizers, including nitrogenous fertilizers. For instance, farming organizations in France are anticipating a pesticide-free future, under their national action plan, Ecophyto 2, which urges the agricultural industry to slash pesticide adoption by 50% by 2025.
Organic Agriculture Expansion Holds Great Promise
Organic agriculture decreases the need of fossil fuels for crop yield by around 70%, and if practiced on a global scale, organic farming is expected to accumulate the amount of CO2 akin to global emission decrement of around 40%. Distribution channels for organic food such organic condiments have witnessed a transition from local firms to organized retailers in the past few years, contributing to the growth of the agriculture and food sectors, globally. This is attributable to the rising need for raw materials to satiate the ever-growing demand for food, which, in turn, will create a fertile ground for biostimulant manufacturers.
Consumption in fruits & vegetables to scale up
Foliar remains key application area
Application in seeds to rise
Acid-based ingredients hold leading value share
Extract-based ingredients to show greater CAGR
How Growth will Unfold
Capturing a notable chunk of the total biostimulants market value, row crops continue to attract significant stakeholders' investments. Consumption of biostimulants in fruits & vegetables is also likely to spur, as these crops are in greater vicinity of microbial reactions. Combined, both, row crops and fruits & vegetables would consume biostimulants worth around US$ 5 Bn in 2029. Development of artificial turfs and ornamental plantations & gardening would further offer value-capture opportunities to market players.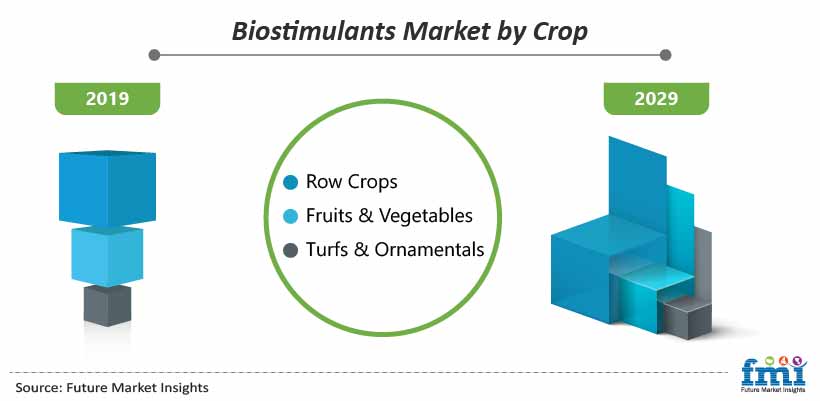 * This data is only a representation. Actual data may vary and will be available in report.
Click Here To Know How The Growth Will Unfold
Custom Market Research Services
FMI offers custom market research services that help clients to get information on their business scenario required where syndicated solutions are not enough.
Overview
A recent market study published by FMI on the biostimulants market includes global industry analysis of 2014-2018 and opportunity assessment for 2019-2029, and delivers a comprehensive assessment of the most important market dynamics. After conducting thorough research on the historic as well as current growth parameters of the biostimulants market, the growth prospects of the market are obtained with maximum precision.
Biostimulants Market Taxonomy
The global biostimulants market is segmented in detail to cover every aspect of the market and present a complete market intelligence approach to the reader.
Crop
Row Crops
Fruits & Vegetables
Turfs & Ornamentals
Other Crop Types
Active Ingredient
Acid-based
Extract-based
Others (Including Microbial Amendments, Trace Minerals, etc.)
Region
North America
Latin America
Europe
East Asia
South Asia
Oceania
Middle East & Africa
How the research was conducted?
Primary Research
C - Level Executives
Marketing Directors
Product Managers
Business Development Officers
Production Managers
Procurement Heads
Sales Executives
Distributors
Traders
Raw Material Suppliers
Industry Experts
Applications
Current market dynamics and challenges
Yesteryear trends
Market characteristics
Market performance and growth quadrants
Competition structure and market structure
Strategic growth initiatives
Near-term and long-term market growth prospects
Market segment splits and authenticity
Opinions on market projections and validity of assumptions
Secondary Research
Industry Publications
Industry Associations
Factiva
Company Press Releases
Annual Reports and Investor Presentations
Research Papers
Government Websites and Publications
Trade Websites
Primary Interview Splits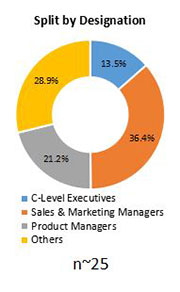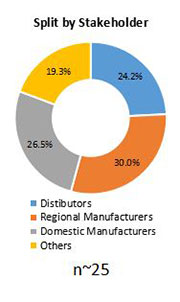 To Learn More About our Comprehensive Perspective on Biostimulants Market,
Get in touch
COVID -19 : Impact Analysis
Request the coronavirus impact analysis across industries and markets
Request Covid -19 Impact
CASE STUDIES
See how our work makes an impact.
At FMI, we design strategies that are adaptive, impactful, and implementable.