Preference for Acid-based Active Ingredients to Continue
A majority of agricultural professionals prefer acid-based active ingredients for various crop types such as row crops. Acid-based active ingredients enhance crop efficiency, and are widely available. By 2029, the usage of acid-based active ingredients for crop protection will value over US$ 3 Bn. However, they are likely to lose their grip in market revenue in due course of time. Driven by consistent product innovations, novel categories of active ingredients for microbial growth amendment and minerals tracing in plants are likely to gain traction among end users.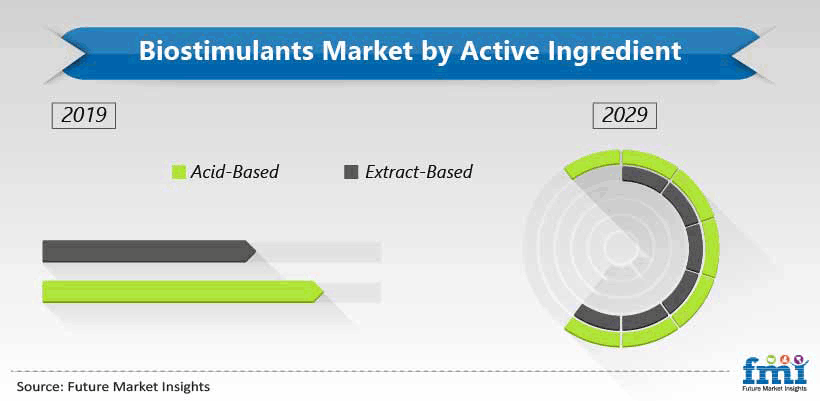 Europe - Production Hub of Biostimulants
In Europe, market players are collaborating (over 150 partnerships) with universities and public institutions to promote research activities in the field of biostimulants. The biostimulants market in this developed region will hit US$ 2 Bn in 2027.
Governments are imposing regulations and funding awareness programs to restrict the use of pesticides and synthetic fertilizers, including nitrogenous fertilizers. For instance, farming organizations in France are anticipating a pesticide-free future, under their national action plan, Ecophyto 2, which urges the agricultural industry to slash pesticide adoption by 50% by 2025.
Organic Agriculture Expansion Holds Great Promise
Organic agriculture decreases the need of fossil fuels for crop yield by around 70%, and if practiced on a global scale, organic farming is expected to accumulate the amount of CO2 akin to global emission decrement of around 40%. Distribution channels for organic food such organic condiments have witnessed a transition from local firms to organized retailers in the past few years, contributing to the growth of the agriculture and food sectors, globally.
This is attributable to the rising need for raw materials to satiate the ever-growing demand for food, which, in turn, will create a fertile ground for biostimulant manufacturers.
How Growth will Unfold
Capturing a notable chunk of the total biostimulants market value, row crops continue to attract significant stakeholders' investments. Consumption of biostimulants in fruits & vegetables is also likely to spur, as these crops are in greater vicinity of microbial reactions. Combined, both, row crops and fruits & vegetables would consume biostimulants worth around US$ 5 Bn in 2029. Development of artificial turfs and ornamental plantations & gardening would further offer value-capture opportunities to market players.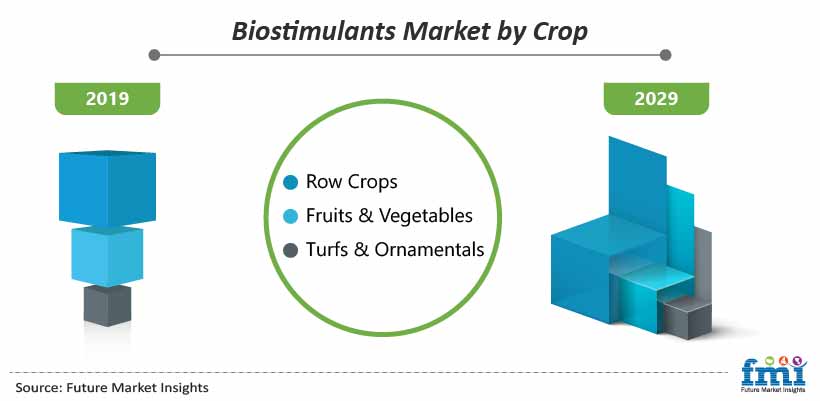 BIOSTIMULANTS MARKET TAXONOMY
The global biostimulants market is segmented in detail to cover every aspect of the market and present a complete market intelligence approach to the reader.
Crop
Row Crops
Fruits & Vegetables
Turfs & Ornamentals
Other Crop Types
Application
Active Ingredient
Acid-based
Extract-based
Others (Including Microbial Amendments, Trace Minerals, etc.)
Region
North America
Latin America
Europe
East Asia
South Asia
Oceania
Middle East & Africa
Need specific information?