Branded Generics Market by Therapeutic Application (Oncology, Cardiovascular Diseases, Diabetes, Neurology, Gastrointestinal Diseases, Analgesics and Anti-inflammatory), Drug Class (Alkylating Agents, Antimetabolites, Anti-Hypertensive), Formulation Type, End User & Region - Forecast to 2021 - 2031
Branded Generics Market - Analysis, Outlook, Growth, Trends, Forecasts
August 2021

REP-GB-1260

280 pages
Branded Generics Market Snapshot
[280 Pages Report] Branded Generics Market will register a year-on-year growth of 4.9% in 2021, reaching a valuation of 283.2 Bn, ESOMAR-certified market research firm Future Market Insights (FMI) has forecasted in its latest market research.
On account of the growing popularity, the Branded Generics Market is poised to expand at a CAGR of 5.8% between 2021 and 2031. The top players are expected to hold nearly 20%-25% share in the overall market in 2021.
Asia Pacific Excluding Japan (APEJ) continues to dominate the global Branded Generics Market due to the increasing rate of branded generics uptake by large-scale pharmacy chains in the emerging economies
Branded Generics Market Survey - Key Points Covered
Branded Generics Market estimates and forecast 2021-2031
Key drivers and restraints impacting Branded Generics Market growth
Segment-wise, Country-wise, and Region-wise Analysis
Competition Mapping and Benchmarking
Brand share and Branded Generics Market Share Analysis
Key Product Innovations and Regulatory Climate
COVID-19 Impact on Branded Generics Market and how to Navigate
Recommendation on Key Winning Strategies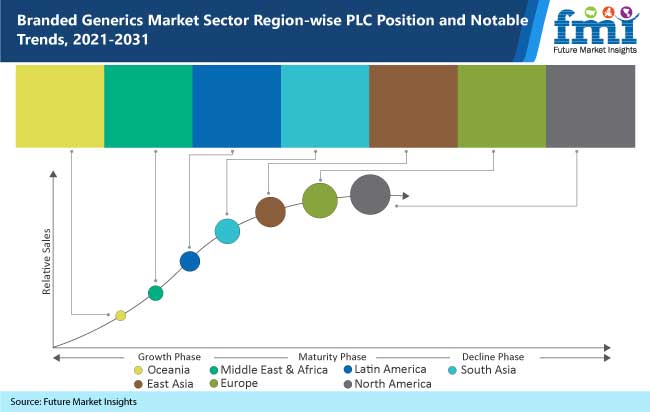 Branded Generics Market Historic Sales Compared to 2021-2031 Forecast Outlook
The Branded Generics Market is set to register a CAGR of 5.8% between 2021 and 2031 in comparison to 6.5% CAGR registered from 2016 to 2020.
With the skyrocketing healthcare costs and the rising need for quality generic drugs, the interest in branded generics has increased across the world. Drug patent expiration is mainly driving the branded generics market.
Consumer choice is vital in accelerating the growth of branded generic market. People tend to choose the best products they can afford. Brands command a premium trust, consistent quality and delivery of a promise.
A Branded Generic is a generic drug which has gone through Abbreviated New Drug Application (ANDA) process. Increasing prevalence of chronic ailments will positively impact the demand for branded generics.
Changing lifestyle has led to the higher incidence of cardiovascular diseases and other ailments such as diabetes and hypertension. As a result, there has been a gradual surge in the sales of anti-hypersensitive branded generics.
According to World Health Organization (WHO) around 17.9 million people die each year from cardiovascular diseases (CVDs) around the world. To counter these diseases and minimize the overall cost of treatment, patients are shifting to branded generics.
Will Developing Economics Emerge as Lucrative Pockets for Branded Generics Sales?
The demand for Branded Generics is increasing in low- and middle-income countries. They are far more common in countries like India, China, Brazil, and Mexico, serving middle- and lower-income consumers where other options are few.
Emerging markets are home to more than 70% of the world's population. These markets can be tricky for pharmaceutical players that are more comfortable operating in developed market environments.
Branded generic companies are employing various strategies to penetrate emerging markets. They are indulging in enhancing their contracting capabilities and improving their portfolio marketing.
Various organizations and companies are investing to expand their footprint in underdeveloped, which will aid the overall expansion of the Branded Generics Market. For instance, in November 2020, CDC Group, Development Partners International (DPI), and the European Bank for Reconstruction and Development (EBRD) joined forces to create a new US$ 750 Mn platform for delivering affordable treatments across Africa, by combining Egyptian Pharmaceuticals manufacturer with Indian generic drugs company.
First, of its kind, Pan-Africa Pharma platform will generate significant cost savings for healthcare providers across Africa and broaden the range of therapeutics available in underserved markets.
Branded Generics Market - Country-wise Insights
How Will China Retain the Dominance of Leading Branded Generics Market?
The pharmaceutical industry in China is driven by low price and high popularity of branded generic drugs. China has adopted a fast-track approach in its drug evaluation and approval system allowing more new domestic drugs, innovative drugs and imported drugs to hit the market.
The market in China is highly competitive with government controlling the drug approval and drug development. Growing popularity of generic and branded generics with their cost-effective features is driving the market in the country.
According to the work plan jointly issued by 12 government departments including National Health Commission, China will publish and update the list of generic drugs at the end of every year.
In 2018, China released its first list of marketed medicine, with 131 types of medicine in 203 specifications, according to the China Food and Drug Administration (CFDA). The list contains both generic and branded medicines, and specifies reference preparations, which offer research standards for generic medicines.
With the expanding pharmaceutical industry, China is expected to offer plethora of opportunities for the manufacturers of branded generics.
How is the Demand for Branded Generics Faring in India?
India is one of the biggest exporters of generic medicines to various countries such as the U.S., Europe and Africa. Brand generic drug makers are able to both develop and sell the generic medications at a much lower cost without compromising the quality of the product.
According to India Brand Equity foundation, the pharmaceutical sector in India supplies over 50% of global demand for various vaccines, 40% of generic demand in the U.S. and 25% of all medicine in U.K.
The India's pharmaceutical market is dominated by branded generics, creating generic-induced price competition. The robust growth of branded generics market in India also can be attributed to the rising disposable income, growing demand branded generics at low prices and increasing prevalence of chronic diseases.
Why is the U.S. anticipated to yield Credible Growth Opportunities?
In the U.S., the production of branded generics has increased substantially as they are less expensive than branded drugs and do not require extensive research and testing. Increasing prevalence of chronic diseases across the country such as cardiovascular diseases, diabetes, Alzheimer's diseases and Parkinson's diseases has provided the required thrust to the branded generics market.
Branded Generics Market - Category-wise Insights
Rising Prevalence of Cardiovascular Diseases Continue to Impacting the Branded Generics Market
Cardiovascular diseases (CVDs) and diabetes remain the top therapeutic application areas, accounting for more than increasing sales of branded generics in the global market.
According to World Health Organization (WHO), around 17.9 million people die each year from cardiovascular diseases (CVDs) around the world. Similarly, 1.13 billion people worldwide have hypertension. This leads to the adoption of branded generics such as anti-hypertensive drugs, which eventually expands Branded Generics Market.
Which Formulation Type Dominates the Branded Generics Market?
Oral formulation segment leads the Branded Generics Market with a share of more than 55%. The growth of the segment can be attributed to the convenience factor associated with oral administration.
Oral medications are easy to administer and patient compliance with oral medication is higher over other routes of administration. Moreover, tablets and capsules are being made more palatable using sweeteners and colored coatings.
However, FMI predicts that the parental formulation will take the spotlight during the forecast period. The parental segment is expected to take lead in the Branded Generics Market by 2031 end.
How are Online Pharmacies Contributing towards Branded Generics Sales?
In terms of distribution channel, Future Market Insights have segmented the Branded Generics Market into hospital pharmacies, retail pharmacies, online pharmacies and drug stores.
With the emergence of e-commerce, manufacturers are forging alliances with online and retail pharmacies. An unprecedented outbreak of COVID-19 normalized branded generics shopping via online pharmacies.
Patients find it easy and time-saving to directly get their medication from online pharmacies. As a result, online pharmacies are anticipated to gain traction through 2021 and beyond.
Branded Generics Market - Competitive Landscape
Key players operating in the Branded Generics Market are focusing on offering low-cost branded generics in order to gain a competitive edge in the market. For instance
In 2020 Mylan, a global pharmaceutical company announced the launch of its remdesivir under the brand name DESREM in India to address, unmet needs amid the evolving COVID-19 pandemic. The drug is approved for the treatment of suspected incidence of COVID-19 in adults and children with severe diseases symptoms.
In July 2021, Lupin announced that it will acquire Australia-based Southern Cross Pharma pvt Ltd (SCP).
In May 2021, Teva Pharmaceuticals, a U.S. affiliate of Teva Pharmaceutical Industries Ltd. announced the launch of THIOLA (tiopronin) tablets for the presentation of cystine (kidney) stones.
Branded Generics Market - Scope of the Report
| | |
| --- | --- |
| Attribute | Details |
| Forecast Period | 2021-2031 |
| Historical Data Available for | 2016-2020 |
| Market Analysis | USD Million for Value and '000 Units for Volume |
| Key Regions Covered | North America, Latin America, Europe, East Asia, South Asia, Oceania, and the Middle East & Africa |
| Key Countries Covered | US, Canada, Germany, U.K., France, Italy, Spain, Russia, China, Japan, South Korea, India, Thailand, Malaysia, Indonesia, Australia, New Zealand, GCC Countries, Turkey, Northern Africa, and South Africa |
| Key Segments Covered | Therapeutic Application, Drug Class, Formulation Type, Distribution channel and Region. |
| Key Companies Profiled | Teva, Abbott Laboratories, Novartis, Mylan, Pfizer and others. |
| Report Coverage | Market Forecast, Company Share Analysis, Competition Intelligence, DROT Analysis, Market Dynamics and Challenges, and Strategic Growth Initiatives |
| Customization & Pricing | Available upon Request |
World's Most Profilic Intelligence Engine
Get Access To The World's Largest Market Research Database.
Sign Up Now
Branded Generics Market by Category
Therapeutic Application:
Oncology
Cardiovascular Diseases
Diabetes
Neurology
Gastrointestinal Diseases
Dermatology Diseases
Analgesics and Anti-inflammatory
Others
Drug Class:
Alkylating Agents
Antimetabolites
Hormones
Anti-Hypertensive
Lipid Lowering Drugs
Anti-Depressants
Anti-Psychotics
Anti-Epileptics
Others
Formulation Type:
Oral
Parenteral
Topical
Others
Distribution Channel:
Hospital Pharmacies
Retail Pharmacies
Online Pharmacies
Drug Stores
Region:
North America
Latin America
Western Europe
Eastern Europe
APEJ
MEA
Japan
Key Questions Answered in the Report
What is the current branded generics market value?
The branded generics market exceeded the total market value of US$ 283.2 Mn in 2021
At what rate did the branded generics market grow between 2016 and 2020?
The branded generics market exhibited steady growth at 6.5% CAGR between 2016 and 2020.
What are the key trends driving branded generics sales?
Entry of new branded generics, encouraging use of branded generics by healthcare providers and professionals and two-tiered strategy are some of the key trends driving the market.
Who are the leading players of branded generics?
Top prominent players of branded generics market are Teva, Abbott Laboratories, Novartis, Mylan and Pfizer
What will be the demand outlook for North America branded generics market?
North America's Branded Generics market demand is set to rise at 3.8% CAGR over the forecast period of 2021 and 2031.
What is the market share of leading players in branded generics market?
Top players included in Tier-1 i.e., Pfizer Inc., Mylan N.V, Abbot Laboratories, Teva Pharmaceutical Industries Ltd. accounted for 20%-25% share in 2021.
At what rate will branded generics demand rise in Europe?
Demand for branded generics is expected to register sluggish growth at 4.1% CAGR across Europe between 2021 and 2031.
Which countries are the key producers of branded generics?
The U.S., China, India, Russia and Brazil are the key producers of branded generics.
Which are the key exporters of branded generics?
The key exporters of branded generics are China, India, Russia and the U.S.
What is the current market share of Japan and South Korea in the global Branded Generics market?
Japan and South Korea accounts for 5% and 1% market share in 2021, respectively.
Need specific information?
Our Clients