Cacao Beans Market By Product Type (Forastero, Criollo, Trinitario), End Use Application (Food and Beverages, Pharamaceuticals, Cosmetic and Personal Care, Pet Food), Distribution Channel (B2B, B2C, Hypermarkets/ Supermarkets, Convenience Stores) & Region - Forecast to 2019 - 2029
Cacao Beans Market - Analysis, Outlook, Growth, Trends, Forecasts
February 2020

REP-GB-11089

250 pages
CACAO BEANS MARKET - KEY RESEARCH FINDINGS
The global cacao beans market is expected to account for revenues worth US$ 21 Bn by 2029.
With rising demand from chocolate manufacturers, the cacao beans market is set to record a CAGR of 7% over the forecast period 2019-2029.
Forastero cacao beans account for 4/5th of the total market revenue.

Criollo variants are set to see a quantum leap in demand, despite its low availability.

High potential application has been identified in the food & beverage industry.

Manufacturers are focusing on capitalizing on foodservice/HoReCa sector.

Sales via B2B channels influence growth strategies.

High sales opportunities are expected in B2C channels.

Europe promises lucrative growth prospects, owing to strong presence of leading cocoa grinders and processors.
KEY FACTORS INFLUENCING CACAO BEANS MARKET
The Craft Chocolate Movement
Growing consumers' appetite for fine and artisanal chocolate in line with improved spending capacity is a sign that craft chocolate will have same consumer interest as other innovative food products such as craft beer and artisan cheese. As high-quality is foremost in the minds of today's consumers, bean-to-bar chocolate manufacturers are inclined towards showcasing the purity of the beans which is weighing on a same scale as growing demand for cacao beans.
High Usage of Forastero Cacao Beans in World's Chocolate Production
Owing to disease-resistant and high-yielding nature, Forastero type of cacao beans is used in most of the world's chocolate production, accounting for over 80% of the share. Forastero remains highly preferred among chocolate manufacturers over Criollo type and Trinitario. High adoption of chocolate in the F&B industry as well as foodservice sector as a key flavor to create variation in product offerings will continue to catalyze the overall cacao beans market growth.
Advances in Biotechnological Applications for Cacao Improvement
Cacao beans or trees are prone to diseases which destroy about 30% of the global production every year. An embrace of research activities, particularly gene editing, has been underway to delete a gene that makes cacao trees susceptible to diseases. Threatened by diseases and climate, the world's chocolate production and supply has been dwindling, and is expected to be protected by the genetic modification of cacao beans. However, aversion to genetically modified organisms (GMO) and the rise of clean label trend may represent a potential threat to this trend.
CACAO BEANS MARKET STRUCTURE ANALYSIS
Market consolidation in European countries remains a key to achieving distinct competitive chains.
Concentration of the cocoa supply chain at both vertical and horizontal levels is attributable to recent merging of cocoa and chocolate companies.
Collaborations with agricultural research-based institutes also remain a key focus area of the market players for advances in gene modification of cacao trees.
Base Year - 2018
Forecast Period - 2019-2029
CAGR over 2019-2029 - 7%
Expected Market Value in 2029 - US$ 21 Bn
Segments Covered - Product, End-use Application, Distribution Channel
Regions Covered - North America, Latin America, Europe, East Asia, South Asia, Oceania, MEA
Key Companies - Cargill Inc., BT Cocoa, India Cocoa Pvt Ltd., Nederland SA, Niche Cocoa Industry Ltd., Dutch Cocoa B.V., Edna Group, Olam International Limited, United Cocoa Processors Inc.,Cocoa Processing Company, PT. Danora Agro Prima, Kakao Berlin, Barry Callebaut AG, Ciranda Inc., and Theobroma B.V.
Growth Drivers -

Ever-increasing demand for chocolate
Bean-to-bar chocolate trend
Demand for high-purity beans
Advances in genetic modification of cacao beans
Forastero Cacao Beans Hold Dominance among Product Types
Forastero cacao beans are widely used for various applications as they are a widely grown variety among other types. These cacao beans hold a share of more than 80% currently in the cacao beans market. Criollo beans have the lowest market share among cacao beans product types. These are very rarely available in commercial plantation and are considered as a delicacy due to their low availability and low yield.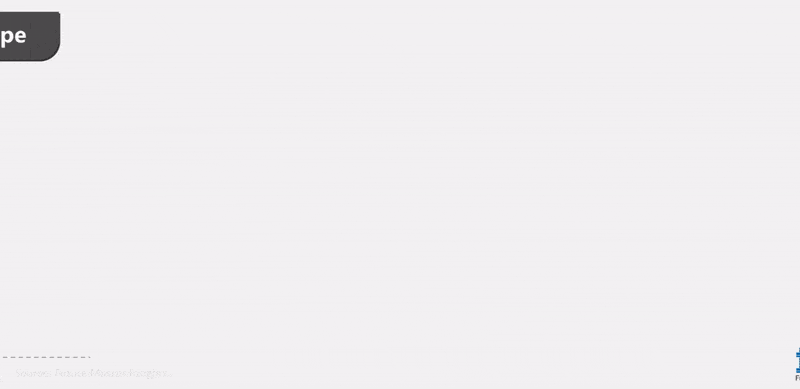 Popularity of Cocoa as a Universal Flavor Causes Increased Demand in Food and Beverage Industry
Chocolate is among the most favorite and most consumed food products in the world, which makes cocoa one of the most widely consumed flavors in a variety of foods and beverages consumed worldwide. Due to the increasing popularity of the chocolate flavor, the majority of manufacturers in the food and beverage industry are using cacao beans in many of their food products and traditional recipes. This is intended to attract more consumers. With the increasing popularity of the chocolate flavor and rising cocoa production, the global cacao market is likely witness impressive growth during the forecast period.
High Demand for Cacao Beans in the European Countries Owing to the Rising Foodservice Industry
There has been a rapid rise in the number of foodservice operators especially in EU-4 and U.K. These foodservice operators are mainly in the bakery and confectionery sector. This has in turn increased the demand for cacao beans in these countries. In addition, the bakery and confectionery industry in the Netherlands has a steady demand all around the year and is largest consumer of cacao beans in the world. The demand in Netherland for cacao beans is expected to increase in the upcoming years.
How Growth will Unfold
The demand for cacao beans has always remained high. However, a few years back, the sales of the cacao beans had decreased. While demand was consistent, low production of cocoa beans due to fluctuating climatic conditions resulted in their high prices, which negatively affected the supply of the cacao beans to the market. The demand-supply gap in the cacao beans market compelled manufacturers of chocolate and other products to shift to other alternatives or use artificial flavourings.
Nevertheless, a steady supply and a rise in the production of quality cacao beans have bolstered sales. In addition, the use of cacao beans in various industries for different applications has surged considerably. Research and development teams in these end-use industries are launching innovative products containing cacao beans as one of the ingredients, which could align with the changing trends among consumers.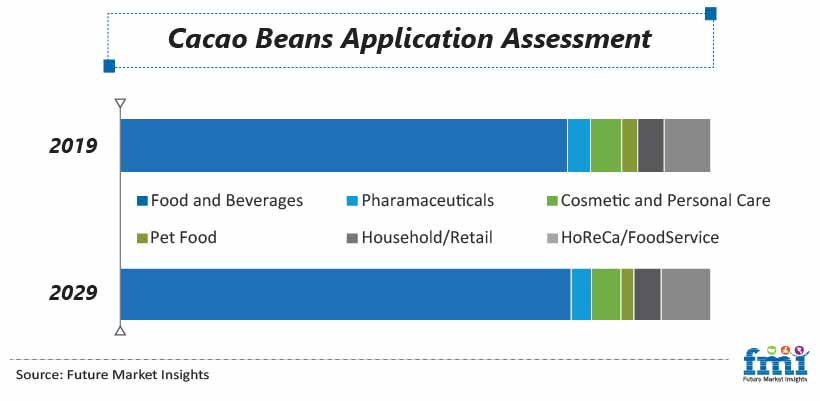 World's Most Profilic Intelligence Engine
Get Access To The World's Largest Market Research Database.
Sign Up Now
CACAO BEANS MARKET TAXONOMY
The global cacao beans market is segmented in detail to cover every aspect of the market and present complete market intelligence to readers.
Product Type
Forastero
Criollo
Trinitario
End Use Application
Food and Beverages

Bakery and Confectionery
Beverages
Dairy Products
Syrup, Toppings and Fillings
Other Applications

Pharamaceuticals
Cosmetic and Personal Care
Pet Food
Household/Retail
HoReCa/FoodService
Distribution Channel
B2B

B2C
Hypermarkets/ Supermarkets
Convenience Stores
Independent Grocery Stores
Speciality Stores
Online Retail
Region
North America
Latin America
Europe
East Asia
South Asia
Oceania
MEA
Need specific information?
Our Clients