Introduction
Continued government support, coupled with academic excellence, has propelled the growth of global life science industry. Extensive research studies are accelerating the use of advanced technologies in improving the study of living organisms, and thereby contributing to the development of transformational healthcare through living cells such as competent cells.
According to Future Market Insights, the global market for competent cells will expand at a robust CAGR during the forecast period, 2017-2022. A slew of factors are anticipated to influence the dynamics of global competent cells market, which is poised to reach US$ 2,100 Mn value by the end of 2022.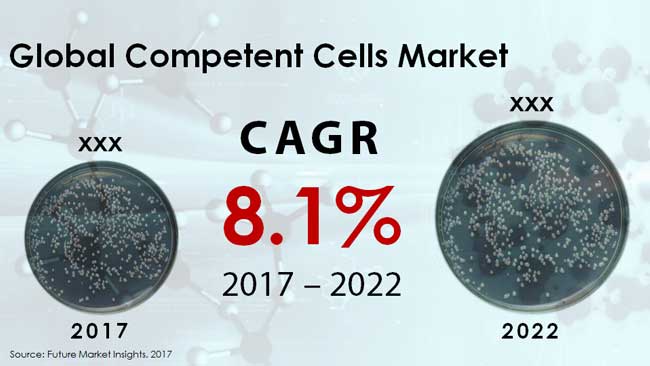 Cloning Applications of Competent Cells to Register Highest Value Share
For performing a number of downstream applications such as mutagenesis and recombinant protein expression, efficient nucleic acid uptake by transformation of competent E. coli has become integral to molecular cloning. Competent cells are customarily used in sequencing and cloning applications, and are relatively referred to as cloning strains.
In 2017, over half of the global market for competent cells is anticipated to attain value from sales of these strains. Cloning will remain the sought-after application for competent cells in the global market through 2022.
While cloning strains of competent cells are not suitable for application in protein expressions, the market is pegged to witness a higher traction for this application. In the future, competent cells will be actively used to efficiently express a protein from a provided construct.
Choosing a competent cell strain for protein expression application will involve identification of the promoter system being used, and denotation of the required level of promoter control. During the forecast period, revenues procured from protein expression application of competent cells are expected to register the fastest CAGR of 8.4%.
Academic Research Institutes – Largest End-users
In 2017, academic and research institutes across the globe will emerge as the largest end-users of competent cells. Researchers in these institutes study the chemical competency of E. coli cells, and fuel their use through multiple applications. Research institutes are also at the forefront of producing less-expensive chemically competent cells in labs as their synthesis does not entail special equipment and apparatus.
Studies conducted on competent cells are primarily directed to increase their use by biotechnology and pharmaceutical companies. By the end of 2022, end-use of competent cells in pharmaceutical and biotechnology companies is anticipated to bring in around US$ 680 Mn in global revenues. These companies will also record a rampant growth in terms of generating revenues in the global competent cells market throughout the forecast period.
Sales of Electrocompetent Cells to Record 8.7% CAGR
The report also anticipates that electrocompetent cells will be registering high revenue growth in the global market through 2022. Electrocompetent transformation of E. coli cells provide highest transformational efficiency, which increases their scope for end-use and application. Moreover, electrocompetent cells do not require a distinct electroporation device for transformation.
The report also projects that chemically competent cells will procure largest revenues share on global market in 2017, albeit, their demand is expected to incur a relatively moderate growth compared to electrocompetent cells.
Competent Cells Market: Key Players
Considering the cloning and transformational properties of competent cells, industry leaders in transformational health sciences are actively boosting their presence in the global market. Companies namely, Agilent Technologies Inc., Genescript Biotech Corporation, Bio-Rad Laboratories Inc., Merck & Co Inc., OriGene Technologies, Inc., New England Biolabs Inc., Illumina, Inc., Thermo Fisher Scientific, Inc., QIAGEN N.V., Zymo Research Corporation, and Promega Corporation are anticipated to remain active in expansion of global competent cells market through 2022.
These companies are likely to focus on improving the transformational efficiencies of competent cell strains. A common objective for players in the global competent cell market is to increase the reliability of competent cells and make them the coveted choice for automating transformations.
Market Taxonomy
Region
North America
Latin America
Europe
Japan
APEJ
MEA
Product Type
Chemically Competent Cells
Electrocompetent Cells
End User
Academic Research Institutes
Pharmaceutical & Biotechnology Companies
Contract Research Organizations
Application
Cloning
Protein Expression
Other Applications
Need specific information?
Talk Show:
The Rise of Intelligent Packaging
Personalized, Connected and Sustainable
November 18, 2021
11:00-11:45 AM PST (USA & Canada)
This is a LIVE session