An Incisive, In-depth Analysis on the Polymer Solar Cells Market
This study offers a comprehensive, 360 degree analysis on the Polymer Solar Cells market, bringing to fore insights that can help stakeholders identify the opportunities as well as challenges. It tracks the global Polymer Solar Cells market across key regions, and offers in-depth commentary and accurate quantitative insights. The study also includes incisive competitive landscape analysis, and provides key recommendations to market players on winning imperatives and successful strategies.
The global polymer solar cells market is anticipated to show exponential growth during the assessment period 2017-2027. The global polymer solar cells market is poised to register a high CAGR of 21.5% during this period to reflect a market evaluation of a little more than US$ 290Mn by the end of 2027 from an estimation of about US$ 34 Mn in 2016.
Demand for polymer solar cells in the BIPV segment to increase substantially in the coming years
By application, the BIPV segment is expected to grow at the highest growth rate to register a CAGR of 23.3% in the assessment period 2017-2027. This segment dominated the global market since 2012 and is estimated to dominate the market in the period 2017-2027 by reflecting a high market value of about US$ 143 Mn by the end of 2027. Following the BIPV segment, consumer electronics and automotive segments show high potential during the assessment period. Both these segments are anticipated to grow at the same pace, however, in terms of revenue, the consumer electronics segment shows an upper hand to remain in second position after BIPV. Consumer electronics segment is estimated to show a market evaluation of a little less than US$ 80 Mn by the end of 2027.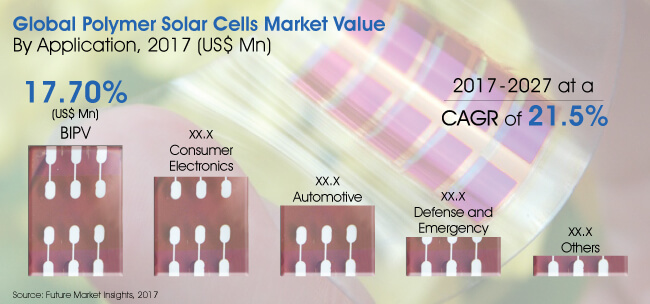 Asia Pacific excluding Japan (APEJ) to dominate the global market and remain a highly lucrative region
By geography, the Asia Pacific excluding Japan (APEJ) region is highly lucrative region for the growth of polymer solar cells market. The consumption of polymer solar cells in this region has increased dramatically since past couple of years. In 2016, the Asia Pacific excluding Japan (APEJ) region reflected highest revenue share and this trend is poised to continue in the coming years. According to the global polymer solar cells market research report, the APEJ region is poised at a market evaluation, as high as US$ 124.5 Mn by the end of 2027 and is projected to grow exponentially at 24.6% CAGR throughout the assessment period 2017-2027, owing to several aspects such as rise in per capita income and high consumption of electronic devices. Japan region also shows high potential, to retain its second position with respect to growth rate and market value during the period of forecast.
Global Polymer Solar Cells Market: Dynamics Impacting Revenue Growth
Growing government initiatives and rise in the green buildings construction is pushing the consumption of polymer solar cells and hence the growth of the global polymer solar cells market. Increasing awareness of renewable sources of energy has led to rising use of renewable energy which is another contributing factor to the growth of the polymer solar cells market. Other factors such as market expansion by various key manufacturers to exploit new opportunities, increasing focus on technological development, enhancing the efficiency of organic photovoltaic cells, rise in the electronic and electrical industry thus boosting the use of polymer solar cells, expanding automobile industry presenting huge opportunities for solar cells, expansion of the construction industry where solar panels are encouraged on new buildings and development of bulk hetero junction solar cells, are contributing to the growth of the global polymer solar cell market. The trend of seeking clean low cost energy is on the rise and several manufacturers are willing to invest more on the solar cell technology. The polymer solar cell technology presents a sustainable source of energy which is environment friendly as it does not produce toxic waste. However, challenges such as high dependency on fossil fuel, fluctuations in pricing of oil and gas, less power conversion efficiency as compared to silicon solar cells, low stability and strength and availability of alternative solar cells could pose hindrances in the growth of the global polymer solar cells market.
The insightful research report titled "Polymer Solar Cells Market: Global Industry Analysis (2012-2016) and Opportunity Assessment (2017-2027)", provides extensive analysis on every aspect of the market along with forecasts. This research report will give the reader an exquisite feel and flavor of the global market with which informed decisions can be slated to stay in pace with the changing market scenario.
The polymer solar cells research report starts with a detailed executive summary, followed by market overview. The market overview section includes detailed market definition, market segmentation, dynamics, supply chain analysis, pricing analysis, cost structure across products and regions, product life cycle, supplier list and key participants operating within the market. The global polymer solar cells market is analyzed across key regions of North America, Europe, Latin America, Asia Pacific excluding Japan (APEJ), Japan and Middle East and Africa. This gives an unbiased view of the entire polymer solar cells market which assist in devising essential strategies based on the actionable insights.
Exhaustive research methodology applied to unmask market statistics
A robust, one-of-its-kind research methodology is used Future Market Insights to obtain valuable insights on different market segments across key regions. Secondary research followed by primary research is carried out and key opinions from market observers and domain experts is collected. This gives global market acumen which is triangulated to arrive at data points pertaining to specific segment and specific region. The research process enhances the accuracy of the market data so collated owing to revalidation and cross verification of data points at each interview level, and can be used in the execution phase.
Market Segmentation
By Junction Type

By Application

By Technique

By Region

Single Layer

Bilayer

Bulk Heterojunction

Multi-junction

Others

BIPV (Building Integrated Photovoltaic)

Consumer Electronics

Automotive

Defence and Emergency

Others

Printing Technique

Coating Technique

North America

Western Europe

Eastern Europe

Latin America

APEJ

Japan

MEA
Competitive Analysis
The research report on global polymer solar cells market covers key financial aspects, product portfolios, company overview, SWOT analysis, key developments and innovations, strategies, etc., of key players involved in the market. The information on the tier companies is mined with the help of a strong research process followed at Future Market Insights which covers the entire demand and supply ecosystem pertaining to the different segments discussed above.
Why should you invest in this research report?
Future Market Insights partners with several key organizations to support them by performing the much needed heavy lifting in the research work and also coordinating with their research teams to support them in their market research requirements and achieve their objectives.
An unbiased third party opinion is what the research promotes

Exploring all angles is not simple, but this research report includes detailed polymer solar cells market segmentation which covers every aspect of the market that can be used as a tool to gain competitive edge

Support extended from product idealisation to the product launch and further extending to product commercialisation – a huge value add which this report offers

A near to 100 percent accuracy in data and statistics

Expert opinions and recommendations to get valuable actionable insights

Trends and opportunities shaping the market

A thorough analysis from new product developments and technology standpoints

Forecasts which help in formulating future strategies and the necessary changes in the current strategies applied

In-depth analysis providing meaningful insights
COVID -19 : Impact Analysis
Request the coronavirus impact analysis across industries and markets
Request Covid -19 Impact
CASE STUDIES
See how our work makes an impact.
At FMI, we design strategies that are adaptive, impactful, and implementable.