Increasing Applicability to Remain Key Demand Determinant for Polymer Testing Equipment
Polymer testing equipment is expected to register a healthy CAGR over the coming years, according to a new research study of Future Market Insights. While increasing adoption of polymer-based materials across manufacturing industry and production facilities will remain a strong demand determinant for polymer testing equipment, the report underscores the role of ever-widening applicability of polymer testing equipment in pushing demand growth for polymer testing equipment in the global market.
The applicability of polymer testing equipment traverses a diverse range that includes automotive, aerospace & defense, packaging, construction, and biomedical research laboratories among others. Some of the most commonplace applications of polymers include toothbrush grips and automotive components, which will continue to generate demand for functionality-specific polymers and polymer-based materials, thereby contributing to demand growth of polymer testing equipment.
Regulatory Standards Highlight Significance of Polymer Material Testing
Research suggests that polymers, especially elastomers, are rapidly gaining traction as sealers in the oil and gas industry. Moreover, manufacturers of elastomers and a few other specialty polymers are also capitalizing on a host of innovation opportunities in wetsuits. With the widening application range of polymers and polymer-based materials, successful and effective testing has also become imperative.
Regulatory standards such as ISO 37 and ASTM D412 will continue to strongly back the increasing need for testing quality, characterization, and functionality of polymer materials. This according to the report is significantly responsible for pushing the revenue growth of polymer testing equipment market.
Growing Need for Polymer Safety Fueling Demand for Polymer Testing Equipment in Medical & Healthcare Industries
The application of polymers for medical devices and implants such as pacemakers, neurostimulators, and orthopaedic joints has created the need for the extensive testing of polymers with the help of polymer testing equipment to ensure their stable and long life in the host environment. Polymer testing equipment for healthcare settings is designed to satisfy the specific requirements of engineered polymers. These factors are expected to boost the demand for polymer testing equipment in the medical industry.
"Economic Range" Likely to Trend Polymeric Testing Equipment Market
Towering government spending on the estimation of the precise polymer composition used for different applications is boosting the polymer testing equipment market. Polymer testing equipment also plays a vital role in the manufacturing of specialty polymers such as fibers, colorants, plasticizers, fillers, and flame retardants, which is cited as another strong factor contributing to the growth of the polymer testing equipment market.
While polymers continue to reflect strong adoption potential in daily use products as well as high-tech commodities, it prompts at the need for focusing on mass production of polymers, which will in turn boost the performance of polymer testing equipment market.
Leading manufacturers are also augmenting investments in R&D, in collaboration with CMOs (contract manufacturing organizations). Application engineers are more likely to prefer brands that offer polymer testing equipment with specific testing capabilities that cater to a desirable level of analysis. In line with escalating adoption by SMEs in end-use industries that are typically constrained by budgetary limitations, companies competing in the polymer testing equipment landscape are focusing on increasing introduction of economically priced polymer testing equipment.
Some of the key players in the polymer testing equipment market are also investing efforts in product improvement, particularly focusing on parameters such as torque and temperature range. R&D initiatives in the field of composite testing are encouraging the manufacturing of improved versions of polymer testing equipment, facilitating elimination of existing errors. Some other prominent characteristics that polymer testing equipment vendors are focusing on include the level of accuracy and precision.
For example, Malvern Panalytical Ltd., a UK-based manufacturer of polymer testing equipment, launched a rheometer for complex fluids characterisation with a torque range of 5.0Nm to 225Nm and a frequency range of 6.28µrads-1 to 942rads-1 for the testing of polymers.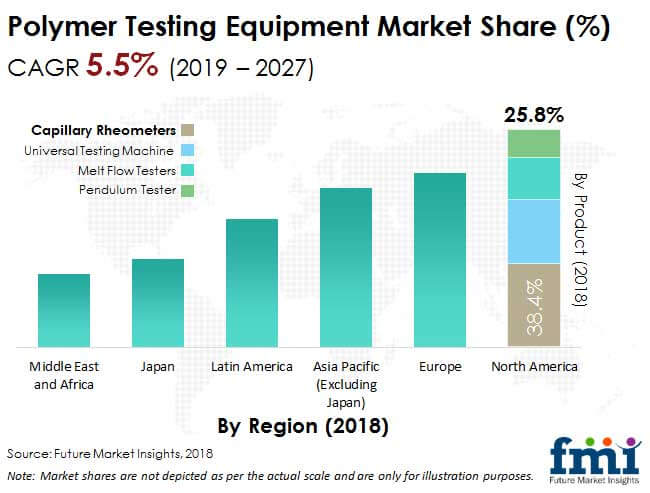 North America to Capture Significant Market Share, as the Number of Research Laboratories Is Constantly Increasing
North America is expected to capture a significant share in the global polymer testing equipment market during the forecast period. Extensive growth in the medical, aerospace, and defense sectors is expected to boost the demand for polymer testing equipment.
Moreover, the increasing spending on aerospace & defense initiatives as well as the medical sector by several countries in various regions, such as the US and Canada, is expected to efficiently drive the polymer testing equipment market in North America. Europe holds the second-largest share of the market due to the increasing government spending on laboratories and research & development initiatives.
Key Segment
On the basis of product type
universal testing machine
capillary rheometer
pendulum tester
melt flow tester
On the basis of test type
mechanical
physical
thermal
rheological
optical test
On the basis of end use
laboratories
packaging
textile
construction
aerospace & defence
Need specific information?