Polymer Concrete Market Outlook (2022 to 2032)
[235 Pages Report] The global polymer concrete market size is set to be valued at around US$ 465.0 Million in 2022 and is anticipated to progress at a healthy CAGR of 7.7% from 2022 to 2032. The market is likely to reach US$ 979.2 Million by 2032. Demand for polymer concrete owing to its extensive usage in the industrial, residential, municipal, and commercial sectors is anticipated to drive the market.
According to the latest research study published by Future Market Insights, the global polymer concrete market is anticipated to hold about ~9-9.4% of the global composite polymer market during the forecast period. Due to enhanced characteristics such as quick drying, the ability to create intricate patterns, and exceptional vibration-dampening capabilities, polymer concrete has been witnessing surging industrial applications.
It is anticipated that the global polymer concrete market would be driven by its increasing use in industrial settings for various applications such as trench drains, pump bases, industrial floors, trash bins, and chemical contaminants. For instance, polymer concrete is widely used in flooring applications in the energy & utilities, chemical, metallurgy, and pulp & paper sectors in Europe as a reliable way to fend against chemical assault and avoid chemical corrosiveness.
| | |
| --- | --- |
| Attributes | Key Statistics |
| Global Polymer Concrete Market Estimated Size (2022E) | US$ 465.0 Million |
| Projected Market Valuation (2032F) | US$ 979.2 Million |
| Value-based CAGR (2022 to 2032) | 7.7% |
| Collective Value Share: Top 3 Countries Worldwide (2022E) | 32.2% |
Don't pay for what you don't need
Customize your report by selecting specific countries or regions and save 30%!
2017 to 2021 Global Polymer Concrete Demand Outlook Compared to 2022 to 2032 Forecast
Demand for polymer concrete grew at 7.2% CAGR between 2017 and 2021. Considering the industries served, consumption of polymer concrete is uneven depending on industrial, commercial, and residential sectors, which has stifled its demand.
Besides, the polymer concrete market is predicted to rise over the assessment period and exhibit growth at a CAGR of 7.7% from 2022 to 2032, says FMI. Increasing the replacement of polymer concrete with polypropylene copolymer (PPC) for manufacturing specific parts in the automobile industry may hamper the market in the next decade. Rising demand for packaged products with the expansion of the e-commerce sector is another vital factor that would drive the global market in the next ten years.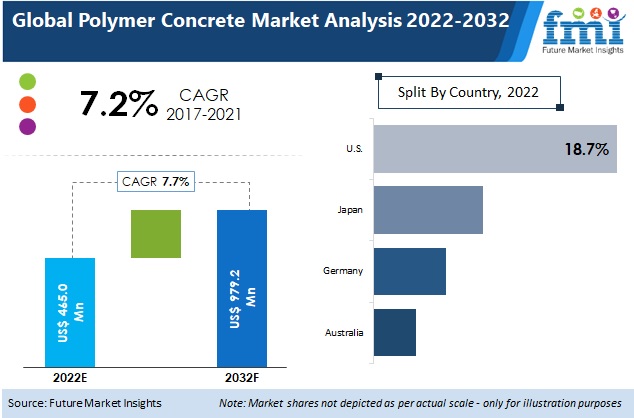 Top Trend Boosting Sales of Polymer Concrete
Upgradation of Sewerage Systems to Foster Sales of Polymer Concrete Additives
Rapidly growing infrastructural activities at a global level have been driving the number of specialized applications where polymer concrete could be used, such as those in residential and commercial applications. For instance, there has been a tremendously rising demand for sewerage pipes in the Asia Pacific region.
Structures that contain chemicals and liquids, which are responsible for the deterioration of constructions, including car parking construction, as well as the construction of manholes and swimming pools, mainly depend upon polymer concrete due to its high tensile strength and fast curing nature.
The increasing population has pushed the requirement for upgrades of sewerage systems to high capacities, which is expected to drive the demand for polymer concrete products in the forecast period. Also, the construction of new roads, dams, and bridges, as well as the development of new sewerage systems in countries such as China, is expected to create growth opportunities for companies in the polymer concrete market.
Which Factors May Hinder the Demand for Polymer Concrete?
Safety Concerns Related to Polymer Concrete May Obstruct Growth
The polymer concrete market is globally fragmented and the product is used by the majority of construction companies & government bodies for maintaining sustainability and making their construction materials robust for a longer duration. However, the cost of polymer concrete is very high, as compared to other types of concrete available in the market.
Additionally, end users have been favoring surface layer applications of polymer concrete over whole polymer concrete constructions owing to safety concerns associated with the composite material. There are some concerns pertaining to the safety of handling monomers used for manufacturing polymer concrete as they are toxic, volatile, and combustible. Initiators which are used as catalysts, promoters, and accelerators for the polymerization process are flammable and injurious to the human skin.
Requirement of High Energy for Producing Polymer Concrete May Hinder Demand
Polymer concrete is used globally, but few manufacturers can produce the material and related products. Manufacturers face some difficulties in producing polymer concrete. A high amount of energy is spent on the manufacturing of polymer concrete, which adds to the overall cost of production. Few manufacturers of polymer concrete have their own patented production assembly. Pricing of raw materials is also increasing day by day and such challenges are hampering various manufacturers in the polymer concrete market.
Country-wise Insights
How will the Demand in China's Polymer Concrete Market Progress?
Rising Construction Activities in China to Push Sales of Polymer Fiber Concrete
China is the leading producer of consumer and retail goods in the world, particularly in the automotive product segment. It is also a major consumer of polymer concrete. The polymer concrete market is expanding at a fast pace in China due to growing demand from the industrial end-use segment. The ongoing economic prosperity of China depends heavily on the building industry. According to the National Bureau of Statistics, the value of building production accounted for 25.7% of China's GDP in 2021, up from 11.0% in 2020.
With various advantages offered by polymer concrete in the industrial sector, China is anticipated to create multiple opportunities in the polymer concrete market. An increasing number of construction sites in residential and commercial areas is further set to push the demand for construction materials. China is expected to witness a significant CAGR of 7.9% during the forecast period.
What is the Scenario of the Polymer Concrete Market in the USA?
High Demand for Recycled Polypropylene Products to Drive Sales of Liquid Polymer for Cement in the USA
The USA is expected to remain one of the leading countries in the North American polymer concrete market. The country is projected to exhibit growth at a CAGR of 18.7% in the next decade and create an absolute dollar opportunity of around US$ 86.95 Million.
Food is the largest market in the flexible industrial sector, accounting for roughly 52% of shipments, according to statistics from August 2021 provided by the Flexible Industrial Association (FPA). The flexible industry is the second-largest industrial category in the USA The use of polymer concrete in industrial applications will rise as a result of constant technological developments in various end-use industries.
A recycled polypropylene product made from polypropylene string, which is typically disposed of after use, was introduced by Braskem in October 2019. After being processed and put through testing, the string yields pellets of sustainably oriented homopolymer polypropylene that may be utilized in the industrial sector. Owing to similar industry developments, the USA polymer concrete market is projected to grow in the next ten years.
Get the data you need at a Fraction of the cost
Personalize your report by choosing insights you need
and save 40%!
Category-wise Insights
Which is the Highly Preferred Material for Making Polymer Concrete?
Demand for Polymer Cement Made of Vinyl Ester to Push Growth by 2032
By material type, the polymer concrete market is divided into four segments namely, vinyl ester, polyester, epoxy-based, and other materials. But, vinyl ester and polyester are extensively used in construction work across the globe. Vinyl ester is anticipated to dominate the global polymer concrete market in terms of material type in 2022, accounting for approximately 28.1% of the worldwide polymer concrete sales with a total sale of US$ 132 Million.
Vinyl esters are produced at low cost and they are resistant to corrosive & chemical solutions. Vinyl esters often experience higher shrinkage in polymer concrete than epoxies since they are generally thought to be more brittle. In comparison to polyester, they are more resilient to vibrational stresses, more thermally resistant, and tougher, which further reduces the likelihood of breaking from impact loads.
Who is the Leading End User in Polymer Concrete Market?
Polymer Modified Cement to Be Extensively Used in the Residential and Municipal Sector
The residential and municipal segment is set to dominate the polymer concrete market with 47.5% of the global share. The segment is likely to create an incremental opportunity of about US$ 220.8 Million by the end of 2022. China is focusing on developing new underground sewage treatment plants and the country is planning to build Asia's largest sewage treatment plant in the next decade.
For sewage plants and sewers, composite materials need polymer concrete to be fixed suitably. Residential & municipal end uses of polymer concrete would include those in the construction of buildings, roadways, pipes & tunnel liners, bridges, and other civic infrastructure.
The need for specialized applications where polymer concrete might be employed such as those in the residential and commercial sectors has been growing due to the rising infrastructure development activities worldwide. As a result of a growing population and the consequent need to upgrade sewage systems to handle more people, the demand for sewerage pipes and bridges has been steadily rising.
Competitive Landscape
Major manufacturers in the polymer concrete market are focusing on embracing alternative distribution methods, such as the Internet channel, in order to boost their positions in a particular area. The majority of big firms are focusing on sustainability, while a few large players are concentrating on expanding their current production facilities to meet the surging demand from the industrial sector.
Scope of the Report
Attribute
Details
Estimated Market Size (2022)
US$ 465.0 Million
Projected Market Valuation (2032)
US$ 979.2 Million
Value-based CAGR (2022 to 2032)
7.7%
Forecast Period
2022 to 2032
Historical Data Available for
2017 to 2021
Market Analysis
Value (US$ Million) and Volume (Tons)
Key Countries Covered
USA, Canada, Brazil, Mexico, Germany, Italy, France, the UK, Spain, Russia, Poland, China, Japan, South Korea, India, ASEAN, Australia and New Zealand, GCC Countries, Turkey, and South Africa.
Key Segments Covered
Material Type, Binding Agent, Application, End Use, & Region
Key Companies Profiled

BASF SE
Sika AG
Wacker Chemie AG
Dudick Inc.
ACO Group
Kwik Bond Polymers LLC
Sauereisen Inc
Hubbell Power Systems Inc
Forte Composites, Inc.
Ulma - Architectural Solutions
Sandmix Sp. z o.o. S.K.
Mapei
Fosroc
Dow Chemical
Fineway Inc
Cosmo Energy Holdings Co. Ltd
Idemitsu Kosan Co. Ltd
Global Precision Ball & Roller.
Devson Catalyst Private Limited
Marathon Petroleum Corporation

Report Coverage
Market Forecast, Company Share Analysis, Competition Intelligence, Drivers, Restraints, Opportunities and Threats Analysis, Market Dynamics and Challenges, and Strategic Growth Initiatives
Polymer Concrete Market Outlook by Category
By Material Type:
Polyester
Vinyl Ester
Epoxy Based
Others
By Binding Agent:
Natural Resin
Synthetic Resin
By Application:
Solid Surface Countertops
Outdoor Seats & Benches
Waste Containers
Pump Bases
Flooring Blocks
Chemical Containments
Trench Drains
Others
By End Use:
Industrial

Energy & Utilities
Pulp & Paper
Chemicals
Metallurgy
Food Processing
Automotive
Other Industrial

Residential & Municipal

Buildings
Roadways
Pipes & Tunnel Liners
Bridges
Others

Commercial

Service Stations
Retail Spaces
Other Commercial Establishments
By Region:
North America
Latin America
Europe
East Asia
South Asia & Pacific
Middle East & Africa
Frequently Asked Questions
The polymer concrete market is anticipated to reach a valuation of US$ 465.0 Million in 2022.
The polymer concrete market is anticipated to witness growth at a CAGR of 7.7% over the forecast period of 2022 and 2032 in terms of value.
The polymer concrete market witnessed steady growth at 7.0% CAGR between 2017 and 2021.
BASF SE, Sika AG, Wacker Chemie AG,Dudick Inc., ACO Group, Kwik Bond Polymers LLC ,Sauereisen Inc, Hubbell Power Systems Inc, Forte Composites, Inc., Ulma - Architectural Solutions, Sandmix Sp. z o.o. S.K., Mapei, Fosroc, Dow Chemical, Fineway Inc, Cosmo Energy Holdings Co. Ltd, Idemitsu Kosan Co. Ltd, Global Precision Ball & Roller, and Devson Catalyst Private Limited are the leading players in the polymer concrete market.
Top countries driving the polymer concrete market are the USA, China, India, and Japan.