Polymeric Sand Market By Product Type (Polymeric Sand, Polymeric Dust), Colour (Beige, Gray, Black & Others), Application (Footpaths, Patios, Pool Decks, Parking Spaces, Pavements & Auxiliary Spaces), End-Use (Residential, Commercial, Infrastructural) & Region - Forecast 2018–2028
Polymeric Sand Market - Analysis, Outlook, Growth, Trends, Forecasts
February 2019

REP-GB-6178

250 pages
Increasing Demand for Enduring Protection Solutions to Harsh Weather Conditions Remains Key Booster to Polymeric Sand Demand
Polymeric sand, extensively used to fill joints between different kinds of pavers such as brick pavers, stone pavers, asphalt pavers and concrete pavers, has been experiencing healthy demand in the recent past. The global polymeric sand market report provides an overview of the market dynamics, including drivers, restraints, trends, opportunities and value (US$ Thousands) and volume (Tons) projections, along with comprehensive facts regarding the polymeric sand market for the period between 2018 and 2028.
The global polymeric sand market has been segmented on the basis of product type into polymeric sand and polymeric dust. For interstitial fillings less than 2 inches in size, polymeric sand is used and for wide fillings, polymeric dust is used. It has been observed that smaller the particle size of the polymeric sand, the better & more efficient is the filling.
The global market for polymeric sand is expected to grow at a CAGR of 7.6% during 2018-2028, in terms of revenue. Demand for long-term integrity solutions for footpath-like structures is expected to create huge demand in the polymeric sand landscape.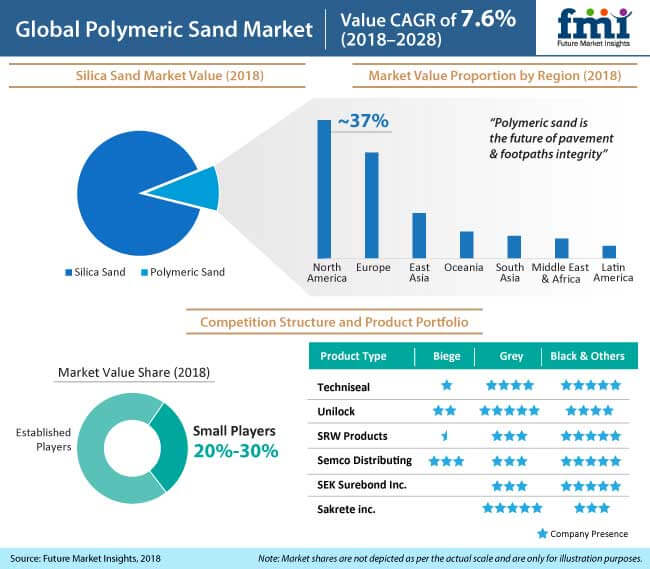 Polymeric Sand Product Type to Witness Robust Adoption through 2028, Strongly Supported by Demand from Residential and Commercial Sectors
Polymeric sand, as a product type, is highly recommended for filler operations in footpath-like structures. It is turning over as a choice of material replacing conventional cements and mortars. Polymeric sand helps in resisting erosion caused by rain, wind, sweeping, and even pressure washing. It also resists insect infestation and weed growth, leaving pavers clean at all times.
Moreover, with DIYers becoming confident about the use of polymeric sand in existing patios and walkways, the global polymeric sand market will grow remarkably in the coming years. Furthermore, polymeric sand is an effective alternative to the quick-fix mason sand solution that offers a reliable solution rather than the temporary fix for concealing weeds and refreshing the appearance of patios.
Expansion of Residential Units, Backed by Government Initiatives & Schemes, to Support Sales of Polymeric Sand
Residential infrastructure is turning into an attractive target end-use industry for the adoption of polymeric sand across the globe. Government initiatives and schemes in various regions to refurbish and construct residential units to accommodate increasing population is leading to substantial consumption space of polymeric sand. Housing recovery and increasing demand will drive the residential construction sector. This, in turn, is expected to propel the demand for polymeric sand during the forecast period.
According to the recent statistics presented by the US Census Bureau (May 2017) –
Building Permits: 1,168,000
Housing Starts: 1,092,000
Housing Completions: 1,164,000
Regional governments are planning launch initiatives to support the development of the construction sector, which in turn, will increase the consumption of polymer sand. Growth of the polymeric sand market is being primarily driven by comprehensive infrastructural developments in developing economies of East Asia as well as North America and Europe. North America and Europe, cumulatively, will account for almost 50 % of the total incremental $ opportunity created in the polymeric sand market.
East Asia - Growth Avenue in Polymeric Sand Market
North America and Europe are poised to be leading regions in the global polymeric sand market, in terms of both production and consumption, backed by the presence of major market players. Rapidly expanding economies of countries, such as China & Australia, in the eastern half of the globe will create ample opportunities for the growth of the global polymeric sand market. China is turning out to be a significant country for the global polymeric sand market because of its attractive foreign policies.
Polymeric Sand Market – Competitive Landscape
The global polymeric sand market is a consolidated landscape, with leading manufacturers holding substantial market shares. Some of the prominent players covered in this market study include Techniseal, Sable Marco, Vimark s.r.l., Semcostone, Sakrete, SRW Products, Alliance Designer Products Inc., SEK-Surebond, Unilock and Ashgrove Polymeric sand, among others.
Companies are focusing on bringing advancements in the polymeric sand market to increase their reach and address the needs of end users. For instance, Ash Grove Packaging, a part of the CRH Company, offers products online on platforms such as Amazon. Retail outlets are a prominent sales channel for polymeric sand.
Key Questions Answered in the Polymeric Sand Report
How has the polymeric sand market evolved in the past four years?
What shape is the polymeric sand market expected to take in terms of volume and value during the study period?
What are some of the prevailing market dynamics in the polymeric sand market?
What are the competition developments and trends in the polymeric sand market?
What are some of the underlying macro-economic and industry factors impacting the growth of the polymeric sand market?
What are some of the key challenges, opportunities and improvement factors for polymeric sand market players?
What are the important market positioning and key strategies of key manufacturers as per the polymeric sand market taxonomy?
How is the competition structured at present and how has it evolved in the polymeric sand market over the past few years?
World's Most Profilic Intelligence Engine
Get Access To The World's Largest Market Research Database.
Sign Up Now
Key Segment
Product type
Polymeric Sand
Polymeric Dust
Colour
Beige
Gray
Black & Others
Application
Footpaths
Patios
Pool Decks
Parking Spaces
Pavements & Auxiliary Spaces
End Use
Residential
Commercial
Infrastructural
Region
North America
Latin America
Europe
South Asia
East Asia
Middle East & Africa
Oceania
Need specific information?
Our Clients