Cyclohexylbenzene Market Snapshot
Increasing scope of applications as a chemical intermediate across various industries is driving the cyclohexylbenzene demand. Paint and coating and chemical production applications will continue creating prospects for growth. Future Market Insights (FMI) has forecast the clohexylbenzene market to register a CAGR of 4.2% in 2021.
As per Future Market Insights (FMI) analysis, overall market valuation will surpass US$ 297.3 Mn in 2021. Surging applications in electrical and electronics sectors will remain a chief growth driver, enabling the market exhibit a compound annual growth rate (CAGR) of 3.6%.
Key Points Covered in the Cyclohexylbenzene Market Study
Market estimates and forecast 2016-2031
Key drivers and restraints impacting market growth
Segment-wise, Country-wise, and Region-wise Analysis
Competition Mapping and Benchmarking
Brand share and Market Share Analysis
Key Product Innovations and Regulatory Climate
COVID-19 Impact and How to Navigate
Recommendation on Key Winning Strategies
2016-2020 Global Cyclohexylbenzene Market Outlook Compared to 2021-2031 Forecast
Driven by increasing scope for application in chemicals sector, the global cyclohexylbenzene market registered continued growth during 2016-2020. However, nationwide lockdowns and discontinuity in supply chains resulted in sluggish growth in 2020.
Cyclohexylbenzene is used in the commercial production of phenol, which in turn is a key ingredient used in production of epoxy resins. Epoxy resins are widely used in manufacturing paints, coatings, adhesives, and primers.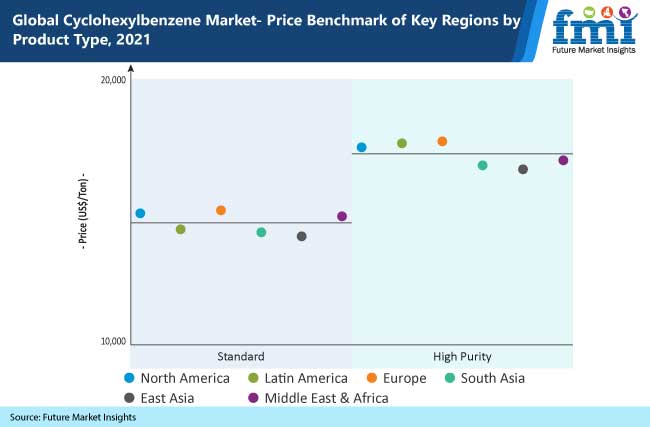 Besides this application in additive and solvent in paints and coatings used in the automotive industry, will guarantee consistent growth in sales prospects through the forecast period.
The growing sales of electric vehicles has supported demand as cyclohexylbenzene is used as an additive for lithium-ion battery electrolytes to enhance battery safety. Spurred by these factors, demand registered in the market is expected to increase at a steady pace.
How is Implementation of Stringent Regulations Impacting Cyclohexylbenzene Market?
Stringent regulations implemented by governments against the production and use of cyclohexylbenzene are likely to impede the growth of the market. Hence, the adherence to various guidelines may slow down the overall growth rate in the forecast period.
In the U.S., the Environmental Protection Agency (EPA) and Occupation Safety Hazard Administration (OSHA) have categorized cyclohexylbenzene under the National Hazardous Substances list. Consequently, they have imposed several strict regulations regarding the exposure, handling, and transportation of the product.
What is the Impact of the COVID-19 Crisis on the Cyclohexylbenzene Market?
Lockdowns and travel restrictions imposed across various countries have negatively impacted the market. Limited production and transportation-related delays owing to movement restrictions created challenges and have held back short-term growth.
With consecutive waves of the novel coronavirus tightening its noose, any efforts at reviving economic activity were affected significantly or delayed. These factors have had a negative impact on the market.
End use sectors of cyclohexylbenzene such as paints and coatings, automobiles, and electrical and electronics have been impacted significantly, resulting in sluggish growth in 2020.
However, this study projects a speedy recovery for the global cyclohexylbenzene market in the long term due to various initiatives taken to control the pandemic and stimulate an economic recovery.
Country-wise Insights
What are the Prospects of the Cyclohexylbenzene Market in the U.S.?
North America is predicted to remain one of the most attractive markets during the forecast period, according to Future Market Insights. In 2021, the U.S. cyclohexylbenzene market is expected to register 4.2% year on year growth, after bucking initial skepticism concerning challenges posed amid the pandemic. Across North America, total sales of cyclohexylbenzene are expected to reach 51.1 Million in 2021.
The U.S.' high concentration of relevant end-use industries is one of the main factors supporting market growth. The country ranks high in terms of disposable income and spending towards infrastructure development. These factors promote the demand for paints and coatings in the country which in turn creates robust opportunities for cyclohexylbenzene producers.
The country also has witnessed high investments from electric vehicle manufacturers which also makes the U.S. a lucrative market for the foreseeable future.
Why is the Demand for Cyclohexylbenzene Increasing in Germany?
Europe is a manufacturing hub for automobiles and key automotive components. Germany is anticipated to hold almost 18% of Europe cyclohexylbenzene market owing to the presence of a mature automotive and chemicals market. Germany has reflected substantial demand for paints and coatings, and production of key chemical products which in turn elevates the demand for cyclohexylbenzene in the country.
Manufacturers in the country have a competitive advantage as they have access to cutting edge research to address unmet challenges. The country is witnessing investments to expand their operations, which is resulting in promising growth prospects in the country.
What is the Market Outlook for Cyclohexylbenzene in China?
China is considered as a manufacturing hub owing to strong presence of export-oriented manufacturing units in the country. The country is home to a major automobile manufacturing sector coupled with a vast urban population, which creates notable demand for paints and coatings in country.
China accounts for almost 32% of global cyclohexylbenzene volume in 2021. The strong presence of electronics & chemical manufacturing industries in the country has fueled the growth of the cyclohexylbenzene market. The government has set manufacturer friendly policies, which will support long term developments.
What are the Factors Bolstering the Sales of Cyclohexylbenzene in India?
Strong growth of population in India coupled with the rise in disposable incomes is a key factor boosting the demand for cyclohexylbenzene in verticals such as automobiles and paints and coatings which is boosting sales in India. The country is expected to create an incremental dollar opportunity worth US$ 7.1 Mn during 2021-2031.
India is growing economy which has witnessed rising demand for electrical and electronic equipment. This growth is expected to benefit the Indian cyclohexylbenzene market owing to its use in liquid crystal displays of electronic equipment including watches, phones, LED TVs, and many others.
Various governmental initiatives under the "Make in India" promote the expansion of manufacturers in the country, and is expected to play a key role in attracting new manufacturing facilities to India.
Category-wise Insights
What is the Expected Growth Rate of High Purity Cyclohexylbenzene?
The high purity segment is expected to grow by 4.5% in 2021. Demand for standard variants is anticipated to increase by 3.5% between 2020 and 2021.
High purity cyclohexylbenzene is used for laboratory and research purposes and it is experiencing healthy growth owing to increase in research and development activities across the globe.
Which End-use Industry is the Largest Consumer of Cyclohexylbenzene?
Cyclohexylbenzene is widely used as intermediate in production of various chemicals. Hence around 32% of global cyclohexylbenzene market volume is used in chemical production.
Cyclohexylbenzene is used in manufacturing chemicals such as phenol, epoxy resins and more. These chemicals synthesized using cyclohexylbenzene have a variety of applications and has resulted in notable demand in the market.
Competitive Landscape
Manufacturers have largely been adopting strategic mergers and acquisitions to enhance their geographical footprint and revenue streams. Key manufacturers are adopting expansion strategies to boost the sales in the market.
Various research and development activities pushing the commercialization of novel applications of cyclohexylbenzene to replace other chemicals such as isopropylbenzene.
Thermo Fisher announced a definitive agreement to acquire Alfa Aesar in an effort to increase its geographical footprint.
Oakwood Products announced an investment into capacity expansion to cater to the rising demand for Cyclohexylbenzene in the U.S. market.
The Exxon Mobil Corporation revealed its patent for a new method to produce phenols from cyclohexylbenzene.
Scope of Report
Attribute

Details

Forecast Period

2021-2031

Historical Data Available for

2016-2020

Market Analysis

USD Million for Value and Tons for Volume

Key Countries Covered

US, Canada, Germany, U.K., France, Italy, Spain, Benelux, Russia, China, Japan, South Korea, India, ASEAN, Australia & New Zealand, GCC Countries, Turkey, Northern Africa, and South Africa

Key Segments Covered

Product type, Instrument type, Process type, End User and Region

Key Companies Profiled

Biosynth Carbosynth
Henan Tianfu Chemicals Co. Ltd.
Changsha Easchem Co., Ltd.
Hefei TNJ Chemical Co. Ltd.
Jiangsu Zhongneng Chemical Technology Co., Ltd.
SAGECHEM
Xingrui Industry Co. Ltd.
Syntechem Co. Ltd.

Report Coverage

Market Forecast, Company Share Analysis, Competition Intelligence, DROT Analysis, Market Dynamics and Challenges, and Strategic Growth Initiatives

Customization & Pricing

Available upon Request
Key Questions Answered in the Report
What is the demand outlook for the cyclohexylbenzene market?

The cyclohexylbenzene sales is expected to rise at 4% CAGR between 2021 and 2031.

What is the current value of the cyclohexylbenzene market?

The cyclohexylbenzene market is estimated to be valued at US$ 297.3 Mn in 2021.

What is the volume forecast for the assessment period in the cyclohexylbenzene market?

The cyclohexylbenzene market is estimated to reach 20,266 Tons for 2021 and 29,173 Tons for 2031.

At what rate did the cyclohexylbenzene market rise in the last 5 years?

The cyclohexylbenzene market rose at a 1% CAGR between 2016 and 2020.

What is the market share of the top players of the cyclohexylbenzene market in 2021?

Jiangsu Zhongneng Chemical Technology Co. Ltd., Biosynth Carbosynth, Henan Tianfu Chemical Co., Ltd., Changsha Easchem Co., Limited, Hefei TNJ Chemical Industry Co., Ltd. cumulatively account for 19.3% of the market.

What is the North America cyclohexylbenzene market outlook?

The North America market is forecast to grow at 3.7% CAGR through 2031.

At what rate is the sales of cyclohexylbenzene expected to rise in Europe?

The Europe cyclohexylbenzene market is set to rise at a 3.4% CAGR through the assessment period.

What are the key statistics of the South Korea and Japan cyclohexylbenzene market in 2021?

Japan and South Korea cumulatively account for 9% of the global market in 2021.

Which countries are key exporters of cyclohexylbenzene?

The U.S., China, and Japan are leading exporters of cyclohexylbenzene.

Which companies are key producers of cyclohexylbenzene?

Jiangsu Zhongneng Chemical Technology Co. Ltd., Biosynth Carbosynth, Henan Tianfu Chemical Co., Ltd. are the top producers of cyclohexylbenzene.

What is the global y-o-y growth of the cyclohexylbenzene market 2020-2021?

The cyclohexylbenzene market reflected a y-o-y growth of cyclohexylbenzene from 2020 to 2021.

What are the key trends prevailing in the cyclohexylbenzene market?

Manufacturers are indulging in research and development activities, strategic collaborations and expansions to boost revenues in the market. Research being undertaken to discover new application areas to replace chemicals such as isopropylbenzene are gaining ground in the industry.
Global Cyclohexylbenzene Market by Category
By Product Type:
By Application:
Plastics
Paints & Coatings
Adhesives
Electrical & Electronics
Chemical Production
By Region:
North America
Latin America
Europe
East Asia
South Asia Pacific
Middle East & Africa
Need specific information?
Talk Show:
The Rise of Intelligent Packaging
Personalized, Connected and Sustainable
November 18, 2021
11:00-11:45 AM PST (USA & Canada)
This is a LIVE session