Defoamers Market Snapshot
The defoamers market registered steady growth in 2021. The latest forecast by FMI estimates defoamers market revenue to grow from US$ 1.2 Bn in 2021, reaching US$ 1.9 Bn in 2031 at a compound annual growth rate (CAGR) of 4.0%.
Despite reduced sales amid COVID-19, the demand for defoamers will surge in 2021, albeit at a gradual rate. The market has been projected to expand at 3.4% CAGR over the forecast period, in terms of volume.
Silicon defoamers hold the lead in terms of volume at 202,725.6 Tons in 2021. However, in terms of value polymer defoamers hold the lead at US$ 392.9 Mn in 2021.
Key Points Covered in Defoamers Market Study
Market estimates and forecast 2015-2031
Key drivers and restraints impacting market growth
Segment-wise, Country-wise, and Region-wise Analysis
Competition Mapping and Benchmarking
Market Share Analysis
Key Product Innovations and Regulatory Climate
COVID-19 Impact on Defoamers Market and How to Navigate
Recommendation on Key Winning Strategies
2016-2020 Global Defoamers Market Outlook Compared to 2021-2031 Forecast
The defoamers market is estimated to grow at 4.0% CAGR over the coming decade owing to demand from industries including pulp & paper, water & wastewater treatment, and paints & coatings.
Silicone defoamers are expected to register significant growth during the assessment period. Increasing focus on quality in the process industries is driving demand. On the basis of geography East Asia is estimated to dominate the market given the presence of numerous end users in the region.
Leading manufacturers are expanding their global presence by setting up new sales offices and technical service labs across the world. Europe is second largest regional market supported by the presence manufacturers and ease of availability in terms of raw material.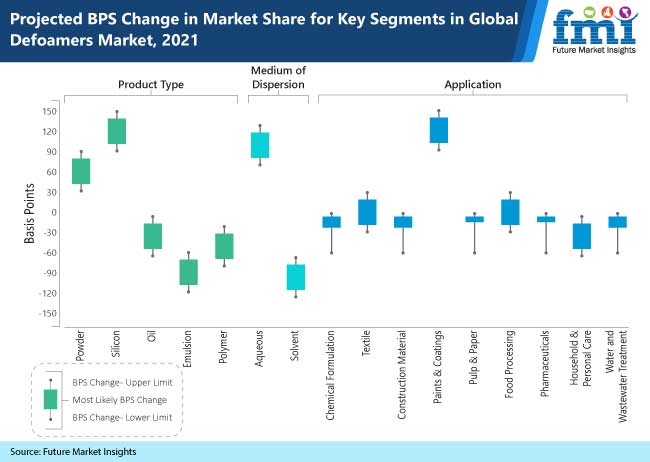 Over the past five years, numerous developments in the defoamers market have taken place. Key players in the defoamers market are planning to introduce new products for end users. For example:
BASF introduced a new defoamer – Foamaster® WO 2360, the first defoamer in the market that complies with China's food contact regulation GB 9685-2016 for adhesives. The new defoamer also complies with major food contact regulations for polymer dispersions, paper coatings, and PSA adhesives and coatings for functional packaging.
The ongoing crisis of the COVID-19 pandemic has impacted the global economy and industrial sector significantly due to supply chain disruptions and reduced demand from industrial consumers. Also, the shutdown of production facilities in Asia pacific and Europe markets, has affected players through 2020.
However, with the end use industries reopening with the help of initiatives taken by the regional governments to revive the economic growth, the global defoamers market is anticipated to bounce back through 2021 and beyond.
What are the Key Opportunities for Players in the Defoamers Market?
With the increasing demand for clean water to meet the need of the growing global population, the demand for defoamers is on the rise as it is cost-effective and could be used to treat large reservoirs of water to make it safe for reuse.
The increasing number of industries and the consequent issue of treating industrial waste water discharge into natural water resources coupled with stringent policies by governments are key factors influencing market developments. This awareness has led to higher sales of defoamers due to its anti-microbial nature.
The ever-changing trends of the beauty/personal care industry and associated chemical processing requirements has led to the increase in demand of defoamers with its wide range of applications in toiletries, cosmetics, and hair care products.
Increasing investments in research and development (R&D) and expansion of production facilities with new investments in Asia pacific are aided by benefits of low-cost labor and easy availability of raw materials.
Applications in the food & beverage, paints & coatings, pulp & paper, and chemical sectors will create significant opportunities for emerging defoamer manufacturers.
Why is Research and Development Key to Competitive Strategy in the Defoamers Market?
Investment in R&D for the development of novel offerings plays a vital role in market growth. Key players in the defoamers market are investing towards the diversification of their portfolio to meet industry specific needs while decreasing process costs and environmental impact with minimal toxicity.
Furthermore, globally, key players are focusing on increasing their production capacities to meet global demand while consuming lesser energy, minimizing carbon emissions without compromising on product quality.
How are Players Enhancing Supply Chains and Distribution Networks?
Due to the ongoing pandemic, major manufacturers and distributors have been affected by disrupted supply chains even as the demand fell through 2020. Raw material and labor shortages are also short-term concerns.
To recover from this crisis, key market players are focusing on an advanced and flexible supply chain network. East Asia is estimated to be a high potential region in terms of both market share and growth rate due to low labor costs, favorable government regulations, and increasing growth of end-use industries.
In China, the government is investing in end use verticals to mitigate losses, with reopening full-scale operations.
Stringent regulations to manufacture and use defoamers have been implemented by various regulatory bodies around the world which is expected to hamper market growth. Regulation, Evaluation, Authorization, and Restriction of Chemicals (REACH) is a regulation adopted by the European Union, which has defoamers included in its rules.
Country-wise Insights
How large is the Opportunity for Defoamer Manufacturers in China?
China holds more than 50% of the market volume and value share in East Asia which is likely to remain unchanged through the forecast period. Key players from China have significant opportunities to leverage revenue generation in the country.
This can be attributed to significant growth in the end use verticals, especially in the paper and pulp industry followed up by paints and coatings industry. China is one of the largest producers as well as consumers of defoamers in the world.
Which Sectors are Driving Demand in the U.S. market?
The U.S. holds an 89.4% share in the North America market, while also accounting for more than fourth-fifth of the market volume share in the region. The high consumption rate from end users including pulp & paper and wastewater industries in the U.S. is helping propel the demand for defoamers in the country.
The pulp & paper industry witnessed significant impact in the country owing to the pandemic, registering double digit market drop. However, a swift recovery is expected as economic activity opens up again through 2021.
What is the Market Scenario for Germany?
In Europe, Germany holds more than 1/5th of total share in the global defoamers market, in terms of volume and value surpassing US$ 109 Mn by 2031. However, due to the effect of the Covid - 19 pandemic, the demand from the end users is expected to experience a slight decline.
On the other hand, manufacturers and producers are focusing on increasing production capacity while innovating new products. The country is a hub for the research and technology division of key market players and witnesses the introduction of new product chemistries ahead of many other markets.
Which Sector is the Mainstay of the Market in ASEAN?
In ASEAN countries, there is high concentration of manufacturers of pulp & paper products, which is contributing to the growth of the defoamers market in this region at a CAGR of 3.9% through 2031.
Most major manufacturers have a presence in this region to serve the domestic market through sales offices, direct agents, or third-party distributors. Many regional players looking for expansion are sure to find prominent opportunities in this cluster.
What is the Outlook for Defoamers in GCC Countries?
Increase in production capacities, focusing more on local production, and expansion of business in developing regions are key factors expected to increase the demand for defoamers in the assessment period.
GCC countries are expected to hold over 37% of the value share in the MEA defoamers market owing to the entry of many prominent players in the region. In the MEA, GCC countries are estimated to remain relatively attractive markets with substantial market share and growth rate.
Category-wise Insights
Which Product Type is projected to Exhibit Lucrative Growth?
Polymer type defoamers are a key high-growth segment of the defoamers market and is estimated to dominate the global defoamers market, accounting for nearly 30% of the market by 2031.
Polymer defoamers are non-silicone defoamer variants that make use of poly-siloxanes as a defoaming agent. Cost and labor benefits are expected to contribute to positive growth prospects.
How are Paints and Coatings Industry Applications Contributing to Growth?
The paints and coatings segment is anticipated to hold a 21.2% market share with an above average 4.6% CAGR. Defoamers are used majorly as a material in pigments & dyes to minimize foam from paint formulations.
As per the Future Market Insights analysis, by the end of 2031, the segment is projected to reach a US$ 259.3 Mn valuation in 2021.
What Medium of Dispersion for Defoamers is preferred by End Users?
Aqueous defoamers are witnessing strong growth in the market owing to their wide range of applications in end use verticals. The segment is expected to expand at a CAGR of 4.2% in the projection period.
This growth can be largely attributed to increasing stringency of government regulations and environment concerns, which is limiting the use of solvent products in the long term.
Competitive Landscape
Introduction of new products, to meet industry specific needs of end users are expected to help players gain a competitive advantage. The global defoamers market can be considered as oligopolistic. Tier-I companies are planning to venture into collaboration and acquisitions of associated businesses to further consolidate market presence.
In January 2021, Evonik announced the launch of TEGO Foamex 812, a new defoamer developed for wood coating formulations.
In February 2021, BYK launched two defoamer additives, the BYK-329 and BYK-092. These additives are aimed towards solvent-borne and solvent-free systems.
In November 2019, Ashland announced the launch of two defoamers for water-based industrial coating applications. These include the Drewplus L- 3500 and L-3510 foam control agents.
Scope of the Report
Attribute

Details

Forecast Period

2021-2031

Historical Data Available for

2016-2020

Market Analysis

USD Million for value and Kilo Tons for Volume

Key Countries Covered

US, Canada, Brazil, Mexico, Germany, U.K., France, Italy, Spain, Benelux, Russia, China, Japan, South Korea, India, ASEAN, GCC Countries, Turkey, South Africa

Key Segments Covered

By Product Type, By Medium of Dispersion, By Application

Key Companies Profiled

Dow Chemical Company
Kemira Oyj
Air Products & Chemicals Inc
Accepta
Ecolab Inc. (Nalco)
Ashland Inc
Synalloy Chemicals
Blackburn Chemicals Limited
Elementis PLC
Bluestar Silicones France SA
Clariant Chemicals Company
KCC Basildon
Royal DSM N.V
Shin-Etsu
ADEKA Corporation
Wacker Chemie AG
Tiny ChemPro
Elkem Silicones ASA
Teijin Ltd

Report Coverage

Market Forecast, brand share analysis, competition intelligence, DROT analysis, Market Dynamics and Challenges, Strategic Growth Initiatives

Customization & Pricing

Available upon Request
Key Questions Answered in the Report
What is the current valuation of the defoamers market?

The defoamers market is expected to surpass a valuation of US$ 1.29 Bn by the end of 2021.

What is the global defoamers market growth rate between 2020 and 2021?

The defoamers market exhibited steady growth at 3.6% from 2020 to 2021.

What is the demand outlook for the defoamers market?

The defoamers market will register gradual rise in demand after a period of decelerating sales amid COVID-19 in 2020. As per FMI, the market will register a CAGR of 4.0% between 2021 and 2031.

What are the key trends prevailing in the defoamers market?

Increasing demand for aqueous solutions and quality control are the key trends in the defoamers market.

What is the North America defoamers market outlook?

The North America defoamers market is projected to grow at a steady CAGR of 4.2%.

Which countries are key producers of defoamers?

The U.S., India, Germany, and China are leading manufacturers of defoamers.

What is the cumulative share of the top five companies in the defoamers market?

The top five companies operating in the defoamers market are BASF SE, Dow Chemical Company, Kemira Oyj, Ecolab, and Evonik Industries. These companies covered 20% to 25% of the overall market in 2021.

At what rate will defoamers market grow in Europe?

FMI has forecast the Europe defoamers market to exhibit a CAGR of 3.5% between 2021 and 2031.

Which are the top 5 countries exhibiting high demand for defoamers?

The U.S., China, India, Germany, and GCC countries are among leading markets for defoamers, exhibiting consistently high demand.

What is the share of the Japan and South Korea defoamers markets in 2021?

As per FMI, the Japan and South Korea defoamers markets are cumulatively expected to account for 12.1% of the global market in 2021.
Defoamers Market by category
Product Type:
Powder
Silicone Defoamers
Oil Defoamers
Emulsion Defoamers
Polymer Defoamers
By Medium of Dispersion:
Aqueous Systems
Non-Aqueous/ Solvent
Application Type:
Chemical Formulation
Textiles
Construction Materials (cement, mortar, grouts etc.)
Paints & Coatings
Pulp & Paper
Food Processing
Pharmaceuticals
Household & Personal Care
Water and Wastewater treatment
Region:
North America
Latin America
Europe
East Asia
South Asia Pacific
Middle East and Africa
Need specific information?
Talk Show:
The Rise of Intelligent Packaging
Personalized, Connected and Sustainable
November 18, 2021
11:00-11:45 AM PST (USA & Canada)
This is a LIVE session