Key regional trends observed in the global construction chemicals market
North America- Demand for higher value product offerings
Demand for construction chemicals is pre-dominantly higher in North America over the past decade. The penetration of concrete admixtures is significantly higher in the U.S. and Canada as compared to that in countries such as in Asia Pacific and Middle East & Africa regions.
Over the recent past, the demand for higher value products or value-added offerings including protective coatings, and concrete admixtures have witnessed a steady growth in the region as compared to that for some of the other commodity products. This is due to the fact that construction industry in the region needs to adhere to ever-stringent standards, environmental regulations and codes governing construction activities in the region.
Latin America- Capacity additions: Acquisition of local players
Over the recent past, leading construction chemicals manufacturers have focused on strengthening their presence in Latin American countries so that they can address the demand for construction chemicals especially from mining industry and from infrastructure sector in the region. Such acquisitions help gain in accessing the established customer base and moreover, strengthen the product portfolio.
Western Europe- Regulations driving innovations
Strict environmental regulations imposed in major markets such as North America and Europe limits the amount of VOC content in coating products. This has forced coating manufacturers to go green and adopt sustainability as their agenda. Manufacturers are infusing high investments in research aimed at developing new and innovative products to be offered at a reduced cost, while adhering to regulatory guidelines.
APEJ- Capacity expansion and new capacity additions
In order to cater to the increasing demand for construction chemicals and to strengthen their footprints, especially in developing countries in Asia Pacific region, namely, Cambodia, Vietnam, and Indonesia, among others, major global construction chemicals manufacturers have channelized efforts towards capacity expansions and new capacity additions in above mentioned countries.
Residential segment by application is expected to represent significant growth throughout the forecast period
The residential segment is expected to dominate the demand for construction chemicals throughout the forecast period. The segment is estimated to account for a share of more than 40% in both 2017 and in 2027. The commercial & industrial segment is expected to be the next in line, with an estimated share of more than 35% in 2017.
On the other hand increasing investment in infrastructure development in developing & developed region, helps to drive the demand for construction chemicals in infrastructure application. The infrastructure segment accounted for low market value share by the end of 2017. The segment is projected to incline towards steady growth in terms of volume and value between 2017 & 2027.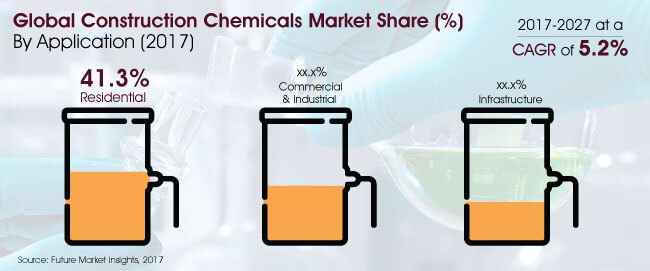 The overview of the global construction industry
The construction industry is projected to register steady growth due to high rate of urbanization in emerging countries of Asia Pacific, coupled with increasing population. Rapid growth in the residential sector in urban as well as semi-urban areas in this region contributes significantly to the market growth.
The global construction industry is expected to expand at a robust CAGR over the forecast period. Substantial growth in the service and manufacturing sector has led to an exponential growth in GDP worldwide. This, in turn, is having a positive impact on global construction spending, thereby leading to increased demand for construction aggregates.
Market segmentation
By Product Type
Water Proofing Chemicals

Bitumen
PVC
EPDM
TPO
PTFE
Silicone

Protective Coating

Epoxy
Polyurethane
Acrylic
Alkyd
Polyester
Others

Concrete Admixture

Plasticizer
Retarder
Accelerator
Air-Entrainer

Adhesives & Sealants
Asphalt Additives
By Application
Residential
Commercial & Industrial
Infrastructures
By Region
North America
Latin America
Western Europe
Eastern Europe
APEJ
Japan
MEA
Need specific information?