Introduction
Knee construction involves the repositioning of the anterior cruciate ligament (ACL) that acts as a stabilizing ligament that holds the tibia. During ACL tear, knee might give away while performing physical activity. Knee construction devices market is expected to witness significant growth during the assessment period 2017-2022.
Growing number of knee reconstruction surgeries has impacted the growth of the global knee reconstruction devices marketAnother main reason which contributes to the growth of this market is the increase in aging population coupled with rising incidences of diseases relate to age like rheumatoid arthritis and osteoarthritis.
Medical field is experiencing development. The advancements in technology have enhanced the knee construction surgery which can be performed with minimum incision with reduction in complications. As per market observations, knee pain owing to knee diseases like osteoarthritis can result in increased demand for knee reconstruction surgeries. Techniques with minimal invasion for knee reconstruction have improved the accuracy and precision which has resulted in reduction in surgery time.
Availability of improved tools for surgeries have addressed the rising demand for knee construction surgeries which in turn has impacted the global knee reconstruction devices market significantly.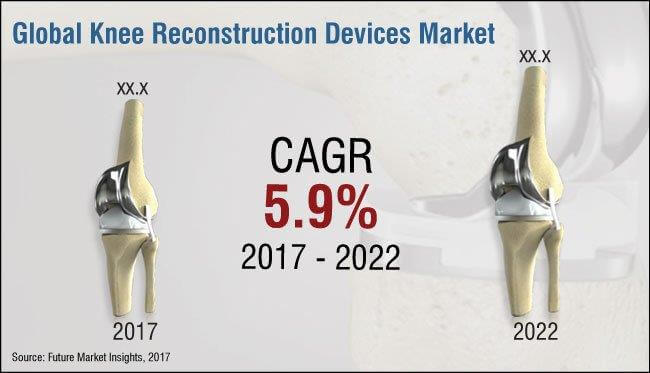 ACL (Anterior Cruciate Ligament) is a stabilizing ligament present within the knee and is one of the most important ligaments. It has a shape similar to a rope like structure which is situated at the knee center which runs from femur to tibia. Instability of knee is experienced in case of tear of this ligament as it does not heal. ACL or knee reconstruction is surgical procedure is performed which relocates the torn ligament back at the knee center. Devices such as partial implants, cementless implants, revision implants and cemented implants are used for knee reconstruction.
According to Future Market Insights's research report on the global knee reconstruction devices market, the market is anticipated to reach a value of US$ 9.4 Bn by the end of 2022 growing at a high CAGR during the forecast period 2017-2022.
Cemented Implants to Dominate the Global Market
By product type, the cemented implants segment is expected to show dominance in the global market and also poised to expand at a higher growth rate during the period of forecast 2017 to 2022. The cemented implants segment is poised to expand at a high 6.4% CAGR and also poised to gain high BPS by the end of 2022.
Tough Call to Make Between Partial Implants and Cementless Implants
In product type, cementless implants have comparatively high revenue share than that of partial implants as of 2017. However, partial implants are a shade better pertaining to growth factor. It becomes tough to justify any investment in these segments, by analyzing which of these segments has a potential future based on current fact that the cementless implants segment has a market share of 24.6% as of 2017.
North America to Show Dominance during 2017-2022
North America region is expected to dominate the global knee reconstruction devices market during the period 2017-2022, as it shows high market attractiveness. This region is considered as a lucrative region for the growth of the knee reconstruction devices market and this region leads other regions with respect to revenue share in 2017.
This trend is poised to continue during the assessment period, as it reflects a 6.1% CAGR during the period. Asia-Pacific excluding Japan (APEJ) region also reflects high potential after North America growing at a significant growth rate.
Orthopedic Clinics outpace Other Segments
Orthopedic clinics segment in the end user category shows the high expansion rate and is poised to reflect a 7.1% CAGR throughout the period of assessment. With respect to growth rate, this segment is followed by ASCs segment, but has a low market share. In the end user category, the hospitals segment is expected to show dominance over global knee reconstruction devices market in end user category with respect to revenue as this trend was observed since past couple of years.
Trauma Segment Shows High Speed
By indication, the trauma segment shows high expansion rate and poised to reflect a significant 6.5% CAGR during the period 2017 to 2027. The osteoarthritis segment, however dominates the global market by indication in terms of revenue, as it held a market share of 47.8% as of 2017 and would grow in the years to follow. Followed by this segment, the rheumatoid arthritis segment comes second with respect to market share.
Competition Tracking
The research report has profiled companies which are expected to remain active in the expansion of global market for knee reconstruction devices throughout 2022. Companies such as Zimmer, Inc., Stryker Corporation, DePuy Synthes, Smith & Nephew, Corin, United Orthopedic Corporation, Arthrex Inc., Exactech Inc., DJO Global, Japan Medical Dynamic Marketing and Tornier Inc., are profiled in the research report.
Key Segments Covered
Region
North America
Latin America
Europe
Japan
APEJ
MEA
Product
Cemented Implants
Cementless Implants
Partial Implants
Revision Implants
End User
Hospitals
Orthopaedic Clinics
ASCs
Indication
Osteoarthritis
Rheumatoid Arthritis
Trauma
Others
Need specific information?