Construction Polymer Market
Construction Polymer by Polymer Type (Epoxy Resins, Polystyrene, Polycarbonate, Polyethylene, Polyisobutylene, Polymethylmethacrylate, Polypropylene, Polyurethane, PVC and Other Polymers), Construction Activity (New Construction and Renovation); End Use Sector, Application & Region- Market Forecast 2022-2026
January 2022

REP-GB-5891

170 pages
Construction Polymer Industry Snapshot (2022-2026)
[170 Pages Report] The global construction polymer market will garner a market valuation of US$ 229,076 Mn in 2022 and is predicted to expand at a CAGR of 6.8% and reach a net worth of US$ 298,384 Mn by the end of 2026.
| | |
| --- | --- |
| Construction Polymer Market Size (2022) | US$ 229,076 Mn |
| Projected Market Value (2028) | US$ 298,384 Mn |
| Global Market Growth Rate (2022-2028) | 6.8% CAGR |
| Region With Dominant Market Share | APEJ (38.2%) |
Demand Analysis of Construction Polymer (2012 to 2021) Vs Market Estimates (2022 to 2026)
The market registered a 5.3% CAGR between 2012 and 2021. The introduction of new materials in the construction polymers market is leading to the development of substantial potential.
A wide assortment of materials is used in flooring, windows, cladding, pipes, membranes, seals, and insulation. Advances are being made in the types of polymers including epoxy resins, polystyrene, polycarbonate, polyethylene, and polypropylene.
Furthermore, the construction companies are the key end-users benefiting from the advances in properties such as flexibility, adhesion to substrates, durability, and water resistance. Overall, the demand for construction polymer is anticipated to rise at a CAGR of around 6.8% through 2028.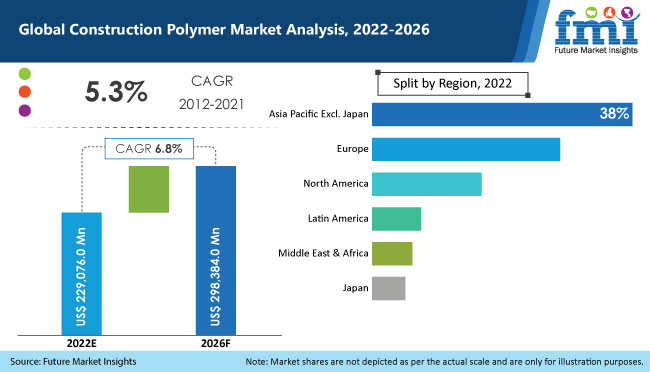 What is Driving Market Growth of Construction Polymers?
Extensive Applications across the Construction Domain to Spur Expansion
Structural polymers and plastic composites have emerged as a key materials in terms of their use in the construction industry. The design, technical and structural advantages of these construction polymers has driven their application in building walls and flooring with maximum strength. Advancements in civil engineering and construction technologies have propelled the application purview of construction polymers.
Cost-effective production, feasible profit margins, and relatively easy procurement of raw materials are driving large chemicals companies towards construction polymer businesses. The overall competitive landscape in the global construction polymer market remains densely populated by industry leaders from the chemicals and materials sector.
A majority of construction polymer manufacturers in the global market are based in countries such as China, India, and South Korea. The study projects that through 2028, the Asia-Pacific excluding Japan (APEJ) region will represent the largest market for construction polymers. By the end of the forecast period, the APEJ construction polymer market will account for nearly half of the forecast global market value.
Industry leaders from the chemicals & materials sectors are actively partaking in the expansion of the global construction polymer market. These companies will be committed to testing new products & technologies and creating advanced polymerized materials for the changing dynamics of the building & construction sector
Which Region Leads the Market Growth?
Manufacturers Likely to Favor the APEJ Market in Forthcoming Years
By 2026, the APEJ construction polymer market is expected to be worth over US$ 64 Mn. The study has profiled the leading manufacturers of construction polymers, which include HB Fuller, Momentive Performance Materials Inc., Huntsman Corporation, Evonik Industries AG, Solvay, Arkema, DuPont, SCG Chemicals, Croda, Henkel, Sika AG, 3M Company, PolyOne, BASF, and Formosa Plastics.
A majority of the key players in the global construction polymer market are expected to be based in the APEJ countries such as China, India and South Korea. Feasible industrial regulations and booming construction industry are expected to factor the dominance of the APEJ region in terms of global construction polymer production through 2026. A market share worth 38.2% is forecast for the APEJ market in 2022.
Region-wise Analysis
Will North America Provide a Lucrative Setting for the Construction Polymer Market?
Burgeoning Construction Industry to Encourage Construction Polymer Adopton
As per FMI analysis, in the coming years, North America is projected to turn out lucrative for the overall construction polymer market, accounting for 16.1% revenue in 2022.
According to Associated General Contractors of America, construction is a major contributor to the U.S. economy. The industry has more than 733,000 employers with over 7 million employees and creates nearly $1.4 trillion worth of structures each year.
The growth is also a result of the local players largely dominating the construction polymer market and they are competing amongst each other. Increasing investments by major market players and research institutes for innovations in the market space are key growth drivers.
Category-wise Analysis
Which Application Dominates the Construction Polymer Market?
Wall Construction and Insulation and sliding to be Primary Application Areas
On the basis of applications, the study has forecasted that construction polymers will be widely used in building high-tech walls. Compatibility of construction polymers with advanced engineering techniques has driven their use in construction of walls. By 2026, nearly US$ 50 Mn worth of construction polymers will be used in wall applications across the globe. Insulation and sliding applications, on the other hand, will register fastest revenue growth at a CAGR of 7.8% during the forecast period.
Which Construction Activity Will Take the Lead in the Market?
Polymers for New Construction Activity to Maintain its Lead
With respect to the type of construction activity, construction polymers are less likely to be used for renovation as they are required to be integrated with the core construction materials for high performance. By 2026, more than 3/5th of revenues procured in the global construction polymers market will be accounted by new construction activities.
Which End-User Accounts for Highest Revenue Share?
Commercial and Housing Real Estate Construction to Top the Charts
With high profit margins, commercial real estate sector and housing (residential) real estate sector will remain lucrative for manufacturers of construction polymers. Collectively, the end-use of construction polymer in these two sectors will account for more than 65% of the global market revenues throughout the forecast period.
The report further projects that facility infrastructure sector and utility infrastructure sector will register fastest end-use of construction polymer in the global market. Increasing investments of governments as well as private sector players in the facility and utility infrastructure sectors will factor this surging revenue growth throughout the forecast period.
Which Polymer Types are projected to Remain in Great Demand?
High Flexibility and Enhanced Resistance to Heighten PVC Construction Polymer Uptake
According to FMI, polyvinylchloride polymers are expected to represent highest revenue share in the global construction polymer market. In 2021, nearly US$ 28 Mn worth of PVC polymers were sold across the global construction polymer market.
The study reveals that flexibility of PVC polymers, coupled with their competent advantages with respect to flame resistance, frictional co-efficiency, safety and design versatility, will continue to drive their demand in the near future of the global construction polymer market.
Competitive Landscape
The global construction polymer market is on a rise owing to the manufacturers who are investing in the research & development of new valves as per changing industry standards across multiple industry verticals.
For instance,
In June 2021, H.B. Fuller announced that it has signed a distribution agreement with Jubilant Agri and Consumer Products Limited (JACPL), a 100% subsidiary of Jubilant Industries Limited, to address the growing demand for adhesive applications in the B2B woodworking segment.
In November 2021, Evonik announced the scaling-up trials of its new process, which has been further strengthened by its partnership with The Vita Group, a leading provider of value-added and differentiated flexible PU foam products. The Vita Group has trailed the recycled polyols from Evonik's hydrolysis process in several of its flexible foam applications. Evonik's solution will contribute to the global flexible PU industry's sustainability expectations of reducing waste and increasing the use of renewable raw materials in the production of its products.
Construction Polymer Industry Report Scope
Attribute

Details

Forecast Period

2022-2026

Historical Data Available for

2012-2021

Market Analysis

US$ Mn for Value

Key Regions Covered

North America, Latin America, Europe, APEJ, Japan and MEA

Key Countries Covered

U.S, Canada, Brazil, Mexico, Germany, U.K, France, Spain, Italy, China, India, Indonesia, South Korea, Australia, GCC, South Africa and Turkey

Key Market Segments Covered

Application, Construction Activity, End User, Polymer Type and Region

Key Companies Profiled

Momentive Performance Materials Inc.
Solvay SA
Arkema S.A.
E.I Dupont De Nemours and Company
SCG Chemicals Co., Ltd.
Croda International Plc
Henkel AG & Co. KGaA
Sika AG
3M Company
Polyone Corporation
BASF SE
Formosa Plastics Corp

Pricing

Available upon Request
World's Most Profilic Intelligence Engine
Get Access To The World's Largest Market Research Database.
Sign Up Now
Key Segments Covered in Construction Polymer Industry Survey
Construction Polymer Market by Polymer Type:
Epoxy Resins Construction Polymer
Polystyrene Construction Polymer
Polycarbonate Construction Polymer
Polyethylene Construction Polymer
Polyisobutylene Construction Polymer
Polymethylmethacrylate Construction Polymer
Polypropylene Construction Polymer
Polyurethane Construction Polymer
Polyvinylchloride Construction Polymer
Other Construction Polymers
Construction Polymer Market by Application:
Construction Polymer for Walls
Construction Polymer for Floorings
Construction Polymer for Piping
Construction Polymer for Windows
Construction Polymer for Roofs
Construction Polymer for Insulation and Sliding
Construction Polymer for Glazing
Construction Polymer for Cladding
Construction Polymer for Plastic Wraps
Construction Polymer for Other Applications
Construction Polymer Market by End-User:
Construction Polymer for Commercial Real Estate Construction
Construction Polymer for Housing Real Estate Construction
Construction Polymer for Industrial Construction
Construction Polymer for Facility Infrastructure
Construction Polymer for Transportation Infrastructure
Construction Polymer for Utility Infrastructure
Construction Polymer for Other Infrastructure
Construction Polymer Market by Construction Activity:
Construction Polymer for New Construction
Construction Polymer for Renovation
Construction Polymer Market by Region:
North America construction polymer market
Latin America construction polymer market
Europe construction polymer market
East Asia construction polymer market
South Asia & Pacific construction polymer market
Middle East & Africa (MEA) construction polymer market
Key Questions Answered in the Report
What valuation will the construction polymer market enjoy in 2022?
In 2022, the global construction polymer market is set to be net US$ 229,076 Mn
At what CAGR did the construction polymer market expand from 2012 to 2021?
From 2012 to 2021, the construction polymer industry experienced expansion at a CAGR of 5.3%
What is the predicted market worth through 2026, as per this construction polymer market research report?
FMI Analysts predict the construction polymer market to attain an estimated worth of US$ 298,384 Mn by 2026.
How is the market expected to evolve over the forecast period?
This industry survey predicts the construction polymer industry to rise at a CAGR of 6.8% from 2022 to 2026.
Need specific information?
Our Clients