Electrophysiology Market Outlook & Key Findings
Global electrophysiology market to expand at a CAGR of 9.4% from 2020-2030
Novel technologies such as laser ablation, ultrasound ablation and cryoablation pave way for further expansion
3D-mapping devices are garnering significant traction for swift and efficient detection of cardiac anomalies
North America will lay suzerainty over the global market, capturing over 2/5th of the revenue share
Prominent players expanding geographical presence to penetrate untapped markets
Increasing Prevalence of Cardiovascular Ailments Driving Adoption of Electrophysiology Devices
Electrophysiology procedures have become highly prevalent in recent years to test the electrical activity of the heart. Over the years, the incidence of cardiovascular diseases have increased multifold.
The World Health Organization concludes that these are responsible for nearly 18 million fatalities annually, rendering it as the primary cause of death worldwide.
80% of these deaths occur due to strokes and heart attacks, with 33% of the deaths occurring prematurely across patients aged below 70 years.
As a result, healthcare providers have been investing heavily in advanced cardiac care, leading to an upsurge in the adoption of sophisticated electrophysiology devices.
Lucrative growth opportunities exist across emerging markets, owing to an increasing cardiac patient pool in the wake of rapid population expansion. Patients are actively seeking advanced cardiovascular procedures due to surging disposable incomes, thus generating green spaces for prominent manufacturers. Governments are relaxing business regulations to allow entry of more players.
Manufacturers to Flood Market with Technologically Advanced Products
Rising incidences of cardiac problems have prompted electrophysiology device vendors to launch products which are technologically superior, allowing healthcare providers to administer effective treatment to patients. Techniques such as live 3D-mapping and radiofrequency ablation are being increasingly incorporated into electrophysiology devices.
Live 3D-mapping has proven highly effective in detecting heart arrhythmia, a condition in which electrical impulses coordinating the heart beat become highly erratic. 3D-mapping has enabled doctors to effectively and easily identify and ablate problematic tissues, reducing procedure durations and faster recovery periods for patients. This techniques also provides high safety to surrounding tissues.
Players such as Medtronic have deployed the CardioInsight Electrocardiographic Mapping (ECM) platform which helps provide simultaneous, biventricular and bi-atrial 3D maps of the heart's electrical activity. This platform is capable of generating results from a single heartbeat for infrequent and unstable rhythms.
Most cardiac patients depend on oral medication to manage their heart ailments. However, in certain cases, these may result in side effects and other co-morbidities. In such cases, doctors suggest catheter ablation procedures, thus providing traction to radiofrequency ablation procedures. This is a highly effective technique for treating atrial fibrillation.
In this respect, MicroPort Orthopedics markets the FireMagic Thermocouple Cardiac Ablation Catheter to treat tachyarrythmia. The catheter comprises of medical grade thermoplastic elastic polymers along with a number of platinum electrodes designed for cardiac electrophysiology mapping and ablation.
Atrial Fibrillation Remains Principal Electrophysiology Application Area
Atrial fibrillation remains one of the most prevalent cardiac anomalies amongst heart patients across the world. As of 2017, over 3 million new cases were registered, elevating the total world count to 37 billion by 2020. It is the most prevalent arrhythmia associated with a high risk of stroke or blood clotting.
In most cases, this condition remains undiagnosed in clinical practices. This causes it to be monitored through conventional means, resulting in inadequate treatment on a timely basis. Consequently, manufacturers are up-scaling their research capabilities to launch new and innovative devices to overcome limitations offered by conventional technologies.
In 2018, UNC A-Fib Care Network started a new clinic specifically treating atrial fibrillation, helping patients build AFib self-management skills and prevent its progression by addressing associated co-morbidities such as anxiety, hypertension and sleep apnea.
End-Use Insights: Hospitals to Contribute the Maximum Share of the Electrophysiology Market Revenue Pie
Mushrooming incidences of cardiac problems have opened up avenues for cardiac practitioners due to increased patient inflow. Most of them prefer to visit hospitals as patients seek highly qualified and experienced doctors. As a result, they have increased spending on procurement of technologically advanced electrophysiology devices.
Governments across the world are emphasizing on streamlining existing healthcare infrastructure and provide better quality care to patients. A major step in this regard is to provide regulatory approvals to novel medical products and services by eliminating excessive barriers. This is prompting heighted adoption of electrophysiology devices by hospital settings.
Regional Insights: Swift Regulatory Approvals Heightens Adoption of Electrophysiology Devices in the North American Market
North America is poised to pivot the global electrophysiology market growth throughout the upcoming decade's forecast period, accounting for over 40% of the market share. Increased consumption of alcohol, smoking and unhealthy lifestyles have aggravated heart-related ailments, stimulating the need for seeking treatment across various healthcare settings.
This has prompted the healthcare industry to incorporate sophisticated technological solutions and treatment devices, prompting government authorities to mold approval legislations accordingly. In 2016, the Food & Drug Administration approved the Medtronic Micra, the world's first leadless catheter-implanted pacemaker in the U.S. It is the world's smallest pacemaker, measuring only 0.8 cc.
The Asian markets are opening up lucrative growth opportunities for electrophysiology players. This is primarily attributed to the presence of a large population bases, particularly in China and India. Both countries have made major strides in providing quality healthcare to cardiovascular ailments plagued patients.
Additionally, market players are able to avail adequate resources for production in the form of inexpensive labor and raw materials, prompting them to establish strong production and distribution links with regional players. Both regions account for nearly 15% of the total market share, anticipated to heighten in the coming years.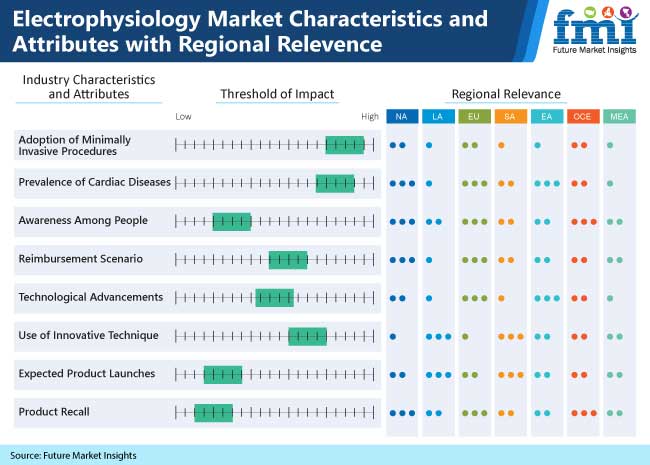 Market to Experience Substantial Degree of Sluggishness during COVID-19
The COVID-19 pandemic has resulted in a significant downturn in the electrophysiology market. The enforcement of global lockdowns and restrictions on international and domestic travel have disrupted the manufacturing cycles of prominent players, leading to supply shortages. This is because the necessary raw materials for production have become scarce.
Additionally, mandatory social distancing measures have led to decreased footfalls in hospitals for health related complaints. Healthcare practitioners are relegating elective cardiac procedures in favor of treating COVID-19 positive patients. However, patients with severe cases are attended to in earnest, thereby keeping the demand for electrophysiology devices afloat.
Projections suggest that COVID-19 patients experience heightened blood pressure levels due to excessive secretion of cardiac troponin, resulting in cardiovascular tissue injury. This is of immense concern for patients with pre-existing cardiac problems. Hence, the need for efficient treatment for these patients has acquired precedence.
Since cardiac care is an important area of healthcare, hospitals are ensuring that round-the-clock services are administered to patients in need. For this, they are enforcing mandatory social distancing protocols to minimize contact between patients and healthcare workers. Moreover, consultations are being carried out through telemedicine.
Based on all the projections, a V-shaped growth curve is expected to be generated, with recovery prospects assuming a concrete shape in the latter half of 2020. Foreseeing a massive economic slump, manufacturers are making concerted efforts to ensure that their supply chains are not disrupted, keeping the market afloat.
Global Electrophysiology Market- Competitive Landscape
Prominent players within the electrophysiology market are concentrating all their efforts towards incorporating state-of-the-art technology in their products. In addition, emphasis is being laid onto collaborations, acquisitions and partnerships with regional and international players to expand product portfolios.
Some of these prominent players include Johnson & Johnson, Abbott Laboratories, Medtronic Plc, Koninklijke Philips N.V, Boston Scientific Corporation, Japan Lifeline, Stereotaxis, Microport Scientific Corporation, BIOTRONIK, Acutus Medical, Baylis Medical, EP Solutions SA, APN Health LLC, Teleflex and Merit Medical Systems.
In 2018, Koninklijke Philips N.V. acquired EPD Solutions, a provider of image-guidance services for catheter ablation procedures to address cardiac arrhythmias for US$ 292 million. The acquisition was aimed at availing the latter's 3-D imaging services and provide the same to potential end-users.
Recently, in 2020, Johnson & Johnson has initiated a series of webinars aimed at training heart surgeons in the best practices concerning electrophysiology implementation consistent with the latest trends in cardiac patient care. These sessions are a part-and-parcel of the company's objective of providing enhanced customer care and retain customer base.
Boston Scientific Corporation has a significant presence in this domain, offering the ADVANTICS Innovative Healthcare Solutions, helping hospitals and clinics overcome challenges in administering cardiovascular care. The program is especially designed to assist healthcare providers in streamlining their Left Atrial Appendage Closure (LAAC) procedures.
In July 2020, BIOTRONIK doled out the Dynetic-35 next-generation cobalt chromium balloon expandable stent which will provide a full size range in the 6 French compatibility mode. The device shall aid in treating de novo or restenotic atherosclerotic lesions in the lilac arteries. Currently, it is already in use across Europe.
In February 2020, Acutus Medical secured FDA clearance for its SuperMap AcQMap 3D Imaging and Mapping System. The device offers a high-fidelity and high-resolution mapping algorithm for transient and stable arrhythmias. This addition has rendered it as the only company to offer three mapping modalities, christened as SuperMap.
Electrophysiology Market: Segmentation
Product Type
Electrophysiology Laboratory Devices
3D-Mapping Systems
Electrophysiology Recording Systems
Radiofrequency (RF) Ablation Systems
Intracardiac Echoradiography (ICE) Ultrasound Imaging Systems
Electrophysiology X-Ray Systems
Others
Electrophysiology Ablation Catheters
Cryoablation Electrophysiology Catheters
Radiofrequency (RF) Ablation Catheters
Microwave Ablation (MWA) Systems
Laser Ablation Systems
Electrophysiology Diagnostic Catheters
Conventional Electrophysiology Diagnostic Catheters
Advanced Electrophysiology Diagnostic Catheters
Ultrasound Electrophysiology Diagnostic Catheters
Indication
Atrial Fibrillation
Atrial Flutter
Atrioventricular Nodal Re-entry Tachycardia (AVNT)
Wolff-Parkinson White Syndrome
Bradycardia
Others
End-user
Hospitals
Cardiac Catheterization Laboratories
Ambulatory Surgery Centers
Region
North America
Latin America
Europe
East Asia
South Asia
Oceania
Middle East & Africa
Need specific information?