Femtech Market by Service (Diagnostics, Monitoring, Therapeutic), Application (General Health and Wellness, Maternity Care, Menstrual Health, Pelvic and Uterine Healthcare, Cancer and Chronic Disease), End User & Region - Forecast to 2021 - 2031
Femtech Market - Analysis, Outlook, Growth, Trends, Forecasts
June 2021

REP-GB-11761

259 pages
Femtech Market Snapshot
The Femtech Market revenue totaled US$ 0.94 Bn in 2021, according to Future Market Insights. Driven by growing consumer awareness about women's health, the overall femtech market is expected to reach US$ 3.8 Bn by 2031, growing at a CAGR of 15.0% from 2021- 2031.
Growth prospects are likely to remain positive for the foreseeable future, supported by a growing demographic of working women. Direct to consumer end users will exhibit high demand, accounting for market valuation of more than US$ 345 Mn in 2021.
Key Points Covered in Femtech Market
Market estimates and forecast 2016-2031
Key drivers and restraints impacting market growth
Segment-wise, Country-wise, and Region-wise Analysis
Competition Mapping and Benchmarking
Brand share and Market Share Analysis
Key Product Innovations
COVID-19 Impact on Femtech Market and How to Navigate
Recommendation on Key Winning Strategies
2016-2020 Femtech Market Outlook Compared to 2021-2031 Forecast
Increasing incidence of infectious diseases among women, rise in awareness about general wellness, and availability of innovative alternatives for educating and de-stigmatizing women's health issues drove the market value to reach US$ 840 Mn in 2020.
The demand for femtech is largely aided by the burden of infectious diseases such as sexually transmitted infections (STIs). Such ailments are more prevalent in underdeveloped economies due to the unhygienic environments. According to the World Health Organization (eaHeWHO), over 1 million sexually transmitted infections (STI) are acquired each day, across the globe.
Pregnancy care, maternity care, and fertility issues combined with growing awareness for women regarding reproductive health and sexual empowerment have led to a surge in the demand for femtech services and solutions. The frequent occurrence of maternal injuries and death has aided in the expansion of the femtech sector.
Technological advancements including the development of software, apps, and devices for the sole purpose of assisting the consumer base with fertility solutions and reproductive health have gained traction in the last 5 years. The validity of these services is expected to rise throughout the forecast period with growing adoption in diagnostics throughout the globe.
Players use a branched approach to niche areas such as workplace regulations, advocacy against gender bias in advertising, and financial equity, which has led to a rise in the opportunities. For instance, in January 2020, Unified Women's Healthcare acquired the assets of Lucina Health to improve healthcare services and analytics for women and babies.
According to Future Market Insights, during the forecast period, the femtech market is expected to witness a rise at 15.0% CAGR with the contribution of digitalization of healthcare and reimbursement policies in medical insurance categories.
What is the Impact of Infectious Diseases in Women on Market Growth?
Sexually transmitted infections are the most common communicable diseases. Infections such as chlamydia, gonorrhoea, trichomoniasis, HIV and syphilis are at risk of being transmitted from mother to child during the gestation period and childbirth.
According to WHO, each year an estimated 6 million new cases of syphilis are reported, for individuals between the age group of 15 to 49 years. The foetal and neonatal deaths due to syphilis amounted to about 300,000 in 2016.
Solutions integrated with specialized modules of diagnosis and screening technologies would aim to increase the growth outlook of the femtech market over the forecast period.
What is the Impact of the COVID-19 Crisis on Femtech?
During the pandemic, women's health suffered especially in terms of mental health issues and a global rise in pregnancy, both planned and unplanned in addition to stillbirths. With the advent of the pandemic, there were about 7 million unintended pregnancies, along with an unusual surge in stillbirths.
This factor has widely been responsible for the need for Femtech services in diagnostics as well as awareness regarding maternal and neonatal care.
The Covid crisis also created a supply gap for service providers. This in turn, assisted Femtech services among consumers, thus increasing the use of digital solutions. For instance, the adoption rate of digital services through the advent of the pandemic showed a 10% increase globally.
This increase included the integration of services such as telemedicine, digital health metric tracking, and wearable solutions.
Country-wise Insights
What is the Current Scenario for Femtech in the U.S.?
The U.S. leads the femtech market in North America holding an approximate market share of 93% in the year 2021. The dominant stance is led by the growing prevalence of women related infections and diseases in the country.
According to the Centers for Disease Control and Prevention (CDC), over 15.6% of women over the age of 18 suffer from poor health conditions. The femtech market is thus supported by the rising prevalence of chronic and infectious diseases among the general population.
Increasing awareness about women's health, including menstrual and fertility health, has led to the adoption of Femtech solutions in the U.S. Moreover, key players such as Bloomlife focus on providing services such as personalized prenatal care. These factors account for the rising adoption of Femtech services in the country.
Why is the Demand for Femtech Increasing in the U.K.?
The U.K. dominates the femtech market in Europe and is estimated to grow at a CAGR of 14.1% over the forecast period. This growth is associated with the growing number of Femtech start-ups and government support through funding.
The start-up "FemTech Lab" was the first European start-up supporting and addressing women's health issues and gender bias related to healthcare research studies between the male and the female population.
The growing prevalence of menstrual problems leading to increased adoption of direct-to-customers in the market suggests growing popularity of Femtech. Rising awareness of digital and online services further propels the acceptance of Femtech solutions in the country.
What are the Key Factors Enabling Growth in China?
China presents itself as a dominant and lucrative market in East Asia by accounting for over 52.5% of the overall femtech market share here. The China femtech market is supported by continuous investments in the healthcare expansion for enhanced treatment facilities.
The rising impact of apps such as "Meet you" (or Meiyu) has largely impacted the level of awareness towards menstruation and women's health in the country.
How is Women's Health Awareness Boosting Sales in India?
India will account for about 45.8% of sales in the South Asia femtech market by the end of 2031. This is attributed to the soaring demand for preventive solutions in addition to rising awareness regarding a holistic review of women's health.
Nearly 18.8% of the total population of women in India suffer from menstrual disorders. The high rate of such women's health-related issues is set to result in the increased investments by the market players through forward or backward integration.
Category-wise Insights
Why is the Demand for Diagnostic Services on the Rise?
The global demand for diagnostic services in the femtech market is set to account for accelerated growth with a CAGR of 13.3% over the forecast period.
The rise in demand is subject to the growing incidence of chronic and infectious diseases among the female population. Increased awareness in terms of personal health and hygiene among women in addition to the availability of Femtech solutions in a digitalized platform for diagnosis and monitoring account for the necessitated rise in the demand for diagnostic services over the forecast period.
The growing incidence of chronic and infectious diseases among the female population will boost the demand for improved diagnostics solutions.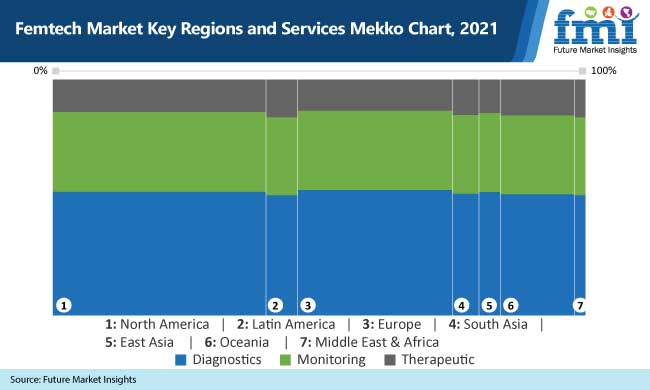 How is Menstrual Health Awareness Contributing to Sales?
Menstrual health application in the femtech market is expected to be lucrative with a market value of US$ 1358.0 Mn by 2031. This rise is expected due to growing menstrual health issues among females between the age group of 14 to 25.
The increasing awareness among the youth about menstrual and overall reproductive health is expected to enhance profitability among femtech market players over the forecast period.
New adaptive solutions about menstrual health such as tracking and monitoring symptoms have led to increased adoption of Femtech among the female population globally.
Why Does the Direct-to-Customer Segment Hold the Lead in the Femtech Market?
The direct-to-customer segment is expected to hold a revenue share of more than 30.5% in the femtech market by the end of the forecast period in 2031. It is expected to present an increasing rate of growth over the forecast period by a CAGR of 12.9%.
With the advent of digitalization, the emergence of various platforms related to women's health awareness and associated solutions have inherently intrigued the target consumer base. The mode of use is relatively user-friendly and thus assists consumers and providers in narrowing the gap between diagnosis, prevention, and treatment.
Competitive Landscape
Key companies in the femtech market have adopted the strategy of collaborations with leading universities associate with clinical developments to provide solutions and advance women's healthcare.
Partnerships among the leading femtech manufacturers and key pharmaceutical companies also allow the market players to provide customized products and solutions.
For instance, the development of a hands-free and cord-free contraction monitoring system by Bloomlife in 2019 for the automatic tracking and frequency recording including durations and patterns of contractions during birthing.
Hertility Health, a new femtech startup announced the closing of a 4.8-million-euro seed funding round, which will help the company to expand its offerings of PCOS, hormone testing, menopause, and more.
In June 2021, Eastra Health has emerged as the first biotech company to develop psychedelic-derived medicines specifically for women for conditions such as PMS and menopause.
Scope of Report
Attribute

Details

Forecast Period

2021-2031

Historical Data Available for

2016-2020

Market Analysis

USD Million for Value

Key Countries Covered

US, Canada, Brazil, Argentina, Mexico, Germany, U.K., France, Italy, Spain, Russia, BENELUX, China, Japan, South Korea, India, Thailand, Malaysia, Indonesia, Australia, New Zealand, UAE, GCC Countries, Turkey and Northern Africa

Key Segments Covered

Service, Application, End-User and Region

Key Companies Profiled

Clue
Aparito Limited
Bloomlife
Bonzun Health Information AB
Elvie
Ava Science Inc.
Grace Health
iBreve
LactApp
Natural Cycles Nordic AB
Hera Med Ltd.
Niramai Health
NURX Inc.
SteadySense GmbH
Pregnolia AG
Willow
WOOM
B-wom

Report Coverage

Market Forecast, Company Share Analysis, Competition Intelligence, DROT Analysis, Market Dynamics and Challenges, and Strategic Growth Initiatives

Customization & Pricing

Available upon Request
World's Most Profilic Intelligence Engine
Get Access To The World's Largest Market Research Database.
Sign Up Now
Femtech by Category
By Service
Diagnostics
Monitoring
Therapeutic
By Application
General Health and Wellness
Maternity Care
Menstrual Health
Pelvic and Uterine Healthcare
Cancer and Chronic Disease
By End User
Direct-to-consumer
Hospitals
Surgical Centers
Fertility Clinics
Diagnostics Centers
By Region
North America
Latin America
Europe
East Asia
South Asia
Oceania
The Middle East and Africa (MEA)
Key Questions Answered in the Report
What is femtech market size?
Supported growing consumer awareness about women's health, the global femtech market will surpass US$ 948 Mn in 2021. It is expected to surpass US$ 3.8 Bn in 2031.
At what rate did the femtech market expand in the last five years?
According to FMI's analysis, femtech sales have grown at 11.5% CAGR between 2016 and 2020.The market's valuation stood at over US$ 840 Mn in 2020.
What are the key trends shaping the femtech market?
Key trends include a direct-to-customer approach by minimizing communication gap between providers and consumers for diagnosis, prevention, and treatment. Monitors, wearables, apps, and other products enable ease of monitoring and tracking women's health.
What are the key factors driving femtech market demand?
Increasing prevalence of chronic and infectious diseases among female populations, rising awareness among youth in terms of women's health, and the advent of digital technology integrating telemedicine solutions along with general monitoring, diagnosis with wearables and apps.
What is the North America femtech market outlook?
Demand in North America will continue to rise, aided by rising sales across the U.S. and Canada. As per FMI research, North America will hold over 41.4% of the global femtech market in 2021. Increasing awareness on menstrual and fertility health and presence of key players in the region to boost the market during the forecast period.
Which countries are key markets for femtech?
The U.S., Germany, U.K. and China are the key markets of Femtech
What is the cumulative share of top five companies in the femtech market?
The top 5 players including Willow, Elvie, NaturalCycles Nordic AB, CareNX InnovationsPvt. Ltd., and WOOM constitute around 16.2% of the overall market.
Which companies are key exporters of femtech?
Bloomlife (U.S.), Aparito Limited (U.K.) and Elvie (U.K.) are key exporters of Femtech products and services.
Which are the top countries driving demand for femtech?
The U.S., Germany, U.K., India, and China are the top 5 countries which are driving the demand in the Femtech Market.
What are the key statistics for femtech market in Japan and South Korea?
Japan is gaining traction and is expected to exhibit a growth at 16.9% CAGR during the forecast period. South Korea holds a revenue share of 0.01% in the global femtech market.
Need specific information?
Our Clients