Floriculture Market Poised for Twofold Revenue Growth by 2029
The floriculture market has been growing on the back of the increasing usage of flowers, and foliage in creating attractive bouquets for various occasions. However, in a bid to enhance overall ambience, and sustainability, corporate spaces are incorporating green interior walls, while consumers are increasingly indulging into gardening activities. Exhibiting a robust CAGR of more than 7%, the global floriculture market will experience twofold growth in revenues between 2019 and 2029.
Key Growth Influencers - Floriculture Market
Rising Interest in Gardening
An increasing number of individuals are pursuing gardening and keeping houseplants. Consumers are concerned about finding green spaces, as these are perceived to boost mental health and also improve air quality. Consumers prefer flowering plants, which largely contributes to growth of the floriculture market in developed countries such as the U.S.
According to the national gardening report, there was a sharp increase in the number of people in the U.S. exploring gardening in 2016, and this number reached nearly 6 Mn.
Europe Remains Global Trade Hub for Floriculturists
In the global floriculture market, Europe accounted for a share of around 68.1% in terms of value in 2018, attributable high production of floriculture on a large scale in the Netherlands, Italy, Germany, and other European countries. Additionally, establishment of the Dutch auctions, which is the largest trading system for flowers and plants in the world, in Europe contributed significantly to growth of the floriculture market in Europe.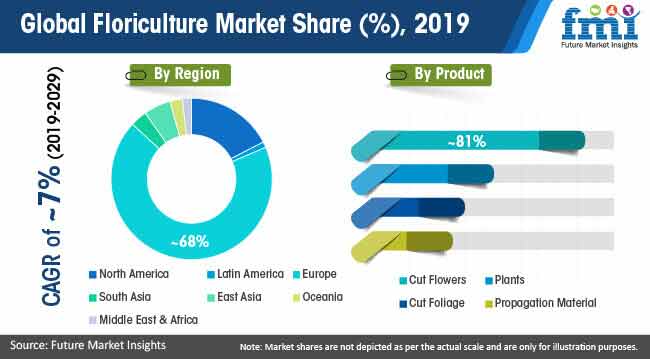 Adoption of Virtualized Trade Network
The floriculture market is characterized by the presence of a large of number of SMEs (Small & medium-sized enterprises), with a lack of a sophisticated trading system that restricted efficient contact of local growers with global consumers. These SMEs have shifted from conventional logistic services to virtualized trade network to ensure seamless supply of flowers. Shift to virtualized trade network also enables better logistics co-ordination and information availability in the floriculture supply chain, enables all participants in the supply chain to access real-time information available in the floriculture supply chain, ensuring smooth, cost-effective, and faster deliveries of floriculture products. This is essential in case of cut flowers, given their time of degradability.
Additionally, demand for cold chain protocols is rapidly growing among B2B flower buyers as proper cold chain management has a positive effect on product quality and shelf life of floriculture products, which leads to higher profits. Thus, companies focus on establishment of cold chain protocols, which is anticipated to be vital for long-term growth in the foreseeable future.
Floriculture Market: Structure Analysis
The global floriculture market represents a fairly fragmented competition landscape, where majority of the key players maintain their strategic focus on increasing production of flowers, improving product quality and offering unique varieties of flowers, obtaining certification and improving their market position.
Companies have started shifting their production of flowers from countries that are traditional consumers and growers towards other new producing countries, mainly developing countries, attributable to advantageous factors such as low labor costs, favorable climate conditions, availability of land, and fiscal incentives.
Florance Flora is one of the leading floriculture companies that supplies young plants for cut flowers, potted plants, and vegetable seeds worldwide. It has around 7 farms across India with over 200 acres of farmland, which consists of 75 acres of protected cultivation in greenhouses.
Cut Flowers Account for over 80% Share
Accounting for a voluminous share in the floriculture market, cut flowers remain the key revenue generator for market players. Demand growth for cut flowers will reap profits worth over US$ 60 Bn towards the end of projection period. In addition, cut flowers portray a significant contribution in the GDP of countries including, Kenya, where they are the second-most exported products following tea. However, with changes in consumer preferences for flowers and floral décor, floral designers are mixing cut flowers with interesting plant materials, cut foliages and dried botanicals to add beautiful texture and movement to the flower arrangement. This is resulting in rapid adoption of cut foliages and plants, despite their meagre contribution to the overall market revenue.
Europe and North America Continue their Primacy
Accounting for nearly 70% share, the floriculture market in Europe continues to offer worthwhile growth prospects. The UK, and Germany spearhead the regional market on the back of the growing market for cut flowers and ornamental plants. Furthermore, the Netherlands, is the leading domestic supplier of flowers, including tulips, and chrysanthemum. North America is also reflecting opportunistic growth potential owing to the noteworthy import of floriculture products in tandem with the flourishing local cut flower industry. The US floriculture market represents the most lucrative market, generating over US$10 Bn revenues by 2026.
Optimization of Supply Chain Logistics with Virtualized Trade Network
Cut flowers possess limited vase life; they require swift transportation from farms to floral stores within a day or two. Market players, especially small & medium-sized enterprises (SMEs) in the floriculture market must accelerate their shift towards virtualized trade network to ensure uninterrupted supply of flowers and foliage. Virtualized trade network allows the market participants in the supply chain to access real-time data, enabling cost-effective, and fast-track delivery of floriculture items.
Surging demand for cut flowers
Demand for plants to grow rapidly
Chrysanthemum to gain traction
Institutions/events remain top adopter
Increasing usage in hotels, resorts, & spas
How Growth will Unfold
Adoption of floriculture is currently based on the need for integration of green cover into the interior designs of workspaces. Institutions/events that currently hold around 3/5th of share in market would remain the prominent adopter of floriculture items. On the other hand, hotels, resorts, and spas are also attracting significant attention of market players, where sales of flowers and botanicals will surpass US$ 10 Bn by 2021. As gardening is associated with boosting mental health, consumers are cultivating flowers for personal use. However, this study reveals that floriculture market will witness rapid revenue growth from the industrial settings.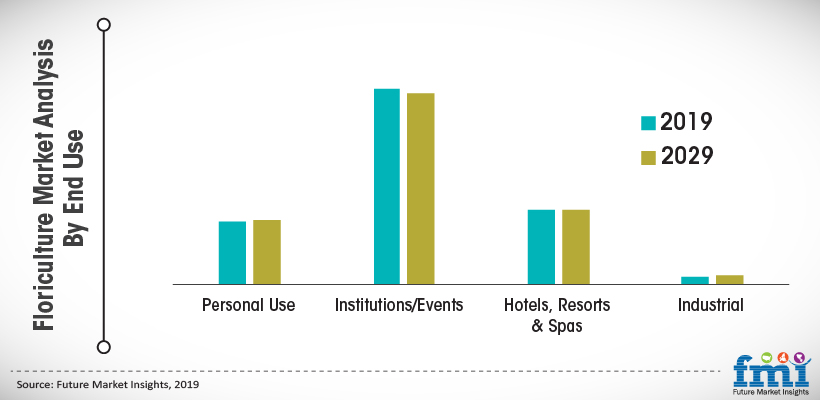 * This data is only a representation. Actual data may vary and will be available in report.
Click Here To Know How The Growth Will Unfold
Custom Market Research Services
FMI offers custom market research services that help clients to get information on their business scenario required where syndicated solutions are not enough.
Overview
Floriculture Market Analysis 2019-2029
A recent market study published by Future Market Insights on the floriculture market provides global industry analysis for 2014-2018 and opportunity assessment for 2019-2029. This report offers a comprehensive assessment of the most important market dynamics. After conducting a thorough research on the historical, as well as current growth parameters of the floriculture market, growth prospects of the market are obtained with maximum precision.
Floriculture Market Taxonomy
The global floriculture market is segmented in detail to cover every aspect of the market and present complete market intelligence to readers.
Product
Cut Flowers
Cut Foliage
Plants
Propagation Material
Flower
Rose
Chrysanthemum
Tulip
Lily
Gerbera
Carnations
Texas Bluebell
Freesia
Hydrangea
Others
End Use
Personal Use
Institutions/Events
Hotels, Resorts, & Spas
Industrial
Sales Channel
Direct Sales
Specialty Stores
Franchises
Florists & Kiosks
Supermarkets/Hypermarkets
Independent Small Stores
Online Retailers
Other Sales Channel
Region
North America
Latin America
Europe
East Asia
South Asia
Oceania
Middle-East and Africa
How the research was conducted?
Primary Research
Primary research interviews with key opinion leaders and other participants were conducted for data collection and validation of the below information:
Key Segments in the Floriculture Market
Market Share Analysis
Average Selling Price (US$) and Market Growth
Comparative Analysis of Several Floriculture Present in the Market
Market Size
Key Trends & Developments
Competition & Key Vendor Strategies
Secondary Research
Industry Journals
Import-Export Database
IMF/World Bank/Country Government websites/ FAO/ ITC/USDA/APEDA
Annual Reports/SEC Filings/Investor Presentations
Primary Interview Splits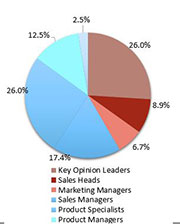 To Learn More About our Comprehensive Perspective on Floriculture Market,
Get in touch
COVID -19 : Impact Analysis
Request the coronavirus impact analysis across industries and markets
Request Covid -19 Impact
CASE STUDIES
See how our work makes an impact.
At FMI, we design strategies that are adaptive, impactful, and implementable.