An Incisive, In-depth Analysis on the Floriculture Market
This study offers a comprehensive, 360 degree analysis on the Floriculture market, bringing to fore insights that can help stakeholders identify the opportunities as well as challenges. It tracks the global Floriculture market across key regions, and offers in-depth commentary and accurate quantitative insights. The study also includes incisive competitive landscape analysis, and provides key recommendations to market players on winning imperatives and successful strategies.
Floriculture is the process of the cultivation of flowers, and the plants and foliage involved in the cultivation of flowers. The scope of the floriculture market report includes propagation material such as seeds and tissue cultures required for their cultivation, and mainly floriculture products that are applicable as single cut flowers, bouquets, potted flowers, potted plants, and used as decorative items and ornamentals. The floriculture market is segmented into product type, flower type, end use, and sales channel. Significant challenges result due to the fragmented nature of avenues through which these products are offered in the market, and their struggle in the timely deliveries of objects with a lower vase life. In the end use segment, floriculture for the industrial segment is on an exponential rise, due to the rise in demand for natural and organic products, aversion of chemicals, and high awareness regarding the duplicity and adulteration of personal care and spa products. This is where certified floriculture products become handy for suppliers, with their application as natural ingredients in end use products. Consumer awareness is also high in terms of the authenticity of products, which has given rise to a trend in certifications by recognized bodies of floriculture products.
Laying Emphasis on the Origin of Floriculture Products
Floriculture products that come with a story are being sieved by consumers while buying. Floriculture products such as the ones with a unique origin or provenance help consumers connect with families and friends. These products are connected with the consumers, deep down. These floriculture products often justify their premium prices, and provoke greater demand for high-priced floriculture products amongst high income consumers.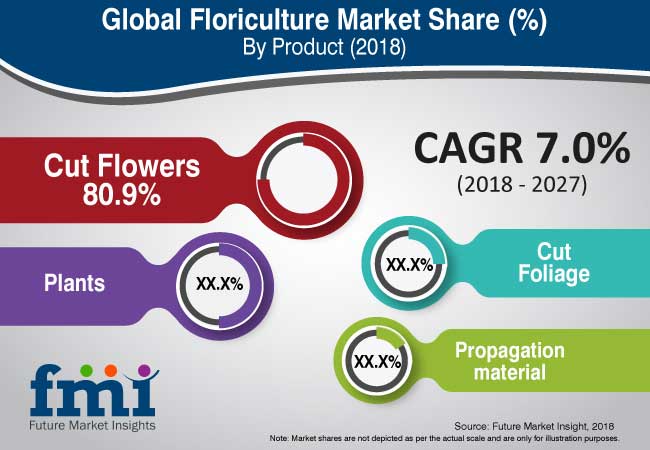 Floriculture is Becoming a Mainstream Occupation
New market players are emerging in local markets, and have witnessed significant growth over the historical period, especially in regions such as Southeast Asia and the Indian subcontinent. These players are collectively expected to gain considerable market share in the future, as floriculture is becoming a mainstream profession for earning their livelihood. In developing countries such as India, where farmers are plagued with uncertainties in their annual agricultural yield, floriculture companies are taking up initiatives to encourage and educate them to embrace floriculture as an alternative business for earning better profits.
Key players in Europe are capitalizing in the East African region, specifically Kenya and Ethiopia, to expand their production capacity of floriculture products. Their efforts are notable despite energy and water shortages in this region. Few floriculture market participants are also eyeing harnessing energy from natural resources in this region, to expand their floriculture business. In addition, urbanization and an emerging number of local floriculturists in APEJ is increasing, which is a factor fueling the demand for floriculture imports from Europe. These countries also house a greater proportion of the low-earning population who are engaged in the farming and cultivation of forestry products, and are likely to adapt to the changing business scenarios in horticulture.
In terms of value, the global floriculture market is expected to represent an incremental opportunity of 2,473.7 Mn by 2018 end over 2017. By product type, the cut foliage segment is expected to register a CAGR of 8.5% in the floriculture market. The Middle East & Africa is expected to register relatively sluggish growth in the floriculture market.
Increase in Specialized Retail Channels in Developed Countries
Flowers and potted plants are generally traded through specialized channels such as auctions, gift shops, décor shops, etc. The availability at neighborhood shops, meaning the number of retail outlets providing floriculture products, is a key reason driving market growth, especially in Europe. In addition, the demand for floriculture products is coming from unspecialized retail sectors such as supermarkets as well. The demand for floriculture products in supermarkets signifies consumer willingness to buy flowers from unspecialized retail stores. Hence, the growth in the number of retail outlets is expected to boost market growth. This growth is prominent in countries such as the U.K. Also, the online sales channel is increasingly becoming a preferred sales channel for consumers to buy floriculture products. This factor is complemented with the growth in selling floriculture products on the Internet. The assortment of flowers offered through online sales has also been on the rise. The principle feature, which is the availability of information for consumers offered by online sellers, governs the growth of the segment in the floriculture market. On special days such as Valentine's Day, the online demand for flowers peaks significantly. Hence, with the rise in the Internet and digital buying patterns of consumers, especially in developed regions, the floriculture market is expected to grow emphatically.
Analysis by Region
On the basis of region, the market in Europe is anticipated to dominate the global floriculture market in 2018. APEJ is expected to gain significant market share in revenue terms by 2027 end. Moreover, countries/regions such as India and ASEAN are expected to exhibit high growth during the forecast period.
FMI has compiled a study on floriculture, which offers an analysis and forecast of the floriculture market, in its publication titled, Floriculture Market: Global Industry Analysis 2013–2017 and Opportunity Assessment 2018–2027. This report on the floriculture market covers some of the vital facets that are key influencing factors on the demand and supply of floriculture over the next several years. An in-depth review of the growth drivers, potential challenges, unique trends, and opportunities for market participants equip readers to fully comprehend the overall landscape of the floriculture market. The report on the floriculture market also covers analysis of key regions and countries of particular interest that are anticipated to become frontrunners or remain laggards over the forecast period. The floriculture market report covers a historical analysis of the market from 2013 to 2017, and provides forecasts from 2018 to 2027 in terms of volume in metric tons and revenue in US$.
Floriculture is the cultivation of plants, flowers, and foliage. In the scope of the report on floriculture market, the product type segment covers flowers such as pot plants, cut flowers, foliage, cut plants, and various propagation materials such as bulbs, seeds, and tubers. These products are voluminously used in bouquets, gardening activities, décor objects, and social events. Most of these products are cultivated in two ways - through open field farming and greenhouses. Cultivators are slowly converting their areas dedicated to open field farming to greenhouses, and the industry is revolutionizing with biotechnology, which has introduced new varieties to consumers.
This report on the floriculture market has been broken down into different chapters to enhance clarity and provide context. A brief executive summary at the beginning of the report consists of some of the key findings of the study on the floriculture market, as well as market estimates and growth rates for important segments. The following chapter presents the definitions and scope of the study, as well as the coverage in terms of the way the floriculture market is structured. Subsequently, the chapter on market background presents the evolution of floriculture, relevant economic indicators such as GDP and per capita spending, including an assessment of the supply chain, policy developments and regulatory scenario, and dynamics impacting the floriculture market, as well as an explanation of the factors considered important to develop forecasts and estimates. The report on the floriculture market also includes a chapter on pricing analysis, highlighting price point variations between different regions and products, including pricing forecasts. The following chapters dive deep into the global floriculture market, covering detailed information based on grade, nature, end use, packaging, and sales channel. The next set of chapters provide region-wise analysis and forecasts of the floriculture market, covering vital aspects of the markets in North America, Latin America, Europe, Asia Pacific Excluding Japan, Japan, and the Middle East and Africa.
A dashboard view of some of the key companies operating in the floriculture market in terms of their offerings, regional presence, and other metrics is a precursor to detailed profiles of these participants, including financial information, strategy overview, SWOT analysis, and market share, as well as analyst commentary. Some of the key players analyzed in the floriculture market report include Karuturi Global Limited, Florance Flora, Verbeek Export B.V., Florensis Flower Seeds UK Ltd, Danziger Group, Dos Gringos, LLC, Marginpar BV, Flamingo Horticulture Ltd, Esmeralda Farms, Native Floral Group, Oserian Group, Selecta Cut Flowers S.A.U., Forest Produce Ltd, Tropical Foliage Plants, Inc., and Tropiflora Ltd.
To develop the market estimates for floriculture, the overall production of floriculture in different regions and countries has been taken into account, which is followed by tracking the trade of floriculture and the re-exports of the major consuming countries. This is then cross-referenced by understanding the market shares of key producers through their revenues and annual reports. Prices of floriculture have been obtained from suppliers, distributors, and wholesalers for bulk quantities at a country level.
Our team of analysts review and interpret data from a variety of sources. Data attributed to 'FMI' are derived by using a combination of various approaches, which is then consolidated, interpreted, and extrapolated by FMI analysts. Data is sourced from government statistics, trade associations, company annual reports and investor presentations, press articles and directories, technical publications, and online databases, which are cross-referenced with FMI's reports and internal repository of data to filter and validate the collected information. Intelligence gathered from desk research is supplemented by extensive interviews with selected key expert participants across the value chain, not only to gain information specific to their role and operations but also to obtain their perspective and insights of the issues impacting the floriculture market.
Global Floriculture Market: Segmentation
Analysis by Product Type
Cut Flowers

Cut Foliage

Plants

Propagation Material
Analysis by Flower Type
Roses

Chrysanthemums

Tulips

Lilies

Gerberas

Carnations

Texas Bluebells

Freesias

Hydrangeas

Others
Analysis by End Use
Personal Use

Institutions/Events

Industrial
Analysis by Sales Channel
Direct

Specialty Stores

Supermarkets

Online Retailers

Others
Analysis by Region
North America

Latin America

Europe

Asia Pacific Excluding Japan (APEJ)

Japan

Middle East & Africa (MEA)
Floriculture Market Reports - Table of Contents
1. Global Floriculture Market - Executive Summary
12. Secondary and Primary Sources
13. Assumptions and Acronyms
Harish Tiwari
Global Head - Business Development
CASE STUDIES
See how our work makes an impact.
At FMI, we design strategies that are adaptive, impactful, and implementable.