Guidewires Market Outlook & Key Findings
Guidewires market likely to grow at over 6.0% in 2020 owing to increasing adoption of minimally-invasive procedures for the treatment of coronary heart diseases
Guidewire manufacturers are focusing on developing technologically advanced products to capture market share
COVID-19 outbreak a short-term blip for guidewires market; long-term prospects remain bullish
Technological Advancements: A Pathway to Guidewires Market Growth
Guidewire engineering is moving towards more advancement as more complex lesions like CTO (chronic total occlusions) are replacing PCI (percutaneous coronary invention) lesions.
Retrograde, antegrade, and at times, even subintimal approach needs guidewires with CTO lesions. As such, these approaches are the largest growth area on the count of novel guidewire technology. Innovative products are being launched by the major market players to cater to CTO as well as PCI lesions.
Medtronic, one of the leading manufacturers of guidewires, has tabled "Wholey Guidewire System" in diverse configurations with varied lengths. It enables better interaction with the interventional devices.
Besides, Teleflex Incorporated, in Jan 2020, announced that it had received clearance from US FDA regarding Wattson Temporary pacing Guidewire designed for usage during TAVR (transcatheter aortic valve replacement) and BAV (balloon aortic valvuloplasty). It's the very first commercially available bipolar temporary pacing guidewire.
In Apr 2020, Boston Scientific Corporation announced launching its novel Kinetix Guidewire for usage in PCI procedures. This is the first major advancement in the coronary guidewire technology since the last decade.
On the other note, the US FDA, in Aug 2019, has also put forth regulations related to upgradation of neurovascular, peripheral, and coronary guidewires. This compliance will also drive the market for guidewires in the forecast period.
Interventional Guidewires Witnessing Growing Demand
Interventional guidewires are witnessing an increasing adoption in minimally-invasive surgical procedures as they prove to be less painful. The other advantages include faster recovery and less scarring.
Also, ambulatory centres across the globe prefer interventional guidewires, so that they could facilitate cost-effective, same-day discharge. These advantages are expected to drive the guidewires (interventional, in particular) market in the forecast period.
Guidewires Demand Directly Proportional to Increasing Prevalence of Non-Communicable Disease
As per the WHO, every year 70% deaths are attributed to non-communicable diseases
Furthermore, middle- and low-income countries around the world contribute for over 85% deaths due to NCDs that include diabetes, cancer, mental health, and cardiovascular diseases. Furthermore, cardiovascular diseases are reported to cause around 17.9 million deaths annually.
Moreover, across Asia Pacific, majority of total deaths is attributed to NCDs, especially in South-East Asia. These NCDs do develop over the period of time with adverse effects on the functional capabilities. The WHO states that deaths due to NCDs are projected to rise by 15% between 2010 and 2020; which comes to 44 million deaths; out of which 10.4 million would be reported in South-Asia alone.
The above mentioned statistics state that minimally invasive surgeries are imperative herein; and would bolster the guidewires market in the upcoming period.
New Product Launches, Coupled with Inorganic Growth Parameters to Catalyze the Guidewires Market
Globally, guidewires market players are looking forward to consolidate their positions through acquisitions, partnerships, and collaborations at the local level.
The other intention behind acquisitions is expansion of commercial and industrial platform pertaining to global distribution network. For instance – Boston Scientific and Mayo Clinic, in Jul 2019, entered into collaboration for accelerating development of minimally-invasive technologies for neuromodulation, urology, heart rhythm management, endoscopy, and interventional cardiology.
New product launch is another path being tread by the market players. For instance – Cardiovascular Systems, Inc., in Oct 2019, did announce pre-market approval for Viper Wire – Advance Coronary Guide Wire from US FDA so as to enhance its product offerings.
In May 2019, Medtronic launched WHAT IS DID LAUNCH Telescope Guide Extension Catheter to make way for additional backup support along with access to the distal lesions.
Covid-19 Crisis Impact: Key Challenges to Guidewires Market
The ongoing coronavirus pandemic is making a significant impact on the medical device industry including the guidewires market. The business has already slowed down due to Covid-19 pandemic and it is expected to take a while to recover.
Many of the leading companies are unable to manufacture enough guidewires to meet the global demand due to the shortage of manpower. The employees have been encouraged to work from home, and thus the production of medical devices has taken a hit. This disruption in supply chain could hamper the guidewires market for some time.
Guidewires Market: Region-wise Analysis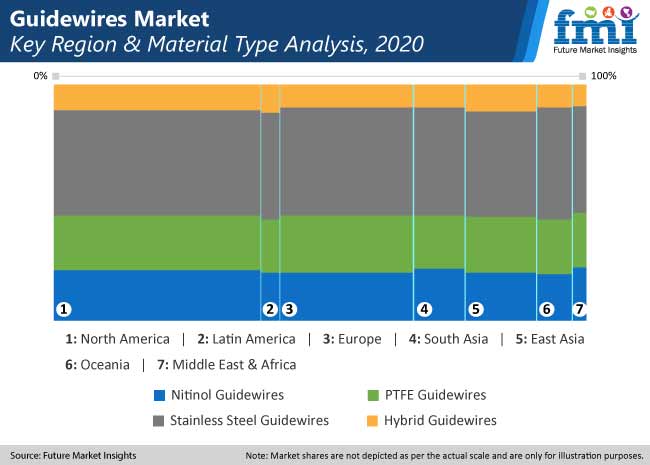 North America continues to be the most lucrative market for guidewires due to the high adoption rate of interventional as well as diagnostic guidewires. The U.S.remains the most lucrative country in global guidewires market and it has consistently shown notable annual growth rates, and the guidewire market is expected to grow at over 5.5% in 2020.
Asia Pacific is expected to grow at the fastest rate in the forecast period. Guidewires demand in this region can be attributed to increasing medical tourism, rising incidence of lifestyle-related and chronic diseases, and healthcare infrastructure improving at a rapid pace.
According to International Diabetes Federation Atlas, China and India have the highest number of diabetic patients, aged between 20 and 79
The guidewires market in Japan is slated to witness an exponential growth as more than 25% of its population is aged 65 and above. The geriatric population requires regular healthcare support and management, which is likely to push demand for a number of products, including guidewires.
Guidewires Market: Competitive Intelligence
Some of the key players in the guidewires market are:
Americas
Boston Scientific Corp.
Becton, Dickinson and Company
Teleflex Incorporated
Abbott
Cook Medical Inc.
Stryker Corporation
Merit Medical Inc.
Europe
Medtronic Plc.
Cardinal Health
B. Braun Melsungen AG
Asia Pacific
Terumo Corporation
Olympus Corporation
*The list is not exhaustive, and only for representational purposes. Full competitive intelligence with SWOT analysis available in the report
Guidewires: The Way Forward
The long-term outlook on guidewires market is arithmetically progressive, with FMI's analysis estimating revenues to grow at over 6.0% consistently. The global increase in the patient pool having the chronic cardiac disease and rising elderly population are likely to drive demand.
Guidewires manufacturers will need to focus on cost management and product distribution through collaboration to expand their presence in wider geographies.
Portfolio strengthening and upgradation to technologically advanced guidewires are the major strategies of key market players. Besides, to increase their presence in lucrative markets and introduce a new product to a new set of end-users, market consolidation activities such as mergers, acquisitions and collaborations need to be on the anvil.
Key Segments of Guidewires Market
FMI's study on the guidewires market offers information divided into six important segments— product type, application, material type, tip shape, end user, and region. This report offers comprehensive data and information about the important market dynamics and growth parameters associated with these categories.
Product Type
Diagnostic Guidewires

Hydrophilic Guidewires
Hydrophobic Guidewires

Interventional Guidewires

Hydrophilic Guidewires
Hydrophobic Guidewires
Application
Coronary Guidewires
Peripheral Guidewires
Urology Guidewires
Radiology Guidewires
Neurovascular Guidewires
Gastroenterology Guidewires
Others
Material Type
Nitinol Guidewires
PTFE Guidewires
Stainless Steel Guidewires
Hybrid Guidewires
Tip Shape
J Tip
Angled Tip
Straight Tip
End User
Hospitals
Ambulatory Surgical Centers
Cardiac Catheterization Laboratories
Specialty Clinics
Region
North America
Latin America
Europe
East Asia
South Asia
Oceania
Middle East and Africa
Need specific information?