An Incisive, In-depth Analysis on the Kombucha Market
This study offers a comprehensive, 360 degree analysis on the Kombucha market, bringing to fore insights that can help stakeholders identify the opportunities as well as challenges. It tracks the global Kombucha market across key regions, and offers in-depth commentary and accurate quantitative insights. The study also includes incisive competitive landscape analysis, and provides key recommendations to market players on winning imperatives and successful strategies.
COVID -19 : Impact Analysis
Request the coronavirus impact analysis across industries and markets
Request Covid -19 Impact
Kombucha is a fermented tea that is gaining attraction as a functional beverage, due to its health aiding benefits. Kombucha is prepared from the cultures of bacteria and enzymes, and thus acts as a probiotic, and helps in improving body functioning and improving the digestive health of the body. Besides, it is also used as an energy booster and mood enhancer. The rapid popularity of kombucha is also attributed to its fizzy taste and unique flavour, which helps it stand out among the other beverages available in the market. Kombucha is expected to give tough competition to its opponents, owing to the dual benefit of the drink, one being its taste and the other its functional properties, which is referred to as the 'Elixir of Life'.
In terms of value, the global kombucha market is expected to reach a market value of US$ 6,543.8 Mn by the end of 2027, with an expected CAGR of 16.6% over the forecast period 2018 - 2027. The driver for the growing demand for kombucha is the rising trend for organic food and beverages in the market. The sales of organic food and beverages are hitting an all-time high, because people are becoming more and more aware and health conscious, and are thus preferring organic products and products produced using organic ingredients. Kombucha is an organic beverage, and hence, is expected to register significant market attraction. One of the other factors driving the growth of the kombucha market is the growing demand for healthy and nutritious drinks. Consumers are interested in the functionality and nutritive value of their beverages, and thus, are getting inclined towards functional drinks such as kombucha. Besides, the rising demand for energy drinks is driving the market for kombucha, as kombucha is one kind of energy drink that contains energizing B, which helps in enhancing oxygen flow in the body. These factors are responsible for driving the growth of the kombucha market.
North America and Europe are Key Markets for Global Kombucha Market Revenue
The North American region, followed by Europe, are anticipated to provide significant growth to the global kombucha market. The kombucha market in North America is expected to expand at a CAGR of 15.2% over the forecast period, to reach a market value of US$ 2,089.6 Mn by 2027. Europe is expected to account for a market share of 34.0% in 2018, becoming the second-largest contributor for the growth of the kombucha market. The kombucha market is expected to witness lucrative growth in the APEJ region, with this region expected to witness a CAGR of 18.5% over the forecast period.
Segmental Overview of the Global Kombucha Market
By flavour segment, unflavoured/regular kombucha is anticipated to account for a market share of 27.6%. However, flavoured kombuchas are gaining popularity due to innovative tastes and flavours, and are expected to account for a greater share of spending compared to unflavoured kombucha. The herbs & spices flavour segment of kombucha is anticipated to grow at a CAGR of 18.0% over the forecast period, followed by the berries flavour segment. Manufacturers are offering different ingredients and flavours for kombucha to attract a larger consumer base. On the basis of sales channel, the kombucha market is anticipated to be dominated by the food and drink specialty stores segment, which is anticipated to register a growth rate of 21.9% over the forecast period in terms of value. In terms of packaging, the glass bottles segment is expected to account for a market share of 72.6% in 2018 in revenue terms. However, the cans segment is expected to have better market prospects, and is expected to grow at a CAGR of 22.6% over the forecast period.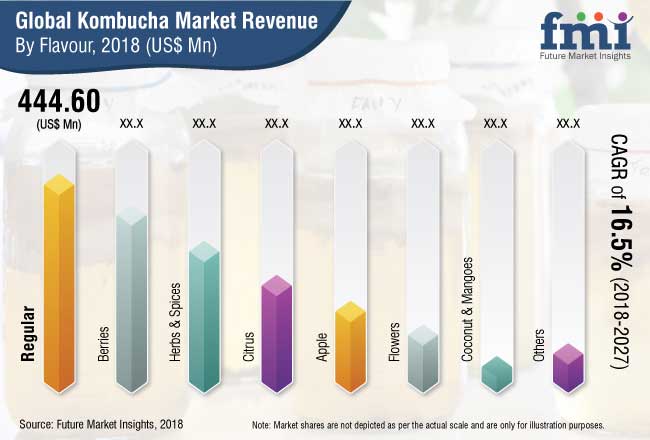 Scope of the Kombucha Market
Manufacturers are making investments to advertise and promote their kombucha brands. For the same, they are using platforms such as social media, including Instagram, Facebook, and others. This is helping them gain attention and the interest of consumers towards their product offerings. Besides, manufacturers are being innovative in producing multiple options in kombucha flavours by playing around with ingredients or adding flavours such as berries, lemon, ginger, coffee, fruit, and many others. For instance, in May 2017, GT's Kombucha introduced three new flavours - basil, watermelon, and coffee lovers.
The kombucha market can rise even more rapidly with the interplay of technology and innovation in its production process. Improved and optimized fermenters can help reduce inefficiencies during the fermentation of kombucha. Advanced machinery for bottling can improve time efficiency, and can reduce the manual labor required for the production of kombucha.
Activities by Key Players in the Kombucha Market
In 2018, Starbucks Corporation started offering kombucha under its brand Evolution Juice. The company is offering kombucha in six different flavours.

In 2018, RISE Kombucha, the first and chief Canadian kombucha company, has been mounting beyond its Montreal roots and venturing into the markets of the United States.
This report provides forecast and analysis of the global kombucha market. It provides estimated data of 2018, and forecast data up to 2027 in terms of revenue (US$ Mn) and volume ('000 liters). The global kombucha market report also includes key indicators influencing the preference and consumption of kombucha, market dynamics, along with an outlook on kombucha for the global market. It includes market growth drivers and challenges for the global kombucha market, and their impact on each region during the forecast period. The report also comprises the study of the drivers, restraints, threats, and opportunities for the kombucha market. The report also includes value chain analysis and opportunity analysis of the market, along with the pricing analysis and cost structure for the kombucha market.
Kombucha is commonly intended to be used as a functional beverage, and is a slightly alcoholic, fermented, lightly sparkling, sweet or sweet-sour green or black tea drink. It is made with sugar, tea, and cultures of a symbiotic colony of bacteria and yeast. Kombucha takes around 2 weeks to get fermented in a brewery. The most commonly used fermentation culture for kombucha is SCOBY, which stands for Symbiotic Culture of Bacteria and Yeast. Kombucha is available in different varieties of flavours, including regular, herbs & spices, citrus, berries, apple, coconut & mango, flowers, and other blended flavours. Kombucha is gaining wide popularity and acceptance due to its functional and health aiding properties, ranging from digestion to joint health, and it is fully packed with antioxidants and probiotics that support body functioning and the immune system. Kombucha is a one kind of energy drink that contains energizing B vitamins in addition to caffeine, which helps in enhancing oxygen flow in the body. Thus, it is taken as an energy booster, and is gaining popularity among athletes and sportspersons.
Health and wellness has been the new trend of late, and food and beverage manufacturers and marketing heads have acknowledged this change in trend and consumers awareness, and have competently implemented stratagems products that fulfill consumer demand. Functional food and beverages is one of the markets with exponential growth. The trend of organic, clean label, and natural products is driving the markets in the food and beverages sector. Kombucha is a drink that is organic, and has several health aiding and benefiting qualities. It has potential in detoxification of the body, improving body digestion, immune system stimulation, and arthritis and cancer prevention, cholesterol reduction, energy enhancement, enhancing mood and athletic performance, and other benefits. Besides, kombucha is used in weight management, which adds on to its functional nature.
In order to provide the users/clients of this report with a comprehensive view of the kombucha market, we have included a detailed competitiveness analysis and key players in the kombucha market with their strategy overview, product offerings, and developments. A dashboard view of the entire landscape provides a detailed comparison of kombucha manufacturers on metrics such as total revenue, operating segments, operating regions, product offerings, and key differentiators. The study encompasses kombucha market attractiveness analysis by segments such as flavour, sales channel, packaging, and region.
For the estimation of the market size of kombucha, companies manufacturing kombucha were taken into consideration along with a detailed review of their product offerings. The revenue/sales of each company was tracked along with their product offerings. The market share of each kombucha company was calculated and taken into consideration for market sizing. Consumer preference and the consumption of kombucha across different regions were studied to understand the market penetration of the product. This was cross-validated with the market share of kombucha with the overall tea (black and green) market. The prices of kombucha have been collected at the manufacturer node to arrive at the market size for kombucha.
The report provides detailed competitive and company profiles of key participants operating in the global kombucha market. Some of the major companies operating in the global kombucha market are Makana Beverages LLC., Kombucha Wonder Drink, KeVita LLC, Humm Kombucha LLC., Townshend's Tea Company, Reed's Inc., Red Bull GmbH, NessAlla Kombucha, Live Soda LLC, Kosmic Kombucha, Buchi Kombucha, GT's Living Foods, Hain Celestial, Hudson River Foods, Mojo Beverages, Remedy Kombucha Pty. Ltd., Revive Kombucha, Rok Kombucha, and Tonicka Kombucha
Global Kombucha Market Segmentation on the Basis of Flavour
Regular Flavour

Herbs & Spices Flavour

Citrus Flavour

Berries Flavour

Apple Flavour

Coconut & MangoFlavour

Flower Flavour

Others
Global Kombucha Segmentation on the Basis of Sales Channel
Food and Drink Specialty Stores

Hypermarkets/Supermarkets

Convenience Stores

Online Retails
Global Kombucha Market Segmentation on the Basis of Packaging
Global Kombucha Market Segmentation on the Basis of Region
North America

Latin America

Europe

Japan

Asia Pacific excluding Japan

Middle East & Africa
Harish Tiwari
Global Head - Business Development
CASE STUDIES
See how our work makes an impact.
At FMI, we design strategies that are adaptive, impactful, and implementable.