Kombucha Market By Flavour (Regular, Herbs & Spices, Citrus, Berries, Apple, Coconut & Mangoes, Flowers), Sales Channel (Food and Drink Specialty Store, Hypermarket/Supermarket, Convenience Store, Online Retail), Packaging (Glass Bottles, Cans) & Region - Forecast to 2018 - 2027
Kombucha Market - Analysis, Outlook, Growth, Trends, Forecasts
December 2018

REP-GB-7815

175 pages
Kombucha Market Outlook & Key Findings
Kombucha market likely to grow at over 16% in 2020, as covid-19 pushed consumption in Europe and US
Growing consumer interest in fermented drinks a key growth driver
Small craft brands challenging industry Goliaths, creating opportunities for local kombucha producers
Newfound kombucha popularity in emerging markets leading to clarion calls for developing Standard of Identity
Kombucha's much-hyped 'alcohol problem' remains a challenge, as brands struggle to maintain under 0.5% threshold throughout shelf life
Kombucha Market Analysis: An Ethnic Drink in the Mainstream
Fermented food and drinks are currently witnessing a revival, as consumer preference for healthy drinks has intensified during the covid-19 crisis. Although kombucha has traditionally been consumed in Asia for thousands of years, its growing popularity earlier in the US, and now in Europe has led to the creation a multi-billion market place.
These opportunities are not lost on the functional beverage industry, with both Coca-Cola and Pepsi already making a foray into this lucrative market. Global revenues are set to increase by over 16% in 2020, contrasting expectations of a pandemic-induced slowdown. The crisis, in fact, has led to a spike in demand, especially in the US and Europe, as consumers are panic buying products with perceived immunity boosting capabilities.
Little Room for Another Multi-million Kombucha Brand, but Market Wide Open for Local Dominance
The kombucha market place already has a handful of well-known behemoths, including the likes of GT's Living Foods, Humm Kombucha, and Kevita. Although aspiring kombucha brands have sprung up all over the globe, most of the top manufacturers are US-based.
GT alone owns 40% of US market, but the marketplace is heating up quickly, with $260 million PepsiCo-funded Kevita eyeing market dominance. Considering the existing competitive scenario, scaling up a new brand from scratch remains a tough ask, unless backed by the funding machine of an existing multi-national drinks brand. However, the market is wide open for boutique, homegrown brands who are advantaged by familiarity with local tastes and preferences.
The success of any kombucha brand depends largely on the strength of its supply chain, and its ability to sell at local and regional level. In that sense, kombucha is one of those outliers in the drinks industry where local marketing has been successful. However, creating a strong brand even at a local or region level will entail unique brand positioning, as retailers tend to offer different types of kombucha to provide their consumers a variety of product choices.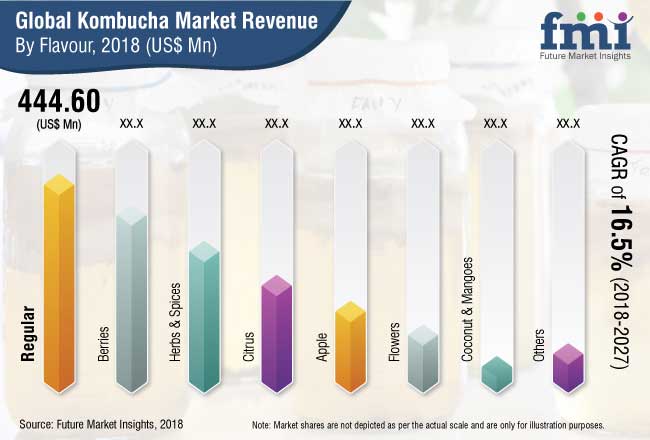 Soda's Loss is Kombucha's Gain
The soda category has been in contraction since the last decade or so, as a tide of anti-obesity awareness measures have put several brands under scrutiny. The fermented drinks industry has been quick to step in and fill the lucrative vacuum. Soda, once a ubiquitous drink globally, is being quickly replaced by fermented and functional drinks, providing considerable traction to kombucha industry players. Bordering on the risk of exaggeration, kombucha industry believes 2020-2030 to be its decade of reckoning; a careful market analysis reveals that the optimism may not be farther from the truth.
Kombucha Consumption Pattern: Consumers Open to Experimenting with Flavored Variants
Kombucha market players have, and are, launching new products to appeal to the varied tastes and preferences of consumers. Since gaining commercial momentum, regular kombucha was in vogue, however, as more consumers become open to experimentation, sales of flavored kombucha variants have grown substantially. Certain flavors, especially herbs, spices, and berries are witnessing higher demand than citrus, apple, coconut, and flowers. Considering these kombucha market trends, existing and new kombucha players are focusing on expanding their product portfolio.
Kombucha Sales: Specialty Stores, Online, and More
Traditionally, food & beverage specialty stores have accounted for a significant pie of the overall kombucha sales, with hypermarkets/supermarkets & convenience stores among other prominent sales channels. However, the covid-19 crisis has increased online sales, and the status quo is not likely to change in the short-term. The challenge, as well as the opportunity, for online platforms will be to offer a broader range of niche products that consumers usually expect in a specialty store.
Alcohol Content and Clean Labelling: Key Challenges for Kombucha Industry
The alcohol content in kombucha drinks, and transparent labelling remain a key challenge for the industry. Brand have been trying to address the issue through distillation, heat pasteurization, and microfiltration; however, the downside to these techniques is the risk of interfering with the 'authenticity' of the drink.
Despite efforts by the kombucha industry to address this longstanding challenge, ombudsmen and industry watchers agree that under-reporting is still rampant in some countries with relatively lax monitoring mechanisms. The industry is also lobbying for passing the Kombucha Act, to increase the alcohol threshold to 1.25%., however, there is no bipartisan support for the Act.
The clean label feature varies according to market and geography, with EU5 among the markets with highest clean label claims per kombucha product. In the US, nearly one-third of all kombucha products available in the market are labelled "no GMOs". In the world's major markets, China continues to lag in terms of clean label claims per product.
Kombucha: Region-wise Analysis
US and Western Europe continue to be the most lucrative markets for ready to drink beverages in general, and kombucha in particular. In the US, Oregon continues a key market for kombucha manufacturers, with Portland unofficially the kombucha capital of the country.
The US kombucha market has consistently shown double-digit annual growth rates, and the market is set to grow at over 15% in 2020. Europe kombucha market, which accounts for nearly one-third of global kombucha revenues, is also set to witness stellar growth in the future.
Outside of these two lucrative markets, Australia, China, and India represent significant opportunities for kombucha market players. Although the average kombucha consumption in China and India is significantly lower than the US and Europe, the potential to penetrate a geography with over two billion people has led to a scramble among market participants.
Leading suppliers in Kombucha Market
The kombucha market place is witnessing the entry of new players, albeit at a local or regional level. With an estimated 400+ kombucha players, innovative flavors, personalized packaging, clean-label claims, and social media marketing have become key avenues for forging a distinct brand identity. Some of the key players in the kombucha market are,
Americas
GT's Living Foods
KeVita
Humm Kombucha
Reed's, Inc.
Kombucha Wonder Drink
Strappa Live Kombucha
Europe
Equinox Kombucha
Pronatura
Carpe Diem
Yogi Tea
Asia Pacific
Heal Probiotics
Kombucha Wonder Drink
Niangmeipu
Buchi
*The list is not exhaustive, and only for representational purposes. Full competitive intelligence with SWOT analysis available in the report
Kombucha: The Way Forward
The long-term outlook on kombucha market remains bullish, with FMI's analysis estimating revenues to grow at over 15% consistently. Consumer appetite for fermented products isn't expected to wane anytime soon; in fact, the pandemic has already reaffirmed the case for functional foods. However, within the fermented drinks category, kombucha has an impressive list of peers - kefir, root beer, pulque, and probiotic lemonade – all are competing for consumer attention.
Kombucha brands will need to move beyond their core demographic of millennials and connoisseurs of 'ethnic' products to target a wider consumer base. Manufacturers can also promote the health benefits of kombucha to target geriatric population. To increase sales in cost-sensitive, yet lucrative markets, launching an affordable range of products is needed for introducing a new set of consumers to this category.
World's Most Profilic Intelligence Engine
Get Access To The World's Largest Market Research Database.
Sign Up Now
Market segmentation
The global kombucha market is segmented in detail to cover every aspect of the market and present complete market intelligence to readers.
Flavour
Regular
Herbs & Spices
Citrus
Berries
Apple
Coconut & Mangoes
Flowers
Others
Sales Channel
Food and Drink Specialty Store
Hypermarket/Supermarket
Convenience Store
Online Retail
Packaging
Region
North America
Latin America
Europe
Japan
Asia Pacific Ex. Japan
Middle East and Africa
Need specific information?
Our Clients