Introduction
Loudspeakers, as considered under the scope of the report titled "Loudspeaker Market: Global Industry Analysis 2013 – 2017 and Opportunity Assessment 2018 – 2028," are electronic transducers that convert an electrical audio signal into a corresponding sound. An alternating current electrical audio signal is applied to the input of loudspeakers, where it reaches the voice coil, following which the coil moves repeatedly back and forth as per the faradays law of induction and causes the diaphragm (in most cases) to move and push the air to produce sound.
Speakers and loudspeakers are considered to be the same device as both produce sound by converting an electrical signal into sound. There is only one difference between a speaker and a loudspeaker, which is that loudspeakers are capable of producing a loud sound, i.e., they are speakers that have a high wattage rating.
The global loudspeaker market is expected to register a CAGR of 7.3% during 2018 – 2028, with North America and Southeast Asia & others of Asia Pacific economies accounting for an approximate market share of 40% by the end of the forecast period.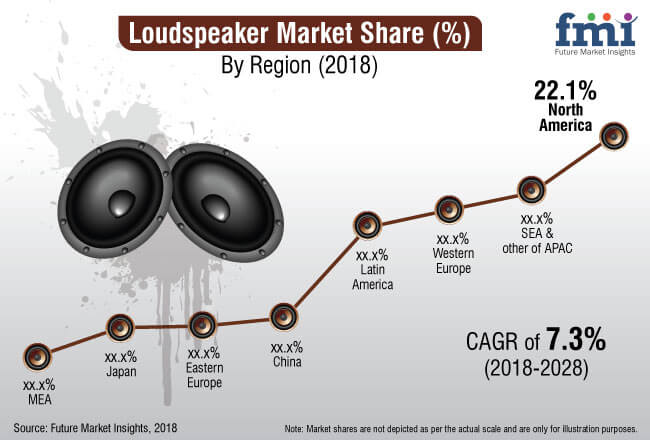 Loudspeakers have become a top priority for outdoor entertainers as well as for cinema halls and restaurants. The growing popularity and increasing applications of loudspeakers at different places is among the key drivers of the loudspeaker market. The growth of the music streaming industry has also supported the loudspeaker market to a great extent. This has encouraged the adoption of loudspeakers for indoor use as it has become easier for users to access the content of their choice on-demand, thus eliminating the need for depending upon other sources such as cassettes and compact discs.
On the basis of type, the global loudspeaker market can be segmented into portable loudspeakers, soundbars, home theatre arrays, multimedia systems, stereo systems and others. On the basis of deployment, the global loudspeaker market is segmented into indoor and outdoor. On the basis of speaker design, the global loudspeaker market is segmented into with diaphragm and without diaphragm loudspeakers. However, owing to the low popularity and complex structure of without diaphragm loudspeakers, they are expected to witness a lower growth rate as compared to with diaphragm loudspeakers.
Loudspeakers have been popular among people who have a refined sense of music. Today, people who buy loudspeakers for home or indoor usage want these systems to produce sound of a higher quality as compared to normal speakers. Loudspeakers have different kinds of drivers for producing sound at specific frequencies, which responsible for the production of refined sound.
Different kinds of drivers are embedded into loudspeakers. Subwoofers, a sub-category of the woofer driver, is used only for the production of lowest-pitched sounds in the audio spectrum that are below 200 Hz for consumer systems and below 100 Hz for professional live sound. Woofers are drivers that are specifically made for low frequencies.
The market in the North America region is expected to present the most attractive opportunities for loudspeaker providers, followed by the Southeast Asia & others of APAC market. The loudspeaker market in SEA and others of APAC is estimated to expand at a significant CAGR in terms of value over the forecast period. In addition, the loudspeaker market in Latin America is also expected to witness significantly high growth.
The market value of loudspeakers in Eastern Europe is projected to register a total incremental opportunity of US$ 214.9 Mn. However, by the end of 2020, the North American loudspeaker market is expected to continue to dominate the global loudspeaker market due to the large presence of loudspeaker providers as well as high demand for the outdoor deployment loudspeakers in the region.
Some of the vendors in this study of the global loudspeaker market include Bose Corporation; Harman International Industries; Yamaha Corporation; Klipsch Group, Inc. (A VOXX International Company); LG Electronics Inc.; Sony Corporation; Logitech International S.A; Panasonic Corporation; Sound United LLC; Creative Technology Ltd. and Bowers & Wilkins.
Key Segments
By Deployment
By Speaker Design

With Diaphragm
Without Diaphragm

By Type

Portable Loudspeakers
Soundbars
Home Theatre Arrays
Multimedia Systems
Stereo Systems
Others
Key Regional Markets
North America Loudspeaker Market
Latin America Loudspeaker Market

Brazil
Mexico
Rest of Latin America

Western Europe Loudspeaker Market

Germany
France
U.K.
Spain
Italy
Benelux
Nordic
Rest of Western Europe

Eastern Europe Loudspeaker Market

Russia
Poland
Rest of Eastern Europe

SEA and other of APAC Loudspeaker Market

India
Australia & New Zealand
ASEAN
Rest of APAC

Japan Loudspeaker Market
China Loudspeaker Market
MEA Loudspeaker Market

GCC Countries
Turkey
South Africa
North Africa
Rest of MEA
Need specific information?
Talk Show:
The Rise of Intelligent Packaging
Personalized, Connected and Sustainable
November 18, 2021
11:00-11:45 AM PST (USA & Canada)
This is a LIVE session