Matcha Market Snapshot
In a recent study, ESOMAR-certified consulting firm Future Market Insights (FMI) projects a favorable demand outlook for the global matcha market during the forecast period 2021 to 2031. The global matcha sales are poised to total US$ 2.28 Bn in 2021, exhibiting a stellar 10.2% CAGR.
Rising applications of matcha across diverse end-use industries such as food and beverages, personal care, and food service will continue augmenting market growth. Apart from this, increasing sales of ready-to-drink beverages are anticipated to steer market growth in the upcoming years.
Key Points Covered in Matcha Market Survey
Market estimates and forecast 2021-2031
Key drivers and restraints impacting market growth
Segment-wise, Country-wise, and Region-wise Analysis
Competition Mapping and Benchmarking
Brand share and Market Share Analysis
Key Product Innovations and Regulatory Climate
COVID-19 Impact on Matcha Market and how to Navigate
Recommendation on Key Winning Strategies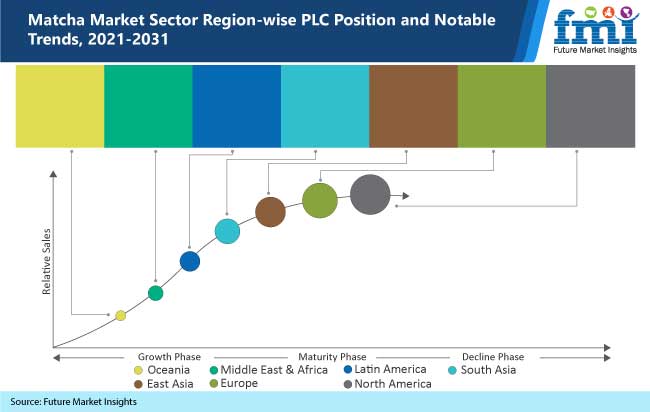 Matcha Market Historic Sales Compared to 2021-2031 Forecast Outlook
Demand for matcha increased at a steady pace between 2016 and 2020 with the market recording 8.4% CAGR. Growth can be attributed to emerging trends of diets such as vegan, keto, and gluten-free and increasing consumers' preference towards cleaner ingredients in food products.
Sales were however stunted due to lockdown restrictions imposed to control the COVID-19 outbreak. With expedited vaccination drives across the globe, FMI projects matcha sales to recover significantly, as the market experience year-over-year growth of 7.4% between 2020 and 2021.
Increasing applications of matcha in skincare products are further anticipated to drive sales in the market. Besides this, easy availability of matcha through online and offline sales channels will continue driving market growth.
How are Health Benefits of Matcha Affecting Sales?
Matcha tea has evolved from a regular Japanese drink to a brilliant concoction bursting with healing properties. Matcha contains ten times more antioxidants than green tea, making it a widely popular superfood.
Matcha has lower caffeine content as compared to green tea and black tea. Hence, it is widely preferred by individuals as a delicate summer drink or a hot cup in winters. The myriad of health benefits associated with matcha is a key factor propelling sales of matcha products such as powders, ready-to-drink beverages, baked goods, and ice-cream.
As per a study by The American Journal of Clinical Nutrition, randomized controlled trials in 14 individuals showed that the administration of green tea beverages or extract can significantly reduce low-density lipoprotein (LDL) concentrations in adults. Another study by the U.S. National Library of Medicine National Institutes of Health claims that green tea extract can potentially reduce liver enzymes in patients with non-alcoholic fatty liver disease.
Matcha is loaded with vitamins and minerals, from vitamin C, A, B, F, and P to magnesium, potassium, zinc, and calcium. The nutrients and minerals supplement heart and brain function, improve bone and cartilage health and oral hygiene.
Further, matcha is a popular drink among weight-watchers as the thermogenic properties present in catechins help in speeding up the calorie-burning process. Regular consumption of matcha also lowers blood pressure and the combined effects of ECGC and polyphenols slow down cartilage destruction, protecting limbs from developing rheumatoid arthritis.
Keeping, companies are investing in intensive research and developments to leverage the full potential of match tea to improve sales prospects in the market
Application of Matcha in Skincare Products to Gain Momentum
Growing demand for natural and organic skincare products is propelling the incorporation of matcha tea in products such as lotions, cleansers, and balms. Skincare enthusiasts and influencers are constantly recommending and seeking matcha-infused products.
As matcha is a great source of antioxidants, it effectively fights inflammation and soothes irritates the skin.
Epigallocatechin Gallate (ECGC) is found potently in matcha tea, a powerful agent that neutralizes and reduces oxidative stress in skin which can accelerate cellular aging. Topical usage of matcha helps caffeine penetrate into the skin, promoting skin firmness overtime.
Matcha also contains methylxanthines which stimulated microcirculation and promote healthy and clear skin and improves complexion. In addition, the polyphenols in matcha tea potentially act as a protectant against UV rays and environmental damage.
Hormonal acne is quite common among teenagers and adults alike. It is often aggravated by stress and excess androgen hormones that cause sebaceous glands to produce excess sebum. The anti-androgenic properties of ECGC in matcha help combat stress and control androgen hormones, which in turn helps in controlling acne breakouts. These factors are indicative of high demand and sales in the matcha market.
Bakery and Beverage Products to Steer Sales of Culinary Grade Matcha
The versatility of matcha tea is propelling its incorporation in baked goods and ready-to-drink (RTD) beverages. Adding matcha tea in baked goods gives a unique flavor profile and instantly converts regular bakery products to superfoods.
When it comes to baking, fresh tea leaves are generally not ideal as they are harder to incorporate in batters. As matcha is available in powdered form, it suits the texture profile of other ingredients such as flour and refined sugar, which makes it easier to mix and incorporate.
Since matcha has an earthy flavor and grassy notes, honey, agave, raw sugar, and maple syrup are added to balance out and achieve sweet flavor and aroma in bread, cakes, and biscuits.
In addition to baked goods, matcha flavored ready-to-drink (RTD) beverages are becoming a crowd favorite. The RTD beverage industry has fully revamped itself to cater to a growing consumer base that demands plant-based foods and beverages without added sweeteners and artificial flavoring.
Increasing number of customers are adhering to specialized diets such as keto, gluten-free and keto, and vegan, and companies are capitalizing on this trend by offering nutrient-rich, organic, and unique forms of matcha flavored drinks. Sales of popular drinks including matcha lattes, sparkling teas, mocktails, cocktails, and
Country-wise Insights
What is the U.S. Demand Outlook for Matcha in the U.S.?
As per FMI's analysis, the matcha market in the U.S. is projected to witness high demand, owing to growing interest in plant-based foods in the country. Consumers are increasingly preferring plant-based beverages as opposed to sugary soft drinks, which is translating into lucrative sales prospects in the matcha market.
Aligning with the prevailing trend of vegan food consumption, restaurants, cafes, and bakeries are offering matcha-based dishes and beverages in their menus. Additionally, key market players such as Starbucks Corporation and Hain Celestial Group Inc. is are launching various matcha-based beverages and food products in the market, further augmenting the market growth.
Owing to these factors, FMI projects the North America matcha market to grow at a robust 8.7% CAGR between 2021 and 2031.
How Will Matcha Sales Fare in the U.K.?
Consumption of black tea in the U.K. has always remained high. However, consumers' interest in lighter flavor notes offered by matcha tea is gaining momentum, leading to increased sales of matcha flavored products.
Moreover, household consumption of matcha in the U.K. is significantly attracting sales. Homebound individuals are inclining towards the health benefits derived from matcha, such as anti-stress and anti-inflammatory properties. As per FMI's in-depth regional analysis, sales prospects of match
Category-wise Insights
Sales of Culinary Grade Matcha to Remain High
Increasing demand for plant-based ingredients in packaged food products is driving sales of culinary grade matcha. Sales of packaged food products such as savory snacks, ready-to-drink beverages, and baked products will continue propelling demand for matcha in the upcoming years.
Moreover, anti-inflammatory properties and unique taste of matcha are encouraging its application in various culinary dishes. These factors are anticipated to place culinary grade matcha as the most preferred grade.
Organic Matcha to Remain Highly Sought-After
Organic matcha is known to comprise higher nutrient content and flavors as compared to non-organic, conventional matcha. Organic ingredients maintain the authenticity of food products as don't contain pesticide and preservatives.
As the demand for natural products continues to grow, sales of organic matcha will continue gaining traction throughout the forecast period.
Food Service To Dominate the End-Use Segment, Followed by Household
Sales of matcha-based beverages such as smoothies, lattes, and milkshakes in cafés and restaurants are increasingly gaining traction. Consumers who prefer new flavor profiles and exotic blends of matcha are flocking to artisanal café's and specialty restaurants, which is driving sales of matcha in the foodservice segment.
On the flip side, an increasing number of customers are preparing matcha tea at home to achieve its natural flavor profile, without adding sugar and additional flavors. Additionally, home bakers and confectioners are incorporating matcha in various goods such as cakes, muffins, cookies, and bread, resulting in high demand for matcha for household consumption.
Stand-Up Pouches Will Be the Most-Preferred Form of Packaging
By packaging type, stand-up pouches are projected to account for maximum market share. Longer shelf life and convenience offered by stand-up pouches are key factors driving sales of the same.
Additionally, due to rising environmental concerns, consumers are looking for sustainable packaging formats that protect the quality of food and reduce waste. Stand-up pouches made from sustainable packaging material fulfill the criteria and protect the product from internal contamination.
Indirect Sales Channels Are Anticipated to Account for Maximum Market Share
Based on sales channels, sales of matcha through indirect sales channels including supermarkets, hypermarkets, convenience stores, specialty stores, and online retail is estimated to remain high through 2031.
As companies are launching innovative matcha-based products, customers are finding it easier to buy them through local grocery stores and supermarkets. Some matcha brands are also retailing through direct-to-consumer approach, where customers can buy superior quality matcha blends through the company's website and get them delivered at their doorsteps.
Competitive Landscape
Top 5 players in the global matcha market include ITO EN Ltd., Tata Global Beverages Ltd., Starbucks Corporation, Unilever PLC, McCormick & Company, Inc., accounting for 15-20% of the total market share.
Leading players operating in the matcha market are launching innovative products and combine flavors to cater to the growing consumers' demand. Apart from this, mergers, acquisitions, and collaborations will remain key growth strategies among competitors through 2031. For instance:
In August 2021, Ito En collaborated with Taiyo International to supply high-quality matcha for food, beverages, and supplements in North America. As a part of this partnership, Taiyo is introducing Ito En's diverse product portfolio of culinary organic matcha powder and ceremonial matcha powder in the North American market.
In November 2020, Aiya Co. Ltd. added a new product to its vast portfolio, known as Sweetened Matcha To Go. The product is available in powdered form and can be easily prepared at home without any hassle.
Scope of Report
Attribute

Details

Forecast Period

2021-2031

Historical Data Available for

2016-2020

Market Analysis

USD Million for Value

Key Regions Covered

North America, Latin America, Europe, East Asia, South Asia, Oceania, and the Middle East & Africa

Key Countries Covered

US, Canada, Germany, U.K., France, Italy, Spain, Russia, China, Japan, South Korea, India, Thailand, Malaysia, Indonesia, Australia, New Zealand, GCC Countries, Turkey, Northern Africa, and South Africa

Key Segments Covered

Grade Type, Nature Type, End-Use Type, Packaging Type, Sales Channel Type, and Regions

Key Companies Profiled

ITO EN Ltd.
Tata Global Beverages Ltd.
Starbucks Corporation
The Hain Celestial Group Inc.
Unilever PLC
Aiya-Co. Ltd.
The AOI Tea Company
McCormick & Company, Inc.
Matchaah Holdings Inc.
The Republic of Tea
Andrews & George Company Limited
Green Foods Corporation
Marukyu-Koyamaen Co. Ltd.
Foodchem International Corporation

Report Coverage

Market Forecast, Company Share Analysis, Competition Intelligence, DROT Analysis, Market Dynamics and Challenges, and Strategic Growth Initiatives

Customization & Pricing

Available upon Request
Key Questions Answered in the Report
What is the current matcha market value?

The global matcha market is forecast to reach US$ 2.28 Bn in 2021.

At what rate did the matcha market grow between 2016 and 2020?

The global matcha market experienced healthy growth between 2016 and 2020, registering a positive 8.4% CAGR.

What are the key trends driving matcha sales?

Growing preference for non-alcoholic beverages among millennials, coupled with increasing applications of matcha in skincare and food & beverage industries are driving matcha sales.

Who are the leading players in the Matcha market?

ITO EN Ltd., Tata Global Beverages Ltd., Starbucks Corporation, Unilever PLC, McCormick & Company, Inc. are the top 5 players operating in the global matcha market.

What will be the demand outlook for North America matcha market?

North America matcha market is projected to grow at a robust 8.7% CAGR.

What is the market share of leading players in matcha market?

What will be the matcha market share in Europe?

The European matcha market is poised to expand at an impressive 9.4% CAGR.

What is the current market share of South Korea in the global Matcha market?

South Korea is anticipated to hold 4.7% of the global matcha market share.
Matcha Market by Category
By Grade Type:
Ceremonial
Classic
Café
Culinary
By Nature Type:
By End-Use Type:
Food Processing
Beverage Processing
Personal Care
Foodservice

Tea Shops/Café
Restaurants

Institutional
Household
By Packaging Type:
Bulk Bags
Cartons
Sachets
Stand Up Pouches
Tins
By Sales Channel Type:
Direct Sales
Indirect Sales

Hypermarkets/Supermarkets
Convenience Stores
Specialty Stores
Online Retailing
By Region:
North America
Latin America
Western Europe
Eastern Europe
China
Japan
Southeast Asia and rest of Asia Pacific
Middle East & Africa
Need specific information?