Introduction
Matcha is a traditional Japanese powdered tea that has been an essential part of tea preparation ceremonies for hundreds of years. The leaves of the green tea variety, known as tencha in Japan, are ground using a stone mill to produce a bright green powder, which is then used in the preparation of tea. Since the entire leaf is used in matcha, the nutritional benefits offered by matcha are significantly higher as compared to green tea or other infused tea.
In addition to being rich in antioxidants, matcha also contains the amino acid theanine (stress relief and enhanced relaxation), vitamin C, flavonoids such as catechin, minerals, fiber, and other health-boosting compounds.
Super-premium 'Ceremonial' Grade Matcha Preferred by Tea Enthusiasts
Matcha produced from early harvest leaves produce complex taste notes, and is creamier as compared to other available grades of matcha. The texture is extremely fine, and this grade of matcha is predominantly used for drinking. This grade has also been traditionally used in Japanese tea ceremonies, and variations of preparation include usucha and koicha.
Despite the significantly higher price tag of ceremonial matcha as compared to other variants, it is expected to grow at a robust growth rate of 11.2% in terms of revenue over the forecast period, given the tendency of consumers in North America and Western Europe to prefer high quality, premium products, especially in the functional and health beverages segment.
Versatility of Matcha Propelling Utilization in Different Applications
In addition to its consumption as tea, matcha is also used as an ingredient in food products and ready-to-drink (RTD) beverages to lend flavour and colour, as well as provide a nutritional boost. The number of product launches using matcha as an ingredient has steadily increased over the past several years. Typically, culinary grade matcha finds its way into the food and beverage processing industry due to its relatively inexpensive price tag. However, premium grades have also continued to be used in packaged foods.
Matcha is a preferred ingredient in sweet baked goods such as rolls, cakes, and cookies, among other product segments. The incorporation of matcha in desserts, ice cream, chocolate, and other confectionery products has proven to lend a boost to the indulgence category: consumers are willing to trade off unhealthy ingredients to some extent, as long as the labels include beneficial ingredients such as matcha.
NY-based Fay Da Bakery offers a Japanese Matcha Cheesecake at its 10+ outlets across New York. ROYCE, a Japanese-based confectioner, offers a range of matcha-based products, including chocolate wafers, bar chocolates, and pralines, among others.
At-home Consumption in Stiff Competition with Cafés for Location Preference
Despite the burgeoning number of cafés and foodservice establishments offering matcha tea and other food and drink options on their menus, matcha purists tend to prefer at-home consumption, since it is relatively easy to prepare matcha tea as compared to other hot beverages such as coffee and traditional green tea.
The matcha offered at tea shops and cafés tend to contain milk, sweeteners, and other additives that typically mask the original flavour of the matcha, and sometimes, unintentionally negate the functional health effects. In fact, mass-produced matcha offered by large café chains are produced using a blend of different grades, typically called 'café grade', and do not consist of the trademark bitterness of premium or ceremonial matcha.
Additionally, in an effort to diversify their portfolio of offerings containing matcha, café chains offer lattes, smoothies, shakes, and other variants typically produced with conventional tea or even coffee. In terms of revenue, matcha sales for the café segment are expected to account for approximately US$ 100 million in 2018, globally.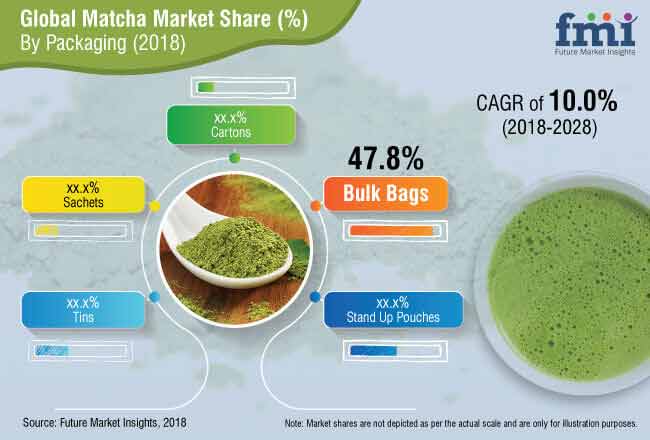 Branding Takes on a Whole New Meaning with the Unique Packaging of Matcha
Matcha sold at retail is expected to account for approximately 75% of all sales in terms of revenue in 2018, and key participants are diversifying their product packaging to enhance appeal and brand loyalty. Catchy text, bright colours, product origin, certifications, and other highlights are used to ensure that products stand out from the rest on retail shelves. Obviously, the primary objective in choosing a specific format of packaging is to enhance product freshness and limit discoloration due to exposure.
Matcha sold in tins achieves most of these objectives, and is anticipated to be the preferred format by manufacturers, thereby expected to expand at a robust growth of 12.1% in revenue terms over the forecast period.
Global Matcha Market: Segmentation
Analysis by Grade
Ceremonial
Classic
Café
Culinary
Analysis by Nature
Analysis by End Use
Food Processing
Beverage Processing
Personal Care
Foodservice

Tea Shops/Café
Restaurants

Institutional
Household
Analysis by Packaging
Bulk Bags
Cartons
Sachets
Stand Up Pouches
Tins
Analysis by Sales Channel
Direct Sales
Indirect Sales

Hypermarkets/Supermarkets
Convenience Stores
Specialty Stores
Online Retailing
Analysis by Region
North America
Latin America
Western Europe
Eastern Europe
China
Japan
Southeast Asia and rest of Asia Pacific
Middle East & Africa
Need specific information?