KEY HIGHLIGHTS
Base Year - 2015-2019
Forecast Period - 2020-2030
Ready to Drink Beverages Market Value in 2020 - US$ 17.32 Bn
Regions Covered - North America, Latin America, Europe, Asia Pacific, Oceania, Japan, and MEA
Key Companies - The key companies are PepsiCo, Fuze Beverage, Coca Cola, Danone, Kraft Foods, Keurig Dr Pepper, Inc., Campbell Soup Company and Abbott
Growth Drivers -

Expanding Customized Demand for Natural, Non-Modified Functional Ingredients Meal Alternative Sources
"Veganism" Rise in Parallel
Millennials are the most experimental consumers, with seniors least likely to try new products
KEY RESEARCH FINDINGS
The global ready to drink beverages market surpassed its US$ 17.32 Bn mark in 2020
The animal welfare is rising rapidly due to which veganism is rising globally which is driving ready to drink beverages market
The rising awareness of health and wellness is driving the ready to drink beverages market as companies are launching frequently gluten-free, sugar-free ready to drink beverages productsCO2 Extract
Europe is leading in ready to drink beverages market and expected to rapidly grow in the ready to drink beverages market with the CAGR 6.5%
KEY FACTORS SHAPING THE READY TO DRINK BEVERAGES MARKET
COVID-19 Impact on Ready to Drink Beverages Market
Production of ready-to-drink beverages is impacted due to lockdown enforced across the world. The recent coronavirus outbreak is likely to have considerable impact on the market. Changing consumer preferences however may augur well. With an increasing number of nations swept by stay at home orders, consumers are keener on stockpiling essential commodities. As a result of this, a spike in ready-to-drink beverages sales is likely.
Increasing Demand for Natural Ingredients over Fortification
In a survey, it has been revealed that the consumers are demanding for more natural products in the ready to drink beverages than the added antioxidants, vitamins and minerals in the ready to drink beverages. In ready to drink beverages, fruit concentrates are added which impart the equal health benefits as the ready to drink beverage, abreast the growth of global beverages market.
READY TO DRINK BEVERAGES MARKET STRUCTURE ANALYSIS
Tier one companies such as PepsiCo, Coca Cola and Danone and others are focusing on research and development to increase the sustainability of the food products
Companies are focusing on acquisition and mergers to strengthen their supply chain management and to expand their business footprints
Coffee Accounts for About 30% Share
According to the Food Editorial, with over 2.25 billion cups of coffee are being consumed on an average each day.Coffee is the most widely consumed beverage on the planet and is even more popular than tea. Europe has the largest number of coffee drinkers. It represents nearly 30% of the global coffee market.
Per-capita coffee consumption is also the highest here at 3.3 kg annually. According to the Forbes report published on coffee in 2017, 46% of coffee was consumed outside of the home mostly in the coffee shops. Drinking coffee every day is a routine for 40% of college students. Coffee holds 30% share, its increasing consumption will bode well for the ready to drink beverages market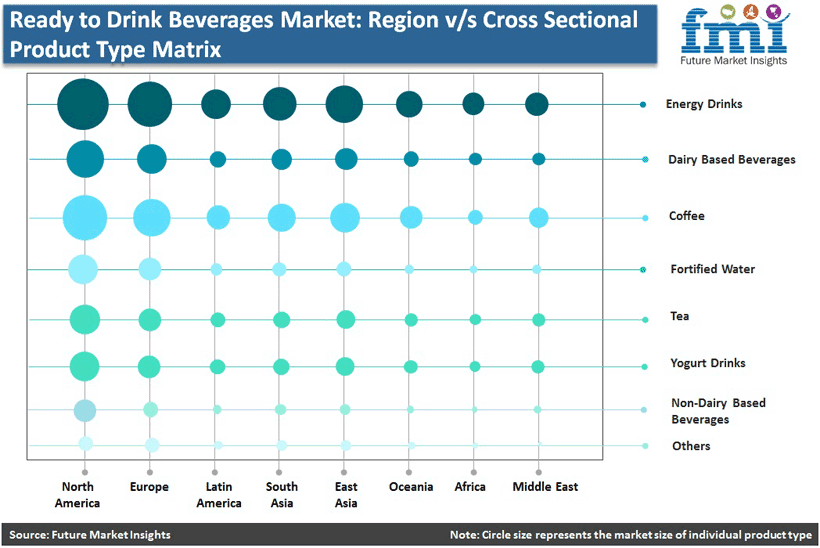 Developing Countries Offer Lucrative Growth Opportunities
North America and Europe are leading the ready to drink beverages market. But developing regions are expected to grow rapidly in the coming years. The awareness regarding health and wellness is increasing rapidly in developing countries due to which consumption of healthy ready to drink beverages is increasing. The demand for nutritious, protein-oriented, gluten-free, sugar-free and Non-GMO ready to drink beverages is rising rapidly in these regions. Due to the changing lifestyle and urbanization the coffee consumption is increasing which is driving ready to drink beverages market. The key players of ready to drink beverages are expanding their business footprints in these regions due to rising sale of ready to drink beverages in the Asia Pacific and Latin America.
For instance,
In 2018, the Coca Cola successfully re-launched FUZE Tea in Mexico, a mix of black and green tea with invigorating fruit flavors, across Mexico
In 2017, Campbell Soup Company acquired Pacific Foods of Oregon to expand its product portfolio and to strengthen its distribution channel in Asia Pacific
Growing Health & Wellness Trend
This is a reentering of the space age enthrallment with beverage as a symbol of human progression for ethical and moral gain as well as enabling greater personal freedom produce innovative beverages in innovative ways such as ready to drink beverages. Not just novel use of 'molecular gastronomy' but use of science and tech for smarter and more advanced beverage solutions.
Barriers are progressively being detached that allow manufacturers to play an active role in the preparation of innovative ready to drink beverage products and they have been given more opportunities to experiment with flavors.
Consumers are becoming health conscious as the awareness of mindful living and nutritious food is rising. The number of diseases such as high sugar level, blood pressure and heart diseases caused due to obesity are increasing due to which consumers are avoiding unhealthy food products.
Consumers are focusing on exercising and following proper diet which give them proper nutrition intake as well as reduces the obesity. Consumers are preferring organic and natural products to maintain healthy lifestyle. Manufacturers are producing various sugar-free, vegan, gluten-free and organic ready to drink beverages due to which the consumption is rising rapidly.
How Growth will Unfold
Innovation is the key driver for ready to drinks beverages market. The manufacturers are investing in researchers and development to produce innovative and unique ready to drinks beverages. They are concentrating on producing products according consumer needs and latest trends.
Consumers' awareness regarding health and wellness is rising is rapidly due to which companies are launching various gluten-free, natural, organic and sugar-free ready to drinks beverages products frequently to woo health-conscious consumers. Furthermore, several manufacturers are launching unique vegan ready to drinks beverages to appease the vegan population.
These ready to drinks beverages are easily available in store based and online retail due to which the sale of products is expected to rise rapidly in the forecast period. Manufacturing and advertising efforts of companies will give further impetus to the market in the coming years.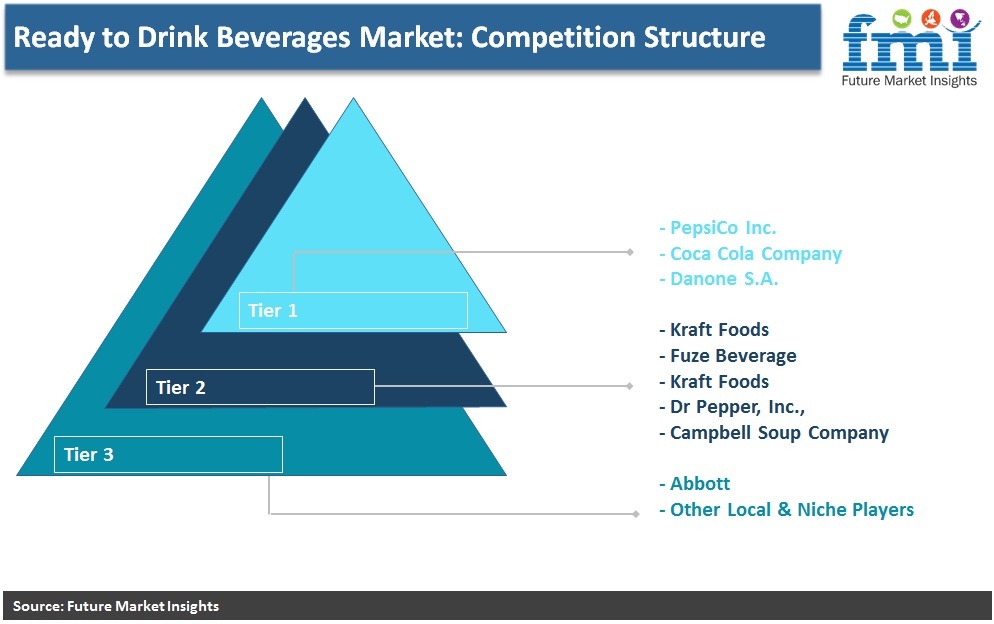 READY TO DRINK BEVERAGES MARKET TAXONOMY
The global Ready to drink beverages market is segmented in detail to cover every aspect of the market and present complete market intelligence to the reader.
By Product Type
Tea
Coffee
Energy Drinks
Yogurt Drinks
Dairy Based beverages
Non-Dairy Based Beverages
Fortified Water
Others
By Nature
By Packaging
Bottle
Tetra Pack
Sachet
Tin Can
Others
By Distribution Channel
Supermarkets/Hypermarkets
Convenience Stores
Grocery Stores
Speciality Stores
Online retail
By Region
North America
Latin America
Europe
Asia Pacific
Oceania
Japan
MEA
Need specific information?
Talk Show:
The Rise of Intelligent Packaging
Personalized, Connected and Sustainable
November 18, 2021
11:00-11:45 AM PST (USA & Canada)
This is a LIVE session