Beverage Processing Equipment Market By Beverage Type (Carbonated Beverages, Non-carbonated Beverages, Alcoholic Beverages, Dairy Based Beverages, Processed Water), Equipment Type (Brewery, Filtration, Carbonation, Sugar Dissolvers, Blenders & Mixtures, Heat exchangers) & Region - Forecast to 2020 - 2030
Beverage Processing Equipment Market - Analysis, Outlook, Growth, Trends, Forecasts
April 2020

REP-GB-2951

200 pages
REPORT SCOPE
Base year considered - 2020
Actual estimates/Historical data - 2015 – 2019
Forecast period - 2020 – 2030
Forecast units - Value (USD) Bn
Segments covered - Product Type, Beverages Type and Region
Regions covered - North America, Latin America, Europe, East Asia, South Asia, Oceania and Middle East & Africa
Key Players - Alfa Laval, GEA Group, Tetra Pak, HRS Process System, Armo Manufacturing, KHS, Krones Group, Pentair, SPX Flow, Bucher Industries and Factory Automation
Report coverage - Revenue forecast, company share, competitive landscape, growth factors, and trends
KEY RESEARCH FINDINGS
Beverages processing equipment help in turning ingredients such as raw fruits or vegetables into drinks
The increase in consumer spending on fast-moving consumer products, such as soft drinks, beer and nutritious beverages, is aiding expansion of the beverage processing equipment market
The overall demand for beverage processing equipment in Europe is projected to increase at a moderate pace
Increasing alcoholic beverage consumption, coupled with growing popularity for craft beer and social acceptance in developed and developing countries are the key factors expected to drive the global market for beverage processing equipment
The North America market is estimated exhibit higher sales and is projected to dominate the global beverage manufacturing equipment market
STRUCTURE ANALYSIS
Some of the leading companies operating in the beverage processing equipment market are Alfa Laval, GEA Group, Tetra Pak, HRS Process System, Armo Manufacturing, KHS, Krones Group, Pentair, SPX Flow, Bucher Industries and Factory Automation.
Many of these companies are increasing their production efficiency and introducing market-capture automation to the machinery to gain competitive advantage
For instance, India-based equipment firm, Alfa Laval has increased its R&D investment to boost energy efficiency and ensure lesser impact on the environment
Growing Demand for Non-Carbonated Beverages Will Create Growth Opportunities
Ready-to-drink beverages have become popular among consumers owing to their busy lifestyles and resulting need to stay hydrated all day. The rising demand for clean, gluten-free, low-calorie and low-carbon foods has led to the rise in demand for non-carbonated in the food industry.
Consumers are becoming health conscious due to which the consumption of low-calorie and nutritious beverages such as fruit juices has increased. In Asia-Pacific and Latin America as well consumers are likely to follow this trend and exhibit high demand for low-calorie drinks in the years to come. This would fuel the demand for non-carbonated drinks. Dynamic beverage manufacturing equipment market.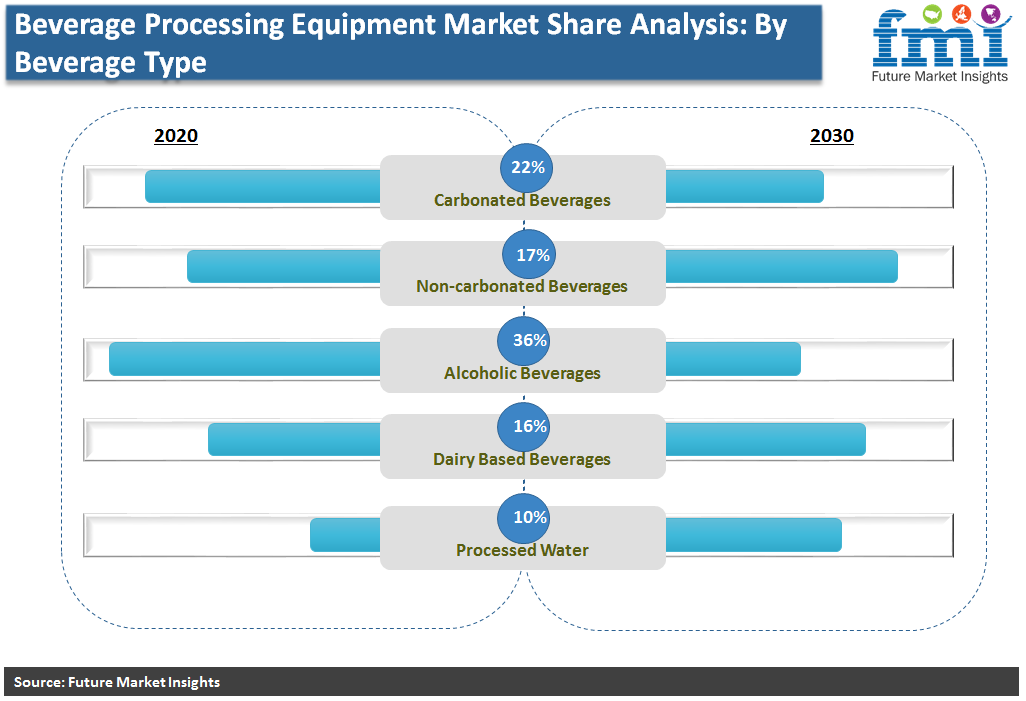 Beverage Processing Equipment Market to Witness Impressive Growth Opportunities in Asia Pacific
During the forecast period, Asia Pacific is expected to be a leading region in the beverage processing equipment market. Changing food choices, focus on healthier living, and inclination to spend on beverages with higher nutritive value in countries such as India and China are expected to boost the market in Asia Pacific. Governments across various countries in the region have adopted favourable policies and initiatives aimed at boosting small and medium-sized businesses. This in turn creates an environment conducive to the growth of the beverage processing equipment market.
Rising Demand for Beverages with Various Health Benefits Makes Advances in Beverage Processing Necessary
As a result of the increasing health awareness among consumers, the demand for beverages with low fat, low cholesterol and low sugar content is accelerating around the world. This is also one of the key factors driving businesses in non-alcoholic beverages segment. To cater to the rising demand for functional drinks, advances in beverage processing have become of utmost importance. In addition to this, government regulations mandating certain hygienic standards in processing facilities has fuelled the demand for advanced beverage processing equipment.
A beverage processing equipment transforms raw materials such as fruit, vegetables, water, and flavouring agents into beverages. Increase in the demand for beverages such as refreshments and health supplements is expected to have positive impact on the beverage processing equipment market as well.
How Growth will Unfold
The market for beverage processing equipment is seeing maximum growth due to increasing demand for fortified beverages, increasing customer preference for low-calorie beverages, increasing per capita spending in developed countries and rising concerns pertaining to health safety.
In addition to this, the rising demand for hygienically manufactured and packaged beverages, upgrading equipment for lean time management, advanced technology usage to increase productivity and product performance and increasing focus on quality of drinks are some of the other factors that are fuelling revenue growth in the market for beverage processing equipment.
However, complex manufacturing processes, product-related safety requirements, and strict government regulations can hamper the growth in the beverage processing equipment market. Nonetheless, the demand for brewery equipment, heat exchanger, and carbonated equipment is likely to increase in response to the expansion of the beverage sector. This will boost the market in the coming years.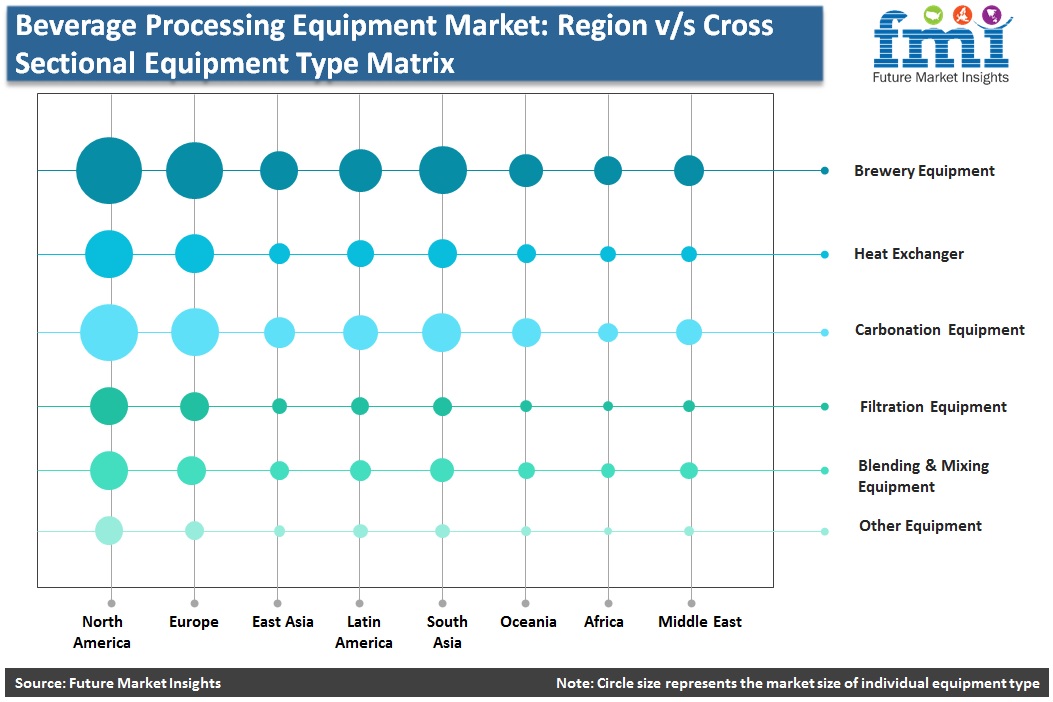 World's Most Profilic Intelligence Engine
Get Access To The World's Largest Market Research Database.
Sign Up Now
BEVERAGE PROCESSING EQUIPMENT MARKET TAXONOMY
The global Beverage Processing Equipment market is segmented in detail to cover every aspect of the market and present complete market intelligence to readers.
Beverage Type
Carbonated Beverages
Non-carbonated Beverages
Alcoholic Beverages
Dairy Based Beverages
Processed Water
Equipment Type
Brewery
Filtration
Carbonation
Sugar Dissolvers
Blenders & Mixtures
Heat exchangers
Region
North America
Latin America
Europe
Asia
Oceania
MEA
Need specific information?
Our Clients