Beverage Flavoring Market By Food Flavors (Chocolate & brown flavors, Vanilla, Fruits & nuts, Dairy, Spices), Application (Beverages, Dairy products, Confectionery products, Bakery products, Meat Products), Form (Liquid, Dry), Origin (Natural, Artificial) & Region - Forecast to 2022 - 2032
Beverage Flavoring Market - Analysis, Outlook, Growth, Trends, Forecasts
December 2021

REP-GB-11434

350 pages
Beverage Flavoring Market Overview
[350 Pages Report] The global beverage flavoring market analysis by Future Market Insights shows that global consumption of beverage flavoring systems enjoyed a year-on-year (YOY) growth of 5.2% in 2021 to total sales of USD 4.5 bn, and is estimated to reach USD 7.8 bn in 2032 at a CAGR of 5.7%. The Asia Pacific market is projected to expand significantly due to the rapid growth of the food and beverage market.
| | |
| --- | --- |
| Beverage Flavoring Market Size Value in 2022 | USD 4.5 Bn |
| Beverage Flavoring Market Forecast Value in 2032 | USD 7.8 Bn |
| Global Growth Rate (2022 to 2032) | 5.7% |
| Forecast Period | 2022-2032 |
Growing demand for packaged juices, sports drinks, and energy drinks is expected to further fuel demand for drink-flavored systems.
Increasing investment by many multinational manufacturers in flavor enhancement coupled with rising demand for ready-to-eat food and beverages is boosting the global market for flavoring beverages. The preference of consumers for natural flavoring is growing as they are more conscious of their wellbeing, which is the key driver of market growth.
A beverage flavoring system is a combination of various ingredients such as flavoring agents, flavor enhancers, flavor carriers, emulsifiers, preservatives, and stabilizers among others. These ingredients improve the flavor or taste of alcoholic and non-alcoholic beverages.
The flavoring agents product segment is envisaged to hold the largest share in the beverage flavoring market. A conducive regulatory environment for fortified products is also going to drive beverage flavoring consumption by manufacturers.
Flavoring Agents Segment Is Expected To Hold The Largest Market Share
Since customers are more health-conscious, there is a strong demand for low-salt, low-sugar, and low-fat drinks, this has increased demand for taste modulators and taste-masking agents.
This segment's growth is also owing to increased consumption of fortified beverages due to their nutritional values. Beverage manufacturers are concentrating on the application of natural flavoring ingredients such as natural stabilizers like pectin to fulfill market demands for natural goods combined with preservatives. Pectin is used for a wide variety of applications including fruit drinks and soft drinks.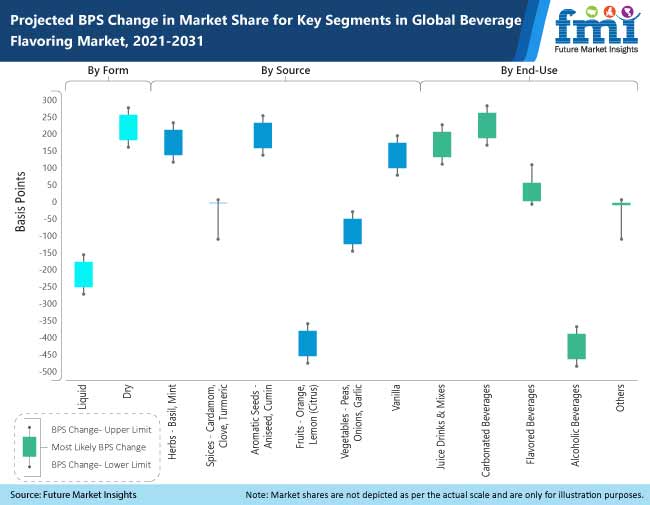 Millennial Mindset: Integrating Exotic Flavors While Choosing Organic
Increasing consumers' consciousness and the desire for more exotic flavor profiles, particularly driven by the millennial population are altering the flavor profiles as well as innovations in non-alcoholic and alcoholic beverages.
The millennial population is driving the growth of exotic fruit varieties. They are similarly triggering beverage producers to innovate with the product. These trends not only influence the lifestyle of millennials but their purchase decisions as well, making it imperative for beverage flavoring companies to keep pace with the dynamic consumer preferences.
Healthy living and focus on wellness constitute some of the most popular trends today. As a result, an increasing number of companies in the food sector are shunning the use of artificial additives to opt for organic products.
In addition to this, consumers nowadays have easy access to information - thanks to modern technology. They often read through the label of various food products before buying them. Due to the prevailing trend, an increasing number of producers are using beverage flavoring in their products.
Stringent Laws Implemented By Governments Aiding The Beverage Flavoring Market Growth
Strict product labeling laws and regulations have encouraged food & beverage producers to use natural flavoring ingredients because of their health benefits. Rising health consciousness has also led to greater acceptance of natural flavoring systems.
Additionally, beverage flavoring systems are experiencing rising global demand from sports, energy, carbonated, and alcoholic beverage manufacturers. The demand for beverage flavoring systems is expected to be resistant due to the high production costs and strict food additive regulations.
The Fruits & Vegetables Segment, By Type, Is Estimated To Dominate The Beverage Flavoring Systems Market
The fruits and vegetable segment is expected to represent the largest share in the market. Most manufacturing companies are influenced by the rising customer awareness regarding healthier goods.
To cater to the changing consumer demand they are introducing tropical fruit-flavored beverages and vegetable-flavored beverages, which is also expected to make this market the fastest-growing market during the forecast period. Strong growth in fruits and vegetable production along with increasing demand for natural flavoring is surging the segment share.
Natural Flavors To Dethrone Artificial Segment During The Forecast Period
Artificial flavors dominate the global beverage flavoring systems market since their inception. Artificial flavors are significantly cheaper than its counterpart, thus improving the profit margins for end-user manufacturers.
Natural flavors are projected to witness gains at over 6.1% CAGR from 2022 to 2032. The key factors attributing to the growth include increasing consumer awareness on a shift in trend towards a healthy lifestyle, product quality & ingredients, and willingness to pay for premium products.
Natural flavoring agents are extracted from plants and animals while artificial flavoring agents are churned out from varied chemicals. The increasing availability of natural raw materials like citrus fruits such as grapes, oranges, limes, and lemons is owing to the rise in production rates and is transferring the preference towards natural flavors.
Further, consumer-driven movements such as 'clean label' have urged the food and beverage industry players to use natural additives in their produce.
Region-Wise Beverage Flavoring Market Review
Regionally, the global beverage flavoring market covers North America, Latin America, Europe, South Asia, East Asia, and Oceania, along with the Middle East and Africa. Among these regions, Europe and North America are leading the market as of now.
A key factor to consider here is that the attitude of regional consumers often has major implications on the market, making it far too difficult to establish ubiquitous standards.
Moreover, most market players are increasing their inventory of products to cohere to restrictions by following the standard guidelines. This yet again increases the overall cost of production therefore the product is often sold at a high price, which in turn challenges the market.
Countries in South Asia, and East Asia along with MEA conversely offer considerable growth opportunities to the market. Impressive economic growth witnessed in the last couple of years has resulted in the rising population of working people.
Competitive Outlook
Leading market players are likely to adopt strategies allowing them to keep pace with changing preferences of consumers. Besides staying relevant in the market, they intend to gain a competitive advantage from the product innovation and launches.
This is also rather necessary for them to survive in a highly competitive market. Besides this, several market players are focusing on expanding their geographic reach to strengthen their foothold in the beverage flavoring market.
The market for beverages flavoring systems is highly competitive and fairly concentrated. Beverage flavoring companies often offer a large portfolio, meeting the diverse consumer demands and concentrating on the different end-user segments.
Key players in this market are Givaudan, International Flavors & Fragrances, Flavorchem Corporation, Sensient Technologies, Tate & Lyle, Takasago International Corporation, Symrise, Firmenich, Mane, Dohler, Robertet SA among others.
Scope Of Report
Attribute

Details

Market Size Value in 2021

USD 4.5 Bn

Market Forecast Value in 2032

USD 7.8 Bn

Global Growth Rate

5.7%

Forecast Period

2022-2032

Historical Data Available for

2017-2021

Market Analysis

USD Mn for Value

Key Regions Covered

North America, Latin America, Europe, East Asia, South Asia, Oceania, and MEA

Key Countries Covered

United States, Canada, Brazil, Mexico, Argentina, U.K, France, Germany, Spain, Netherlands, Russia, China, India, ASEAN, Australia and New Zealand, Japan, GCC countries, North Africa, South Africa, others.

Key Market Segments Covered

Food Flavors, Origin, Form, Application, and Region.

Key Companies Profiled

International Flavors & Fragrances
Flavorchem Corporation
Tate & Lyle
Robertet SA
Takasago International Corporation
Symrise, Firmenich
Mane
Dohler
Others

Pricing

Available upon Request
World's Most Profilic Intelligence Engine
Get Access To The World's Largest Market Research Database.
Sign Up Now
GLOBAL BEVERAGE FLAVORING MARKET TAXONOMY
The global Beverage Flavoring Market is segmented in detail to cover every aspect of the Market and present complete Market intelligence to readers.
Food Flavors
Chocolate & brown flavors
Vanilla
Fruits & nuts
Dairy
Spices
Others (honey, mint, and vegetables)
Application
Beverages
Dairy products
Confectionery products
Bakery products
Meat products
Savory & snacks
Frozen products
Form
Origin
Region
North America
Latin America
Europe
East Asia
South Asia
Oceania
MEA
Key Questions Answered in the Report
How much is the beverage flavoring market current worth?
Currently, the beverage flavoring market is worth more than USD 4.5 bn.
At what CAGR is the market expected to grow?
Beverage flavoring consumption is expected to grow at a CAGR of around 5.7% during the period 2022-2032.
How was the performance in the last five years?
In terms of revenue, beverage flavoring grew at a CAGR of around 5.2% during 2017-2021.
What are the key trends boosting Beverage flavoring sales?
The launch of advanced technologies in flavor processing, the favorable regulatory environment for fortified products, increasing consumer inclination toward clean-label and organic products, and growing demand for a variety of innovative flavors in soft drinks is boosting beverage flavoring sales.
How are market players reacting to the new developments in the market?
Market players are opting for technological advancement, new product launches, and spreading their geographic boundaries.
Which are the major countries driving demand for beverage flavoring?
US, France, UK, Germany, Japan, and China are the major countries driving demand for beverage flavoring systems.
Who are the major players in the Beverage flavoring Market?
The major players involved in the beverage flavoring market are International Flavors & Fragrances, Sensient Technologies, Takasago International Corporation, Symrise, Firmenich, Mane, Dohler, and Others.
At what level does the report reflect pricing analysis?
The report presents a detailed cost analysis of beverage flavoring based on origin i.e. natural and artificial.
Need specific information?
Our Clients