Energy Drinks Market By Product Type (Caffeinated, De-caffeinated), Format (Shots, powder, Ready-To-Drink (RTD)), Flavor (Unflavored, Flavored), Nature (Organic, Conventional), Distribution Channel (B2B, B2C) & Region - Forecast to 2022 - 2032
Energy Drinks Market - Analysis, Outlook, Growth, Trends, Forecasts
December 2021

REP-GB-11625

350 pages
The Global Energy Drinks Market Overview
[350 Pages Report]The global energy drinks market size was valued at USD 68.1 billion in 2021, and is expected to grow at a CAGR of 7.0% to reach USD 98.8 billion by 2032.
| | |
| --- | --- |
| Market Size Value in 2022 | USD 68.1 bn |
| Market Forecast Value in 2032 | ~USD 98.8 bn |
| Global Growth Rate (2022 to 2032) | ~7% CAGR |
| Forecast Period | 2022-2032 |
| Historical Data | 2017-2021 |
Energy drinks are a part of broader soft drinks or non-alcoholic beverages market which include sports drinks, fruit and vegetable juices, carbonated drinks, bottled water, ready-to-drink tea and coffee, caffeinated beverages, non-carbonated packaged drinks, and other functional beverages. This larger soft drinks market share is expected to increase by ~USD 18 billion from 2022 to 2032, and the market's growth momentum will accelerate at a CAGR of 7%.
Around 15% of new energy drinks launched on the market carry the claim of being a "natural energy drink" with no added sugar ingredients. Energy drinks are the 'sports drink' for e-sport players and gamers. The main energy drink ingredient is caffeine.
Historical Outlook vs Future Projections for Energy Drinks Market
As per FMI – market research and competitive intelligence provider, over the past half-decade, the global market value for energy drinks has boosted owing to the increased consumer base of the product. Manufacturers in the beverage market are emphasizing customized beverages to target the age group 18-34 years, leading to frequent product launches over the last 5 years.
From being niche products, energy drinks have transitioned into one of the fastest-growing products in the beverages market. This change in energy drinks and sports drinks is due to the increasing focus on health and fitness. Natural energy drinks, often extracted and directly sold to consumers are gaining significance among health enthusiasts. "The demand for more" is the key factor driving the beverage industry over the years. Drinkers are becoming adventurous and promiscuous and breaking the boundaries between drink categories to gain a multi-sensory drinking experience.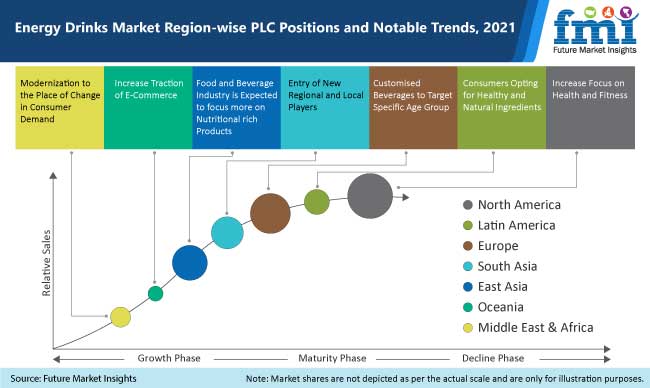 Popular in Western Europe and the US as an Alcohol Substitute
Western Europe and the U.S. will continue to be the most lucrative markets for energy drinks. Europe is anticipated to be the dominant region the in energy drinks market over the forecast period due to the increasing concern of people regarding health issues such as obesity. This has led to consumers preferring calorie-free, zero sugar, natural energy drinks, or diet drinks that are alcohol-free, as alcohol alternative which is highly consumed in the region.
A Rising Market in Asia-Pacific
Sports drink, performance, and energy drinks are increasingly being manufactured with the help of energy drink ingredients like herbs, minerals, amino acids, vitamins, or additional raw fruit or vegetables. The rising awareness about the health benefits of these functional beverages is attracting consumers towards them in this region. The positioning of Asia Pacific on the product lifecycle (PLC) is indicative of impressive growth opportunities for the market.
Rising Focus on Health and Fitness Spurs Demand
Consumers are now well associated with the health concerns of liquid calorie intake. Consumers who are interested in new and innovative food and beverages want companies to be more transparent about products. Energy drink ingredients need to be revealed by manufacturers.
Spurred by these trends, a spike in the consumption of natural energy drinks and healthy non-alcoholic beverages is noticed. Better access to information The Covid-19 pandemic is expected to transit public health crisis for an unknown duration.
Energy drinks before gym and workout? Yes, energy drinks are caffeinated beverages that can be great before a workout. Energy drinks contain caffeine, the amino acid taurine, carbohydrate in the form of sugar, and vitamins that boost your energy levels before exercise.
Besides that, energy drinks ingredients like taurine and B vitamins can augment your exercise performance. Non-carbonated packaged drinks like non-alcoholic beers have found popularity among sports spectators.
International and Regional Players to Focus on Improving their Presence
Some of the most renowned manufacturers internationally are seeking to enter or reinforce their position in emerging markets with joint ventures and acquisitions. The easy availability of these ready-to-drink energy drinks through various channels is another key driving factor for its market.
For instance, Monster Energy Beverages is offering 'Java Monster-Coffee + energy drinks' containing premium coffee and cream brewed with flavors and instant energy blend supplementing instant energy, to the consumers.
As functional beverages manufacturers seek to bolster volume and consolidate market share, technological advancement is a key decision point - in terms of packaging, product, and promotion via advertisements, sponsorships, and campaigns.
For energy drinks sales the hypermarkets/supermarkets, convenience stores, specialty stores have emerged as prominent sales channels. There is increasing traction of e-commerce for non-alcoholic beverages driven mainly by Gen-Z and millennials.
Key challenges for the Energy Drinks Industry
The risk of the presence of components such as unapproved colors and additives, drug residues, industrial chemicals, undeclared allergens, and heavy metals is creating a lot of concern amongst consumers. The health effects caused due to the consumption of these residues are likely to be a restraining factor hindering the growth of the non-alcoholic beverages market in the Asia Pacific region.
Energy drinks for diabetics are not recommended as they contain significant quantities of caffeine, taurine, and sugar and spike insulin. These extreme amounts of energy drink ingredients make them unsuitable to a huge chunk of potential consumers. There are blurred lines on energy drinks for kids.
Firms like Monster Energy Drinks declare no age limit for consumption of these drinks while agreeing that they should not be marketed to kids below 12. Energy drinks key brands are Red Bull, Monster, Red Bull Thailand, Rockstar, Eastroc Super Drink, Hi-Tiger, Lucozade, NOS by Monster, Oronamin, Burn by Coca Cola
Energy Drinks Market Report Scope
Attribute

Details

Market Size Value in 2022

USD 68.1 bn

Market Forecast Value in 2032

~USD 98.8 bn

Global Growth Rate

~7% CAGR

Forecast Period

2022-2032

Historical Data Available for

2017-2021

Market Analysis

MT for Volume and USD Mn for Value

Key Regions Covered

North America, Latin America, Europe, Japan, APEJ and MEA

Key Countries Covered

United States, Canada, Brazil, Mexico, Argentina, EU5, Russia, Poland, China, ASEAN, Australia and New Zealand, Japan, GCC countries, North Africa, South Africa, others.

Key Market Segments Covered

Source, Application, and Regions

Key Companies Profiled

Monster Beverage Corp.
Kraft Foods Inc.
The Gatorade Company, Inc.
Coca-Cola Co.
Nestlé S.A.
Carlsberg A/S
NEALKO ORAVAN, spol s.r.o
Suntory Holdings Ltd.
Asia Brewery Incorporated
Otsuka Pharmaceutical Co.
Dali foods group
LT Group Inc
Shenzhen Eastroc Beverage Co Ltd
Others

Pricing

Available upon Request
World's Most Profilic Intelligence Engine
Get Access To The World's Largest Market Research Database.
Sign Up Now
Market Segmentation
The global energy drinks market is segmented in detail to cover every aspect of the market and present complete market intelligence to readers -
By Product Type :
Caffeinated Beverage
De-caffeinated Beverage
By Format :
Shots
powder
Ready-To-Drink (RTD)
By Flavor :
Unflavored
Flavored

Citrus
Berries
Mocha
Pomegranate
Apple
Mint
Blends (Mix)
Cola
Watermelon
Chocolate
Others
By Categories :
Natural Energy Drink
Sports Drink
Non-Alcoholic Beverage
Functional beverages
Non-carbonated packaged drinks
By Nature :
By Distribution Channel :
B2B
B2C

Store-Based Retailing
Hypermarkets /Supermarkets
Convenience Stores
Mom And Pop Stores
Discount Stores
Specialty Stores
Independent Small Groceries
Online Retail
By Region :
North America
Latin America
Europe
Asia Pacific Excluding Japan
Japan
Oceania
Middle East & Africa
Key Questions Answered in the Report
How much is the current worth of the Energy Drinks market?
Currently, the energy drinks market is worth more than USD 68 bn.
At what CAGR is the market expected to grow?
Energy drinks sales are expected to grow at a CAGR of around ~7% during the period 2022-2032.
How was the performance in the last five years?
In terms of revenue, energy drinks revenue grew at a CAGR of around ~6.7% during 2017-2021.
What is the demand outlook forecast for the market?
The global energy drinks market is forecasted to surpass ~USD 98 bn by the end of 2032.
Who are the top 5 players operating in the market?
Top players in the energy drinks industry are - Red Bull – Red Bull GmbH (Austria), Monster – Monster Beverage Corp (USA), Rockstar – Acquired by PepsiCo (USA), Eastroc Super Drink – Shenzhen Eastroc Beverage Co Ltd (China), and Hi-Tiger – Fujian Dali Food Co Ltd (China)
How are market players reacting to the new developments in the market?
Market players are focusing on new product launches, strong e-commerce sales channels, merger and acquisition strategies, and lucrative sports sponsorships to remain a prominent player in the global market.
Which are the major countries driving demand for frozen shrimp?
China, India, the U.S., and Western Europe are the major countries driving demand for Energy Drinks.
What outlook does Europe provide?
Europe holds around ~37% of the total energy drinks revenue share.
At what rate will the U.S. energy drinks market grow?
U.S. energy drinks market is projected at a CAGR of around ~9.5% over the next ten years.
Need specific information?
Our Clients