Energy drinks Market Outlook & Key Findings
Energy drinks market is likely to rise at above 7% CAGR, as covid-19 pushes the consumption in U.S. and Western Europe
From being niche products, energy drinks have transitioned to one of the fastest growing products in the beverages market. This change is brought about by the increasing focus on health and fitness.
"The demand for more" is one of the key factors driving the beverage industry over the years. Drinkers are becoming adventurous and promiscuous and breaking the boundaries between drink categories to gain multi-sensory drinking experience.
Manufacturers in the beverage market are emphasizing on customized beverages to target specific age segment (18-34 years), which is leading to frequent product launches over last 5 years.
Energy drinks Market Analysis: Rising Focus on Health and Fitness Spurs Demand
Consumers are making extensive use of intelligent technologies in order to buy the best product from the market. Smart technologies have dramatically improved consumer information management within online and offline retail settings. These technologies have mediated smart partnerships, co-creation, and new forms of collaboration between organizations and consumers.
Consumers are now well associated with the social concerns that affect their daily life such as education, clean water, health care, and healthy food. Consumers who are interested in new and innovative food and beverages want companies to be more transparent about products. Spurred by these trends, a spike in the consumption of energy drinks is noticed. Better access to information and awareness about health and wellness are key factors encouraging growth in the market.
The Covid-19 pandemic is expected to transit public health crisis for unknown duration. The food and beverage industry is expected to focus more on nutrition rich products. The increasing demand for healthy beverages is expected to boost the demand for energy drinks at the end of corona crisis.
Regional Players to Focus on Improving their Presence
Some of the most renowned manufacturers internationally are seeking to enter or reinforce their position in emerging markets with joint ventures and acquisitions. At the same time, emerging manufacturing companies are trying to establish themselves as international players in their own right, looking for opportunities to acquire developed world businesses and local competitors.
The convenience and portability offered by ready to drink (RTD) beverages are important drivers for its market. The increase in focus on better immunity especially amidst the prevalence of various viruses and the need for innovative flavors will fuel the demand for energy drinks, especially within the RTD category.
Furthermore, these ready to drink beverages are available in a variety of packaging, which majorly includes cans, tetra packs and, bottles offered in various different volumes and pack sizes, thus catering to the needs and purposes of consumers. The easy availability of these RTD energy drinks through various channels is another key driving factor for its market.
For instance, Monster Energy Beverages is offering 'Java Monster-Coffee + energy drinks' containing premium coffee and cream brewed with flavors and instant energy blend supplementing instant energy, to the consumers.
Product innovations such as this will also have positive impact on the global market.
Matching Modernization to the Pace of Change in Consumer Demand
As beverage manufacturers seek to bolster volume growth and consolidate market share, advancement is a key decision point - in terms of packaging, product, and promotion via advertisements and campaigns. Changing consumer preferences and tastes, changing technology, rising costs, shortening product lifecycles and heftier domestic and overseas competition all surge the pressure to innovate. Businesses require to renew their offerings and business models persistently - and get modernisms to people rapidly - to guard existing markets and progress new ones.
Energy drinks Consumption Pattern: Consumers Opting for Healthy and Natural Ingredients
Consumers are inclining towards maintaining a healthy lifestyle, which has led to the higher consumption of food and beverages with potential health benefits. Currently, consumers have become more conscious about their diet, owing to which, they are spending on a holistic approach to health and wellness that includes rising demand for energy drinks.
Additionally, consumers are increasingly participating in fitness activities that enhance well-being, such as using products, eating natural and organic foods and beverages, and consuming health supplements, along with following a special diet. Thus, the market for advanced beverages such as energy drinks is rapidly picking up pace globally owing to an increase in the health and wellness awareness, along with the growing number of highly affluent consumers who are interested in the trend for healthy food.
Energy Drinks Sales: Increasing Traction of e-commerce
For energy drinks sales the hypermarkets/supermarket, convenience stores, specialty stores have emerged as prominent sales channels. However due the covid-19 crisis the online sales and e-commerce traction has drastically increased which is not likely to change in the short-term.
Generation Z and millennial are particularly altering their purchasing behaviors which includes stocking up items, cutting back on spending, and spending less on experiences while focusing more on health benefits. Since traditional sales channels have become less accessible on account of restrictions imposed around the world to contain the spread of the virus, sales via ecommerce is expected to surge.
Food Safety Issues: Key Challenges for Energy drinks Industry
The growing concern regarding the quality of food is getting a lot of focus across developed nations. The presence of contaminants and residues in food is an issue that is a major concern in countries such as India. Exposure to social networking websites and excessive social media coverage have been successful in making people aware about food safety issues.
These issues are affecting exports as well. The risk of the presence of components such as unapproved colors and additives, drug residues, industrial chemicals, undeclared allergens, and heavy metals is creating a lot of concern amongst consumers. The health effects caused due to the consumption of these residues is likely to be a restraining factor hindering the growth of the non-alcoholic beverages market in the Asia Pacific region
Energy drinks: Region-wise Analysis
Western Europe and the U.S. will continue to be the most lucrative markets for energy drinks. Europe is anticipated to be the dominant region in energy drinks market over the forecast period due to the increasing concern of people regarding health issues such as obesity. This has led to consumers preferring calorie-free, zero sugar, or diet drinks that are alcohol-free, as compared to alcoholic alternatives.
Asia Pacific is expected to emerge as one of the most lucrative markets for energy drinks. Sports, performance, and energy drinks are increasingly being manufactured with the help of herbs, minerals, amino acids, vitamins, or additional raw fruit or vegetables. The rising awareness about health benefits of these functional beverages is attracting consumers towards them in this region.
In Asia Pacific, China, and India represent significant opportunities for the market players. The consumption of energy drinks in China and India is significantly lower when compared to Europe and the U.S. therefore creating a potential geographical opportunity with over 2 billion people. The positioning of Asia Pacific on the product lifecycle (PLC) is indicative of impressive growth opportunities for the market. Unlike Europe, which currently holds dominance, the Asia Pacific market will have a positive growth trajectory through the course of the forecast period. Meanwhile, the energy drinks market in North America will continue witnessing high demand, steered by willingness among consumers to spend on products that facilitate health and wellness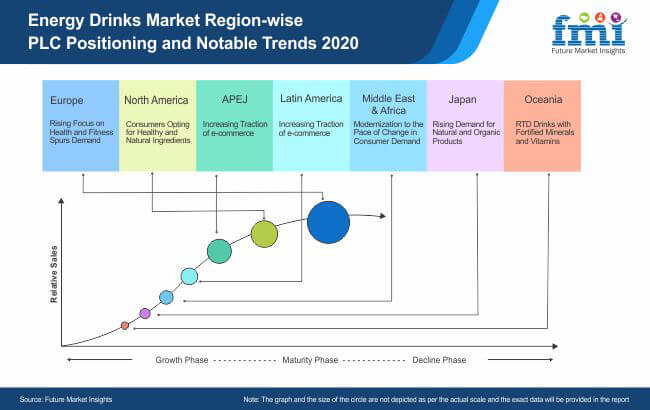 Leading Suppliers in Energy drinks Market
Owing to the prevailing opportunities to earn higher profits, the energy drinks market place is anticipated to witness the entry of new players at a local as well as regional level over the forecast period. With an estimated 100+ energy drinks players with personalized packaging, innovative flavors, clean-label claims, social media marketing have become a key avenue for forging a distinct brand identity. Below are some of the key players in the energy drinks market:
Americas
Monster Beverage Corp.
Kraft Foods Inc.,
The Gatorade Company, Inc.
PepsiCo Inc.,
Europe
Red Bull GmbH
Nestlé S.A.,
Carlsberg A/S
NEALKO ORAVAN, spol.s.r.o.
Kabisa B.V.
Asia Pacific
Suntory Holdings Ltd.
Asia Brewery Incorporated
Otsuka Pharmaceutical Co.
*The list is not exhaustive, and only for representational purposes. Full competitive intelligence with SWOT analysis available in the report
Energy drinks Market: The Way Forward
Large companies are diversifying existing portfolios and upgrading production facilities to ensure they are fully equipped to cater to growing demand for energy drinks. Furthermore, regional players and local players are focusing on carving out a niche in terms of formats and flavors. They are also focusing collaboration with retailers in domestic markets. Introducing products taking to cater to the increasing consumer demand for energy drinks will aid the growth of the energy drinks market.
Market Segmentation
The global energy drinks market is segmented in detail to cover every aspect of the market and present complete market intelligence to readers.
Product Type
Caffeinated
De-caffeinated
Format
Shots
powder
Ready-To-Drink (RTD)
Flavor
Unflavored
Flavored

Citrus
Berries
Mocha
Pomegranate
Apple
Mint
Blends (Mix)
Cola
Watermelon
Chocolate
Others
Nature
Distribution Channel
B2B
B2C

Store Based Retailing
Hypermarkets /Supermarkets
Convenience Stores
Mom And Pop Stores
Discount Stores
Specialty Stores
Independent Small Groceries
Online Retail
Region
North America
Latin America
Europe
Asia Pacific Excluding Japan
Japan
Oceania
MEA
Need specific information?