Energy & Power Quality Meters Market - Key Research Findings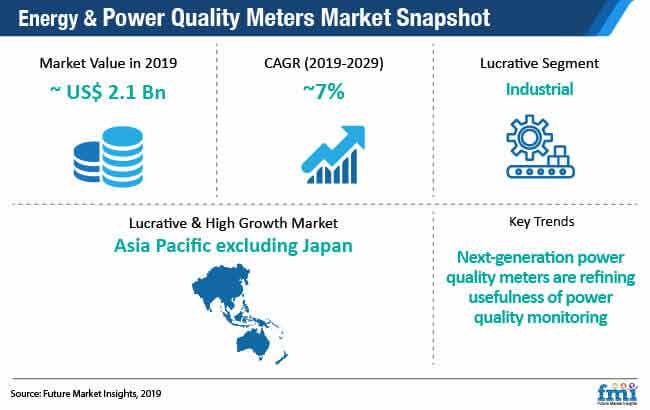 The global energy & power quality meters market size in 2018 was ~US$ 2 Bn.
The energy & power quality meters market is expected to grow at a CAGR of ~7% during the forecast period of 2019-2029.
Rapid growth of industrial IoT, increasing rate of electrification, and growing demand for next generation power quality meters are factors that have been driving the sales of energy & power quality meters.
North America is a prominent region in terms of value in energy & power quality meters market and accounted for a market share of approximately 27% in 2018. However, APEJ (Asia-Pacific excluding Japan) is expected to overtake North America, during the forecast years, to become the most significant market for energy & power quality meters.

APEJ and Western Europe due to strong economic growth, rising urbanization, industrialization, growing energy and power demand, and supply, will continue to be among the prominent regional markets for energy & power quality meters.

In order to offer energy & power quality meters, manufacturers are opting for mergers and acquisitions with other small and regional players in the market to meet the growing demand for energy & power quality meters in various end-use industries including energy & power, metals & mining, and commercial.

In May 2018, Schneider Electric signed an agreement with Larsen and Toubro Ltd., a leading conglomerate in India to buy its electrical and automation business and combine it with Schneider Electric India's low voltage and industrial automation product business.

In July 2019, Eaton acquired Innovative Switchgear Solutions, Inc., a manufacturer of medium voltage electrical equipment. In the same year, the company also acquired Souriau-Sunbank Connection Technologies business from TransDigm Group for US$920 million.
Key Factors Shaping the Energy & Power Quality Meters Market
Rising Demand for Energy Management Solutions:
Energy management sector is growing from the major changes in the global electrical power systems, in particular decarbonization, decentralization and digitalization. This growth is helping advanced power quality meter manufacturers in creating a line of next-generation power quality instruments that monitor, record and analyse critical electrical patterns to optimize energy utilization, process performance and cost.
Therefore, owing to the rising demand for energy management solutions, the demand for energy & power quality meters is expected to increase rapidly.
Urbanization, Industrialization, and Increasing Rate of Electrification:
The world is witnessing rapid increase in generation, transmission, and distribution of energy. With the growth in the energy sector, the demand for electricity is increasing with a rapid pace, which is further generating a huge demand for energy & power quality meters. Moreover, rising urbanization at the global scale is also playing a crucial role in increasing the rate of electrification in residential and commercial end-use sectors and this is further propelling the growth of the energy & power quality meters market.
Rising Demand for Energy & Power Quality Meters for Refining Power Quality Monitoring:
Nowadays, electronic equipment is becoming more sensitive than ever to minor and transient variations in voltage and this further can cause insidious damage to critical IT systems and interruptions in essential enterprise processes. In order to sustain this damage, the demand for energy & power quality meters has increased over the years to provide basic data about power consumption and to monitor voltage regulations.
Growth Opportunities in the Asia Pacific region
Manufacturers of energy & power quality meters are focusing on expanding their businesses across countries in Asia-Pacific such as China, India, and Indonesia, as these countries are witnessing strong economic growth coupled with continuous industrialization, which is supporting the increasing demand for energy & power quality meters. Also, increasing urbanization and electrification in countries of this region are bolstering the demand for energy & power quality meters in the region.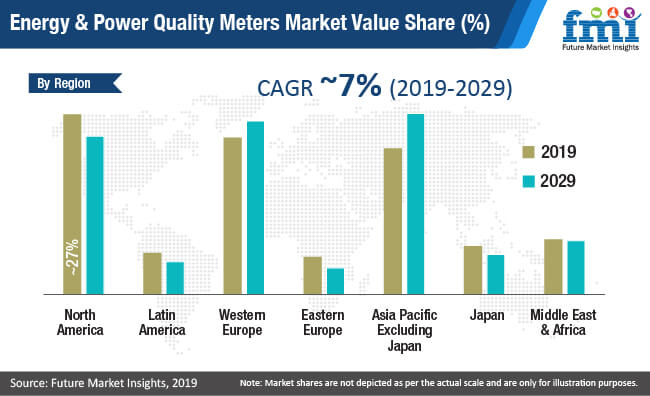 Energy & Power Quality Meters Market Structure Analysis
The global energy & power quality meters market has a fragmented competition landscape, where majority of key players are maintaining strategic focus on acquisitions & mergers, new product innovation, and partnerships & collaborations to target a stronger global footprint.
The increasing scope of applications related to energy & power quality meters and a competitive market have resulted in product differentiation and expansion strategy by the manufacturers of energy & power quality meters to provide a competitive edge and strengthen their market presence specifically to the desired end-user industry market.
Tier-1 energy & power quality meters providers account for around 45% of the overall market. Vendors such as Schneider Electric, Siemens AG, Eaton, and ABB are among the largest and most experienced in the industry, and have a significant regional coverage across the globe.
Enhanced Monitoring of Network Quality with Industrial IoT
With Internet of Things (IoT) making forays into every space, manufacturers are integrating energy & power quality meters with wireless and connected technologies for better accuracy and monitoring of power consumption. Accurate probes and embedded servers in IoT-enabled energy & quality meters enable management of power quality (PQ) and energy data over the internet or a local network. In addition, IoT-integrated devices offer various networking options – wireless, Ethernet, and others.
IIoT-driven energy & quality meters involve on-board data and event recording with a precision of 1ms to allow exact identification and avoidance of problems in real time. The operation teams access the raw and processed measurements via cloud-based applications in a bid to provide faster response to potential risks, and energy consumption. Additionally, the maintenance crew keep an eye on product reliability, and service requisites with the help of mobile-accessible logbooks.
Energy & power quality meters, coupled with IoT, deliver multitude of information, including power quality data, revenue and billing data, as well as, power and energy data, ensuring data sharing among various stakeholders in unison for increased transparency. Further, newly-launched analytic apps convert the collected information into actionable insights, allowing operation crews to mitigate power shutdowns, and equipment damage, thereby decreasing the costs of operation.
Active Network Management (ANM) for Monitoring Disturbances in Renewable Energy Generation
Energy & power quality meters, combined with ANM, manage connected renewable energy (RE) generating sources distantly in sync on a unified dashboard. Triggered by software algorithms, ANM monitors show variable characteristics of RE production and perform time-series assessment, negotiating unstable generation by providing relevant decision signals.
Energy & power quality meters offer real-time inspection of instantaneous parameters with threshold values in order to minimize the threat of grid breakdowns. ANM delivers load balancing insights, enabling grid operators to take precautionary measures against abnormalities occurring from RE generators linking with the grid, non-linear loads, and switching capacitor banks.
ANM-triggered energy & power quality meters are straightforwardly compatible with diverse power management software platforms, including SCADA, and ADMS, utilizing industry standard communications media – serial, ethernet, landline, and wireless – and protocols – DNP3, and IEC61850. Furthermore, intelligent energy & power quality meters are a great fit for space-sensitive applications, including commercial buildings, and industrial sites, owing to compact dimensions.
APEJ Set to Overhaul North America
Although the region of North America currently holds the largest share in the global energy & power quality meters market, APEJ is envisioned to emerge as the leader over the next decade. The progress is primarily attributed to escalating demand for energy and electricity in developing countries such as China and India.
Stakeholders are specifically focused in Southeast Asia, as the energy demand in the region is anticipated to propel by two-thirds by 2040 against the backdrop of rising urbanization – growing by 20%. Moreover, India ranks third in global energy consumption which is likely to triple by the next two decades, thereby potentially raising the demand for energy & power quality meters.
Complementing 'Accuracy' with New-Age Launches - Key Winning Imperative
Citing end-use industries contributing to low carbon future, market players, including Eaton, are launching frequency response energy & power quality meters, enabling large energy and electricity consumers to stabilize grid, and increase the adoption of renewable energy generation. High accuracy always prioritizes the list while monitoring energy and power consumption.
As such, Yokogawa Electric Corporation is introducing high-precision power analyzer with seven input parameters for the development of highly efficient electric vehicles and renewable energy systems.
Manufacturers are banking on diverse digital solutions such as, sensors, for detecting performance data of energy and electricity. Furthermore, established and emerging market players are manufacturing low voltage energy & power quality meters to ensure enhanced power quality with low accident rates following technical regulations for low voltage electric equipment.
How Growth Will Unfold
Despite high cost and intricacy, the global energy & power quality meters market is expected to follow a healthy growth trail over the forecast timeframe on grounds of escalating consumption of energy and electricity across the globe.
The arrival of Industrial 4.0 is influencing manufacturers to rely on digital technologies, including IoT, Artificial Intelligence, and others, following the norm of reduced carbon footprint. With international agencies imposing restrictions on fossil fuel consumption, renewables are set to portray major role in meeting global energy demand.
Key Segment
By Topology
Standalone

Panel Mount
Din Rail Units
Miniaturized

Embedded in Controller/PLC
Multi Circuit
Portable Units
By Application
Network & Branch Circuit Monitoring
Power Quality Compliance Monitoring
Energy Cost Management
Others
By End-Use Industry
Critical Buildings

Data Centers
Water Treatment Networks
Airports & Railways
Hospitals

Commercial Buildings

Hotels
Government Organizations
Retail & Supermarkets
Education Campuses

Industrial

Metals & Mining
Energy & Power (Grids)

Transmission & Distribution
Generation/ Renewables

Automotive & Transportation
Food & Beverages
Others
By Region
North America
Latin America
Western Europe
Eastern Europe
Asia Pacific
Excluding Japan
Japan
Middle East & Africa
Need specific information?
Talk Show:
The Rise of Intelligent Packaging
Personalized, Connected and Sustainable
November 18, 2021
11:00-11:45 AM PST (USA & Canada)
This is a LIVE session