Global energy gel products market to witness robust growth rate during 2017-2027
According to Future Market Insights, the global energy gel market is expected to exhibit significant growth rate during the assessment period 2017-2027. The energy gel market has seen an upward trend in growth since 2012, and in 2016 the global market was valued at US$ 448 Mn which rose to about US$ 477 in 2017 and is estimated to reflect an evaluation of about US$ 1 Bn by 2027. The global energy gel market is projected to grow at a robust CAGR of 7.8% throughout the period of forecast, 2017-2027 to reach the estimated valuation.
Fruit flavour segment to cement its dominance throughout the forecast period
The fruit flavour segment in the flavour type category is expected to show high market share in the coming years. According to the ten year forecast analysis, this segment is anticipated to grow at a high growth rate to cover up a market value of about US$ 592.2 by 2027. In terms of volume, the number of units of this segment anticipated to surface is more than 3.9 lac by the end of the forecast period.
The fruit segment has shown considerable growth since 2012, and maintained its consistency since past years. Manufacturers and distributors, an essential part of the supply chain of the energy gel market, have been largely involved in distribution of sub-segments present in the fruit flavour category which has triggered the growth of this segment. The fruit segment is projected to reflect a market share of about 58% by 2027.
Orange fruit flavour sub segment to witness 2x growth in value over the assessment period
Fruit flavour segment has been sub categorized into orange, strawberry, raspberry and lemon, of which the orange sub segment is expected to dominate the global market by reflecting a value of about US$ 200 Mn by 2027 from US$ 99 Mn in 2017. Higher consumption of this flavour has accelerated the growth of this segment over years, which also has resulted in this segment to grow high in terms of volume over the assessment years.
However, the raspberry sub segment in fruit flavour category shows higher potential as it is expected to reflect highest growth rate throughout the forecast period. This segment is the smallest segment in terms of value share, however, an upcoming one which is poised to present several opportunities to players in the long run. The lemon sub segment stands next to orange sub segment with respect to value share, as per report analysis.
Chocolate seems to be in the growth phase of the PLC
Chocolate segment by flavour is expected to possess high potential across regions. It reflects higher growth rate and significant market share during the forecast period. This segment is expected to grow at the highest CAGR of 8.7% by value with a high market share to stand next to the fruit segment in the flavour type category. This segment has picked up speed since 2017 and is poised to reflect at a 2.2x value growth by 2027.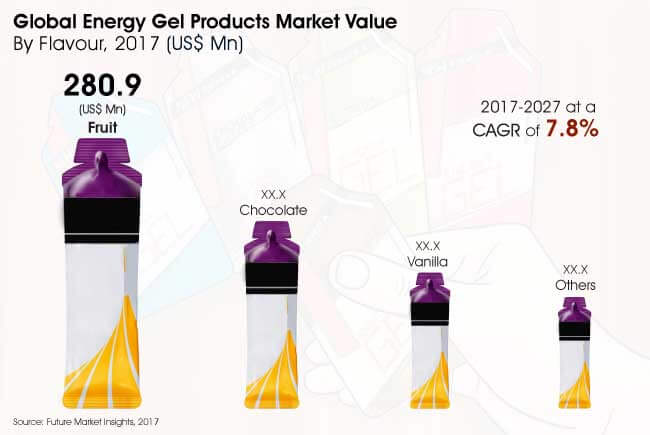 Regional Insights
The flavour segment is surging ahead with high growth in regions of North America, Western Europe, Latin America and Asia Pacific excluding Japan (APEJ). The chocolate segment remains a high growth segment in these regions. North America region is expected to show high attractiveness for this segment as it reflects a high value CAGR of 8.5% during the assessment period in this region.
North America also favourable for the fruit segment, where it experiences high value share as compared to other regions. Western Europe and Latin America also show high potential with respect to flavour types, contributing to the growth of this segment in the coming years.
A detailed market segmentation
By Flavour Type
Fruit

Orange
Strawberry
Raspberry
Lemon

Vanilla
Chocolate
Others
By Distribution Channel
Supermarket/hypermarket
Specialty Store
Online Store
Others
By Region
North America
Latin America
Western Europe
Eastern Europe
APEJ
Japan
Middle East and Africa
Need specific information?
Talk Show:
The Rise of Intelligent Packaging
Personalized, Connected and Sustainable
November 18, 2021
11:00-11:45 AM PST (USA & Canada)
This is a LIVE session