Beverage Stabilizer Market Value to Surpass US$ 3.7 Bn in 2028
The global stabilizer market exhibits CAGR of ~6% and will surpass the mark of US$ 3.7 Bn by 2028. This FMI study reveals that the market will grow at a steady pace during 2019 - 2028.
Beverage stabilizer helps to stabilize protein, emulsifies flavors, suspends particulates and enhances the mouth feel of beverages. The increasing consumption of beverages worldwide is fuelling the demand for beverage stabilizer in the market. In the food and beverage industry, the demand for customized beverage stabilizer is expected to grow over the forecast period. The consumption of beverage is influenced by the demand and supply of various types of beverages, standard of living, increasing consciousness for natural and healthy drinks amongst others. The increasing applications of beverage stabilizer in order to maintain stability, taste, color and texture will enable growth in the beverage stabilizer market.
Key Research Findings
The global beverage stabilizer market surpassed its US$ 2 Bn mark in 2019.
The increasing beverage consumption, growth in use of natural ingredients in food owing to rising consumer awareness about healthy diets, and the multi-functionality of beverage stabilizer is the key driving factor in the beverage stabilizer market.
The demand for fruit drinks in the industry is rising and is governed by the functionality of the products and the performance quality. The rise in demand for beverage stabilizer is a crucial factor endorsing significant innovation and development in the beverage stabilizer market.
Europe is leading in beverage stabilizer market and Asia Pacific excluding Japan is expected to rapidly grow in the beverage stabilizer market.
KEY FACTORS SHAPING THE BEVERAGE STABILIZER MARKET
Increasing Consumption of Convenience Foods
Consumers, owing to their fast-paced lifestyle, are substantially inclining towards convenience food products including, beverages, snacks, and baked goods, as they need lesser preparation time and can be managed easily. Consequently, these convenience food items are making way to the tables of consumers. Beverage stabilizers account for an insignificant portion of the finished item, yet have considerable impact on final packaged products. Case in point, processed meat items need broad array of functional ingredients to provide optimization in terms of stability, shelf-life, water absorption, and viscosity.
Clean and Clear Labeling to Gain Popularity
The industry-wide shift toward clean labelling will result in alternations in the supply chain at every level. F&B companies will look to work with those suppliers and distributors who have a reputation for following clean label guidelines. Delivering quality products with high standards and specification to remain major challenge.
COVID-19 Pandemic to Hit Profit Margins
The coronavirus (COVID-19) pandemic has been taking a toll on global economy and, in turn, on beverage stabilizer market. Home isolations, travel bans, and social distancing norms on national scale are leading to significant drop in businesses and consumer expenditure until the end of second quarter (Q2) of 2020. Developed regions such as North America and Europe, leading the pack in epidemiological numbers, are witnessing drastic changes in consumer behavior.
BEVERAGE STABILIZER MARKET STRUCTURE ANALYSIS
The key strategy adopted by leading players in the beverage stabilizer market is acquisition and collaboration to increase their market share and remain competitive in the market.
Local players focused on expansion to gain a significant market share globally.
Companies are also focusing on organic growth strategies such as new product approval and launch, patents and others.
Report Metric

Details

Base year considered

2018

Actual estimates/Historical data

2014 – 2018

Forecast period

2019 – 2028

Market Value in 2019

US$ 2 Bn

Segments covered

Product Type, Beverage Type, Form.

Regions covered

North America, Latin America, Europe, APEJ, Japan, and MEA.

Key Players

Glanbia Nutritionals, DowDuPont, Tate & Lyle, Ashland Global Specialty Chemicals Inc., Kerry Group, Advanced Food Systems, Chemelco International, Palsgaard A/S, Cargill Inc.

Growth Drivers

Rise in consumption and sales of beverages.
Increasing health conscious consumers.
Increasing focus on R&D to get an edge over competitors.

Report coverage

Revenue forecast, company share, competitive landscape, growth factors, and trends
Increasing Consumption of Fruit Beverages Fuels Demand for Pectin
In fruit beverages pectin is widely used as viscosity reducing agent and are also considered as a natural part of various juices. Pectin also acts as a thickener and prevents formation of gel like substance in beverages. Pectin as a beverage stabilizer has multiple applications with unique health benefits as it is a good source of protein. Owing to these factors, pectin accounts for the highest share in the beverage stabilizer market and is anticipated to grow rapidly in the forecast period.
Developing Countries Offer Lucrative Growth Opportunities
Asia Pacific is projected as the fastest growing region with a CAGR of ~7% since it is witnessing increasing demand for a variety of beverages. In addition to this, the rising disposable income of consumers and expanding industrial base are favoring the growth of the market in Asia Pacific. Asian countries such as China have emerged as a hotspot for beverage stabilizer market and are facilitating the shift of focus from developed economies to developing economies. Developing countries are expected to meet the international quality, regulations and the standards to grow positively in the beverage stabilizer market.
Clean and Clear Labeling to Be Popular among Consumers and Manufacturers, alike
Growing consumer awareness regarding natural and artificial flavoring ingredients used in food products has resulted in the implementation of stringent labeling regulations across the globe. Widespread knowledge about the health hazards of artificial substances has made consumers more critical about ingredients that go in their food products. Growing concerns towards moral beliefs about beverage consumption and allergies caused due to added substances are triggering manufacturers to follow labelling regulations more sternly. For maintaining transparency in labeling, manufacturers are including known ingredients in the labels that consumers can understand. Clean and clear labeling practices are therefore adopted by leading manufacturers in order to add more value to their products, differentiate themselves from other brands, and attract health-conscious consumers across the globe.
Pectin hold leading value share
Carboxymethyl Cellulose to showcase noteworthy CAGR
Soft drinks accounts for highest market share
Fruit drink to rapidly grow over the forecast period
Liquid holds leading revenue share
Dry to showcase noteworthy CAGR
How Growth will Unfold
The beverage stabilizer market faces moderate threat of new entrants. The increasing demand for beverage stabilizers is creating opportunities for new manufacturers. But high initial cost and volatility in raw material prices may hamper the lucrativeness of the market. The bargaining power of suppliers is therefore low. Low product differentiation and low switching cost results in low bargaining powers of suppliers. Contrary to this, the bargaining power of buyers is high as the increased competition and availability of products have given the buyers of this industry high power. Growing advancement and technology may result in improved product quality and functionality but low alternatives for beverage stabilizers is present in market. Competitive rivalry is a robust force, and prominent players use marketing, promotions and discounts to overcome this force.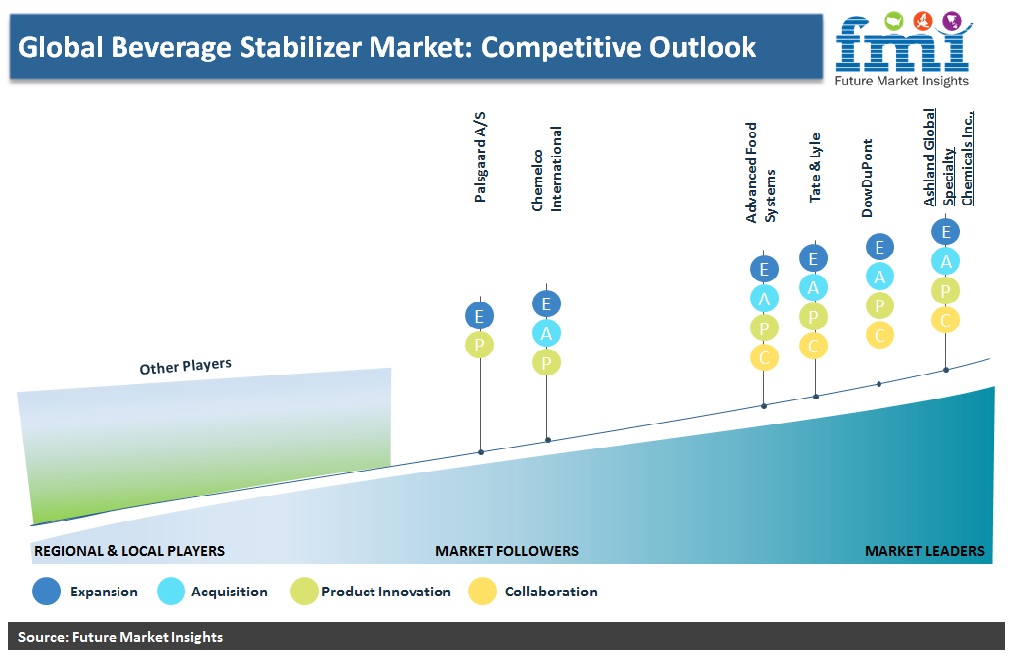 * This data is only a representation. Actual data may vary and will be available in report.
Click Here To Know How The Growth Will Unfold
Custom Market Research Services
FMI offers custom market research services that help clients to get information on their business scenario required where syndicated solutions are not enough.
Overview
Beverage Stabilizer Market: Global Industry Analysis 2014-2018 & Opportunity Assessment 2019-2028
A recent market study published by Future Market Insights on the beverage stabilizer market offers global industry analysis for 2014-2018 & opportunity assessment for 2019–2028. The study offers a comprehensive assessment of the most important market dynamics. After conducting a thorough research on the historical, as well as current growth parameters, the growth prospects of the market are obtained with maximum precision.
Beverage Stabilizer Market Taxonomy
The global beverage stabilizer market is segmented in detail to cover every aspect of the market and present complete market intelligence to readers.
Product Type
Gum Arabic
Carboxymethyl Cellulose
Xanthan Gum
Carragenan
Pectin
Beverage Type
Fruit Drinks
Dairy Beverages
Soft Drinks
Alcoholic Beverages
Others
Region
North America
Latin America
Europe
APEJ
Japan
MEA
How the research was conducted?
Primary Research
C - Level Executives
Marketing Directors
Sales Heads
Production Managers
Distributors Heads
Sales Executives
Product Manufacturers
Distributors
Traders
Industry Experts
End Users
Current Market Dynamics and Challenges
Market Characteristics
Market Performance and Growth Quadrants
Competition Structure and Market Structure
Strategic Growth Initiatives
Near-term and Long-term Market Growth Prospects
Market Segment Splits and Authenticity
Opinions on Market Projections and Validity Of Assumptions
Secondary Research
Industry Publications

Industrial Week
Industrial Product Review
Industrial Magazine

Industry Associations
Company Press Releases
Annual Reports and Investor Presentations
Research Papers
Government Websites and Publications
Trade Websites
Primary Interview Splits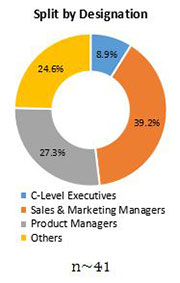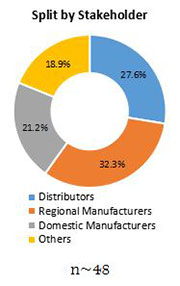 To Learn More About our Comprehensive Perspective on Beverage Stabilizer Market,
Get in touch
COVID -19 : Impact Analysis
Request the coronavirus impact analysis across industries and markets
Request Covid -19 Impact
CASE STUDIES
See how our work makes an impact.
At FMI, we design strategies that are adaptive, impactful, and implementable.