Mezcal Market Outlook
The mezcal market has been showing strong growth signs, on the back of the different positive contributors. Among the others, the change in preferences of consumers has been catching the attention of manufacturers. As a result, companies operating in the mezcal market are diversifying their product portfolios and raising awareness about natural products.
The growing influence of the social media platforms on the millennial populace has been encouraging them to walk with the western culture. Hence, visits to bars, lounges, and clubs have been increasing to improve their social media profiles. In addition, there are numerous celebrities that are promoting mezcal, which is further creating an influence on the consumers and turning them into buyers.
Yet another growth driver for the mezcal market is the quest for low-calorie natural sweeteners. Mezcal is found to be regulating blood sugar and improving digestive health. In addition, the absence of gluten has been increasing the preference for drinks that are inclusive of mezcal.
Besides this, there has been a transformation in packaging solutions for mezcal. The focus has been on the development of flexible packaging solutions that can help boost the shelf life as well as lead to a reduction in solid waste. As a result, numerous manufacturers are taking an environmental-benign way to develop packaging materials for mezcal.
During the influence of COVID-19, the mezcal market witnessed a drop in the demand, owing to the inefficient transportation system. In addition, some of the products developed using mezcal are premium. Low cash flow and a reduction in liquidity during the lockdown period led to a decrease in the demand for mezcal. However, the post-COVID-19 scenario seems prodigious for the mezcal market, as demand for alcoholic beverages is expected to grow from the millennial populace.
KEY FACTORS SHAPING MEZCAL CONSUMPTION
Premiumization Trend
The trend of consuming natural, healthy beverages is expected to increase the preference for healthier, premium products such as smoothies, cold-pressed juices, craft beers, and other products. This supports the demand for alcoholic as well as non-alcoholic products.
Additionally, when it comes to alcoholic drinks, the millennial population is willing to spend more on high-end and super-premium products. The market for high-end premium spirits grew by 5-6% per year by volume from 2012 to 2017 as a result of increasing per-capita disposable income of consumers and the persisting growth of the economy.
E-commerce Expansion
With the emergence of modern retail formats, a new format for operations in the form of food courts and specialty stores in large malls has emerged. These specialty stores offer consumers easy access to popular beverages while shopping and engaging in entertainment activities, and also facilitate the choice of selection between different products by offering an immediate opportunity to compare options in the store.
Online retailers, on the other hand, are offering a wide variety of products to consumers through comprehensive catalogs, which also cover international brands. Moreover, online stores offer beverages at competitive prices along with other lucrative offers or coupons, as well as equated monthly installment options. These benefits are expected to act as positive factors driving the growth of the alcoholic and non-alcoholic beverages market, subsequently drive the mezcal market over the forecast period.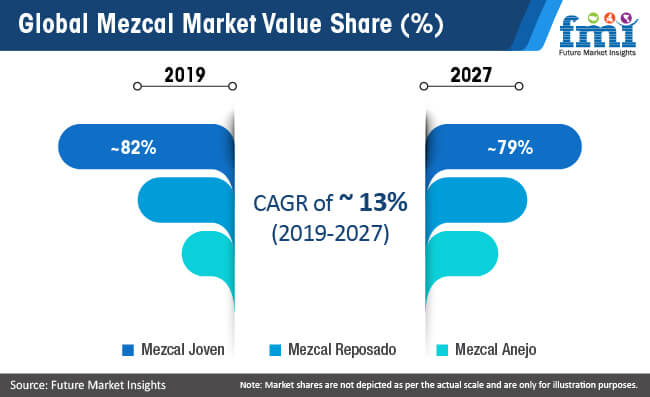 Increasing Craft Beer Consumption
The increasing consumption of craft spirits by consumers is anticipated to boost the consumption of mezcal and propel its growth over the forecast period between 2019 and 2027. The concept of craft spirits is relatively new and the trend has been followed by craft beer breweries that started nearly a decade ago.
The market for craft spirits is expected to prosper over time due to the expansion of craft breweries and distilleries. Around 600+ craft distillers are operating across North America. Furthermore, this number is expected to double in the next six years.
MEZCAL MARKET STRUCTURE ANALYSIS
The global mezcal market represents a fairly combined competitive landscape, where the prominent players retain their market positions by focusing on entering into joint ventures and solid distribution partnerships with the target of establishing stronger global footprint.

Some of the major players in the mezcal market are Bacardi Limited., Familia Camarena Tequila, Craft Distiller, Destileria Tlacolula, Diageo Plc., Don Julio, S.A.de., EI Silencio Holdings INC, Fidencio Mezcal, Ilegal Mezcal, Sombra Mezcal, William Grant & Sons Ltd, Sauza Tequila Import Company, Rey Campero., Brown-Forman Corporation (Grupo Industrial Herradura, S.A. de C.V.)., Del Maguey Co., Pensador Mezcal, and Pierde Almas.

Leading manufacturers of mezcal are currently focusing on R&D and product launches. This strategy will enable manufacturers to cater to the increasing demand for innovative alcoholic beverages in APEJ, Europe, and the Middle East and Africa.
To strengthen their foothold in target markets, mezcal manufacturers will continue to rely on a number of strategies such as product development, mergers and acquisitions, and innovation.
Increasing awareness about the prevailing mezcal market trends and shifting preferences of consumers across various regions are factors likely to create growth opportunities for prominent players in global mezcal market.
Consumption of Mezcal Respado and Mezcal Anejo Accelerates
Bottled immediately after the distillation process, mezcal joven remains the liquor of choice owing to its relatively low price point, with its consumption prominent in developed countries. Manufacturers of this unaged mezcal will reap around US$ 600 Mn revenues by 2027 end. However, as consumers are looking for concentrated aromas and flavors, demand growth of the reposado and anejo variations will speed up in the following years.
Europe to Outpace Latin American Market by 2021
Poised for a market value of over US$ 200 Mn by 2024, North America would maintain its lead in the mezcal market. Surging growth of craft distilleries in the U.S. remains critical in shaping this regional market. Latin America is also reflecting lucrative growth potential owing to increasing cultivation of different types of in agave in Mexico and Brazil. However, there are strong indications of Europe outpacing Latin American market in 2021, attributing to the evolving cocktail culture in the EU4 and Eastern Europe.
Manufacturers Must Bank on HPP to Extend Mezcal's Shelf Life
Leading producers are leveraging high-pressure processing (HPP) to extend the shelf life of mezcal. The technique utilizes high pressure in lieu of heat to inhibit bacterial growth. As the liquor is already bottled during the process, it does not get affected by the pressure. Regulatory bodies, such as the U.S. Food and Drug Administration (FDA), are instructing various companies to turn to HPP and other alternative processing methods in a bid to deliver safe products to consumers.
How Growth will Unfold
The sales of mezcal remain significantly concentrated in hotels, restaurants, and cafes (HoReCa), and currently contribute over 50% share in the market. This report reveals subsequent sales decline through the distribution channel in the following years due to sluggish alcohol selling at drinking establishments including, restaurants, and bars.
Market players, in turn, must turn to other sales channels, such as specialty stores, and modern trade, where sales collectively account for around a third market share. In addition, they should rope in various online retailers which offer products at competitive prices in tandem with engaging coupons or offers.
Mezcal Market Report Scope
Attribute

Details

Forecast Period

2013-2018

Historical Data Available for

2019-2027

Market Analysis

US$ Mn for Value and Metric Tons for Volume

Key Regions Covered

North America, Latin America, Europe, Japan, APEJ, and Middle East & Africa (MEA)

Key Countries Covered

U.S, Canada, Mexico, Brazil, Argentina, Chile, Peru, Rest of Latin America, Germany, United Kingdom, France, Italy, Spain, Benelux, Nordic Region, Russia, Poland, Rest of Europe, China, ASEAN, Australia, New Zealand, Rest of APEJ, Japan, India, GCC, Turkey, South Africa, and Rest of MEA

Key Segments Covered

Product, Concentrates, Sales Channel, Region

Key Companies Profiled

Bacardi Limited
Craft Distillers
Familia Camarena Tequila
Del Maguey Co
Destileria Tlacolula
Diageo Plc
Don Julio, S.A.de
EI Silencio Holdings INC
Fidencio Mezcal
Brown-Forman Corporation (Grupo Industrial Herradura, S.A. de C.V.)
Ilegal Mezcal
Pensador Mezcal
Pernod Ricard
Sombra Mezcal
Pierde Almas
William Grant & Sons Ltd
Sauza Tequila Import Company
Rey Campero

Report Coverage

Market Overview, Key Market Trends, Key Success Factors, Demand Analysis, Market Background, COVID-19 Analysis, Segmental Analysis, Regional Profiling, Market Structure & Competition Analysis

Customization & Pricing
MEZCAL MARKET TAXONOMY
The global mezcal market is segmented to cover every aspect of the market in detail and present complete market intelligence to the reader.
Product
Mezcal Joven
Mezcal Reposado
Mezcal Anejo
Concentrates
Sales Channel
HORECA
Speciality Stores
Modern Trade
Online Retailers
Other Sales Channels
Region
North America
Latin America
Europe
Japan
APEJ
MEA
Need specific information?