Mezcal Market By Product Type (Mezcal Joven, Mezcal Reposado, Mezcal Anejo), Concentrate (100% Tequila, Mix Tequila), Sales Channel (HORECA, Speciality Stores, Modern Trade, Online Retailers, Other Sales Channels) & Region - Forecast to 2021 - 2031
Mezcal Market - Analysis, Outlook, Growth, Trends, Forecasts
January 2021

REP-GB-5067

300 pages
About the Report
The growing interest for mezcal around the world has exceptionally helped attracting consumers to lesser known categories of rare agave varieties. Producers of mezcal have responded to the budding interest in the category, which was once overlooked, with some interesting innovations and with a steady stream of product and new brand launches along the way.
Moreover, globally distillers have been experimenting with diverse varieties of agave and some distillers have implemented novel techniques. Strong growth of the mezcal market is expected to continue due to the implementation of favorable policies of reimbursement by governments, creating a conducive environment for growth globally.
In its new study, ESOMAR-certified market research and consulting firm Future Market Insights (FMI) offers insights about key factors driving demand for mezcal. The report tracks the global sales of mezcal in 20+ high-growth markets, along with analyzing the impact COVID-19 has had on the food and beverage industry in general, and mezcal in particular.
How Lucrative is Mezcal Market's Future Outlook in Comparison to Historical Growth?
Earlier, mezcal was a part of spirit trend but it has now advanced to a full-fledged category. Until a few years back, mezcal seldom found place on the back bars and cocktail menus of restaurants. However, modern consumers are advanced and are likelier to try new flavors, thanks to their adventurous taste palettes and interest in trying unique flavors.
However, environmental concern is a critical posing threat to growth. Firstly, agave plants take many years to mature. Over-harvesting agaves is a continual threat. Secondly, wood is usually charred to heat the stills, therefore deforestation is a threat and its smoke is harmful to mezcal workers. Besides this, Europe and America's political climate uncertainties has led to a slowdown in 2016. According to FMI, the mezcal market exhibited 3.4% CAGR between 2016 and 2020.
However, the evolving tastes and preferences of consumers have broadened scope for expansion as consumers are more willing to accommodate natural and organic food products. Several established players are concentrating on acquiring smaller companies which have the reputation and expertise of being pros in explicit natural and organic domains.
Rising interest among consumers in ethically sourced products provides opportunities for ethically exported non-alcoholic beverages. Companies operating in the beverage market are projected to capitalize on this opportunity during the forecast period. Leading beverage companies are significantly concentrating on research and development (R&D) activities to advance the multifunctional profiles of non-alcoholic drinks which offer high health benefits.
Distillers are progressively examining several agave varieties, however, some manufacturers have executed new practices. With continuing current trends, there could be seen even more new entrants into the agave market. These developments present a positive outlook for growth. FMI expects global mezcal market to grow at 10.3% CAGR through 2031.
How big is Opportunity in Craft Spirits Landscape?
The small independent traditional brewers and distillers are making spirits such as craft spirits, in new innovative flavors using traditional methods. The craft spirits concept is very novel, and the drift has been followed by craft beers which started nearly in 2010. The craft spirits market is expected to expand over time due to the expanding craft breweries and distilleries.
The rising number of craft distilleries across the world will present opportunities for mezcal application. According to the America Craft Spirits Association, the U.S. has 1,315 active distillers in 2016, which rose to 1,589 in 2017. With the West boasting the largest number of craft distillers, naturally emerging as lucrative pocket for mezcal sales. The trend of mixing craft beer with mezcal is considered chic in the U.S., Canada, and Mexico.
Mezcal's long standing relationship with craft beer will continue presenting attractive opportunities for the market's growth.
How is Interest for Ethically Sourced Products Pushing Mezcal Sales?
Due to growing interest among consumers regarding ethically sourced products, the tendency of promoting beverages such as craft beer, cold-pressed juice, and smoothies with natural ingredients as premium is projected to increase in the near term forecast period. According to the World Health and Wellness Council survey, Latin America witnessed a 20% increase in the healthy drinks and health category and plant source as the chief growing categories during 2016–2020.
Furthermore, the demand for organic beverages is increasing among consumers, especially as millennial population are more inclined towards spending on high-end and premium products derived from natural sources. Natural non-alcoholic beverage is often touted healthier in comparison to conventional drinks. This awareness is rising around the world. According to Food and Agriculture Organization (FAO), Latin America accounts for 20% of the global organic trade by volume around the world. With demand for ethically sourced food and beverages items surging mezcal has solid chance at emerging as a premium ingredient in the beverages sector.
What is the Regulatory Impact on Global Mezcal Sales?
New regulations for mezcal went into effect that directed to redraft the outline and rules for how mezcal is prepared in industries and dictated how agave should be used and grouped mezcal into three definitive categories. The three new categories proposed by Norma Oficial Mexicana NOM-070-SCFI-1994, which is the law governing application of Mezcals' Denomination of Origin include Mezcal, Artisanal Mezcal, and Ancestral Mezcal.
Definitive rules are laid down, regarding distinct processes to be undertaken for three categories. If these changes will go through, artisanal mezcal will dominate the U.S. market, because these will belong to the premium mezcal category already available in the country.
Many of these rules significantly reflect how mezcal is made in the Mexican state of Oaxaca, where as much as 90% of commercially available mezcal is produced. Other states make mezcal in a different manner and the rules don't account for their practices.
Distinctly, the regulations permit only limited states to sell the agave spirit as mezcal. However, other Mexican states want in so they too can export to the U.S. and Europe, but Oaxaca wants to deny their entry.
Moreover, as the contribution of the spirit producing manufacturers is increasing globally, as a result there is strong sales prospects of mezcal in international market which also is associated with the commercialization of Mexican export in international markets and not only in the US.
Opportunities Abound in Mezcal Industry
Nowadays, consumers are inclining towards beverages manufactured from natural ingredients. Furthermore, there is also a noticeable shift towards the consumption of sugar substitutes and natural food additives. Additionally, health consciousness trend has inundated the global market with nutrition-rich food and beverages with genuine brand commitment to flavor, taste and quality. Companies are developing products with natural ingredient configurations and reduced processing to cater to the flourishing consumer demand for sustainable and nutritional foods and are also proposing convenience and on-the-go foods with a healthy twist to satiate the millenarian palate. As a result, there is a mounting opportunity for consumers to try something new or use these products as a gateway to a plant-based lifestyle.
Country-wise Insights
How Big is the Opportunity for Mezcal Sales in US?
FMI has projected the U.S. to remain one of the most lucrative markets throughout the forecast period. Prominent players in the U.S. are investing in setting up production plants due to increasing mezcal popularity in the country. Moreover, in 2019, the United States became the world's leading mezcal market, as imports surged to 50%, exceeding Mexico which increased to 10%. In 2018, the United States comprised 71% of the total mezcal export, dwarfing Spain that accounted for less than 6% total share. Furthermore, after a 39% increase last year, Pernod Ricard's Del Maguey brand still remains the leading mezcal brand in the U.S., according to Impact Databank. This was approximately twice as much as as the nearest competitors, Banhez from CNI Brands and Ilegal from Bacardi USA.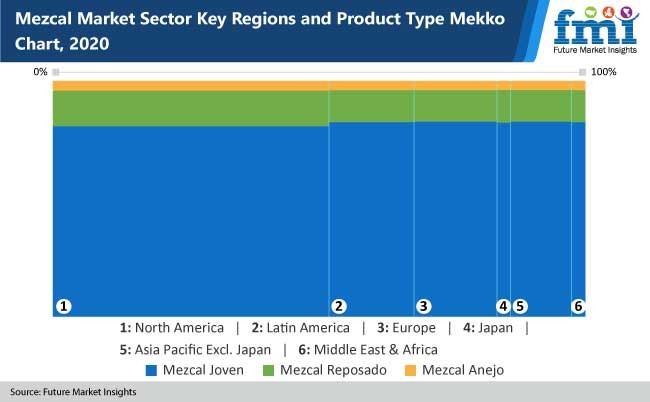 UK's Mezcal Sales Need Revival
In 2016, the U.S. and Spain accounted for higher export of mezcal than the U.K. It was reported in September 2017 that mezcal could be found at many bars in London. That same month, there was the first London Mezcal Festival to celebrate the spirit. However, in 2019 UK GQ article reported a large increase in the availability of mezcal in the last few years in the UK. In 2019, a Think Tequila and Mezcal event was added due to the circumstance that both tequila and mezcal are shifting from niche spirits to more mainstream consumption. Michael Gardner, global business leader for Del Maguey, a mezcal brand, reports that the UK is one of the five best markets for the brand, along with the U.S., Greece, France, and Australia.
Single Malt Duplication in China to Create a Surge
FMI has projected that mezcal will be the next big thing in China. Additionally, this is based on the fact that young people are consuming more tequila in China and increasing number of places in big cities selling mezcal.
Moreover, single malts are presently leading the growth of spirit consumption in China and mezcal has many similar characteristics which puts in a good position to duplicate the growth of single malt.
Mezcal is a craft beverage, with many flavors and degrees to explore. Mezcal is also produced in many regions so consumers who wish to learn more about mezcal have many destinations they can visit. Lately, wealthy Chinese consumers in the 25-34 year-old age range are considering for authentic and natural beverages, that mezcal delivers. China could surpass the U.S. as the number one tequila consumer by 2020.
Mezcal Demand to Remain High in Mexico
Mezcal is a traditional spirit from Mexico derived from agave. Mezcal has continued it steep growth in 2019, with tailwinds from rising demand in the U.S., U.K., and other countries around the world. According to the Consejo Regulador del Mezcal, the global shipment of agave-based spirit rose by 26% to 827,000 9-liter cases and particularly in Mexico, the shipments rose by 10% to reach 304,000 cases in 2019.
While Tequila continues reigning liquor landscape, mezcal consumption has dramatically increased in the last couple of years. Mezcal is derived from agave salmiana, which is a native species of plant harvested in the highlands of Central Mexico. America's growing taste of mezcal is expected to bode well for small producers across Mexico.
Craft Beer Popularity in Brazil Creating Prospects for Mezcal Sales
While tequila continues to hold flagship in Brazil, the demand for mezcal is rising slowly but steadily. Brazil has been one of the leading countries in terms of beer consumption, which makes its highly lucrative for mezcal sales. Notwithstanding the impact of COVID-19 outbreak, an increase in beer imports has been reported, hence creating lucrative opportunities for mezcal in Brazil.
According to CevBrasil (Brazilian Beer Association), the sector accounted for 1.6% of the total GDP in 2018 and is constantly receiving new investments. With the alcohol beverages industry set to expand, Brazil will emerge as one of the highly lucrative markets for mezcal in the coming years.
Category Wise
What is the Market Share of Mezcal Joven?
The Mezcal Joven segment will continue accounting for over half of the global share among products through the forecast period. According to FMI, the segment is expected to hold a little below 54% of the market, in terms of product type, by the end of 2027. Mezcal Joven offer consistent smooth texture with a lingering heat. Distinct notes of espadin agave throughout the young mezcal.
Moreover, Mezcal Joven exists in market in a number of flavors, including white pepper, citrus and green apple. Joven is ideally used in cocktails to add the sanctified flavor of sweet agave in the beverages. The heart of Joven is produced at a traditional Palenque in Matatln, but it is grown and distilled in the Oaxaca region of Mexico.
Why 100% Tequila holds Largest Share?
Nowadays, consumers favor mezcal over tequila due to disparity of flavors, where mezcal was cultivated and the type of agave used, and each manufacturer's customized processing technique. Furthermore, majority of mezcal and tequila are made by refining the fermented agave plants juice in Mexico and adds for more than 80% market share in the mezcal and tequila manufacturing and supply.
The rising culture of cocktail in the US has made mezcal beverage trendy, also with bars presenting numerous mezcal and tequila varieties. Due to which, super-premium tequila containing mezcal improved its volume by an explosive 651% in 13 years, according to Consejo Regulador del Tequila. Millenarian buyers are more passionate to try new variants and flavors as compared to the elder demographic.
Online Retailers Gaining Traction
With the advent of modern retail formats, mezcal brands now have more than a handful of windows to sell their products. For instance, specialty stores are enabling easy access to popular beverages, allowing them to shop while engaging in entertainment activities. Besides this, online retailers are expected to offer a wide range of products through comprehensive catalogues. Moreover, online retailers are offering beverages in competitive pricing which has been helping the segment gain traction within the mezcal market.
Competitive Landscape
The mezcal market traditionally consists of many small producers. But mezcal's success has attracted the attention of the big players. In early 2017 Bacardi acquired a minority stake in Ilegal mezcal, foremost to a national US rollout for the brand with Southern Glazer's Transatlantic Spirits. In June of the same year, Pernod Ricard acquired a majority stake in Del Maguey Single Village mezcal. And following Diageo's acquisition of Casamigos tequila, also in June, for up to $1bn, the brand is now adding a mezcal to its range.
Bacardi paid $5.1 billion for Patrón, while Diageo acquired Casamigos, which at the time was solely a tequila brand, in a deal valued at up to $1 billion. Liquor companies continue to pour into the mezcal space. Corona and Svedka vodka maker Constellation Brands in early 2018 invested in Mezcal El Silencio.
Del Maguey was the first mezcal brand to truly go global, well before Pernod Ricard's investment, with a plan to highlight 18 variations in distinct emerald-green bottles. Running between $40 and $200 a bottle, Del Maguey's line set a floor price far above what vodka, tequila, and many liquors command—establishing a new standard for the category.
After taking a stake in Del Maguey in 2017, Pernod Ricard has expanded the brand's restaurant and cocktail-bar distribution to under-penetrated markets like Arizona and Florida and added Del Maguey to more liquor stores and other retail accounts so consumers can take a bottle home.
Among the other brands vying for share of the rising mezcal segment are 3 Badge Beverage's Bozal, Kimo Sabe (imported by Martinez Brands) and Gem & Bolt, a newer entrant.
Some of the leading companies operating in the market are:
Bacardi Limited.,
Familia Camarena Tequila
Craft Distiller
Destileria Tlacolula
Diageo Plc.
Don Julio
S.A.de.
EI Silencio Holdings INC
Fidencio Mezcal
Ilegal Mezcal
Sombra Mezcal
William Grant & Sons Ltd
Sauza Tequila Import Company
Rey Campero.
Brown-Forman Corporation (Grupo Industrial Herradura, S.A. de C.V.).
Del Maguey Co.
Pensador Mezcal
Pierde Almas
*The list is not exhaustive, and only for representational purposes. Full competitive intelligence with SWOT analysis available in the report.
Scope of the Report
Attribute

Details

Forecast Period

2021-2021

Historical Data Available for

2016-2020

Market Analysis

USD Million for value and Liters for Volume

North America, Latin America, Europe, Japan, APEJ, MEA

Key Countries Covered

US, Canada, Brazil, Mexico, Argentina, Rest of LA, EU-4, U.K., Nordic, Benelux, Eastern Europe, Rest of Europe

Key Segments Covered

Product Type, Concentrate, Sales Channel and Region

Key Companies Profiled

Bacardi Limited.,
Familia Camarena Tequila
Craft Distiller
Destileria Tlacolula
Diageo Plc.
Don Julio
S.A.de.
EI Silencio Holdings INC
Fidencio Mezcal
Ilegal Mezcal
Sombra Mezcal
William Grant & Sons Ltd
Sauza Tequila Import Company
Rey Campero.
Brown-Forman Corporation (Grupo Industrial Herradura, S.A. de C.V.).
Del Maguey Co.
Pensador Mezcal
Pierde Almas

Report Coverage

Market Forecast, brand share analysis, competition intelligence, DROT analysis, Market Dynamics and Challenges, Strategic Growth Initiatives

Customization & Pricing
World's Most Profilic Intelligence Engine
Get Access To The World's Largest Market Research Database.
Sign Up Now
Key Segments
Product Type
Mezcal Joven
Mezcal Reposado
Mezcal Anejo
Concentrate
Sales Channel
HORECA
Speciality Stores
Modern Trade
Online Retailers
Other Sales Channels
Region
North America
Latin America
Europe
Japan
APEJ
MEA
Key Questions Answered in the Report
Which is the most lucrative market for mezcal?
US currently leads the global market for mezcal. Sales in US will be over 40% of total demand throughout the forecast period.
Which is the top-selling type of mezcal?
Mezcal Joven is highly sought-after. The demand for Mezcal Joven is expected to remain high in the near future, as it offers consistently smooth texture with a lingering heat.
Which are some of the leading companies offering mezcal?
Some of the leading companies offering mezcal are are Bacardi Limited., Familia Camarena Tequila, Craft Distiller, Destileria Tlacolula, Diageo Plc., Don Julio, S.A.de., EI Silencio Holdings INC, among others.
Which sales channel accounts is driving sales of mezcal?
Among the global mezcal market's sales channel, the largest is HORECA, which represents 59.8% and a CAGR of 10.7%.
Need specific information?
Our Clients