Oxytocin Market by Indication (Antepartum, Postpartum), Distribution Channel (Hospital Pharmacies, Drug Stores, Online Pharmacies) & Region - Forecast to 2020-2030
Oxytocin Market - Analysis, Outlook, Growth, Trends, Forecasts
December 2020

REP-GB-11218

265 pages
About the Report
The use of oxytocin in emergency labor situations continues to be a subject of research. Only available on prescription, its use to induce labor and mitigate post-delivery bleeding has been well-documented. However, its use has also been mired in regulatory guidelines, with some governments banning its production by private pharmaceutical companies. In its new report, Future Market Insights analyzes the key factors that are likely to influence the trajectory of the market for the period 2020-2030. An analysis on the regulatory climate across the globe, and strategies of leading players is also included.
Market Overview
The global oxytocin market is slated to expand at a value CAGR worth 8.4% through 2030, attributed to the rising prevalence of pregnancy complications among women across multiple regions. A rapidly expanding global population has necessitated numerous advancements in the healthcare industry, including child birth.
In spite of a blip experienced during the initial months of the pandemic crisis, market projections for the future remain largely optimistic as healthcare providers reallocate their budgets and resources to care for expectant mothers.
Growing Emphasis on Antenatal Care
Antenatal care is acquiring immense precedence across the global healthcare industry. According to the United Nations Children's Fund (UNICEF), sub-Saharan Africa and South Asia have the lowest levels of antenatal care, with less than 60% of mothers receiving proper institutional care. Hence, opportunities abound across both regions.
The World Health Organization advocates that throughout pregnancy, all women must receive prenatal care at least eight times from community outreach services or healthcare facilities. Unfortunately, many women do not receive such visits, prompting governments to ensure equity in their respective healthcare systems.
In India, for instance, the Ministry of Health and Family Welfare delivers iron & folic acid, immunization, calcium and deworming tablets and counselling to pregnant women as a part of its antenatal care services on a monthly basis. Likewise, the National Partnership for Women & Families is an important players in the United States.
Multiplying Pregnancy Complications
Despite prolific advancements in maternal healthcare, growing pregnancy complications have heightened maternal mortality rates in recent years. According to W.H.O, 94% of all maternal deaths occur in low and middle income countries, with adolescents aged 10-14 years being at maximum risk.
About 295,000 women succumbed to childbirth induced bleeding and other complications since 2017. Majority of these deaths occurred across 15 fragile states in Africa. Attributed to such high fatality rates, production of synthetic oxytocin is increasing across the world, thus providing major traction to the market.
Some leading causes of deaths include excessive bleeding, post-natal vaginal infection and eclampsia. Besides administering drugs, major efforts are being undertaken to avoid unwanted pregnancies altogether, which included encouraging good contraceptive practices during sexual intercourse.
Increased Focus on Postpartum Hemorrhage Treatment
As per W.H.O. recommendations, the use of an effective Uterotonic for the prevention of postpartum hemorrhage (PPH) during the third labor stage is highly recommended for all mothers. Amongst all options, oxytocin is the most preferred option.
While pure oxytocin is the most widely used inhibitor, usage of a fixed-dose combination of oxytocin and ergometrine, to the tune of 5 IU/500 µg, IM, is also recommended for preventing PPH in contexts where hypertensive disorders can be safely excluded prior to its use.
Furthermore, the recommendations also establish that programs to implement uterotonics for PPH prevention should ensure that women are informed well in advance about the need to use an uterotonic to prevent PPH, available alternatives and possible side-effects.
The Impact of Tight Regulations
While oxytocin usage is widely approved to alleviate pain during childbirth by contracting the uterus, reports concerning its misuse have prompted governments to issue strict regulations for its usage. Excessive oxytocin levels may aggravate stress levels instead. Thus, governments are looking to restrict its usage through regulations.
In 2018, for instance, the Ministry of Health and Family Welfare in India called for a total ban on the production of synthetic oxytocin by private companies, instead entrusting the task to a single dedicated body in limited quantities. To that end, the Central Drugs Standard Control Organization seized over a million ampoules for use on animals.
Such regulations and curbs are anticipated to act as a deterrent to future oxytocin market growth trajectory in the upcoming 2020-2030 assessment period as manufacturers have to spend a considerable amount of resources to comply with said regulations.
Oxytocin Market- Region-wise Analysis
North America Oxytocin Market
The North American oxytocin market registered nearly 5 billion oxytocin product sales in 2019, attributed to rising incidences of childbirth and pregnancy related complications.
According to Blue Cross Blue Shield, several pregnant women are entering pregnancy with pre-existing conditions. Furthermore, the proportion of women experiencing both childbirth and pregnancy complications rose by over 31% until 2018.
The report also ascribes pre-eclampsia (19%) and gestational diabetes (16.6%) are the primary drivers of pregnancy complication rates. Such trends are spurring pharmaceutical manufacturers to enhance production of synthetic oxytocin across the United States.
Europe Oxytocin Market
The European oxytocin market is scheduled to expand at over 8% value CAGR through 2030. Prolific advancements in maternity care have greatly helped enhance scope of oxytocin product sales throughout the continent.
Between 2000 and 2015, maternal mortality rate decreased nearly by half, from 33 to 16 deaths per 100,000 live births. Unfortunately, women with 'non-western' origins experience 60% higher mortality compared to their European counterparts.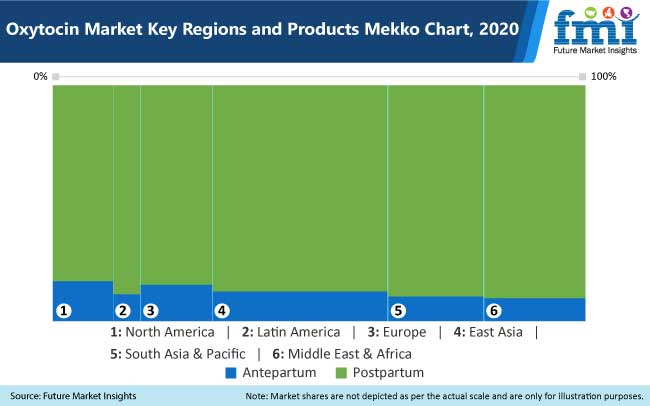 A major contributing factor hampering efficient maternal care access was inadequate insurance coverage, according to a report published in the National Center for Biotechnology Information. Therefore, efforts are underway to overcome this impediment, which is expected to generate white spaces for oxytocin products in the future.
Middle East & Africa (MEA) Oxytocin Market
Unconventional regions such as the Middle East & Africa offers tremendous expansion opportunities for the oxytocin market in the coming years. The region is expected to record nearly 50 billion unit sales of oxytocin products in the next five years.
Over half of the global maternal deaths occur in sub-Saharan Africa, particularly across fragile settings. Inadequate access to healthcare facilities and medical professionals is among the main reasons for maternal deaths. Thus, efforts need to be made to reduce these inequalities.
Presently, across Africa, there are 985 people for every nurse or midwife and over 3,300 people for every medical doctor. This implies many pregnant women do not receive antenatal, delivery and newborn care, greatly increasing risk of death. Thus ensuring access to affordable healthcare services would help eliminate unwanted deaths.
Such robust regulatory frameworks will help pharmaceutical manufacturers penetrate the MEA market on a larger scale and introduce highly effective oxytocin laced drugs in the future.
Category-wise Insights
Postpartum Hemorrhage Retains Lucrativeness
By product type, postpartum hemorrhage (PPH) is anticipated to remain lucrative across the forecast period. Nearly 3-5% of obstetric patients experience postpartum hemorrhage, responsible for a quarter of global maternal deaths. Thus, efforts are underway to prevent such fatalities, providing major stimulus to postpartum hemorrhage treatment.
Antepartum hemorrhage (APH) is also garnering significant traction, expected to generate an incremental opportunity worth US$ 13.4 Mn through 2030. Antepartum hemorrhage endangers both the mother's and fetus's lives and is thus imperative to treat the condition, prompting manufacturers to introduce various drug formulations.
Hospital Pharmacies Remain Primary Distributors
By distribution channel, hospital pharmacies are the primary point of contact for availing prescribed oxytocin regulating drugs. Over three out of five drugs are sold across hospital pharmacies, attributed to higher chances of availability as compared to other distribution channels.
However, online pharmacies are gaining momentum, owing to growing proliferation of virtual market spaces in response to the coronavirus pandemic. Platforms such as CVS Pharmacies and Walgreens have enhanced their virtual presence to address the swelling demand for oxytocin formulations.
COVID-19's Impact on the Oxytocin Market
The COVID-19 pandemic has exerted significant pressure on the global healthcare industry, significantly disrupting treatment for non-communicable diseases. Potent challenges exist for disbursing effective reproductive, maternal and contraceptive care respectively.
Presently, reallocation of healthcare resources has compelled pregnant women to deliver their babies in homecare settings, which poses several life-threatening risks to both mothers and children. It is estimated that maternal care rollbacks could lead to deaths of over 100,000 women across low and middle income countries.
Realizing this disturbing trend, governments worldwide are bolstering efforts to provide excellent quality maternal care to expectant mothers. For example, the Center for Disease Control and Prevention advocates asymptomatic pregnant women to be referred to a health facility for a routine antenatal care visit. For symptomatic patients, homecare visits must be encouraged.
Based on these developments, demand for oxytocin products is likely to remain sustained until the time the pandemic subsides, with manufacturers scrambling to augment their supply chains to cater to the rising demand for maternity care products in the short-run.
Oxytocin Market- Competition Analysis
Future Market Insights' report has profiled the following prominent players operating within the global oxytocin market*:
Pfizer Inc.
Novartis AG
Ferring B.V.
Fresenius Kabi LLC
Hikma Pharmaceuticals PLC
Endo International Plc. (Par Sterile Products, LLC)
Teva Pharmaceuticals Ltd.
Mylan N.V.
Wockhardt Ltd.
Sun Pharmaceutical Industries Ltd.
Yuhan Corporation
*This list is indicative- full details about oxytocin market players is available upon request.
The market is highly fragmented, attributed to the presence of numerous international and regional players who focus on a multitude of expansion strategies, including product launches, licensing agreements, collaborations, partnerships and acquisitions.
Pfizer Inc. is a leader in global oxytocin production, offering the Oxytocin Injection USP which acts on the smooth muscle of the uterus to stimulate contractions by exerting a selective action on the smooth musculaculture of the uterus. The formulation is given intravenously to induce labor.
In June 2020, Ferring B.V and Inenomix collaborated to advance care in reproductive medicine and maternal health. The partnership, expected to last at least until 2022, aimed at the discovery of novel targets and disease mechanisms in infertility and pregnancy-related conditions, including preeclampsia.
In December 2020, Hikma Pharmaceuticals PLC introduced the Ropivacaine HCI injection for acute pain management. The injection is used as part of surgical anesthesia for the epidurial during caesarian section operations to induce a major nerve block or local infiltration.
Oxytocin Market- Report Scope
| | |
| --- | --- |
| Attribute | Details |
| Forecast Period | 2020-2030 |
| Historical Data Available for | 2015-2019 |
| Market Analysis | USD Million for Value & Mn Units for Volume |
| Key Regions Covered | North America, Latin America, Europe, East Asia, South Asia, Oceania and Middle East & Africa |
| Key Countries Covered | U.S, Canada, Mexico, Brazil, Argentina, Germany, Italy, France, U.K., Spain, Russia, China, Japan, South Korea, India, Malaysia, Thailand, Indonesia, Australia, New Zealand, GCC, Turkey, South Africa, Egypt, Nigeria, Algeria, Morocco & Kenya. |
| Key Segments Covered | Indication & Distribution Channel |
| Key Companies Profiled | Pfizer Inc., Novartis AG, Ferring B.V., Fresenius Kabi LLC, Hikma Pharmaceuticals PLC, Endo International Plc. (Par Sterile Products, LLC), Teva Pharmaceuticals Ltd., Mylan N.V., Wockhardt Ltd., Sun Pharmaceutical Industries Ltd. and Yuhan Corporation |
| Report Coverage | Market Overview, Key Market Trends, Key Success Factors, Demand Analysis, Market Background, COVID-19 Crisis Analysis, Segmental Analysis, Regional Profiling, Market Structure Analysis and Competition Analysis |
| Customization & Pricing | |
World's Most Profilic Intelligence Engine
Get Access To The World's Largest Market Research Database.
Sign Up Now
Key Segments
Indication
Distribution Channel
Hospital Pharmacies
Drug Stores
Online Pharmacies
Region
North America (U.S & Canada)
Latin America (Brazil, Mexico, Argentina & Rest of Latin America)
Europe (Germany, Italy, France, U.K, Spain, BENELUX, Russia & Rest of Europe)
Middle East & Africa (GCC, South Africa, Egypt, Nigeria, Algeria, Morocco, Kenya & Rest of MEA)
East Asia (China, Japan & South Korea)
South Asia (India, Thailand, Indonesia, Malaysia & Rest of South Asia)
Oceania (Australia & New Zealand)
Key Questions Answered in the Report
How is the oxytocin market expected to grow in the future?
The global oxytocin market is set to embark on a positive growth trajectory, expanding at a value CAGR worth 8.4% across the 2020-2030 assessment period, reaching approximately US$ 165 Mn. Growth is underpinned by increasing cases of birth complications
Which is the key application area for oxytocin products?
The postpartum hemorrhage segment is expected to make extensive usage of oxytocin derived products throughout the 2020-2030 assessment period, attributed to high prevalence of postpartum hemorrhage while delivering an offspring
Which is the most promising oxytocin market?
The Middle East & Africa (MEA) region is anticipated to generate immense growth opportunities for the global oxytocin market. This growth is largely attributed to unceasing efforts by government authorities to establish an equitable healthcare system and offer enhanced treatment to women
How is COVID-19 impacting growth projections?
Initially, a blip was experienced by healthcare providers with regard to oxytocin treatment as the industry reoriented its priorities to care for COVID infected patients. However, governments have realized the importance of maternal care and are thus directing healthcare providers to equally accommodate their resources. Moreover, experts are also considering oxytocin as a treatment option for the coronavirus
Which are the prominent oxytocin market players?
Prominent players profiled in FMI's oxytocin market report include Pfizer Inc., Novartis AG, Ferring B.V., Fresenius Kabi LLC, Hikma Pharmaceuticals PLC, Endo International Plc. (Par Sterile Products, LLC), Teva Pharmaceuticals Ltd., Mylan N.V., Wockhardt Ltd., Sun Pharmaceutical Industries Ltd. and Yuhan Corporation
Need specific information?
Our Clients