This Rebar Tier market study offers a comprehensive analysis of the business models, key strategies, and respective market shares of some of the most prominent players in this landscape. Along with an in-depth commentary on the key influencing factors, market statistics in terms of revenues, segment-wise data, region-wise data, and country-wise data are offered in the full study. This study is one of the most comprehensive documentation that captures all the facets of the evolving Rebar Tier market.
Market Overview
Rebar tying is one of the most labor-intensive jobs in construction projects. Concrete has high compressive strength, but has relatively weak tensile strength. Due to its low tensile strength, concrete can become easily cracked. Consequentially, reinforcing bars/rebar structures are used to increase the tensile strength of concrete. These reinforced bar structures are made by tying reinforced bars together with the help of a wire or by twisting the bars. Tying by hand requires a lot of force and workers have to make repeated, fast hand and arm twisting movements and thus, there are high chances of developing hand-wrist complaints and upper limb injuries. Also, working on ground frequently and prolonged stooping and bending also increases the risk of lower back injuries.
However, using rebar tiers reduces the risk of hand-wrist disorders. Moreover, they also make working in a standing position easier which also prevents prolonged stooping and bending, thereby reducing the chances of lower back injuries. Other than this, rebar structures are also used for fixing underfloor heating coils and casing pipes, etc.
There are broadly two types of rebar tiers categorized on the basis of source i.e manual and battery operated. In a battery operated rebar tier, the tool head is placed over the joint and the trigger is pressed and the area is tied off, some of the rebar tiers also have the feature of adjusting tension control.
Market Growth Analysis
Disclaimer: This data is only a representation. Actual data may vary and will be available in the report.
COVID -19 : Impact Analysis
Request the coronavirus impact analysis across industries and markets
Request Covid -19 Impact
Significant growth in building & construction industry to Pave Way for Increasing Rebar Tier Demand
Rebar Tiers are extensively used for creating reinforced iron bar structures for various construction projects. Significantly growing construction industry across the globe is anticipated to be the key factor driving the demand for rebar tiers during the forecast period. Growing urbanization across developing countries of Asia Pacific and Latin America is expected to boost the demand for commercial buildings, institutes and hotels, which in turn, is expected to add to the growth of rebar tier market in near future. Rising infrastructural development coupled with conversion of rural areas into metro cities across the globe is another factor adding to the growth of rebar tier market. Furthermore, increasing adoption of battery operated automatic rebar tiers in growing industries, such as automotive, marine etc., is expected to fuel the demand for rebar tiers, thereby creating significant growth opportunities for the manufacturers in mentioned market.
Added features and benefits to gain competitive advantage
Rebar tiers can reduce the time spent on training and development of labor and execution of repetitive motions. End users can also save money and time by reducing man hours while increasing efficiency and labor productivity with the increasing learning curve. Rebar tiers also reduce much of the tedious, monotonous work apart from substantially decreasing health risks.
Global Rebar Tier Market: Regional outlook
The global Rebar Tiers market is segmented into the following regions -- North America, Latin America, Western Europe, Eastern Europe, South East Asia-Pacific, China, Japan, India and the Middle East and Africa. In terms of production, China has been dominating the Global Rebar Tiers market as it a major hub for manufacturing as well as major exporter. In terms of consumption, growth observed in the construction industry coupled with increasing demand for infrastructural developments is estimated to spur the demand for rebar tier equipment in countries, such as China, India and ASEAN, etc. Also, the market for rebar tiers in the Middle East and Africa region is anticipated to hinge on the performance of construction and Oil & Gas industry in the upcoming years as well.
GDPs and Real Expenditures on Construction, World's 10 Largest Economies
Source – World Bank, 2005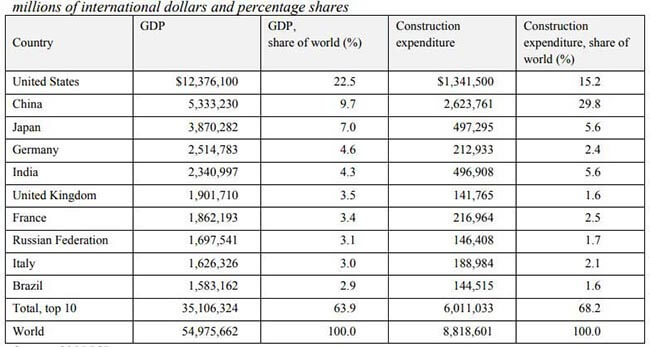 Per Capita Real Expenditures on Construction and GDPs: 10 Countries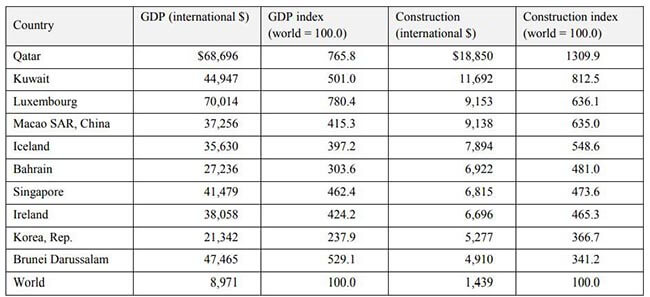 Source – World Bank, 2005
Global Rebar Tiers Market: Key Players
The key players ruling the global Rebar Tiers market are MAX USA CORP., Benner-Nawman, Inc., Wacker Neuson SE, PEXGUN, Rapid Tool Australia Pty Ltd, BN Products USA, XLYLTRON, Taizhou Xindalu Electronic Technology Co., Ltd., etc.
Opportunities for Market Participants
Increasing opportunities in the construction industry due to growth in urbanization, industrialization, etc. are expected to create demand for rebar tier equipment in the forthcoming years. With the market being less concentrated, opportunities for market entrants are projected to be on the optimistic side with focus on regional/ local markets by market participants. The value chain is also anticipated to expand due to an influx of product suppliers and retailers catering to high sales volume demand from consumers earning attractive trade margins.
Brief Approach to Research
FMI will follow a modelling-based approach and triangulation methodology to estimate data covered in this report. A detailed market understanding and assessment of the nature, product type and end uses of the product segments covered in the study is followed by a demand-side analysis to estimate the sales of target product segments, which is then cross-referenced with a supply-side assessment of value generated over a pre-defined period. The statistics and data is collected at a regional level and consolidated and synthesized at a global level to estimate the overall market sizes.
Key Data Points Covered in the Report
Some of the key data points covered in our report include:
An overview of the rebar tiers market, including background and evolution
Macroeconomic factors affecting the rebar tiers market and its potential
Market dynamics, such as drivers, challenges and trends
Technology Roadmap involved from inception period to present date
Detailed value chain analysis of the rebar tiers market
Cost structure of the products and segments covered in the global rebar tiers market
In-depth pricing analysis, by key product segments, regions and by major rebar tiers market participants
Analysis of supply and demand, such as top producing and consuming geographies, imports/exports and overall trade scenario in the global rebar tiers market
Analysis of the global rebar tiers market structure, including a tier-wise categorization of key Rebar Tiers market participants
Competitive landscape of the market, including detailed profiles of top players in the rebar tiers market
The research report presents a comprehensive assessment of the market and contains thoughtful insights, facts, historical data, and statistically supported and industry-validated market data. It also contains projections using a suitable set of assumptions and methodologies. The research report provides analysis and information according to market segments such as geographies, application, and industry.
The report covers exhaust analysis on:
Market Segments
Market Dynamics
Market Size
Supply & Demand
Current Trends/Issues/Challenges
Competition & Companies involved
Technology
Value Chain
Regional analysis includes:
North America (U.S., Canada)
Latin America (Mexico. Brazil)
Western Europe (Germany, Italy, France, U.K, Spain)
Eastern Europe (Poland, Russia)
Asia Pacific (China, India, ASEAN, Australia & New Zealand)
Japan
Middle East and Africa (GCC Countries, S. Africa, Northern Africa)
The report is a compilation of first-hand information, qualitative and quantitative assessment by industry analysts, inputs from industry experts and industry participants across the value chain. The report provides in-depth analysis of parent market trends, macro-economic indicators and governing factors along with market attractiveness as per segments. The report also maps the qualitative impact of various market factors on market segments and geographies.
Unique Requirements? Customize this Report
Customize by Region, Country, Application, Product, & other segments
Integrate our Insights with your Existing Data
Determine the scope of the study to suit your requirements
Gain Insights on Key Rebar Tier Market Impacting Forces
Know the Winning Strategies of Market Leaders
Get Deep-Dive Analysis on Each Segment
Identify the Sources that will Drive Top-Line Revenue
Global Rebar Tier Market: Segmentation
The global Rebar Tier market can be segmented on the basis of mode of operation, end use and regions.
On the basis of mode of operation, the global Rebar Tier market can be segmented as follows:
Manual/ Mechanical Rebar Tier
Powered Rebar Tier
AC Powered
Battery Powered
On the basis of end Use, the global Rebar Tier market can be segmented as follows:
Building & Construction
DIY
Others
Report Highlights:
Detailed overview of parent market
Changing market dynamics in the industry
In-depth market segmentation
Historical, current, and projected market size in terms of volume and value
Recent industry trends and developments
Competitive landscape
Strategies of key players and products offered
Potential and niche segments, geographical regions exhibiting promising growth
A neutral perspective on market performance
Must-have information for market players to sustain and enhance their market footprint
Frequently Asked Questions
---
What research methodology is used to develop the Rebar Tier Market report?
FMI utilizes three branched methods to derive market measurements used to compile any report study (data derivation, triangulation and validation).
These approaches include accumulating data from both primary and secondary sources
Primary research involves interviews with industry operators and FMI's network of contacts spanning the world's value chain of the Rebar Tier Market. This is supported by a comprehensive literature analysis of information gathered through secondary sources
Analysis of several middle market stakeholders for country-wise data
What else does FMI offer apart from Rebar Tier Market report?
In addition to up-to-date market figures and customized of the Rebar Tier Market, FMI offer consulting services to help businesses within industry navigate challenges and take well-informed decisions amidst the breakneck competition.
How do you define competitors based on market structure? What aspects about a competitor are included in the company profile section?
Most of the competitors are segregated according to their market share in 'Tier' wise statures.
Global market participants are scrutinized and global competition metrics are included with numerous competitor profiles referring to their business background and go-to market strategies.
Harish Tiwari
Global Head - Business Development
Akshay Godge
Client Partner - Global Business Development