About The Resveratrol Market Report
Resveratrol is an antioxidant product that is extracted from various fruits such as blueberries, grapes and others, and various plants. Resveratrol is accessible in both,liquid form and solid (powder). End users mostly prefer using it in powder form. In recent years, resveratrol as an ingredient has gained high traction, as it is used in cosmetic products, anti-aging supplements, medicines, and other applications. Resveratrol also has beneficial effects against cardiovascular diseases, which is also expected to increase the growth of the resveratrol market.
In its new study, ESOMAR-certified market research and consulting firm Future Market Insights (FMI) offers insights about key factors driving demand for Resveratrol market. The report covers a forecast and an analysis of the resveratrol market on a global and regional level.The study contains drivers and restraints of the resveratrol market along with the impression they have on the demand over the estimate period. Moreover, the report contains the study of opportunities existing in the resveratrol market on a global level.
How the Historical and Future Outlook for Resveratrol Market Match Up?
Resveratrol was not much popular as it was first isolated in year 1939 by Takaoka who was from veratrumgrandiflorum O. Loes. This discovery was made descriptive first and was published nearly 60 years later.After resveratrol was published it was brought into the limelight by researchers. Early research tended to focus on pharmacological activities related to the inflammation, cardiovascular system, and cancer but, over the years, the use of Resveratrol greatly expanded.
Global resveratrolmarkethas been exhibiting impressive growth, which is expected to continue through the forecast period.Growth registered isdue to growing consciousnessabout natural ingredients and benefits of antioxidant among people. Theinclusion of antioxidant in a product is rapidly increasing, and this progress is driving significant variations in the way antioxidant ingredients are marketed.
Resveratrol is exclusive between antioxidants in that it aims a number of proteins and has mechanisms of action beyond just preventing oxidation. Lesser manufacturing expenses and higher demand for natural products are estimated to drive the global resveratrol market.
The usage of resveratrol in thecosmetic industry is expected to increase. Severalkey players have launched various skincare products containing novel resveratrol, as a key ingredient. This has created new opportunities for resveratrol products and manufacturers, encouraging them to focus on product launches.
For instance- In 2016, DSM Nutritional Company launched Products acknowledged by European Union (EU) novel foods sanction for resVida, a great purity trans-resveratrol product, used in food supplements in capsule or tablet form.
Researchers in UCLA Department of Dermatology have confirmed through in experiments that resveratrol, an ingredient in antioxidants and anti-aging therapeutics, generates sustained bactericidal and anti-inflammatory effects against P. acnes.According to FMI, as a result of positive outcome of various researches conducted, theResveratrol market will observe growth of 8.4% CAGR over 2021-2031.
How Will Demand for Natural Products Affect Resveratrol Sales?
Natural products sales have been risingsince purchasing them is perceived to be a responsible choice among consumers. Additionally, natural resveratrol that is extracted from grape seeds, blueberries, peanuts, knotweed, and other farming products is one reason for the rapid growth of the resveratrol market. Asia, Europe and North Americaare some of the key regions that have been registering both, high production and consumption growth in the last few years.
According to the Food and Agricultural Organization (FAO), Asiaaccounted for 38% of total grape production in 2019 worldwide. Therefore, Asiais expected to hold a major share in the grape seed extracted resveratrol segment, globally. In the East Asian market, China and Japan exhibit high knotweed resveratrol production, as knotweed extraction is more economical as compared to grape seed.
How is ResveratrolUse in Diet and Food Industry Affecting Sales?
Consumers are becoming increasinglyaware about health because of the increasing health problemstypically related to the digestive systems. As resveratrol in an antioxidant products, it is also considered good for cardiovascular system, skin, and overall health. Hence, the rising health and wellness awareness among the consumers is increasing the demand for resveratrol.
The usage of resveratrol in the nutraceutical processing industry is wide (such as its used in making dietary supplements)and isnot limited to a certain type of product. It is being used as anti-angiogenic, anti-oxidant, and anti-inflammatoryingredients in pharmaceuticals, and dietary supplements. It has been also associated to the well-known "French Paradox" in which regular wine consumption can reduce the risk of developing, cerebrovascular, cardiovascular and peripheral vascular disease and cancer.
Subsequently, resveratrol has myriad physiological benefits, including protection against age-related deterioration, cancer, cardiovascular disease, and the neurotic consequences of high-fat diets. Manufactures are focusing on building more products as per the consumers' needs which will surge the market growth.
Country-wise Insights
How Big Is the Opportunity forResveratrol In Germany?
Germany accounts for the maximum share in the Europe market. It has shown remarkable growth and is expected to continue expanding in forecast period.Germany is among the leading consumers of resveratrol as there is high demand for dietary supplements in this country.
According to FMI, Europe holds more than 25% of share overall in world and Germany account 23.5% of share in the Europe. It is expected to continue exhibiting growth at a positive rate on account of the expansion ofresveratrol manufacturing companies. Increasing focus on health and wellness among consumers will bode well for the market within Germany.
Will India'sResveratrol Market Expand in Coming Years?
India is expected to hold the largest share in South Asia resveratrol market. This can be credited to the rising demand for resveratrol in the dietary supplements, pharmaceuticals and cosmetics industry across the country. The rising demand for healthy food and increasing focus on sustainable ingredients will drive sales in India.
The cosmetics sector in India is expanding and it has been registering rising demand for natural and organic products. This has helped in creating a conducive environment for the expansion of resveratrol market in India.
Why is Innovation Key to Succeed in U.S.Market?
The U.S. is among the leading consumers of resveratrol as there is high demand for dietary supplements in this country. Innovation have always being Also, the presence of some of the leading players is helping the expansion of the market in the U.S. Growth strategies adopted by these companies are likely to aid the overall expansion.
For instance, Natural ingredients – a U.S. manufacturing company offers Trans-resveratrol in various countries around the world. This company is not in top players but is focusing on innovation and expanding its geographic footprint. This will in turn enable growth in the market in the coming years.
What are the Factors Driving Resveratrol Sales Is Mexico?
The demand for extract (plant-based) products is significantly high in Mexico. Isomer Trans-resveratrol is main product used by Mexican consumers. The increasing use of these ingredients in dietary supplements will create growth opportunities for the market in Mexico. Expansion of cosmetics and skin care industries also will offer growth opportunities.
How Did COVID-19 impact Resveratrol Sales in China?
The unprecedented outbreak of the novel coronavirus has affected grape farmsacross China, which is the key source ofresveratrol in the country. Besides impact on deriving resveratrol, supply-chain disruptions are negatively affecting sales in China. Nonetheless, as the economy returns to normalcy, resveratrol sales are expected to pick up.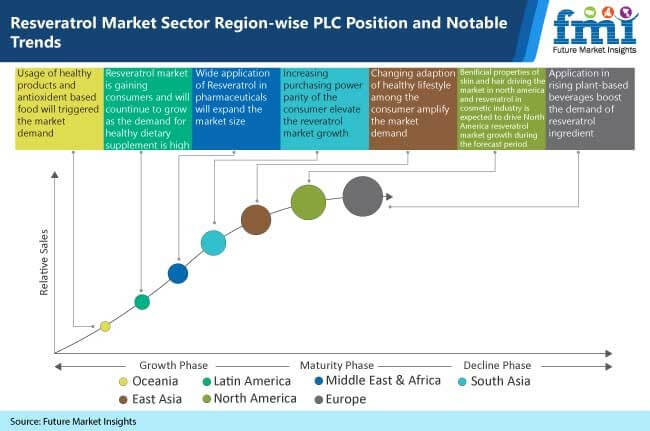 Category Wise Insights
What's the market shareof Trans-Resveratrol?
Trans-resveratrol has emerged as the more preferred ISOMER in the market. As it hasantifungal,antiplaquetary,cardio protective, andanti-inflammatory properties, the sales of trans-resveratrol are expected to surge. According to the FMI's, trans-resveratrol accountedfor over 96 of sales in the market in 2020 and is expected to remain dominant through the forecast period.
What is the Key End Use of Resveratrol?
The application of the resveratrolwill continue increasing in the dietary supplement segment. This is due to the awareness among the consumers about various health benefits of resveratrol will continue fuelling demand in this segment.
Even though,maximum share of resveratrol is being used in the dietary supplement industry, the pharmaceuticals industry will exhibit a higher rate of growth over the forecast period.
Why isExtract (plant-based) Resveratrol More Preferred?
Natural products have been evolving as the perceived responsible choice among consumers over the years. Resultantly, the market for naturally-extracted products has grown remarkably. Additionally, natural resveratrol that is extracted from grape seeds, blueberries, peanuts, knotweed, and other farming products are included as key ingredients across various industries.
The consumption for plant based extract is projected to be increasing in the near future due to the growingfocus on health and wellness. This is expected to have positive impact on the overall market.
Competitive Landscape
Resveratrol market showcases high competition. In order to gain competitive advantage manufacturers are adopting various strategies including product launches and expansion of their production capacities. Besides this, they are adoption various strategies to educate consumers about the benefits of ingredients that are sourced from nature.
For instance:
In 2016, Evolva has started production of yeast fermented resveratrol, and is expected to deliver a high purity and cost-effective solution over the forecast period.
In 2020, DSM nutritional launched a new brand campaign targeting the human nutrition and health market brand strategy marking transition to end-to-end partner in nutrition and health.
Some of the leading companies operating in the Resveratrol market are:
Evolva
Endurance Product Company
Great Forest Biomedical
Laurus Labs Limited
JF-NATURAL
MAYPRO Industries
Sabinsa Corporation
Resvitale LLC
Shanghai Natural Bio-engineering Co., Ltd.
*The list is not exhaustive, and only for representational purposes.
Scope of the Resveratrol market Report
Attribute

Details

Forecast Period

2021-2031

Historical Data Available for

2016-2021

Resveratrol Market Analysis

USD Million for value and '000 MT for Volume

Key Regions Covered

North America, Latin America, Europe, East Asia, South Asia, Oceania Middle East & Africa

Key Countries Covered

U.S., U.K., Germany, France, China, India, Brazil

Key Segments Covered

Form, End Use, Product Type and Region, Isomer.

Key Companies Profiled

DSM Nutritionals
Evolva
Endurance Product Company
Great Forest Biomedical
Laurus Labs Limited
JF-NATURAL
MAYPRO Industries
Sabinsa Corporation
Resvitale LLC
Shanghai Natural Bio-engineering Co., Ltd.

Report Coverage

Revenue forecast, company share, competitive landscape, growth factors and trends.

Customization & Pricing
Available upon Request
Key Questions Answered in the Resveratrol Report
Which is the Most Lucrative Market for Resveratrol?

Europe is currently leading the global market for resveratrol.

Which the Top-selling ResveratrolType?

Extract (plant-based) resveratrol is expected to remain the top-selling type in the resveratrol market.

How Is Resveratrol Made And From Where Is It Extracted?

Resveratrol is a phytoalexin, a class of compounds produced by many plants when they are infected by pathogens or physically harmed by cutting, crushing, or ultraviolet radiation. Plants that synthesize resveratrol include knotweeds, pine trees including Scots pine and Eastern white pine, grape vines, peanut plants, cocoa bushes, and Vaccinium shrubs that produce berries, including blueberries, raspberries, mulberries, cranberries, and bilberries.

Which are some of the leading companies operating inResveratrol market?

Some of the leading companies operating inResveratrol market are DSM Nutritionals, Evolva, Endurance Product Company, Great Forest Biomedical, Laurus Labs Limited, JF-NATURAL, MAYPRO Industries, Sabinsa Corporation, Resvitale LLC and Shanghai Natural Bio-engineering Co., Ltd.

Who is the Leading End User ofResveratrol?

The application of the resveratrolis considerably high in dietary supplements. The demand from pharmaceutical sector also is expected to rise in the near future.
Resveratrol market by Category
Product type
Extract (Plant-based)
Fermentation (Yeast-based)
Synthetic (Chemical Synthesis)
Form
Isomer
Trans-Resveratrol
Cis-Resveratrol
End Use
Cosmetics

Skin Care

Cream & Lotion
Scrub Exfoliator
Cleanser & Toner
Balm & Butter
Serum & Mask
Makeup Remover
Others

Hair Care

Shampoo
Conditioner
Essential Oil
Hair Color
Hair Stylist Products
Hair Oil

Makeup

Facial Makeup
Eye Makeup
Lip Makeup
Nail Makeup

Personal Care

Bath Care

Shower Products
Liquid Bath Products
Bath Additives
Bar Soaps

Fragrance

Perfume
Deodorant
Cologne

Tools

Dietary Supplements
Pharmaceuticals
Others
Region
North America
Latin America
Europe
South Asia
East Asia
Oceania
Middle East & Africa
Need specific information?