Introduction
The global resveratrol market is estimated to account for total revenue of US$ 97.7 Mn by the year 2018. The global resveratrol market is projected to grow at a CAGR of 8.1% in revenue terms from 2018 to 2028. Resveratrol is an antioxidant agent that is extracted from fruits (grapes, blueberries, and others), and plants.
Resveratrol is available in both, solid (powder) and liquid forms. Powder form resveratrol is preferable among end users. Synthetic resveratrol is used in various end-use applications, including dietary supplements, personal care products, pharmaceuticals, and others.
In recent years, resveratrol as an ingredient has gained high traction, as it is used in anti-aging supplements, cosmetic products, medicines, and other end-use applications. Resveratrol also has beneficial effects against degenerative and cardiovascular diseases, which is also expected to escalate the growth of the resveratrol market.
Demand for Natural Resveratrol Extracted from Fruits has Gained Traction in Various End-use Industries
Natural products have been evolving as the perceived responsible choice among consumers over the years. Resultantly, the market for naturally-extracted products has grown remarkably. Additionally, natural resveratrol that is extracted from grape seed, blueberries, peanuts, knotweed, and other agri-produce is one reason for the rapid growth of the resveratrol market.
Europe, North America, and East Asia are some of the key regions that have been registering both, high production and consumption growth in the last few years. According to the U.N. Food and Agriculture Organization (FAO), Europe accounted for 39% of total grape production in 2017, worldwide. Therefore, Europe is expected to hold a major share in the grape seed extracted resveratrol segment.
In the East Asian region, China and Japan have a significantly high production of resveratrol extracted from knotweed, as knotweed extraction is more economical as compared to grape seed.
Natural resveratrol with several medicinal applications and health benefits accounts for more than half of the share of the resveratrol market. Resveratrol also has a wide range of biological properties, including anti-inflammatory, antioxidants, antimicrobial, anti-hyperglycemic, anti-cancer, and antidiabetic properties. Such wide application areas of natural resveratrol is expected to create positive market demand for resveratrol over the forecast period.
Synthetic resveratrol, which is yeast fermented, is also estimated to register significant growth in the coming years, as manufacturers are focusing more on economical solutions for the production of resveratrol. For instance: Evolva has started production of yeast fermented resveratrol, and is expected to deliver a high purity and cost-effective solution over the forecast period.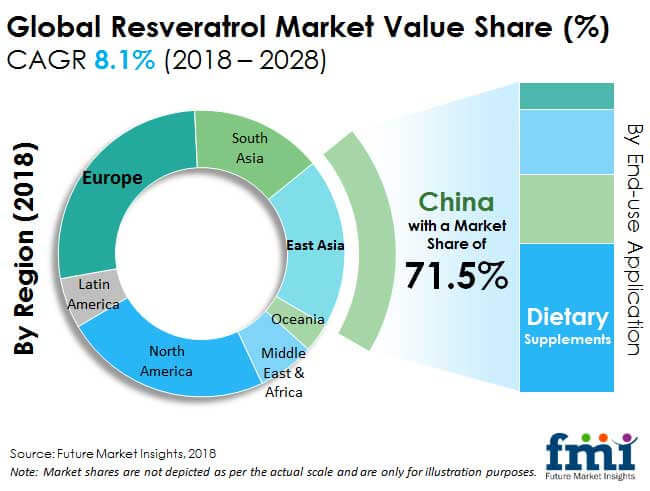 Resveratrol has Beneficial Effects on the Body and Supports Healthy Aging
Resveratrol has antiplatelet effects, which has prophylactic effects on portal vein thrombosis. According to a research study, food products containing resveratrol can lessen portal vein thrombosis among patients undergoing liver transplantation and displaying certain cardiovascular disease risk factors.
Subsequently, resveratrol is linked to myriad physiological benefits, including protection against cardiovascular diseases, cancer, age-related deterioration, and the pathological consequences of high-fat diets. Such factors have increased awareness regarding the health benefits of resveratrol, as such, propelling the growth of the resveratrol market.
Dietary Supplements Containing Resveratrol are the Most Common End-use Products Among Consumers
Increasing consumer preference towards leading a healthy lifestyle has led to the higher consumption of food ingredients with potential health benefits. Lately, users have become more aware of their diets. According to FMI estimates, the global dietary supplements market is projected to grow at a healthy CAGR of 7.5% between 2018 and 2028.
According to a survey directed by the Council for Responsible Nutrition in 2017, around 76% of adults in the U.S. consumed dietary supplements. Such statics represent a substantial growth in the consumption of dietary supplements, which further drives the market demand for resveratrol as a key ingredient.
Challenges Faced by the Resveratrol Market
Resveratrol has gained significant traction in food and beverages; however, there are some regulatory challenges faced by the market. The regulatory systems of various countries are unclear on guidelines for claims made by manufacturers of dietary supplements, which further complicates the regulatory framework and usage of resveratrol.
The requirement of high research-grade resveratrol for end-use applications is also one of the reasons that is hindering the growth of the resveratrol market. Furthermore, the price variation of resveratrol ingredients in different countries has been impeding trade during the last few years.
Global Resveratrol Market: Segmentation
Analysis by Product Type
Natural Resveratrol

Fruit-extracted
Knotweed-extracted

Synthetic Resveratrol
Analysis by Form
Analysis by End Use
Dietary Supplements
Pharmaceuticals
Personal Care Products
Others
Analysis by Region
North America
Latin America
Europe
East Asia
South Asia
Oceania
Middle East & Africa
Need specific information?