Introduction
Shisha tobacco is an intoxicant that contains washed or unwashed tobacco as a base ingredient (~83% of the mixture), which is infused with additives such as water, glycerin, and aromatic molasses sugar, and smoked through a water pipe apparatus. As a traditional form of smoking in many countries, shisha tobacco smoking has acquired a variety of regional names, such as narghile, hookah, water pipe, hubble bubble smoking, and bong pipe smoking, amongst others.
In the shisha tobacco market, the entire shisha tobacco mixture along with additives has been considered as the target product. The shisha tobacco market is expected to witness a CAGR of 2.6% in terms of revenue during the forecast period. The demand for shisha tobacco is witnessing lucrative growth, owing to numerous factors. The primary being that, consumers in many regions are opting for water pipe smoking in a bid to cut down on cigarette smoking.
There is an immense lack of awareness among consumers about the harmful effects of shisha tobacco smoked through water pipes, because in fact, shisha tobacco smoking is more injurious to health compared to cigarette smoking. This misconception is prevalent amongst people, who both smoke and do not smoke, making it a major factor due to which the shisha tobacco market is witnessing growth across different regions despite the downward spiral of the tobacco industry.
Besides, a wide variety of flavours offered in shisha molasses make these products very indulgent and sensory appealing to consumers. For those addicted to smoking and those willing to give up on smoking (cigarettes, cigars, and other forms of harmful smoking), flavoured shisha tobacco remains a very attractive and innovative product. Increasing social acceptability and shisha culture in cafés and lounges are further expected to drive market growth for shisha tobacco.
The increasing acceptance of shisha tobacco among consumers is leading to the combined interest of companies as far as these products are concerned. Manufacturers of shisha tobacco are offering a variety of flavours and blends, and are working towards updating their inventories with more innovative shisha tobacco flavours to attract a large consumer base. Innovative and attractive packaging of shisha tobacco compared to cigarettes has also led to product differentiation and adoption.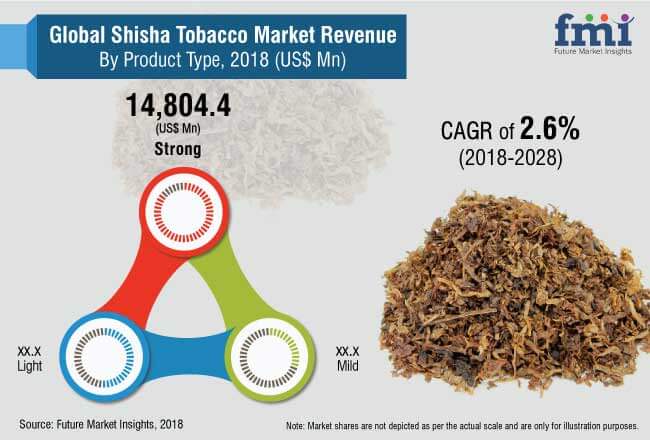 Shisha Tobacco Market – Region-wise Overview
The global shisha tobacco market is expected to experience significant growth in developing economies. In terms of value, the shisha tobacco market is expected to expand at a CAGR of 2.6% over the forecast period, to reach a market value of US$ 25,953.9 Mn by 2028. Middle East & Africa accounts for almost 84% of the total share of the global shisha tobacco market in terms of revenue by the end of 2018.
Shisha tobacco smoking is a tradition for Middle Eastern consumers. Middle Eastern immigrants are the trend setters in many parts of the world. Migrating consumers who are well-adapted to the culture of shisha tobacco smoking are responsible for bringing about this trend in other parts of the world, which has appealed to other consumers, especially the young demographic. Besides, the Middle East, as a major tourist destination, has also upped the sales of shisha tobacco.
In addition, tourists tend to perceive shisha tobacco from the Middle East as being high in quality, and are ready to pay premium prices for those products. Latin America, followed by Asia Pacific, are anticipated to witness a growing market prospective for shisha tobacco in terms of CAGR, owing to the increasing per capita disposable income of consumers.
Developed economies such as North America and Western Europe are expected to account for a limited growth potential in the shisha tobacco market, due to stringent policies and regulations with regard to tobacco consumption in these regions.
Shisha Tobacco Market – Segment-wise Overview
By product type, the shisha tobacco market is expected to witness major contribution from the strong shisha tobacco segment. In terms of value, the strong shisha tobacco segment has the largest share, and accounts for over 74% of the total shisha tobacco market. In the Middle East, preference for strong shisha tobacco among seasoned consumers has led to a relatively greater share compared to other regions, also owing to the intense flavour of these products.
Fruit flavoured shisha tobacco is expected to remain the preferred flavour among consumers. This segment is anticipated to account for a market share of 63.2% by the end of 2018, which is expected to further increase to over 65% by the end of 2028.
Market Segmentation
The shisha tobacco market is segmented on the basis of:
Product Type
Flavour
Distribution Channel
Based on product type, the shisha tobacco market is classified into strong shisha tobacco, mild shisha tobacco, and light shisha tobacco. This distinction is based on the approximate content of nicotine in different variants of shisha tobacco.
Based on flavour, the market for shisha tobacco is divided into fruit, mint, chocolate, caramel, and blended flavours. The fruit flavour of shisha tobacco is further sub-segmented into berry, apple, melon, citrus, and tropical flavours.
Based on distribution channel, the market for shisha tobacco is divided into direct and indirect distribution channels. The indirect distribution channel includes modern trade, specialty stores, convenience stores, and online retailing.
Need specific information?