Citrus Flavors Market Snapshot
The citrus flavors market worth is expected to total US$ 2,977.1 Million in 2021, according to Future Market Insights (FMI) study. The study also projects the citrus flavors demand to surpass US$ 4,931.5 Million by 2031, growing at a CAGR of 5.2% for 2021-31.
Citrus flavors are widely recognized as neutral food additives often used to extend shelf-life of food products. Under Food and Drug Administration (FDA) regulations, prohibited food ingredients such as carrageenan, phosphates, and hydrocolloids, can be substituted with citrus flavoring ingredients.
The demand for citrus flavors will therefore accelerate and so will the competition prevailing in the market. FMI has forecast the top 10 producers to hold nearly 50% of citrus flavors value share in 2021.
Key Points Covered in Citrus Flavors Market Study
Market estimates and forecast 2015-2031
Key drivers and restraints impacting market growth
Segment-wise, Country-wise, and Region-wise Analysis
Competition Mapping and Benchmarking
Brand share and Market Share Analysis
Key Product Innovations and Regulatory Climate
COVID-19 Impact on Citrus Flavors Market and How to Navigate
Recommendation on Key Winning Strategies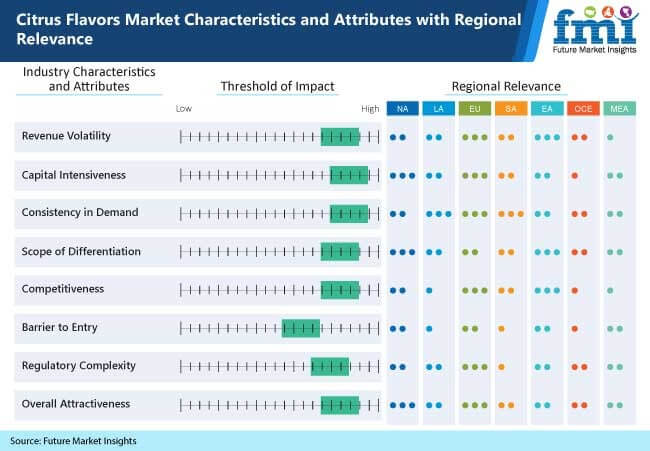 How Does Citrus Flavors Market Outlook for 2021-2031 Compares with Sales Registered in 2021-2031?
Increasing demand from industries including bakery & confectionery, beverages, and dairy products is driving the global citrus flavor market. The market rose at a CAGR of 3.6% between 2016 and 2020. Forecasts for growth remain optimistic, with the citrus flavors sales predicted to grow at a CAGR of 5.2% between 2021 and 2031.
Demand for fresh, authentic, and natural products is gaining ground. Consumers are prioritizing genuine and natural-tasting foods. This presents a challenge for food producers owing to strict labeling requirements.
Major food and beverage companies are stockpiling products with citrusy flavors. Product development and innovation are ongoing processes that have shaped the beverage industry. Recent years have witnessed the introduction of new beverage concepts such as infused beverages, functional beverages, fusion beverages and flavored water, among others.
Citrus flavors are capturing the attention of consumers due to their vibrant flavor and nutritional value creating key opportunities for revenue generation.
Is Rising Health Awareness Among Consumers Triggering Growth?
Wellness is a subjective pursuit that is reflected in an increase in customized food and beverage formulations. Consumers are increasingly interested in eating natural and organic foods and beverages, and consuming health supplements, while cutting down processed food and synthetic additives.
An inclination towards preventive healthcare is pushing manufacturers to use natural and healthier ingredients in their food and beverage products. Citrus fruits are rich in vitamins, antioxidants, flavonoids, and other nutrients. Consequently citrus-derived flavors are perceived as a healthier alternative to synthetic flavoring agents and hence are increasingly accepted by health conscious demographics.
How are Supply Chain Developments Driving Growth?
Manufacturers try to reduce variability caused by rising costs and uncertainty over demand. Manufacturers are pursuing greater control over the supply chains to improve organizational alertness.
Manufacturers in the flavors industry are improving supply chain efficiencies and lowering operational costs in order to increase profits in the highly competitive flavors industry. Changing consumer tastes, rising costs, new technologies, shorter product lifecycles, and a competitive environment contribute to increased pressure to innovate.
Restaurants and food manufacturers invest significant resources to develop new food products.
Teams of professional chefs, customer feedback, and state-of-the-art kitchens all contribute to great tasting food. It is critical for food manufacturers and restaurants to capitalize on taste in order to increase product sales.
The Coca-Cola Company's, DASANI flavored lemon water is one of the best-selling flavored water products around the world.
What is the Impact of the COVID-19 Crisis on the Citrus Flavors Market?
The global COVID-19 pandemic has resulted in an unprecedented disruption in the purchase patterns of customers. Value drivers such as health and wellness, safety, social impact, ethical consumption patterns, and transparency are evolving and becoming increasingly important, changing customer preferences when purchasing food products.
Changes occur in terms of cultural, social, economic, competitive, and technological factors—and manifest as product options. It is important not to confuse choice with change, as changing consumer preferences will have an impact on the citrus flavors market.
Country-wise Insights
How is the Citrus Flavors Market Faring in the U.S.?
According to FMI, North America is a leading market for citrus flavors and is expected to witness strong growth over the forecast period. According to the study, the U.S. is estimated to account for nearly 90.0% of the North America market in 2021.
Citrus flavors, through innovative and genuine, are ideal to meet demand for natural and clean label food products and beverages in the country. A wide range of manufacturers in the U.S. are propelling growth by incorporating tangy citrus flavors that go far beyond traditional orange, lime, and lemon.
According to FMI, one-third of the U.S. population spend on health and nutrition products as a result of the pandemic. Citrus products are gaining popularity as orange juice sales in the the country increased by 51% in March and April 2020.
What is Driving the Demand for Citrus Flavors in Germany?
The rising demand for citrus based soft drinks in Germany will act as an important growth driver. According to the report, the Germany citrus flavors market is estimated to be valued at US$ 154.0 Mn in year 2021.
Citrus flavor combinations like ginseng and lemon are popular in the European soft drinks industry. Mint citrus sweet flavors are common in candy and confectionery, while citrus infused beer with lime and lemon varieties and zesty grapefruit flavors are also popular in alcoholic beverages.
In the first quarter of 2019, Givaudan acquired the French company Albert Vieille SAS, which has a strong hold on the local market. This acquisition is expected to help the company to enhance its presence in Europe.
What Factors Will Cause Brazil's Citrus Flavors Market to Surge?
Brazil is an emerging economy. By 2031, the country is expected to account for more than 43% of the overall citrus flavor consumption within Latin America. Orange juice inventories increased in the 2019-20 season, according to CitrusBR (Brazilian Association of Citrus Exporters).
The organization reported that the volume totaled 471.138 thousand tons, an astounding 86 % increase over the previous season due to increased orange production. The increased production of citrus fruits in Brazil is driving growth.
How is China Contributing to the Citrus Flavors Market?
According to FMI's analysis, China is estimated to account for more than 75% of the East Asia Market in the year 2021. The popularity of citrus flavors in China is very high among consumers owing to its balanced and delicate profile, combining sweetness and acidity.
Given its high levels of vitamin C and natural fiber content, it also conjures up many positive associations with nutrition. With roles of citrus fruit in traditional Chinese medicine, citrus flavored products are likely to gain traction in the health and wellness sector.
Why is the Demand for Citrus Flavors Rising in India?
India is a prominent country in South Asia with a market share of nearly 45%. India is expected to witness lucrative growth at a CAGR of 6.8% over the forecast period. In India, electronic technologies are being used extensively through supply chains.
E-commerce has evolved into a vital platform that benefits both consumers and manufacturers. Citrus flavors manufacturers can promote and sell their product on a larger scale, connecting with a much larger consumer base through online retailing.
Consumers can compare products and prices on the same platform, making it easier for them to make decisions. As a result of the growing e-commerce market, the market for citrus flavors is expanding.
Category-wise Insights
Which Type of Citrus Flavors Will Drive Revenue Generation?
Owing to increased awareness among consumer regarding natural food products, natural citrus flavors are expected to witness an impressive growth rate of 9.3% CAGR over the forecast period.
However, synthetic flavors will remain financially important to the market owing to cost benefits and consistent supplies, even as natural options gradually become mainstream.
Which Application Accounted for Maximum Share in the Citrus Flavors Market?
Beverage applications will account for more than 55% of the market value, growing at a CAGR of 7.2% over the forecast period. Citrus flavors are frequently perceived favorably by consumers and can impart a nutrient-rich profiles in products such as electrolyte drinks, soft drinks, infused teas, and more.
According to FMI, approximately 33% of all new flavored beverages established globally in the last three years featured citrus flavors.
How is Powdered Citrus Flavors Contributing to Revenue Share?
Powder form of citrus accounted for the maximum share of nearly 58% in 2021, and is also expected to witness a lucrative growth rate of 5.6% CAGR over the forecast period. Manufacturers operating in the global citrus flavors market are focusing on building awareness about powdered beverages, driving growth in the global market.
Competitive Landscape
With joint ventures and acquisitions, manufacturers seek to strengthen their position to enter emerging markets. Simultaneously, new firms are looking for opportunities to acquire developed businesses and local competitors, while also focusing on brand promotion. Some manufacturers are eyeing divestments to help reduce debt.
For instance: - ADM announced the acquisition of Florida Chemical Company (FCC) in 2019, a company that specializes in citrus-based fragrances and flavors and it is one of the world's largest suppliers of citrus ingredients and oils. This acquisition is also expected to catapult the company to the top of the list in citrus flavors market.
In June 2021, JPL Flavors announced its intentions to expand its production facility in Neston to meet demand from culinary, dairy, personal care, health and nutrition, and confectionary applications.
Scope of Report
Attribute

Details

Forecast Period

2021-2031

Historical Data Available for

2016-2020

Market Analysis

USD Million for Value

Key Regions Covered

North America, Latin America, Europe, East Asia, South Asia, Oceania, and the Middle East & Africa

Key Countries Covered

US, Canada, Germany, U.K., France, Italy, Spain, Russia, China, Japan, South Korea, India, Thailand, Malaysia, Indonesia, Australia, New Zealand, GCC Countries, Turkey, Northern Africa, and South Africa

Key Segments Covered

Product Type, Form, Application, and Region

Key Companies Profiled

Givaudan SA
International Flavors and Fragrances Inc.
Symrise AG
Sensient Technologies Corp.
Takasago International Corp.
Firmenich SA
Dohler AG
Kerry Group
ADM Company
Mane Group
R.C. Treatt & Co. Ltd
Trilogy Ingredients, Inc.
Lionel Hitchen Limited
Citromax Flavors
Flavors Producers, LLC
Others

Report Coverage

Market Forecast, Company Share Analysis, Competition Intelligence, DROT Analysis, Market Dynamics and Challenges, and Strategic Growth Initiatives

Customization & Pricing

Available upon Request
Key Questions Answered in Report
How much is the citrus flavors market worth?

The global citrus flavors market is worth USD 2.97 Bn in 2021 and is expected to reach USD 4.93 Bn by 2031 owing to clean label trends in the food and beverage industry.

What is the demand outlook of the citrus flavors market?

The demand for citrus flavors will rise at a CAGR of 5.2% through 2031.

What was the citrus flavors market CAGR for the last 5years?

Historically, the market has grown at a CAGR of 3.6% from 2016 to 2020.

What are the key trends of the citrus flavors market?

Investments into clean label and all-natural food and beverage product formulations will create key opportunities for market players in the coming decade.

What is driving the demand of the citrus flavors market?

Growing cultivation of citrus fruits has increased sales opportunities in the citrus flavors market. Ongoing research on safe flavoring agents will drive the market during the forecast period.

What is the share of the top 5 players in the citrus flavors market?

The cumulative market share of the top 5 players including Euglena, Koninkliijke DSM NV,Sun Chlorella, Fuji Chemical Industries Co., Ltd. , and Novagreen constitutes 35-40% of the overall market.

What are the top countries driving demand for citrus flavors?

The U.S., China, Germany, and the U.K. are the top 5 countries that are driving the demand for the citrus flavors market.

What is the North America citrus flavors market outlook?

North America holds is a key market for citrus flavors. The U.S. will exhibit a CAGR of 3.6% over the forecast period.

At what rate is the citrus flavors market going to register growth in Europe?

Europe is set to exhibit a CAGR of 4% during the forecast period owing to the high levels of imports in the region.

Which countries are the key producers in the citrus flavors market?

The key producers of citrus flavors kits are countries such as India, China, Spain, and Germany.

What are the key citrus flavors market statistics in Korea and Japan?

Japan's citrus flavors market is expected to account for 4.6% in 2021. South Korea holds a revenue share of 3.5% in the global citrus flavors market.
Citrus Flavors Market by Category
By Product Type:
Natural

Orange
Lemon
Lime
Grapefruit
Mandarin/Tangerine
Others (Blood Orange, Key Lime, Bergamot, etc)
By Application:
Sweet

Bakery
Confectionery
Breakfast Cereals

Dairy
Savory

Soups, Sauces, & Condiments
Prepared Food & Ready Meals
Meat, Poultry & Seafood
Seasoning Blends
Savory Snacks

Beverages

Juice Drinks & Mixes
Carbonated Beverages
Flavored Water
Alcoholic Beverages

Others
By Form:
By Region:
North America
Latin America
Europe
East Asia
South Asia
Oceania
Middle East and Africa (MEA)
Need specific information?
Talk Show:
The Rise of Intelligent Packaging
Personalized, Connected and Sustainable
November 18, 2021
11:00-11:45 AM PST (USA & Canada)
This is a LIVE session