Citrus Trends Gradually Engulfing Food and Beverages Sector
In terms of application, the market witnesses rising demand from beverages, savoury, and confectionary and dairy segments. Among these, beverages segment is likely to remain dominant through the course of the forecast period. Leading brands such as Kerry Group plc have identified citrus flavours among key raw materials of strategic importance. As consumers around the world seek out better for health options, scales are tipped in favour of halo flavours and ingredients with perceived health benefits.
Experts acknowledge the increasing role of citrus flavours and ingredients in consumer health. As they show increasing demand, citrus flavours market will be catapulted to the industry's fore. In addition to this, health and wellness movement has propelled the proliferation of clean-label and organic attributes in products. As explained in the aforementioned point, it will drive the citrus flavours market over the coming years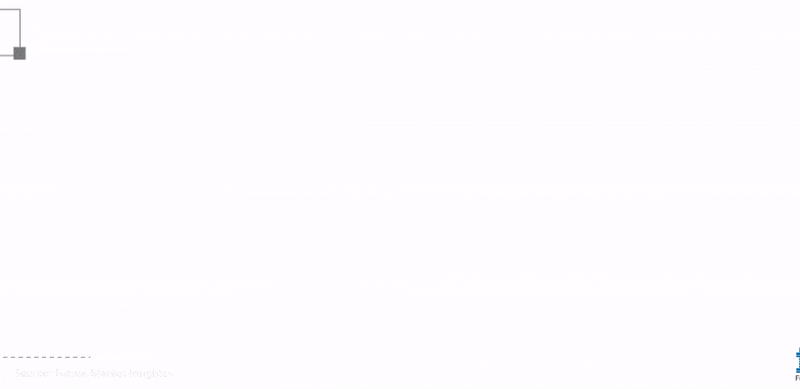 North America and Western Europe Emerge as Lucrative Markets
Regionally, North America and Western Europe have emerged as the most lucrative markets for citrus flavours. Of these, North America is forecast to remain dominant through the course of the forecast period. However, Western Europe is likely to exhibit the highest rate of growth. The demand for citrus flavours is expected to rise considerably in Latin America as well. With Brazil as the largest producer of citrus releasing fruits, Latin America as well is expected to show impressive growth as a lucrative market for citrus flavours.
Rising Consumer Awareness and Willingness to Spend on Healthy Products will Aid Growth
The rising consumer awareness and disposable income will prove to be the key factor encouraging growth in the market. Besides access to information on various health benefits of citrus flavours, consumers nowadays are more likely to spend on products that offer better nutrition and taste. This trend is likely to pick pace with the expansion of the upper-middle class, creating conducive environment for the market's growth.
How Growth will Unfold
"Natural" and "organic" trends have left quite an impact on consumer behaviour, subsequently encompassing the global food and beverages industry. Rising health consciousness and increased awareness about harmful impacts of chemical ingredients among consumers show their pre-disposition towards healthy living. In recent times, they are increasingly favouring natural alternatives in food ingredients that are rich in nutrition and have great taste. Spurred by the prevailing trend, an increasing number of manufacturers in food and beverages business are compelled to use citrus flavours as natural ingredients.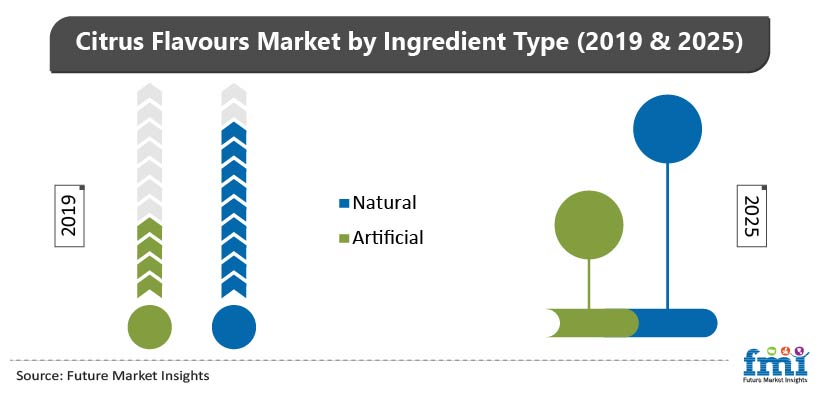 FREQUENTLY ASKED QUESTIONS ABOUT CITRUS FLAVOURS MARKET
Which region will lead the global sales in citrus flavours market?
North America held dominance in the global citrus flavours market and is expected to continue leading the market between 2019 and 2025. Besides this, Western Europe and Latin America are expected to exhibit high demand for citrus flavours.
Which segment offers most lucrative growth opportunities to the market?
In terms of application, beverages make the most lucrative segment in the market. It held dominance in the past and is expected to record a CAGR of 5.4% over the course of the forecast period.
Describe the degree of competition prevailing in citrus flavours market
On account of competition prevailing in the market, leading manufacturers are focusing on launching diverse flavours in beverages and dairy segments. In addition to this, several among them are exhibiting their ingredients and products in trade shows to create brand awareness and subsequently gain competitive edge.
What is the chief factor driving citrus flavours market?
Rising focus on health and wellness has encouraged consumers to seek out products containing organic and clean label ingredients. This is identified in the report as a chief driver of the citrus flavours market. In addition to this consumers' increasing spending power and their willingness to spend on exotic food products will aid the expansion of the overall market.
Which factor will negatively impact the market?
The decelerating sales of artificial citrus flavours may negatively impact the market to an extent. Increasing awareness about the adverse impacts of chemical ingredients on health will lower the demand for artificial flavours.
CITRUS FLAVOURS MARKET TAXONOMY
The report segments the global citrus flavours market in detail to present an executive-level blueprint to the reader
Application
Beverages

Alcoholic beverages
Coffee and tea
Soft drinks
Nutritional beverages

Savoury
Confectionery

Sweets and candies
Cereals

Dairy
Ingredients
Natural Ingredients

Orange
Lemon
Lime
Grapefruit

Artificial Ingredients
Region
North America
Latin America
Western Europe
Eastern Europe
Asia Pacific Excluding Japan
Japan
MEA
Need specific information?