An Incisive, In-depth Analysis on the Citrus Flavours Market
This study offers a comprehensive, 360 degree analysis on the Citrus Flavours market, bringing to fore insights that can help stakeholders identify the opportunities as well as challenges. It tracks the global Citrus Flavours market across key regions, and offers in-depth commentary and accurate quantitative insights. The study also includes incisive competitive landscape analysis, and provides key recommendations to market players on winning imperatives and successful strategies.
Citrus Flavours Market: Exotic Flavour Profile Marks the Prominent Trend
In recent years, the trend of 'healthy living' brought in part by rapid penetration of internet and social media has given rise to more transparent exposure, fueling a type of conscious consumerism. As such, consumers are gradually moving away from synthetic to 'natural' food ingredients. Moreover, aversion of consumers towards synthetic or chemical-based products has led to increase in demand for natural food preservatives, colours, and flavours. As food manufacturers endeavor to keep up with ever-evolving consumer trends and preferences, Future Market Insights, in its new study, explores the role of citrus flavours in rapidly changing food & beverage industry.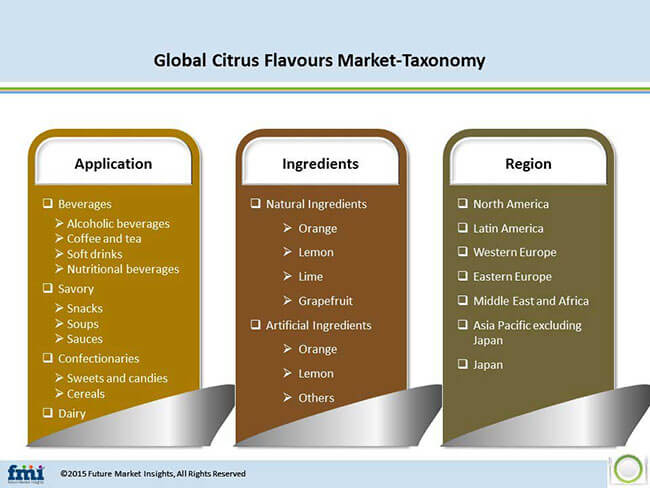 Natural Over Artificial Citrus Flavours – The Shift is Underway
Over the years, artificial food flavours including citrus flavours had taken the F&B industry by storm, offering wide range of taste to consumers. However, from a health perspective, as these flavours are considered to be associated with several side effects, a distinct move towards natural variants has been evident. In current scenario, the citrus flavours market is riding on the coattails of 'health and wellness' trend, further propelled by the demand for 'convenience'. These factors have been attractive for market players focusing on natural sources of citrus flavors, while artificial flavour manufacturers are struggling to keep up with newer trends.
As consumers' inquisitiveness about food ingredients and their sourcing is increasing, citrus flavours sourced from lemon, orange, lime, and grapefruit are gaining increasing momentum. These flavours have a connotation of healthy and natural, and continue to grow in popularity, especially in beverages.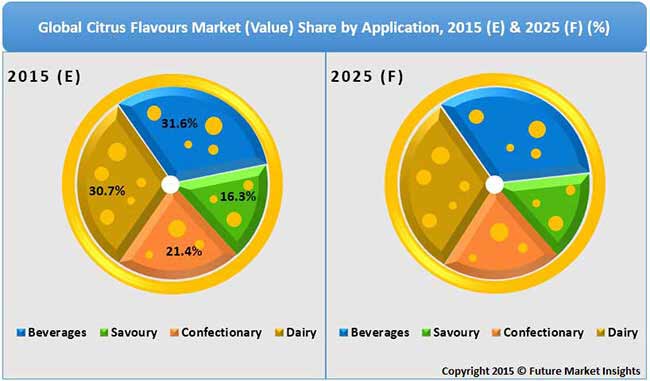 Health Perceptions Drive Citrus Flavours Demand in Beverages
Owing to potential benefits in increasing antioxidant levels in the body, and reducing the occurrence of metabolic diseases, citrus remains one of the most sought-after food ingredients, available in the form of powder, oil, and flavours. Consumption of citrus flavours by the beverage industry continues to account for high market revenue share, due to their prominent usage in carbonated soft drinks. With growing sophistication of consumers and increase in demand for more exotic flavour profiles within alcoholic and non-alcoholic beverage categories, a step change in innovation has been noticeable among key players in the citrus flavours market. Further, as flavour is an important aspect and goes a long way in determining the success and failure of food products, the market players are targeted towards capitalizing on diverse sectors including snacks, confectioneries, and dairy.
Asia Pacific and Latin America Promise New Growth Opportunities
Growth prospects of the citrus flavours market are high in North America which account for around 30% revenue share. However, high opportunities are expected in developing countries in Asia Pacific and Latin America. In Asia Pacific, the emergence of dine-out culture, sprung in number of quick service restaurants, and rise in demand for convenience foods are expected to fuel the demand for citrus flavours. With emergence of Brazil as top producer and exporter of citrus fruits, stakeholders are viewing Latin America from both target market and manufacturing perspective. In addition, greater adoption of technologies in extraction, processing, and stability enhancement of citrus flavours will continue to influence the market growth.
Report Synopsis
Future Market Insights offers a 10-year forecast for the global citrus flavours market between 2015 and 2025. In terms of value, the market is expected to register a CAGR of 4.9% during the forecast period. This study demonstrates the market dynamics and trends of all seven regions that influence the current nature and future status of the citrus flavours market over the forecast period.
Report Description
Future Market Insights report examines the citrus flavours market for the period 2015–2025. The primary objective of the report is to offer insights on the advancements of citrus flavours market that have raised a futuristic market for citrus flavours, which is significantly transforming global businesses and enterprises. Increasing research and development for developing diverse range of citrus flavours, coupled with rising number of health conscious consumers, is expected to fuel market growth of the citrus flavours over the next five to six years. Companies operating in the citrus flavours market are focused on penetrating untapped and potential markets in various region, and launching the new range of citrus flavours in order to meet diverse regional tastes of the customer.
The Citrus flavours market report starts with a market overview in terms of both— value and volume both. In addition, this section includes FMI's analyses of key trends, drivers and restraints from the supply and demand side, which are influencing the citrus flavours market. Impact analysis of key growth drivers and restraints, based on the weighted average model is included in the citrus flavours market report to better equip and arm clients with crystal clear decision-making insights.
The global citrus flavours market is segmented on the basis of application, ingredient and region. On the basis of application, the market is segmented as: beverages, savoury, confectionary and dairy. A detailed analysis has been provided for every segment in terms of market size and volume analysis for citrus flavours across the globe.
As highlighted earlier, the citrus flavours market is segmented on the basis of application, ingredient and region. All these segments are included in this section to make the study more comprehensive. The subsequent sections provide a detailed analysis by application, ingredient and region, of the citrus flavours market. The sections provide detailed analysis covering key trends, absolute dollar opportunity and BPS analysis.
The report highlights citrus flavours adoption by regions. It provides a market outlook for 2015–2025 and sets the forecast within the context of the citrus flavours market including the new technological developments, as well as product offerings of the citrus flavours market. This study discusses the key regional trends contributing to the growth of the citrus flavours market globally, and analyses the degree to which drivers are influencing this market in each region. Key regions assessed in this report include North America, Latin America, Western Europe, Eastern Europe, Asia Pacific excluding Japan (APEJ), Japan and Middle East & Africa.
All the above sections, by application, ingredient and region, evaluate present scenario and growth prospects of the citrus flavours market for the period 2015 –2025. We have considered 2014 as the base year and provided data for the trailing 12 months.
To calculate the citrus flavours market size, we have also considered revenue generated by the citrus flavours manufacturers. The forecast presented here assesses the total revenue by value across the citrus flavours market. In order to offer an accurate forecast, we started by sizing the current market, which forms the basis of how the citrus flavours market will develop in the future. Given the characteristics of the market, we triangulated the outcome of three different types of analyses, based on supply side, downstream industry demand and the economic envelope.
In addition, it is imperative to note that in an ever-fluctuating global economy, we not only conduct forecasts in terms of CAGR, but also analyse on the basis of key parameters such as year-on-year (Y-o-Y) growth to understand the predictability of the market and to identify the right opportunities across the citrus flavours market.
As previously highlighted, the citrus flavours market is split into a number of segments. All the segments, i.e., applications, ingredients, and region are analysed in terms of Basis Point Share to understand individual segment's relative contributions to market growth. This detailed level of information is important for the identification of various key trends of the citrus flavours market.
Another key feature of this report is the analysis of all key segments in terms of absolute dollar opportunity. This is traditionally overlooked while forecasting. However, absolute dollar opportunity is critical for assessing the level of opportunity that a provider can look to achieve, as well as to identify potential resources from a sales and delivery perspective of the citrus flavours market.
Furthermore, to understand key growth segments in terms of growth and adoption of citrus flavours by various end user industries across the globe in the near future, Future Market Insights developed the citrus flavours market's Attractiveness Index. The resulting index should help providers identify real market opportunities.
In the final section of the report, a Competitive landscape is included to provide report audiences with a Dashboard view, based on categories of provider in the value chain, presence in citrus flavours product portfolio and key differentiators. Key categories of providers covered in the report are citrus flavours manufacturers. This section is primarily designed to provide clients with an objective and detailed comparative assessment of key providers specific to a market segment in the citrus flavours value chain and potential players for the same. Report audiences can gain segment-specific vendor insights to identify and evaluate key competitors based on in-depth assessment of capabilities and success in the citrus flavours marketplace.
Detailed profiles of the providers are also included in the scope of the report to evaluate their long-term and short-term strategies, key offerings and recent developments in the citrus flavours market. Key competitors covered are: Kerry Group Plc, Takasago International Corporation, Sensient Technologies Corporation, Symrise AG, Givaudan SA, Firmenich International SA, Frutarom Industries Ltd., Citromax Flavors, Inc., and International Flavors & Fragrances Inc.
Key Segments Covered
By Application

Beverages

Coffee and Tea
Soft Drinks
Nutritional Drinks

Savoury
Confectionary
Dairy

By Ingredients

Natural Ingredients

Orange
Lemon
Lime
Grapefruit

Artificial Ingredients
Key Regions/Countries Covered
North America
Latin America
Western Europe

EU5
Nordics
Rest of Western Europe

Eastern Europe

Poland
Russia
Rest of Eastern Europe

Asia Pacific Excluding Japan (APEJ)

China
India
Australia and New Zealand
Rest of APEJ

Japan
Middle East & Africa

GCC
North Africa
South Africa
Rest of MEA
Key Companies
Kerry Group Plc
Takasago International Corporation
Sensient Technologies Corporation
Symrise AG
Givaudan SA
Firmenich International SA
Frutarom Industries Ltd
Citromax Flavors, Inc.,
International Flavors & Fragrances Inc.
Citrus Flavours Market Reports - Table of Contents
Harish Tiwari
Global Head - Business Development
CASE STUDIES
See how our work makes an impact.
At FMI, we design strategies that are adaptive, impactful, and implementable.