About the Report
Citrus seeds have soluble fibers and flavonoids which help in improving HDL cholesterol and lowering LDL cholesterol and triglycerides. Consumption of citrus seeds helps in lowering blood pressure, which is a key risk factor for heart disorders. Citrus seeds contain many compounds which are very useful for a healthy heart. Citrus seeds are rich in antioxidants which are very important for the body to flush out toxins and help in cleansing of the liver. The vitamin C found in citrus seeds strengthens the immune system and gives the body the needed protection from various infections. The consumption of citrus seed products is growing due to the rising demand for dietary supplements.
Citrus seeds market is witnessing lucrative growth opportunities due to its various products being widely used in cosmetics and personal care products. Citrus seeds contain trans-resveratrol and anthocyanin, which are essential components that help in improving varicose veins and in avoiding the formation of blood clots in the body. Thus, the citrus seed market is gaining immense popularity because of enormous health benefits which the consumers are experiencing. Citrus seeds also help fight free radicals in the body for skin revitalization by reducing acne, pigmentation and wrinkles. All these benefits ensure growth of the citrus seeds market in the forecast period.
In its new study, ESOMAR-certified market research and consulting firm Future Market Insights (FMI) offers insights about key factors driving the demand for citrus seeds. The report tracks the global sales of citrus seeds in 20+ high-growth markets, along with analyzing the impact COVID-19 has had on the food and beverage industry in general, and citrus seeds in particular.
How Historical and Future Outlook for Citrus Seeds Market Match Up?
Citrus fruits have always been in demand and are the highest value crop in terms of international trade. Over the years, as consumers witnessed the benefits of citrus fruits, they started utilizing their seeds in various forms of food items. As citrus fruits are widely and easily available, citrus seeds are easy to procure. Citrus seeds were first extracted from a variety of citrus fruits like oranges, limes, grapes and lemons. For any manufacturer to get a hold in the market, a good brand image which displays the company as working for the betterment of the society is important. In order to capture consumers' attention, manufactures are creating products that are environment-friendly as well as use ingredients which are natural and not synthetic. Thus over the years people have realized that citrus seeds are not waste but rather more beneficial then citrus fruits for the body in terms of vitamins and minerals required on daily basis. According to FMI's analysis, citrus seeds market sales have grown at a 4.1% CAGR between 2016 and 2020.
Increasing consumer awareness about food safety has been driving the consumption of essential ingredients, which are critical for regulating body metabolism and digestion. With emergence of the clean label movement, the demand for natural and nutritional food products has soared, and propelled the inclusion of pectin across several product ranges in the food & beverage sector. Meanwhile, discordant laws in developed markets such as the U.S. have prohibited the use of certain ingredients as food additives due to their hazardous nature. Over the years, extensive scientific research and studies have catapulted the status of citrus fruits and their by-products as healthy and natural and alternatives for the synthetic products that are available in the market.
Oil extraction is the application which is gaining traction as the oil extracted from citrus seeds is considered to be an edible oil and fit for human consumption as it has enormous benefits. Citrus seed oil is rich in ascorbic acid and folic acid as well as being fat free, cholesterol free and sodium free. Thus consumers who are facing obesity issues and cardiovascular problems are opting for citrus seed oil in their diet to cook meals to combat these lifestyle issues.
The cosmetics and skin care industry has seen a tremendous surge in the use of citrus seeds in their products because citrus seeds boosts the collagen levels in the skin, thus making the skin look radiant and healthy. Manufacturers are continuously making efforts to launch natural and new skin and hair care products with citrus seeds such as body scrubs, face oils, face lotions and creams and various kinds of serums for flawless skin. Consumers are demanding natural skin care products that do not harm their skin in the long run. Therefore, increasing health consciousness among consumers is escalating the demand for citrus seeds.
The consumption of citrus seeds in various form is also increasing to boost immunity. Immunity is vital in helping fight deadly microbes such as the coronavirus. Citrus seeds are a great source of vitamin K, Ca, thiamin, vitamin B6, Mg and niacin, which give the body support in recovery from the infections. Therefore, the demand for citrus seeds is expected to rise tremendously in the near future.
FMI expects the global citrus seeds market to grow at 6.3% CAGR through 2021- 2031.
How Has The Citrus Seeds Market Come To Prominence?
Citrus seeds are the by-products of the citrus industry. Their application is limited at present, but it is gaining traction and a lot of research is being carried out on the future possibilities with citrus seeds. Huge waste produced by the citrus processing industry is one of the reasons for the utilization of its by-products.
The utilization of citrus seeds is considerably less with respect to the quantity produced. Research activities on varied applications of citrus seeds, especially in the food and beverage industry, are expected to lower the demand-supply gap. Due to the growing demand for these derivatives in various applications, it is estimated that the citrus seeds market will grow at a notable CAGR.
How is Application in Personal Care and Cosmetics Industry Affecting Growth?
Citrus seeds are known to have anti-inflammatory properties, which help in maintaining a healthy scalp as well as providing a natural shine and texture to hair. Citrus seed products are useful in scalp revitalization, as they combat dandruff and sebaceous dermatitis and eventually strengthen the hair follicles for new hair growth. Due to drastic changes in the climate, skin has become very sensitive and prone to breakouts of various diseases.
The use of citrus seed products helps in hydrating the skin by restoring the moisture and giving the skin a healthy glow. Therefore, the use of citrus seeds in cosmetics and personal care products is rising at a strong rate, which is going to have a positive influence on the citrus seeds market in the forecast period.
How is Economic Pricing of Citrus Seeds Affecting Growth?
Citrus seeds are produced in huge quantities and thus they are easily available in the market. This is the main reason that is helping the market gain traction from end users. The robust supply chain of citrus seeds ensures that the raw material is easily available on time. Citrus seeds do not require any additional processing, which has resulted in the price of citrus seeds being very low. This makes the product highly appealing in end-use applications, especially in the animal feed and biofuel market. Affordable pricing ensures that the manufacturers also keep the prices of the end products at a minimum and thus grab the consumer's attention and gain loyalty from the consumers in the long run. Economic pricing of citrus seeds is propelling the demand from the citrus seeds market.
Country-wise Insights
Why Does Brazil Leads Citrus Seeds Market in Latin America?
Brazil citrus seeds market is projected to hold a significant market share due to being the highest producer of citrus fruits across the region. Citrus seeds thus are easily available for consumption in the region and even for international trade. Brazil produces major citrus varieties which include Valencia, Pera and Hamlin.
Brazil being a tropical country, its climatic conditions are perfect for producing citrus fruits. FMI estimates that the Brazil citrus skin and seed market is expected to have lucrative growth opportunities in the near future. Tourists from all around the world visit Brazil for citrus seed products, thus giving manufacturers a wider scope and opportunity to study a large population introducing variation in flavors and supplements.
How Big is the Opportunity in Japan?
A highly developed economy, Japan has remained a lucrative market for food and beverage manufacturers, especially those involved in the processing of fruits and vegetables. Japan remains dependent on foreign imports to meet its food and beverage requirements, and this presents a plethora of opportunities for global companies. Further, the evolving needs of Japanese consumers have meant that a number of Western food products have become popular in Japan.
As consumption patterns change, and spending on food increases, it is highly likely that a number of opportunities will open up for manufacturers of citrus seeds in the foreseeable future. Yuzu seed oil is a famous citrus seed oil from Japan, which is extracted with the process of minimum waste and zero fat content. Japan is known for utilizing advanced technology and techniques which ensure maximum extraction for quality products. Therefore, the citrus seeds market has positive growth prospects in Japan.
India Citrus Seeds Market Likely Expected to Grow
India remains among the key regions for the growth of the citrus seed market. Cleansing or detoxification of the body, which consumers are widely practicing, is contributing to a rise in demand for citrus seeds as they help cleanse the liver by purification of the blood and getting rid of all the toxicity in the body and reduce the movement of free radicals which are responsible for the increase in oxidative stress in the body, as they contain high amounts of antioxidants. India is also known to produce a variety of citrus fruits and especially grapes. The variety of grapes in India ensures maximum use of citrus seeds in the region, which eventually helps in healthy skin, heart and liver function. According to FMI, India will hold over 25% of the APEJ market by 2031.
How Large is the Opportunity for Citrus seeds in the U.S.?
The U.S. will remain one of the leading markets over the assessment period. The U.S. has a 72.1% market share in North America and is ranked 2nd in the citrus seeds market. The reason for the growing demand for citrus seeds is the rising demand for dietary supplements in the U.S., as consumers have become extremely health-conscious and are demanding food items that provide all nutritional components and health benefits to the body.
As the purchasing power of the population is rising, they are willing to pay higher prices for quality products. Nutritional supplements have become a part of daily life as eating healthy every day is not possible for many people due to their hectic work life. Thus, to fulfill that void, consumers take various supplements including citrus seed supplements to ensure they get their daily dose of vitamins.
Will Africa's Citrus Seeds Market Expand Over Forecast Period?
Africa's population is steadily shifting towards natural food products. Consumers are properly checking the ingredients used in the products to ensure that their dietary choices do not harm themselves as well as the environment or any animals. Organic production of citrus fruits is raising the demand for citrus seeds in Africa. Consumers who follow a vegan diet are opting for the consumption of citrus seeds, as they are plant based.
Due to the pandemic, there has been a shift from animal products to plant-derived products. Another major factor is that Africa lies in the temperate zone, thus, heat waves are felt in the region all year round. Therefore, to feel hydrated and fresh, consumers are increasing their consumption of citrus seed products, as they help in keeping the body cool and hydrated for a longer time frame.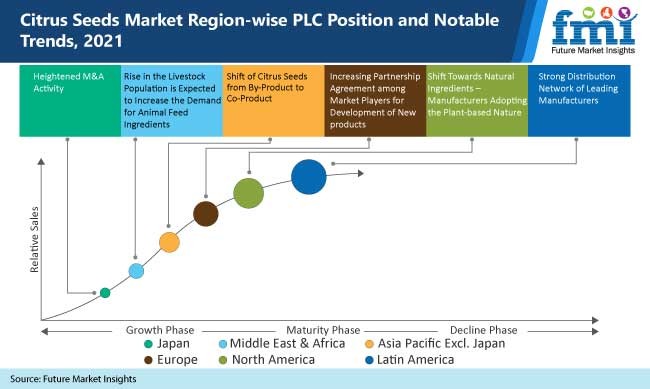 Category-wise Insights
Why is the Conventional Segment Dominant in the Citrus Seeds Market?
The conventional segment holds the leading share of 73.9% as compared to the organic segment. Citrus seeds market is witnessing a rise of the conventional segment due to its higher yield as compared to the organic segment. Conventional production reduces the cost of production as organic agriculture needs more specialized, natural fertilizers for growth.
Conventional segment is suitable for bulk production, as it ensures that pricing can be kept under control. Manufacturers are still practicing conventional methods, as they result in low prices which are being demanded by consumers. Conventional methods also lead to a standard format and taste. Therefore, the conventional segment has a strong hold in the citrus seeds market.
Which is the Key Application of Citrus Seeds?
Oil extraction is the most voluble application when it comes to citrus seeds. Oil extraction holds a 62.7% market share in 2021. Citrus seed oil is gaining popularity due to its various health benefits. Citrus seed oil is very good for skin lubrication as well as for cardiovascular problems, as it is low in fat and sugar content. People suffering from diabetes are also choosing citrus seed oil, as it helps them in maintaining healthy blood sugar levels.
Citrus seeds have long been recognized as a source of edible oil with characteristics suitable for human consumption and food use. At the turn of the last century, German researchers identified oleic, linolenic and palmitic acids as constituents of citrus. Citrus seed oils are mostly extracted from limes and oranges, as they provide the tangy bitter taste which makes the dish delicious. Japanese manufacturers are producing new novel flavors for the edible oils to boost the market growth.
Which Sales channel is Gaining Traction in Citrus seeds Market?
Currently, direct B2B industry has a prominent market share of 66.9% in the global market, as the production of bakery, confectionery and snacks highly consume citrus seeds in making new recipes or dressings. Other channels of sales like specialty stores and online retail are gaining growth due to urbanization and consumers increasingly making decisions in an informed manner.
Competitive Landscape
Companies operating in the market are increasing their production volumes by expanding production plants. Technological advancement is much needed for any firm to survive in such a competitive environment, thus regular upgradation of machinery is taking place to increase the capacity of the firm. Adopting new innovative marketing strategies for promoting the products, such as environmental friendly packaging and bio degradable packets, will ensure a positive image in the minds of the consumers and also position the products rightly for gaining success.
To remain in competition it is of utmost important that companies export their products globally in order to increase market presence globally. Apart from exports, companies with the requisite financial backing could also set up production units in regions that are exhibiting growing demand for citrus seed products. Other important factors for gaining traction include manufacturers choosing the right distribution channel where the consumer is directly connected with the seller, as well as online presence in today's digitalized world.
Some of the leading companies operating in the market are:
Lemon Concentrate S.L.
Citrosuco S.A.
Louis Dreyfus Company B.V.
Yantai North Andre Juice Co. Ltd.
Sucocitrico Cutrale Ltd.
Citromax Group
Peace River Citrus Products
Rio Grande Juice Company
Vita-Pakt Citrus Products
Panteley Toshev Ltd
Tangshan Eusa Colors Int'l Group(EUSA COLORS)
Presque Isle Wine Cellars
Parchem Trading Ltd.
*The list is not exhaustive, and only for representational purposes. Full competitive intelligence with SWOT analysis available in the report.
Scope of the Report
Attribute

Details

Forecast Period

2021-2031

Historical Data Available for

2016-2020

Market Analysis

USD Million for value and MT for Volume

Key Regions Covered

North America, Latin America, Europe, Japan, APEJ, Middle East & Africa

Key Countries Covered

US, Canada, Brazil, Mexico, and Rest of Latin America, Germany, France, Italy, U.K., Spain, Rest of Europe, Japan, China, India, Rest of APEJ, GCC Countries, Africa, and Rest of MEA.

Key Segments Covered

Nature, Application, Sales channel and Region

Key Companies Profiled

Lemon Concentrate S.L.
Citrosuco S.A.
Louis Dreyfus Company B.V.
Yantai North Andre Juice Co. Ltd.
Sucocitrico Cutrale Ltd.
Citromax Group
Peace River Citrus Products
Rio Grande Juice Company
Vita-Pakt Citrus Products
Panteley Toshev Ltd
Tangshan Eusa Colors Int'l Group(EUSA COLORS)
Presque Isle Wine Cellars
Parchem Trading Ltd.

Report Coverage

Market Forecast, brand share analysis, competition intelligence, DROT analysis, Market Dynamics and Challenges, Strategic Growth Initiatives

Customization & Pricing
Key Questions Answered in the Report
Which is the Most Lucrative Citrus Seeds Market?

Latin America currently leads the global market for citrus seeds. Sales in Latin America are expected to be over 25% of total global demand throughout the forecast period.

Which Is The Preferred Nature Of Citrus Seeds?

Conventional citrus seeds are expected to be the preferred segment in the global citrus seeds market, accounting for a share of more than three quarters. Conventional methods have standardized formats which ensure low cost of production as well as minimum wastage.

Which is the Key Application of Citrus Seeds?

Oil extraction processing has emerged as the key application in the citrus seeds market. It is expected to grow at a CAGR of 5.7% between 2021 and 2031. This is owing to the reason that large demographics are now conscious of health and are taking supplements for enhancing performance and endurance.

Which Are Some Of The Leading Companies Offering Citrus Seed Products?

Some of the leading companies offering dairy alternative are Lemon Concentrate S.L., Citrosuco S.A., Louis Dreyfus Company B.V., Yantai North Andre Juice Co. Ltd., Sucocitrico Cutrale Ltd., Citromax Group, Peace River Citrus Products, Rio Grande Juice Company, Vita-Pakt Citrus Products, Panteley Toshev Ltd, Tangshan Eusa Colors Int'l Group(EUSA COLORS), Presque Isle Wine Cellars, Parchem Trading Ltd and others.
Citrus Seeds Market by category
By Nature
By Application
Animal Feed
Oil Extraction
Dietary Supplements
Personal Care and Cosmetics
Household/Retail
Others
By Sales Channel
Direct/B2B
Modern Trade
Specialty Store
Online Retailers
Other Sales Channels
By Region
North America
Latin America
Europe
Japan
APEJ
Middle East and Africa (MEA)
Need specific information?
Talk Show:
The Rise of Intelligent Packaging
Personalized, Connected and Sustainable
November 18, 2021
11:00-11:45 AM PST (USA & Canada)
This is a LIVE session