Citrus Fiber Market By Grade (Food Grade, Pharmaceutical Grade, Cosmetic Grade), Source (Orange, Tangerine/Mandarins, Grapefruit, Lemons and Lime), Application (Bakery, Desserts and Ice-cream, Beverages), Function (Water Binder & Fat Replacer, Thickening Gums, Gelling Gums) & Region - Forecast to 2021 - 2031
Citrus Fiber Market - Analysis, Outlook, Growth, Trends, Forecasts
June 2021

REP-GB-13325

250 pages
Citrus Fiber Market Snapshot
[250 Pages Report] The citrus fiber market revenue totaled US$ 110.0 Million in 2021, according to Future Market Insights. Exhibiting a CAGR of 5.2% for 2021-31, the citrus fiber market is expected to reach US$ 184.9 Million by 2031.
Amid soaring competition, the top five players, comprising CP Kelco, Fiberstar Inc, CEAMSA, Herbafoods Ingredients GmbH, Florida Food Products Inc., and Lemont are expected to account for 41% of citrus fiber market in 2021.
Key Points Covered in Citrus Fiber Market Study
Citrus Fiber Market estimates and forecast 2015-2031
Key drivers and restraints impacting citrus fiber market growth
Segment-wise, Country-wise, and Region-wise Analysis
Competition Mapping and Benchmarking
Brand share and Market Share Analysis
Key Product Innovations and Regulatory Climate
COVID-19 Impact on Citrus Fiber Market and How to Navigate
Recommendation on Key Winning Strategies
Citrus Fiber Market 2016-2020 Outlook in Comparison to 2021-2031 Growth Forecast
Citrus fiber has gained popularity in recent years due to increasing demand for natural functional ingredients in a variety of applications including food and drinks, medicines, and cosmetics.
The citrus fiber market grew at a CAGR of 4.3% between 2016 and 2020. Forecasts for growth remain optimistic, with the market predicted to register a CAGR of 5.2% between 2021 and 2031.
Citrus fiber is commonly identified as a neutral tasting food additive that can successfully enhance the shelf life of food products. Prohibited food additives such as phosphates, hydrocolloids, carrageenan, and others can be competently substituted by citrus fiber components under FDA regulations.
Additionally, citrus fiber has a healthy nutrition profile such as vitamin C, minerals, and different bioactive components such as flavonoids, and polyphenols. These factors can minimize stress levels, improve skin tone, prevent digestive ailments, and reduce the risk of cancers, while improving heart health.
Citrus fiber is a byproduct obtained from the juice industry and is widely utilized as a texturizer, emulsifier, gelling agent, stabilizer, and water binding agent. It gives dairy alternative goods like cheese, plant-based yogurt a creamy texture and stability. Bakery operators use it extensively as an egg and wheat substitute. Citrus fiber is also utilized in injection molded bones, biscuits, fresh chubs, canned or wet food, semi-moist treats, and pet snacks.
Increasing demand for natural ingredients in cosmetics and personal care products impact on citrus fiber demand. This can be attributed to its texturizing and moisture control properties. Moreover, the demand for vitamin C in personal care products and cosmetics fuels market growth.
Developed markets such as the United States, have set up conflicting laws that have made it illegal to utilize select substances as food additives due to their harmful nature. Extensive scientific research and studies have elevated the position of citrus fiber as a healthy food addition that can improve the product's quality and texture.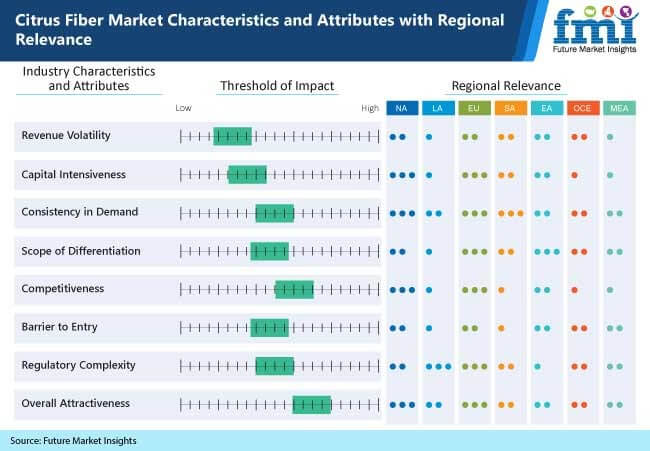 How is the Demand for Hydrocolloids in Food Driving Demand?
Hydrocolloids are a heterogeneous group of long chain polymers. They are widely used in food applications because of their functional properties, which is to easily disperse in cold water.
Therefore, they are used as texturizers and thickeners in food and beverages. Along with this functionality, hydrocolloids are also used as gelling agents, emulsifiers, and stabilizers in frozen desserts.
Furthermore, hydrocolloids are used in food compositions to increase shelf life and product quality. Hydrocolloids, are used at a concentration of less than 1%, which changes textural features and mouthfeel of products.
Several forms of hydrocolloids, such as pectin, citrus fiber, guar gum, xanthan gum, and gellan gum, are employed in dairy, bakery, frozen desserts, sauce and meat products because to their multiple functions. As a result, the demand for hydrocolloids boosts the market for citrus fiber.
Rising Demand for Natural Ingredients in Food Industry Driving Citrus Fiber Sales
Health and wellness trends are encouraging the use of natural ingredients over synthetic alternatives in food and beverage industry. Due to increasing incidence of lifestyle-based disorders such as diabetes, cardiovascular diseases, and other medical emergencies, consumers are shifting towards healthy, natural, and fruit-based ingredients.
More than 25,000 super fruit derivatives are available in market. This will reflect on natural, plant-based citrus fiber products in the form of food additives. Natural ingredients include antioxidants, emulsifiers, and stabilizers that are prominently used in the food and beverage industry. Moreover, citrus fiber is a low-fat option, which aids in overcoming obesity issues.
What is the Impact of the COVID-19 Crisis on the Citrus Fiber Market?
Considering the declining demand for restaurant-based food and rising online purchase amid COVID-19, the implementation of non-traditional food delivery strategies has accelerated. Despite these shifts in consumer behavior, consumption patterns in some areas have remained relatively stable.
Essential services such as food, health care, finance, infrastructure, and government administration continue to operate. The lockdown restriction and inter- and intra- country supply have affected the sales.
The major citrus fiber manufacturing companies are located in the U.S., Europe, and China which supply their products across the globe. The supply of products has been hindered due to supply chain and trade restrictions.
Citrus Fiber Market - Country-wise Insights
How Big is the Opportunity for Citrus Fiber Market in the U.S.?
According to FMI, North America is one of the leading regions in the global citrus fiber market which will continue to be a highly attractive market over the forecast period. According to the study, the U.S. is anticipated to account for over 89.1% of the North America market through 2031.
Consumers in the U.S. are inclined towards personal care and cosmetics products. They also are reflecting exhibiting concern about harmful effects of chemicals and synthetic ingredients for personal care and cosmetics products. This will drive application of citrus fiber across personal care and cosmetics industry in the U.S.
How is the Demand for Fat Substitutes Affecting the Citrus Fiber Sales in Germany?
The rising demand for fat substitutes in Germany will act as a chief growth driver. According to the report, the Germany citrus fiber market is expected to be valued at US$ 7.6 Mn in the year 2021.
Citrus fibers are used to replace up to 50% of oil or fat in bakery products without compromising on the quality and taste of the products. The increased demand for healthier bakery products with fat substitutes in Germany is driving the growth of the country's citrus fiber market.
What are the Growth Prospects for Citrus Fiber in Brazil?
By 2031 Brazil is expected to account for more than 45% of citrus fiber consumption within Latin America. Healthy beverage products are witnessing a surge in Brazil. Due to the enhanced lifestyle of consumers and eating habits among Brazilian consumers the growing demand for packed, ready-to-eat foods will enhance the incorporation of citrus fiber.
Increasing demand for packed food and beverages in Brazil has had a significant impact in the first half of2021 and the demand is expected to remain high in the latter part of the forecast period.
How is the Citrus Fiber Market Set to Fare in China?
According to FMI analysis, China is estimated to account for more than 58% of the East Asia market in the year 2021.
Increasing consumption of fiber in China through various food products to drive the market growth. Citrus fiber is used not only to meet the fiber requirements but also to provide water holding and emulsification properties.
Hence, the food and beverage manufacturers in China use citrus fiber as mouthfeel improver and for clouding in ready-to-drink beverages, powdered drinks, nutrition bars, snacks and bakery products. Therefore, the utilization of fiber in food applications will increase growth in the Chinese market.
Why is Demand for Citrus Fiber Rising in India?
India is dominating the South Asia market with a market share of more than 45% in 2021. In South Asia, India is also expected to witness lucrative growth rate at a CAGR of 6.6% over the forecast period of 2021 to 2031.
In India, the consumer transition towards clean label products is increasing rapidly. Several players are adopting citrus fiber as a natural functional ingredient to replace synthetic additives in smoothies, yogurts, and other food products. The clean label trend in India elevates the regional citrus fiber market.
Citrus Fiber Market - Category-wise Insights
Which Grade holds the Maximum Share?
Owing to increasing demand from food and beverages manufacturers, food grade citrus fiber will remain the most preferred grade and account for a dominant share of nearly 60% in 2021. The demand is also bolstered by rising scope of applications in animal feed and pet food formulations.
Pharmaceutical grade citrus fiber will also find interest, as an excipient material in a number of drug formulations.
Which is Preferred Source of Citrus Fiber?
Oranges are the most preferred source for citrus fiber, which holds a dominant share of more than 55% and is expected to grow at a CAGR of 5.1% over the forecast period. Orange fiber is high in both soluble and insoluble fiber, making it a good source for dietary requirements.
Additionally, bioactive substances such as polyphenols, vitamin C, and flavonoids found in orange-derived fiber have additional health-promoting effects in addition to those of the dietary fiber itself.
What is the Key Function of Citrus Fiber Products?
Water binding and fat replacing functions accounted for more than 48% of the global market in 2021. Citrus fiber's water binding qualities allow it to be used in place of traditional emulsifiers, stabilizers, and thickening additives. This also allows manufacturers to create food products with clean label certifications.
Which Application of Citrus Fiber holds Maximum Share?
Bakery applications account for a maximum share of nearly 19% of the global citrus fiber market. This citrus fiber has a high-water holding capacity, which is important in baking.
Citrus fiber binds water securely and absorbs water generated by other components due to its composition and surface area. As a result, the bakery goods maintain moisture for a longer period of time.
Citrus Fiber Market - Competitive Landscape
In the global citrus fiber market, manufacturers are focusing on strengthening their digital presence to reach out to customers. In comparison to other traditional marketing strategies, having a digital presence is critical for reaching out to a worldwide market and serving customers at a reduced cost. This also aids in educating people about the product and its benefits. Therefore, manufacturers are now strengthening their online presence on digital platforms.
In 2019, Fiberstar Inc. launched new website for citrus fiber Citi-Fi to improve its digital experience and showcase its products and educate the consumers across the world.
Orange Fiber, a startup has announced the launch of a new fabric range mage from citrus fiber and pulp, with collaborations with H&M and Marinella brands.
CP Kelco a leader in natural ingredient solutions unveiled the launch of a new innovation center for ingredient research and pilot plant scale-up for varied applications.
Scope of Report
Attribute

Details

Forecast Period

2021-2031

Historical Data Available for

2016-2020

Market Analysis

USD Million for Value

Key Countries Covered

US, Canada, Germany, U.K., France, Italy, Spain, Russia, China, Japan, South Korea, India, Thailand, Malaysia, Indonesia, Australia, New Zealand, GCC Countries, Turkey, Northern Africa, and South Africa

Key Segments Covered

Grade, Source, Application, Function and Region

Key Companies Profiled

Fiberstar, Inc.
CP Kelco, Inc.
Herbafoods Ingredients GmbH
Florida Food Products, Inc.
Lemont
Golden Health
FUYAN PHARM (Henan), Inc.
Nans Products
Cifal Herbal Private Ltd.

Report Coverage

Market Forecast, Company Share Analysis, Competition Intelligence, DROT Analysis, Market Dynamics and Challenges, and Strategic Growth Initiatives

Customization & Pricing

Available upon Request
World's Most Profilic Intelligence Engine
Get Access To The World's Largest Market Research Database.
Sign Up Now
Citrus Fiber Market by Category
By Grade:
Food Grade
Pharmaceutical Grade
Cosmetic Grade
By Source:
Orange
Tangerine/Mandarins
Grapefruit
Lemons and Lime
By Application:
Bakery
Desserts and Ice-cream
Sauces & Seasonings
Meat & Egg Replacement
Beverages
Flavorings & Coatings
Snacks & Meals
Personal Care
Pharmaceutical
Other Application
By Function:
Water Binder & Fat Replacer
Thickening Gums
Gelling Gums
Others
By Region:
North America
Latin America
Europe
East Asia
South Asia
Oceania
Middle East and Africa (MEA)
Key Questions Answered in the Report
What is citrus fiber market size?
The overall citrus fiber market is projected to surpass US$ 111 Mn in 2021.
At what rate did the citrus fiber market grow in the last five years?
Demand in the citrus fiber market increased at 4.3% CAGR between 2016 and 2020.
What are the key trends shaping the citrus fiber market?
Market players are likely to focus on exploring potential new applications for previously untapped revenue streams.
What is the share of the leading citrus fiber companies?
Leading citrus fiber companies include CP Kelco, Fiberstar Inc, CEAMSA, Herbafoods Ingredients GmbH, Florida Food Products Inc., and Lemont, who cumulatively account for 41% of the market. .
What is the North America citrus fiber market outlook?
North America is dominating the global citrus fiber market and will exhibit a 5.8% CAGR through the end of the forecast period.
Which countries are key producers of citrus fiber?
The U.S., Mexico, Brazil, and China are the leading producers of citrus fiber products.
At what rate will the demand rise in the Europe citrus fiber market?
The Europe citrus fiber market is expected to rise at a CAGR of 4.1% between 2021 and 2031.
Which are the top five countries driving citrus fiber market demand?
Leading countries driving demand in the citrus fiber market are the U.S., Germany, China, France, and the U.K.
What are the key statistics for citrus fiber market in Japan and South Korea?
Citrus fiber solutions in Japan and South Korea are expected to hold a 3.9% and 2.5% market share, respectively.
Need specific information?
Our Clients