Citrus Powder: The Treasure Trove of Natural and Healthy Ingredients
Driven by the increasing consumer proclivity for natural and health-benefitting ingredients in various consumer goods, the adoption of fruit powders has fruit powders has surged in such applications significantly. Citrus powders—mainly due to its flavor—are becoming ubiquitous across various end-use industries, such as food & beverage, cosmetics & personal care, and dietary supplement industries.
However, the refreshing citrus flavor is not the only driving engine for the citrus powders market. Future Market Insights (FMI), in its recent study on citrus powders market, explores various factors that are influencing growth parameters of this landscape to uncover the future prospects of growth and opportunities for stakeholders.
According to the FMI study, the global market for citrus powder is expected to surpass a valuation of US$ 6 billion in 2019, and is expected to ride on the coattails of the rapidly growing fruit & vegetable ingredients market. Consumer awareness about potential benefits of natural ingredients in fighting different health discovers and the nutritional values is expected to contribute to the growth of the market.
Frequently Asked Questions About citrus powder market
What will be the value of citrus powder in the global market by 2029?
The global market for citrus powder is expected to reach US$ 6 Bn by the end of 2029. Consumers' tendency to use chemical-free products will continue to drive the sales of citrus powder through to 2029.
How are natural ingredients and clean label factors gaining prominence in the market?
Governments' favorable regulations regarding the nutritive content and using citrus fiber to replace artificial ingredients are supporting the natural ingredients and clean label trends in the F&B industry. Moreover, food companies are looking for alternatives to reformulate or create natural food products with cleaner labels.
How is the cosmetic & personal care industry reaping profits through citrus powder?
The cosmetic & personal care industry occupied more than half the revenue share of the citrus powder market in 2018. The antioxidant and pectin properties of the citrus acid are amplifying the adoption of citrus powder in the cosmetic & personal care industry.
In what way are the manufacturers seeking advantage of growing citrus powder market?
An increasing number of players in the cosmetic & personal care industry in developed markets are transiting from synthetic ingredients to natural ingredients such as citrus powder. In developing countries, manufacturers are leveraging rising production of citrus fruits in order to balance the competitive prices of the product.
Which markets will have a stronghold of the growing demand for citrus powder and why?
Collectively, North America and Europe accounted for two-thirds of the revenue share of the global citrus powder market due to increasing consumers' inclination towards natural cosmetics and plant-based food products. Growing demand for organic and clean-labeled products are ramping up the regional market growth.
What are the opportunities for manufacturers in developing countries?
Spain, China, the U.S, South Africa, and Mexico are the major exporters of citrus fruits. As these local markets have reached the level of maturity, manufacturers are likely to experience low opportunities. On the other hand, South Asia and the Oceanic region offer greater opportunities for the citrus market players, owing to the robust growth of end-use industries.
High Consumption of Oranges in Citrus Powder Production to Persist
The FMI study finds that, in 2018, nearly 40% of the citrus powder sold worldwide was manufactured using oranges. Steady rise in the production of oranges is mainly attributed for the rise in demand for oranges as a raw material in the citrus powder market. In the coming years, leading players in the citrus powder market are expected to establish close collaborations with farmers or bolster their in-house production of oranges to further enhance profitability of manufacturing. Furthermore, increasing adoption of oranges in citrus powder used for the production of citrus oils is also fostering this trend.
However, orange harvest has always been highly affected due to changes in weather and this leads to their fluctuating prices. Thereby, manufacturers in the citrus powder market are making a steady shift towards other citrus fruits such as grapefruits, lemons and lime, and tangerines or mandarins. Relatively lower prices of lemons and limes are expected to initiate a new trend in the citrus powder market. Though orange is likely to remain the preliminary source for citrus powder, the sales of lemons and limes in this landscape are increasing at an impressive rate in the coming years.
Developed Countries to Have a Stronghold with Rise of Consumer-driven Market Trends
Developed regions including North America and Europe, account for around two-third revenue share of the global market for citrus powder, and it is mainly attributed to increasing consumers' proclivity towards natural cosmetics and plant-based food products. While developing countries, especially in Asia Pacific, are among the top producers of citrus fruits, developed countries are scaling up their imports to meet the rise in the domestic demand. Taking into consideration the consumer awareness about clean label and benefits of organic-labelled products, the demand for organic citrus powder is expected to ramp up in these regions in the coming years.
Citrus Powder Remains the Magic Ingredient in Cosmetics & Personal Care Products
In 2018, the cosmetics & personal care industry occupied more than half the revenue share of the citrus powder market. Consumers are spurning consumer goods including personal care products and cosmetics that include chemical ingredients. Along with the preference for natural ingredients, consumer awareness about nutrients in citrus powder such as vitamin C, antioxidants, and pectin, is increasing. This is contributing to the rise in sales of citrus powder in the cosmetics industry.
Citrus powder helps in countering skin-related disorders, such as wrinkles, acne pigmentation, and dark spots, and this is expected to boost its applications in skin care products. Furthermore, the cleansing properties of citric acid, which is amplifying the adoption of citrus powder in sanitisation products. In 2018, citrus powder of worth more than US$ 1.1 billion was utilised in the manufacturing of sanitisation products.
While consumption of citrus powder is on its upward spiral in the cosmetics & personal care industry, its demand is expected to increasing at an impressive pace in the food & beverage landscape in the coming years. In 2019, food & beverage industry is expected to account for nearly one-third share in the global sales of citrus powder. Leading players in the citrus powder market are noticing the rise in demand in diverse applications including beverages such as juices and alcoholic drinks. This is expected to create new growth opportunities for stakeholders in the citrus powder market in the coming years.
Demand for Organic remains significantly high
Conventional products to maintain momentum
Oranges remain the most commonly used raw material
Demand for Lemons & Limes to grow at an impressive pace
Spray-drying remains most preferred by manufacturers
Adoption of Freeze-drying method to surge
Cosmetics & Personal Care remains the top end user
Demand to increase in Food & Beverage applications
How Growth will Unfold
A mounting number of stakeholders in the cosmetics & personal care industry in developed regions are in the middle of a transition from synthetic ingredients to natural ingredients such as citrus powder. Thereby, bolstering raw material procurement to increase the production of citrus power in order to meet the burgeoning demand is expected to remain a critical business strategy in Europe and North America. Furthermore, exhibiting a powerful product portfolio, including organic citrus powder, is expected to emerge as a winning business strategy for manufacturers in these regions.
In developing countries, manufacturers are leveraging the rise in production of citrus fruits to maintain competitive prices of citrus powder. The primary focus for market players in Asia Pacific, especially in East Asia, is expected to highlight the need for nuanced marketing campaigns and strategic promotional activities to ensure growth in the coming years.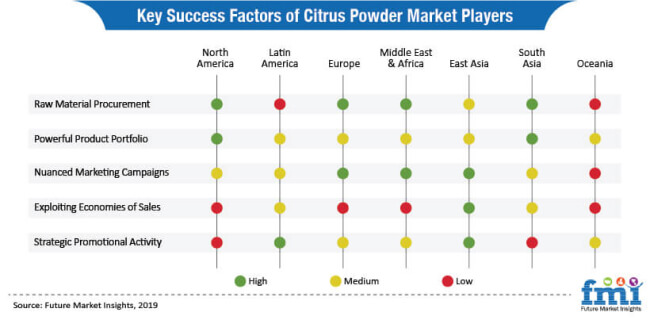 * This data is only a representation. Actual data may vary and will be available in report.
Click Here To Know How The Growth Will Unfold
Custom Market Research Services
FMI offers custom market research services that help clients to get information on their business scenario required where syndicated solutions are not enough.
Overview
Citrus Powder Market Analysis 2019 - 2028
A recent market study published by FMI "Citrus Powder Market: Global Industry Analysis 2014-2018 & Forecast 2019-2029" offers a comprehensive assessment of the most important market dynamics. After conducting thorough research on the historical, as well as current growth parameters of the citrus powder market, the growth prospects of the market are obtained with maximum precision.
Citrus Powder Market Taxonomy
The global citrus powder market is segmented in detail to cover every aspect of the market and present complete market intelligence to the reader.
By Source
Orange
Grapefruit
Lemons & Lime
Tangerines/Mandarins
By Drying Method
Freeze dried
Drum dried
Spray dried
Air-Dried
By End-Use
Dietary Supplements
Cosmetics & Personal Care

Soaps
Body scrubs
Sanitization
Makeup Removers
Cleaning

Food & beverage industry

Bakery
Dairy products
Ice creams
Ready meals
Alcoholic Drinks
Seasonings

Juices
By Sales Channel
B2B
B2C

Modern Trade
Medical Stores
Specialty Stores
Online Channels
Convenient Stores
By Region
North America
Latin America
Europe
Japan
APEJ
MEA
How the research was conducted?
Primary Research
C - Level Executives
Marketing Directors
Sales Heads
Production Managers
Distributors Heads
Sales Executives
Product Manufacturers
Distributors
Traders
Industry Experts
End Users
Current Market Dynamics and Challenges
Market Characteristics
Market Performance and Growth Quadrants
Competition Structure and Market Structure
Strategic Growth Initiatives
Near-term and Long-term Market Growth Prospects
Market Segment Splits and Authenticity
Opinions on Market Projections and Validity Of Assumptions
Secondary Research
Industry Publications

Industrial Week
Industrial Product Review
Industrial Magazine

Industry Associations

Citrus Growers Association
FAO
FDA
OECD

Company Press Releases
Annual Reports and Investor Presentations
Research Papers
Government Websites and Publications
Trade Websites
Primary Interview Splits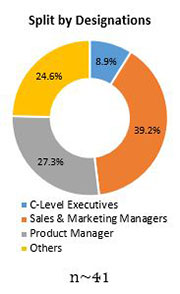 To Learn More About our Comprehensive Perspective on Citrus Powder Market ,
Get in touch
COVID -19 : Impact Analysis
Request the coronavirus impact analysis across industries and markets
Request Covid -19 Impact
CASE STUDIES
See how our work makes an impact.
At FMI, we design strategies that are adaptive, impactful, and implementable.