Citrus pulp fiber Market Value to Surpass US$ 61.3 Mn in 2030
Rising at a CAGR of ~5.0% the global citrus pulp fiber market will surpass US$ 61.3 Mn mark by 2030. The market, according to Future Market Insights, will witness positive rate of growth during 2020 - 2030. Increasing consumer understanding of food safety has contributed to the utilization of ingredients, such as citrus pulp fiber, which helps in controlling body metabolism and digestion.
Key Research Findings
The global citrus pulp fiber market is expected to surpass US$ 37.5 Mn mark in 2020
Citrus pulp fiber is used to enhance the texture of baked goods, meats, dairy, sauces, dressings, beverages and pet food, and treats
Free from preservatives, free from chemicals, and natural - all these terms are on the limelight when it comes to describing clean label food products. Consumers are turning towards cleaner and more natural products that won't have any adverse effect on their health. Citrus pulp fiber has properties which help in cold binding and meat-like texture to meat alternatives like meat-free patties as a result it is in high demand
Asia Pacific market for citrus pulp fiber is expected to rise at a CAGR ~10%
KEY FACTORS SHAPING THE CITRUS PULP FIBER
Increasing Demand for Organic Citrus Pulp Fiber
Consumers are becoming cautious about the raw material and source of the raw material due to which consumer prefer natural, plant-based, organic and chemical-free food products to maintain their health. Due to which demand for citrus pulp fiber market is rising.
CITRUS PULP FIBER MARKET STRUCTURE ANALYSIS
Tier one companies are focusing on research and development to increase the sustainability of the food products.
Companies are focusing on acquisition and mergers to strengthen their supply chain management and to expand their geographical presence.
| | |
| --- | --- |
| FMI | Citrus Pulp Fiber Market: Global Industry Analysis 2015-2019 and Opportunity Assessment 2020-2030 |
| Base Year | 2015-2019 |
| Forecast Period | 2020-2030 |
| Citrus Pulp Fiber Market Value in 2020 | US$ 37.5 Mn |
| Regions Covered | North America, Latin America, Europe, East Asia, South Asia Oceania and MEA |
| Key Companies | Fiberstar, Herbafood, Florida Food Products, Cargill, Inc, Quadra Chemicals, Naturex, Compañía Española de Algas Marinas S.A. (CEAMSA), Herbstreith & Fox, Lucid Colloids Ltd, DuPont, Silvateam S.p.A., CP Celco. |
Food Grade Citrus Pulp Fiber Accounts for About 60.9% Share
Citrus pulp is widely used in many food products and its applications are not restricted to bakeries, frozen meals, dairy farm products, meats, sauces, and beverages. Citrus pulp fiber is dried to increase its usefulness. Citrus pulp fiber is most preferred for citrus feeds. It is very rich in nutrients and can be mixed with any other citrus feed's ingredients. Dried Pulp fiber has absorption properties due to which it is advised to be stored in dry places. Dried pulp can be more almost a year and it doesn't deteriorate like other feeds. Dried citrus pulp is used as the staple energy source for beef cattle.
Citrus Pulp Fiber to Witness High Demand in Developing Economies
North America and Europe account for the maximum share in the citrus pulp fiber market. However, over the forecast, East Asia, South Asia, and LATAM are anticipated to grow speedily within the citrus pulp fiber market. Thanks to urbanization, the lifestyle and feeding habits in Asia Pacific have become more dynamic. The awareness regarding health and wellbeing is rising rapidly within the Asia Pacific thanks to rising demand for nutritious food products among consumers in this region.
A Natural Solution with Many Benefits
The beverage industry is exhibiting a rise in demand for citrus flavours and the use of citrus ingredients. The key flavours of citrus - orange, lemon, and lime have been used for many years, are commonly known in many food and beverage categories, and are in many ways considered to be essential to the categories in which they are used.
Orange is by and far the most common citrus flavour profile and its uses and appeal are known worldwide, from its consumption as fresh fruit to its use as flavouring in drinks, confections, and other food items. Looking at the use of citrus products, it is safe to conclude that when you think of citrus fruits, you think of something that is pleasant and tastes nice. For example, when it comes to lemon, it is safe, good for you, [and] it makes food taste better. Vitamin C in juice is an additional health benefit, which is accepted by people and boosts the popularity of citrus.
Organic showcase noteworthy CAGR
Conventional holds leading revenue share
The pharma grade citrus pulp fiber holds a significant CAGR
The food grade citrus pulp fiber holds a significant CAGR
Oranges holds leading revenue share
Grapefruit showcase noteworthy CAGR
Bakery holds leading revenue share
Personal care showcase noteworthy CAGR
How Growth will Unfold
Citrus pulp is increasingly used in meat products. For instance, their properties help in preserving water and fat for juicy meatballs and sausages. Citrus pulp also helps in preventing moisture while stuffing meat inside steamed buns or dim sums. Due to their water binding and emulsification properties, citrus pulp is a key ingredient used in baked foods. Hydrocolloids have a wide variety of functional properties in foods, including thickening, gelling, emulsifying, stabilizing, binding, etc.
Some of the leading manufacturers of citrus pulp fibers are focusing on acquisition and mergers to expand their product portfolio. Companies operating in the market are also investing in research and development to produce various unique products of fish meal alternative. Technology is playing major role in the development of citrus pulp fiber products. Major players are focusing on adoption of advanced technologies to boost their production capacity and innovation capability.
For instance,
In August 2017, the company signed an agreement to acquire Southern States Cooperative, Inc.'s animal feed business.
The availability of citrus pulp fibers products in stores as well as online retail is improving due to which the awareness of the innovative products of citrus pulp fibers is rising.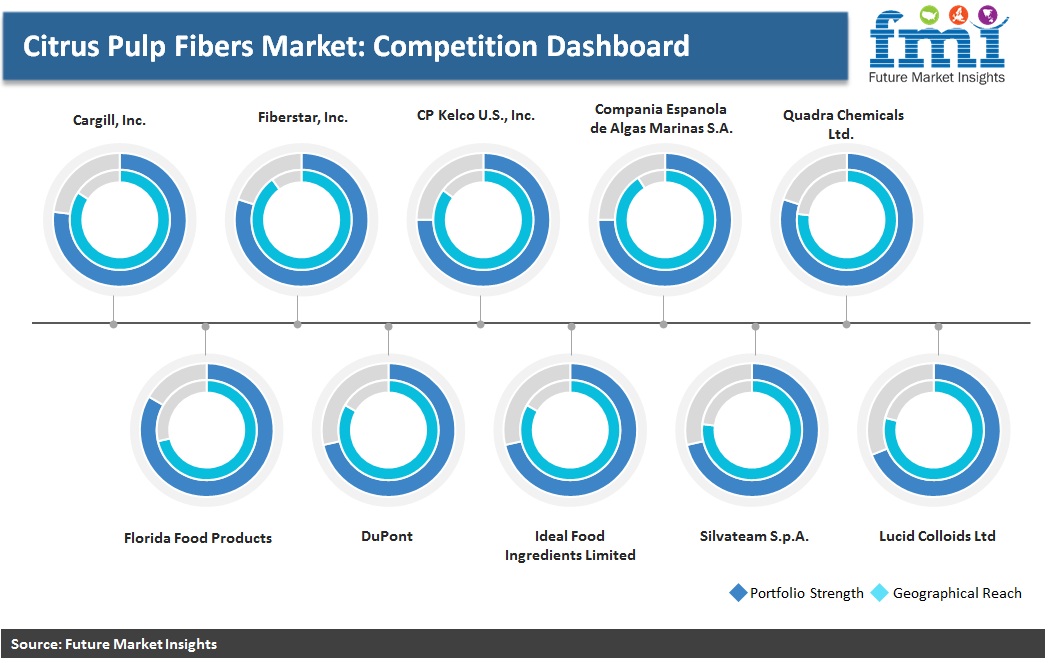 * This data is only a representation. Actual data may vary and will be available in report.
Click Here To Know How The Growth Will Unfold
Custom Market Research Services
FMI offers custom market research services that help clients to get information on their business scenario required where syndicated solutions are not enough.
Overview
Citrus pulp fiber market: Global Industry Analysis 2015-2019 & Opportunity Assessment 2020-2030
A recent market study published by FMI "Citrus Pulp Fiber Market: Global Industry Analysis 2015-2019 & Forecast 2020-2030" offers a comprehensive assessment of the most important market dynamics. After conducting thorough research on the historical, as well as current growth parameters of the citrus pulp fiber market, the growth prospects of the market are obtained with maximum precision.
Citrus Pulp Fiber Market Taxonomy
The global citrus pulp fiber market is segmented in detail to cover every aspect of the market and present complete market intelligence to the reader.
Source
Oranges
Tangerines/ Mandarins
Grapefruit
Lemon and Lime
By Region
North America
Latin America
Europe
Latin America
South Asia
East Asia
Oceania
MEA
Application
Water Binder & Fat Replacer
Thickening Gums
Gelling Gums
By Use
Bakery
Desserts and Ice-Creams
Sauces and Seasonings
Meat and Egg Replacement
Beverages, Flavorings, and Coatings
Snacks and Meals
Personal Care
Pharmaceuticals
Others
By Distribution Channel
Supermarket and Hypermarket
Convenience Store
Department Store
Specialty Store
Pharmacy/Drug Store
Online
How the research was conducted?
Primary Research
C - Level Executives
Marketing Directors
Sales Heads
Production Managers
Distributors Heads
Sales Executives
Product Manufacturers
Distributors
Traders
Industry Experts
End Users
Current Market Dynamics and Challenges
Market Characteristics
Market Performance and Growth Quadrants
Competition Structure and Market Structure
Strategic Growth Initiatives
Near-term and Long-term Market Growth Prospects
Market Segment Splits and Authenticity
Opinions on Market Projections and Validity Of Assumptions
Secondary Research
Industry Publications

Industrial Week
Industrial Product Review
Industrial Magazine

Industry Associations

Tobacco Vapor Electronic Cigarette Association
American Lung Association
Confederation of European Community Cigarette Manufacturers

Company Press Releases
Annual Reports and Investor Presentations
Research Papers
Government Websites and Publications
Trade Websites
Primary Interview Splits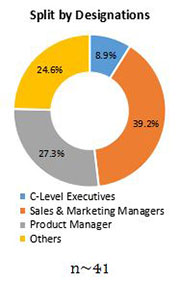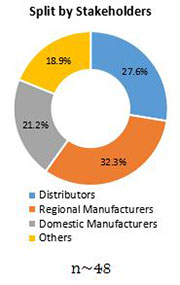 To Learn More About our Comprehensive Perspective on Citrus Pulp Fiber Market,
Get in touch
COVID -19 : Impact Analysis
Request the coronavirus impact analysis across industries and markets
Request Covid -19 Impact
CASE STUDIES
See how our work makes an impact.
At FMI, we design strategies that are adaptive, impactful, and implementable.