Citrus Oil Market By Source (Oranges, Tangerines/Mandarins, Lemon and Lime), Extraction Method (Steam Distilled, Cold Pressed, Hydro-Distillation), Fold Type (2-4 Folded, 5-7 Folded, 8-10 Folded), Grade Type (Deterpenated Oil, Terpene Oil), End-Use Industry (Food & Beverage, Personal Care & Beauty Products), Sales Channel (Direct Sales, Modern Trade, Specialty Store) & Region - Forecast to 2019 - 2028
Citrus Oil Market - Analysis, Outlook, Growth, Trends, Forecasts
September 2019

REP-GB-1697

280 pages
Citrus Oil Market - Key Research Findings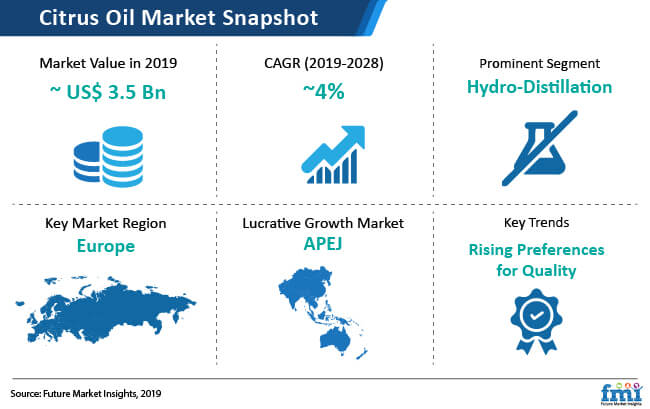 [280 Pages Report] The Citrus Oils Market is valued at US$ 3.8 Billion in 2021. The market is likely to grow at a CAGR of 4% through 2028, reaching US$ 5 Billion.
The citrus oil market is set to grow 4.4x by 2028.
Cosmetics and personal care segment is expected to register the highest CAGR through 2028.
While organic production of citrus oil is more feasible than procuring it naturally, consumers are expected to remain more inclined towards naturally-derived citrus oil due to its benefits. Even minimal measure of processing involved in the production of organic citrus oil is expected to disturb the health advantageous of citrus oil. By the end of 2027, more than three-fourth value of the global citrus oil market will be procured from sales of naturally-sourced citrus oil. The citrus oil market is set to grow 4.4x between 2019 and 2028 in terms of value.
Upgraded Techniques for Citrus Oil Extraction to Spur the Market Growth
Upcoming techniques for citrus oil extraction including Microwave Hydro-diffusion and Gravity (MHG), Liquid-Liquid Extraction, and Bio-refinery methods are anticipated to upsurge the growth of the overall citrus oil market. The citrus oil market remains concentrated between few major players resulting in entry barriers for new participants. Increasing concerns due to resource depletion are also expected to remain a key challenge for the major players.
Oil production requires high capital investment with advanced equipment, leading to the domination of numerous multinational corporations in the industry. Surge in demand for citrus oil among retailers and food processors is expected to impact the growth of the global citrus oil market positively.
Trends in the Citrus Oil Market
Considerable Demand in the Home Care Industry
Apart from the food industry, application of citrus oil extends to the personal care industry globally. Citrus oils are used in home care products as a source of fragrance and because of their status as safe solvents. Solvents are substances that can dissolve other substances easily.
This property makes citrus oils ideal for use as surfactants and in industrial/household cleaners. The increasing demand for citrus-based cleaners is closely tied to increasing consumer preference for cleaner and safer cleaning solutions.
Limonene is a key component of citrus oils and imparts several of the beneficial properties associated with citrus oils. Limonene can be a replacement for several other solvents such as acetone, mineral spirits, glycol ethers, and toluene. Limonene is also a direct substitute for many organic solvents.
Citrus Oils Enjoying Terrific Demand from the Cosmetics and Personal Care Industry
Cosmetics and personal care segment is expected to register the highest CAGR as compared to other end users in the global citrus oil market throughout 2028. In terms of revenue, food & beverage is expected to register the highest growth in the global market by the end of 2017.
This segment is expected to surpass ~ US$ 1,000 Mn by 2018 – end. The personal care & beauty products industry is expected to register the second highest revenue growth in the global citrus oil market in 2018.
Citrus Oil Market - Restraining Factors
Low Awareness in Emerging Countries
Demand for citrus oils is directly related to demand for end-products and the awareness of the functional properties of the respective oil. Apart from the notion of flavor and fragrance, the therapeutic and antioxidant properties of citrus oils are not well known in several emerging countries. This low awareness is limiting the market from reaching its full potential in emerging countries.
The other important aspect of product awareness is access to the respective product and market. Retail outlets also serve the purpose of familiarizing consumers with citrus oil products, as the fragmented nature of the market limits the marketing capabilities of manufacturers. Since much of the retail infrastructure in emerging countries is limited to urban areas, a large part of consumer base in these countries is relatively unaware of the various products currently available in the market.
Opportunities Use as Alternatives to Animal Feed Antibiotics
Oils derived from citrus peel are considered potential alternatives to animal feed antibiotics. Citrus oils are expected to be ideal alternatives to antibiotics, as they have the potential to induce growth in animals and also help in disease prevention. The disease prevention aspect is due to the antimicrobial properties of citrus oils.
Given the increasing regulations against the use of antibiotics in animal feed and increasing demand for meat and meat-derived products, citrus oils are highly likely to find increasing use as natural alternatives to antibiotics.
Use of Citrus oils in Ethnic Foods
Ethnic foods are defined as foods that are part of the culture and tradition of a particular ethnic group. These are mostly prepared from locally available materials and are generally considered as healthy due to the use of natural or organic ingredients.
Since it is costly to import ingredients that are specific to particular regions, manufacturers use essential oils to mimic the flavor of the original ingredient. Since these oils are also plant-derived, they are considered natural and healthy. As a result, citrus oils are expected to witness significant increase in demand for application in ethnic foods produced by food and beverages manufacturers in the near future.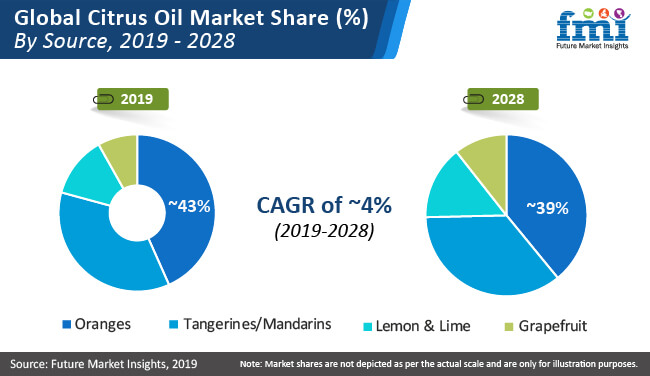 Analysts' Viewpoint
A comprehensive view of the citrus oil market has led our analysts to conclude that, the market is growing at an impressive rate, with the Asia Pacific region being the fastest growing region over the forecast period.
In developed regions, applications of mishmash of citrus oils are expected to gain traction and manufacturers will collaborate to expand their citrus oil businesses (ADM adds another citrus to the mix with Ziegler Group acquisition, 2019). The U.S. will continue to lead the global citrus oils market till 2028.
Flavor trends of citrus, seeds and floral notes are expected to boost the citrus oil market growth over the forecast period. However, orange oil to remain as lucrative citrus oil variant over the forecast period. Huge break between orange terpene and orange oil prices perseveres, and shortened demand from the US market for limonene has influenced prices to fall further in 2018 2nd quarter.
Orange oil has fallen in sympathy, reliant to quality & volumes. With enhanced Florida crop coming on stream in 2019, further unpredictability is expected in the coming months. Decent availability of green mandarin oil from Italy and South America is expected with more restricted supplies of yellow and red mandarin. Topmost quality red mandarin oil from Sicily has decreased premium prices.
Citrus Oil - Top Candidate for Food Preservation in the Future
In the last couple of decades, consumer trends and preferences have played an imperative role in the development of multiple industries including, food & beverage, cosmetics & fragrance, home products, and more. In sequence to the evolving consumer landscape, citrus oils have garnered significant amount of popularity in recent years, especially in the food and beverage industry.
Citrus oils are primarily used to enhance the flavor and aroma of food products including, beverages, and bakery & confectionary items, among others. Furthermore, apart from picking up momentum as a flavor enhancer, citrus oils are gaining popularity for their functional properties. In recent years, the demand for fortified and value added food has surged which has positively impacted the demand for citrus oils.
Considering the nature of the product, manufacturers are continuously focusing on identifying and leveraging white spaces in the application of their products. Moreover, citrus oils have steadily made inroads into homecare products, emerging as an ideal substitute for synthetic solvents.
Citrus Oil - An Ideal Flavor Enhancer and a Good Candidate for Food Preservation
In response to the growing awareness among consumers over food safety, quality, ingredient sourcing, and traceability, food manufacturers have identified citrus oil as an ideal candidate for food preservation. The adoption of citrus oil in the food industry has increased in the last few years owing to their functional properties and acceptance from the Food and Drug Association (FDA). Further, as citrus oil are Generally Recognized as Safe (GRAS), the food industry expressed significant interest to use the product for an array of applications.
Citrus oils are widely used as flavor enhancers in food products. In addition, citrus oils are also used for food masking applications to mitigate the flavor of a few pungent food items. As the millennial consumer base prefer products that are made from naturally-sourced ingredients, manufacturers are targeted towards exploring their untapped potential, especially in the F&B industry.
For several years, the food industry relied on synthetic preservatives, especially antimicrobial preservatives for food preservation. However, several studies revealed the potential harmful effects of consuming chemical additives which encouraged the search for alternatives. After considerable amount of research, citrus oil have demonstrated strong abilities in retarding the growth of pathogenic microorganisms, thereby emerging as an ideal candidate for food preservation.
High Adoption in the Food Industry Driving Growth across Europe
Adoption of citrus oil in the food industry has witnessed a significant growth in Europe in recent years. The flourishing food industry in nations including, France, Germany, Spain, and more has resulted in the growing demand for citrus oils. Another factor influencing market growth in the region is the growing awareness among consumers regarding the benefits of using citrus oils.
Hence, flavor manufacturers in the region are gradually shifting towards producing flavor from natural ingredients. In addition, the 'clean label' movement has picked up significant momentum in Europe which in turn, has increased the demand for citrus oil in recent years.
Aromatherapy with Essential Oils - A Noteworthy Trend
In the current scenario, the aromatherapy sector as well as essential oils market are at a nascent stage. However, both verticals are gaining significant amount of popularity worldwide, owing to evolving consumer trends and growing awareness among consumers. Further, essential oils such as citrus oils have proven their capabilities in enhancing physical, spiritual, and mental health among patients in several cultures.
In recent years, essential oils are gradually finding applications in aromatherapy albeit its adoption remains slow paced. With strategic planning, promotion, and awareness programs, market players operating in the citrus oil market are likely to establish a strong foothold in the market. Further, with consistent surge in demand for essential oils for relaxation therapies, manufacturers are tuning their market entry and expansion strategies accordingly.
Apart from growing interest for aromatherapy, citrus oils have gained commendable popularity in the homecare and personal care industry. Owing to the appealing fragrance, citrus oils are used in room fresheners, household cleaners, and a range of other homecare products.
How Growth Will Unfold
Market players involved in the industry are expected to focus on increasing consumer awareness which at present, is fairly low. Additionally, companies are likely to bank on promotional offers and the smart consumerism traits of the millennial population to penetrate the market in the developed and developing regions across the globe.
Further, to enter new markets, companies will pin their hopes on inorganic growth strategies including mergers & acquisitions and collaborations. In addition, research and development activities are predicted to open up lucrative growth prospects for market players involved in the citrus oil market in the foreseeable future.
World's Most Profilic Intelligence Engine
Get Access To The World's Largest Market Research Database.
Sign Up Now
Key Segment
By Source
Oranges
Tangerines/Mandarins
Lemon and Lime
Grapefruit
By Extraction Method
Steam Distilled
Cold Pressed
Hydro-Distillation
By Fold Type
2-4 Folded
5-7 Folded
8-10 Folded
Above 10 Folded
By Grade Type
Deterpenated Oil

Terpenless Oil
Concentrated Oil

Terpene Oil
By End-Use Industry
Food & Beverage
Personal Care & Beauty Products
Home Care Products
Aromatherapy
Health Care Products
By Sales Channel
Direct Sales
Modern Trade
Specialty Store
Mono Brand Store
Online Retailers
Other Sales Channels
By Region
North America
Latin America
Europe
Japan
APEJ
MEA
Key Questions Answered in the Report
What is the outlook of the Citrus Oils Market?
The Citrus Oils Market is valued at US$ 3.8 Billion in 2021. The market is likely to grow at a CAGR of 4% through 2028, reaching US$ 5 Billion.
Which are the leading companies in Citrus Oils Market?
Some of the key competitors are FarottiEssenze, Moksha Lifestyle, Dterra Holdings, Plant Therapy Essential Oils.
Need specific information?
Our Clients