Citrus Pectin Market By Product Type (High Methoxyl Pectin, Low Methoxyl Pectin), Source (Oranges, Grapefruit, Lemon and Lime), Application (Jams & Jellies, Beverages, Confectionery, Meat & Poultry, Dietary Supplements, Functional Food) & Region - Forecast to 2019 - 2029
Citrus Pectin Market - Analysis, Outlook, Growth, Trends, Forecasts
February 2020

REP-GB-11039

250 pages
Orange Emerges as Highly Preferred Source
[250 Pages Report] Citrus pectin is largely used in making jams and jellies. A key point to note here is that oranges are highly preferable among manufactures as they have proximate composition which includes dietary fiber, water lipids, nitrogen and other related vitamins, calcium, magnesium and others.
In addition, increasing consumer awareness about food safety along with the clean label movement has been driving the consumption of natural food ingredients including citrus pectin. However, recent decline in production of orange and prevalence of citrus greening disease are likely to pose as potential threat for market players.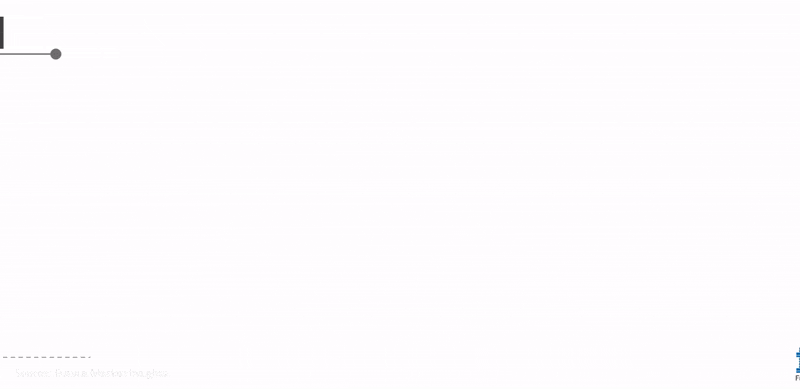 High Consumption of Fiber-rich Food Products to Generate Opportunities in EU-4
Europe is anticipated to account for maximum share of the global citrus pectin market by 2029. A gradual increase in consumption of fiberated food products is fueling the demand for citrus pectin in the region. As added functionality in food & beverages is considered as a gateway to better health in the future, demand for citrus pectin in Europe will continue to grow strong. Emergence of EU-4 as top consumers of citrus fruits is also expected to open a wide window of opportunities for market players.
Citrus Pectin as Gelling Agent - Key Growth Promoter
Consumption by the food & beverage industry accounts for a major share of the citrus pectin market, as it is most commonly used as texturizer for food products such as dairy, jams and jellies. In addition, citrus pectin is witnessing high application scope in pharmaceutical and cosmetic industry, for its gelling, stabilizing, and thickening properties. Therefore, key market players capitalizing on personal care & cosmetics and pharmaceutical industries are likely to be rewarded in the long run.
How Growth will Unfold
High methoxyl pectin continues to account for major share of manufacturers bottom lines. However, these manufacturers are focusing on increasing the production of low methoxyl pectin, as it requires lower amount of sugar than the former to gel properly. Increasing usage of citrus pectin as a texturizer and stabilizer in the food & beverage industry is encouraging manufactures to put efforts towards modifying chemical properties of citrus pectin.
Following research by the American Society of Clinical Oncology (ASCO), it is found that modified citrus pectin can slow growth of prostate cancer cells, which is expected to boost the market growth. In addition, leading manufacturers are adopting advanced technologies in order to derive citrus pectin and tap growth opportunities in the healthcare sector.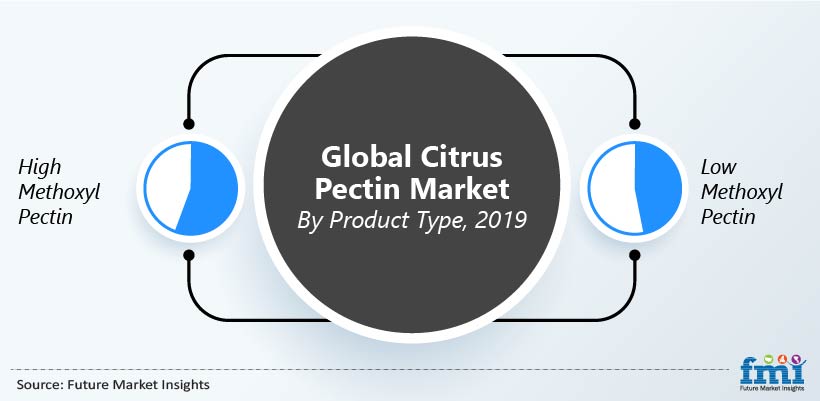 CITRUS PECTIN MARKET - KEY RESEARCH FINDINGS
The global citrus pectin market surpassed its US$ 100 Mn mark in 2019
Driven by fresh approaches to citrus processing, the market is projected to record a CAGR of 4.6% during the forecast period (2019-2029).
Orange remains highly preferred source of citrus pectin, contributing around 60% to the global market value.
High methoxyl pectin continues to influence growth strategies.

Demand for low methoxyl pectin is expected to grow strong in the future.

Growing application in jam & jellies is likely to result in increased market share during the predefined timeframe.
A gradual shift from synthetic food ingredients to natural variants, in the view of health consciousness and clean label trend, plays an instrumental role in the market growth.
Europe continues to maintain its lead in the global citrus pectin market.

APEJ is expected to see a quantum leap in demand.
KEY FACTORS SHAPING THE CITRUS PECTIN MARKET
Significant Advances in Pectin Production Process
The impact of advanced technologies has been noticeable in numerous industries, and food extraction and processing sector is no exception. The future of food is not simply a quest for healthy aspect, but it is plant-forward and convenience without compromising the taste. The result is expected to potentially raise the demand for citrus pectin. In order to cater to rising demand, manufacturers are leveraging novel pectin extraction techniques and technologies, which will help boost the production.
Increased Application Scope in Personal Care & Cosmetics
Growing use of citrus pectin in food & beverage, especially in production of jam & jellies, bakery fillings and toppings, confectioneries, and dietary supplements has been working to the advantage of market players. As the competition in the market intensifies, these players are leveraging white spaces in the application of citrus pectin – as a gelling, thickening, and stabilizing agent in cosmetics to fat replacer in meat & poultry products. Moreover, demand for citrus pectin will gain a boost from the trend of 'green beauty' putting greater emphasis on personal care & cosmetics with natural ingredients.
Decline in Production of Consumption of Citrus Fruits
In recent years, global production of citrus fruits, especially orange - a highly preferred source of citrus pectin, has been declining due to unfavorable weather conditions which lead to smaller crops in major orange-producing countries. This, in turn, is creating a hindrance in worldwide production and sales of citrus pectin. As orange production drops, the price of these fruits has been on a significant rise, which is negatively impacting the market growth.
CITRUS PECTIN MARKET STRUCTURE ANALYSIS
A number of players vying a pie of the global citrus pectin market are increasing with each passing year.
Key market players such as Fiberstar are focusing on diversification of their product portfolio, demonstrated by launch of pet food using citrus pectin as key ingredient.
Tier-1 players are increasing their investment in R&D activities and product innovations.
Strategic acquisition of smaller or local players for firmer global footprint remains a key focus area of leading market players.
Base Year - 2018
Historical Period - 2014-2018
Forecast Period - 2019-2029
Market Value in 2019 - US$ 101.5 Mn
Segments Covered - Product, Source, Application
Regions Covered - North America, Latin America, Europe, APEJ, Japan, and MEA
Key Companies - Fiberstar, CP Kelco, Ceamsa, Silvateam S.p.A., Herbafood, DuPont, Florida Food Products, Lucid Colloids Ltd., Cargill Inc., Yantai Andre Pectin Co. Ltd., Quadra Chemicals, Herbstreith & Fox, Naturex, Compañía Española de Algas Marinas S.A. (CEAMSA)
Growth Drivers -

Rapid expansion of F&B industry
Increasing demand for natural food ingredients
High application potential in pharmaceuticals and personal care & cosmetics
The trend of green beauty
World's Most Profilic Intelligence Engine
Get Access To The World's Largest Market Research Database.
Sign Up Now
CITRUS PECTIN MARKET TAXONOMY
The global Citrus Pectin market is segmented in detail to cover every aspect of the market and present complete market intelligence to readers.
Product Type
High Methoxyl Pectin
Low Methoxyl Pectin
Source
Oranges
Tangerines/ Mandarins
Grapefruit
Lemon and Lime
Application
Jams & Jellies
Beverages
Bakery Fillings & Toppings
Dairy Products & Frozen Desserts
Confectionery
Meat & Poultry
Dietary Supplements
Functional Food
Pharmaceutical
Personal care & Cosmetics
Others
Region
North America
Latin America
Europe
APEJ
Japan
MEA
Need specific information?
Our Clients