About the Report
Pectin belongs to the group of hydrocolloids derived from citrus fruits and apples that is used as a gelling agent in food and a variety of other purposes. Pectin powder is widely used in the production of jams and jellies. Besides this, its consumption has been associated with a number of health benefits, including joint pain relief, arthritis treatment, inflammation treatment, digestive aid, and so on. Pectin powder is a polysaccharide carbohydrate found in and around the cell wall.
Gum hydrocolloids, like pectin powder, xanthan gum, guar gum, gellan gum, gelatin and others find application in different functional foods as they help to improve stability and provide viscosity to food and beverages. Hydrocolloids is used to convert food products into their semi solid food components due to their adhesive nature. Use of gum hydrocolloids in processed food is expected to result in rise of pectin powder globally.
Increasing interest in organic, herbal, and fruit-based goods, resulting from rising cases of diabetes, obesity, and cardiac issues will fuel the demand for pectin powder. The advent of 'superfruits,' a concept that refers to highly nutritious fruits, exemplifies this. More 25,000 super fruit-derived products are available in the market today. Given the pectin's impressive nutrient profile, pectin and its derivatives fit right in. Pectin powder contains pectin, pectolytic enzymes, carotenoids, fiber, vitamin B, proteins, and other salts in addition to vitamin C. From a market standpoint, the fruit's low calorie and fat-free nature make it appealing.
Pectin-based goods are comparatively more expensive due to their exotic and export-dependent nature. When compared to synthetic vitamin C, the high price is due to higher production costs. This further limits their appeal to a selective group of people, such as those who live in cities and earn a lot of money. This is a restraining factor which reduces the demand of pectin powder.
In its new study, ESOMAR-certified market research and consulting firm Future Market Insights (FMI) offers insights about key factors driving demand for pectin powder. The report tracks the global sales of pectin powder in 20+ high-growth markets, along with analyzing the impact COVID-19 has had on the food and beverage industry in general, and pectin powder in particular.
How Does Historical and Future Outlook of Pectin Powder Market Compare?
For a long time pectin powder has been used for the production of jams and marmalades but in 1825, Henri Braconnot for the first time isolated it and explained. Fruits with less or low quality pectin were added with fruits high in pectin or their derivatives to bring off well set jams from fruits.
Pectin powder saw commercialization during industrial revolution when manufacturers of fruit preserves demanded for apple residue that was cooked to obtain pectin. In 1920s and 1930s, Europe and The U.S. established factories for the production of pectin from dried apple in their apple producing region. Letter on they went to produce it from citrus peel. Due to properties like easy to store and transport commercial production and market shifted from liquid extract to dried powder.
According to FMI's analysis, pectin powder sales have grown at 3.2% CAGR between 2016 and 2020. Pectin powder's reputation as a nutritious food ingredient that can improve product consistency and texture has risen dramatically over the years as a result of comprehensive clinical testing and studies. Pectin powder is commonly accepted as a flavor less food additive that can effectively prolong the shelf life of foods.
Prohibited food ingredients such as phosphates, carrageenan, and others may be competently substituted by pectin powder ingredients under FDA regulations. To appeal to the world's rising health-conscious customer base, food manufacturers are aggressively concentrating on using pectin powder ingredients in the development of new ranges of fat-free edibles.
These properties of pectin powder and the growing attention of food manufacturers can result in increased demand in the global market. FMI expects the global pectin powder market to grow at 4.7% CAGR through 2031.
How is Shift to Natural Ingredients Affecting Pectin Powder Sales?
As people have become more conscious about their own and their families' health and well-being, they are gravitating toward natural and organic goods. The economy would benefit as a result of this. Consumers are learning more about the ingredients in the cosmetics they use, the drugs they take, and the food they eat as their consciousness grows. As a result, there has been a move toward products made with natural ingredients.
Consumers' willingness to pay a higher price for more natural goods has changed the nature of different markets. Producers of these goods also want to keep their customers' interest, so they're keeping the ingredients and manufacturing processes as transparent as possible. Many manufacturers often list the raw material's source as well as the area from which it was sourced. Thus, adopting these trend will help manufacturer of pectin powder increase their customer base.
What Is The Impact Of The Demand For Low Fat And Packed Food On Pectin Powder Sales?
Growing health consciousness among consumers is boosting demand for low-fat foods and beverages. Food producers are concentrating on creating new ingredients that have the potential to mitigate and regulate obesity, allowing customers to make healthy food and beverage choices, without sacrificing flavor or taste. Pectin powder for low-fat applications is only available from a few manufacturers. Pectin gives food products a smooth consistency and mouthfeel, which meets the demand for saturated fat whose adequate amount is necessary for healthy diet.
The global pectin powder market is currently driven by an increase in demand for packaged and convenience foods and beverages. Pectin powder is used in a variety of distilled and convenience beverage items, including non-alcoholic beverages and ready-to-drink beverages. The demand for such drinks is growing as a result of consumers' busy lifestyles and evolving eating habits. These factors have a large current influence and are projected to continue to have a large impact in the coming years.
Country-wise Insights
How large is the opportunity for pectin powder in the U.S.?
The U.S. has the largest share of the market and is expected to increase at a 3.7% CAGR in the forecast period. Consumers' interest to live a healthier lifestyle has resulted in increasing intake of foods and food products with potential health benefits. Consumers have recently become more aware about their eating habits.
According to the Council for Responsible Nutrition (CRN), about 68% of adults in the U.S. drank dietary supplements and sports drinks in 2016. Around half of those surveyed were frequent users. In the U.S., approximately 83% of adults have faith in the consistency, efficacy, and safety of sports drinks, functional foods, and dietary supplements. This is expected to support the global pectin market's overall growth to some degree over the forecast period.
What is the scope for the growth of pectin powder market in India?
India accounts for 27% of the share in the Asia Pacific market and it is expected to exhibit growth across at a CAGR of 9.7% in forecast period. India is expected to witness such growth due to reasons like an increase in population and income of middle class people.
Recent developments in supply chain and urbanization also have considerable impact on the market. An increase in consumption of functional food due to the hectic life style of the people can result in the market growth of pectin powder. A large number of people influenced by the western diet are also contributing to an increase in the customer base of pectin powder.
Will Brazil's pectin powder Market grow in the Next Few Years?
Brazil accounts for 44.5% of Latin America the market and it is anticipated to grow at a CAGR of 5.7% in the forecast period. Pectin is a common ingredient in new product launches and reformulations. The growing demand for label-friendly, vegetarian, and vegan options is fueling development in Brazil.
In Brazil, pectin is used in 80% of all jams and fruit spreads that claim to be "natural" or "free of additives and preservatives." There is better awareness among people regarding the benefits of pectin powder compared to another competing ingredients and is helping the manufacturers to increase their economy
What are the Factors Driving Pectin Powder Sales in the U.K.?
Consumer views and awareness about plant-based diets have shifted in recent years in the U.K. The new food and beverage businesses have been impacted by the additives market's constant innovations. In the food industry, naturally derived ingredients and additives have proven to be a boon.
Furthermore, the country's growing vegan population remains the primary driver of the demand in question. Furthermore, the growing application areas of hydrocolloids, such as controlling the thickening and gelling properties of aqueous foods, as well as the natural property of hydrocolloids, are driving market development.
What are the Opportunities Pectin Powder Market in China?
Players in the global pectin market are benefiting from the rising demand for personal care products in Asia Pacific. The ever-increasing market for natural personal care items and cosmetics is expected to result in record-breaking sales of the ingredients used in these products.
Over the assessment period, revenue from sales of personal care items and ingredients is expected to rise significantly in countries such as India, China, Southeast Asia, and Japan. In addition to focusing on organic development, food and beverage companies are adopting aggressive go-to-market strategies such as collaborations, alliances, M&A, and divestitures in these regions.
Category-wise Insights
Which Type Of Pectin Powder Is Most Preferred?
On the basis of product type, pectin powder can be divided into two parts- high methoxyl pectin and low methoxyl pectin. Of these two types, high methoxyl pectin has a higher market share compared to low methoxyl pectin. In 2021 high methoxyl pectin is expected to have 55.5% of the market share. It is used mostly because of the higher degree of esterification which influences emulsifying, texturizing, and gelling property of the product. High methoxyl pectin is mostly used in the food industry because of its thickening and gelling property.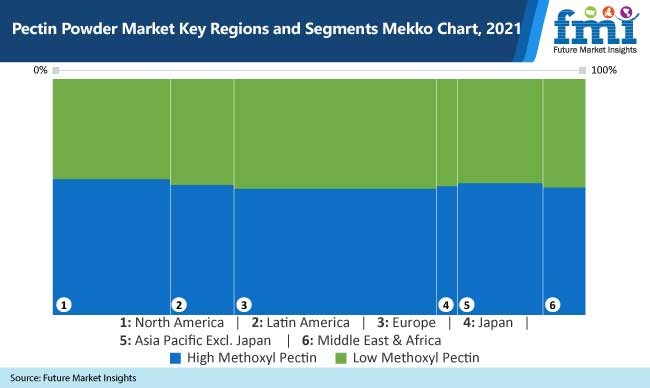 What is the Key Application of Pectin Powder?
Pectin powder is mostly preferred in the food and beverage industry. In 2021 food and beverage industry is expected to account for 76.8% of the market share in terms of value and is estimated to grow with 4.5% CAGR in the forecasted period. Due to different health benefits, it is used in several sectors of the food and beverage industry like milk & confectionary, meat & poultry, dairy, and others.
Competitive Landscape
Since the past few years, manufacturers have been focusing on innovations to launch products with different claims. Manufacturers have begun to mention regulatory body certifications such as non-GMO, gluten-free, vegan, halal, and others. This has happened because consumers are losing confidence in processed foods after various speculation about them being unsafe. This shift has also boosted the demand of pectin powder being a natural product.
Some of the leading companies operating in the pectin powder market are:
E. I. DuPont De Nemours And Company
Naturex S/A
Herbstreith & Fox Group
Silvateam s.p.a.
DSM Andre Pectin Co. Ltd.
Lucid Colloids Ltd.
*The list is not exhaustive, and only for representational purposes. Full competitive intelligence with SWOT analysis available in the report.
Scope of the Report
Attribute

Details

Forecast Period

2021-2031

Historical Data Available for

2016-2020

Market Analysis

USD Million for value and MT for Volume

Key Regions Covered

North America, Latin America, Europe, japan, The Asia Pacific excluding Japan , Middle east and Africa

Key Countries Covered

US, Canada, Brazil, Mexico, Chile, Peru, Argentina, Rest of Latin America, Germany, France, Italy, U.K., Spain, BENELUX, Nordic, Poland, Russia, Rest of Europe, China, Japan, South Korea, India, Malaysia, Singapore, Indonesia, Thailand, Rest of South Asia, Australia, New Zealand, GCC Countries, South Africa, Turkey, North Africa, Central Africa, Rest of MEA

Key Segments Covered

Product type, Application and Region

Key Companies Profiled

E. I. DuPont De Nemours And Company
Cargill, Inc.
Naturex S/A
CP Kelco
Herbstreith & Fox Group
Compania Espanola de Algas S.A.
Silvateam s.p.a.
DSM Andre Pectin Co. Ltd.
Lucid Colloids Ltd.

Report Coverage

Market Forecast, brand share analysis, competition intelligence, DROT analysis, Market Dynamics and Challenges, Strategic Growth Initiatives

Customization & Pricing
Key Questions Answered in the Report
What are the key factors driving the pectin powder market?

Increasing usage of hydrocolloids in the food and beverages industry, increasing demand for natural ingredients, growing awareness regarding the benefits of pectin, rising demand for low fat food and beverages and increasing demand for packaged foods and beverages products are some of the key factors enabling growth in pectin powder market.

What is the key application of pectin powder?

Pectin powder is mostly used in the food and beverage industry. It is expected to account for 76.8 % of the overall pectin powder market in terms of value in the year 2021.

What are the key factors restraining pectin powder market?

Technical difficulties in procuring raw materials and processing end product, impact of price, and threat of substitutes are some of the key challenges witnessed in the pectin powder market.

Which is the most lucrative market for pectin powder?

Currently, Europe holds the largest market share. It accounts for 38.5 % of the global market and is likely to remain dominant from 2021 to 2031.

Which are some of the leading companies offering pectin powder?

Some of the leading companies offering pectin powder are E. I. DuPont De Nemours And Company, Cargill, Inc., Naturex S/A, CP Kelco, Herbstreith & Fox Group, Compania Espanola de Algas S.A., Silvateam s.p.a., DSM Andre Pectin Co. Ltd., Lucid Colloids Ltd, and others.
Pectin powder - Market segmentation
On the basis of Product Type:
High methoxyl pectin
Low methoxyl pectin
On the basis of Application:
Food and beverage
Dietary supplements
Pharmaceuticals
Personal care and cosmetics
Others
On the basis of Region:
North America
Latin America
Europe
Japan
The Asia Pacific excluding Japan
Middle East and Africa
Need specific information?