Lip Powder Market - Key Research Findings
Global lip powder market size in 2018 – Approximately US$ 350 Mn
The lip powder market revenue is expected to grow at a CAGR of nearly 5.9% over 2019-2027.
APEJ (Asia Pacific excluding Japan) is expected to remain the largest regional market for lip powder products.

The availability of new and innovative beauty products, in addition to the growing interest of consumers in experimenting with new products, are among factors that are estimated to continue to generate substantial demand for the lip powder.

North America's lip powder market holds significant growth potential.

Increasing per capita spending on lifestyle products, strongly backed by improving availability and accessibility of beauty products, will remain key factor contributing to the growth of the lip powder market in the North American region.

Consumer population aged between 31 and 60 years is expected to hold the highest share in the lip powder market.

Lip powder is likely to partially or entirely replace lipsticks in the near future, attributed to the former's creamy and smooth texture.
Moreover, hydrogel ingredients in lip powder impart it a non-powdery consistency, and a creamy and smooth texture upon application.
Top 3 Factors Shaping Lip Powder Market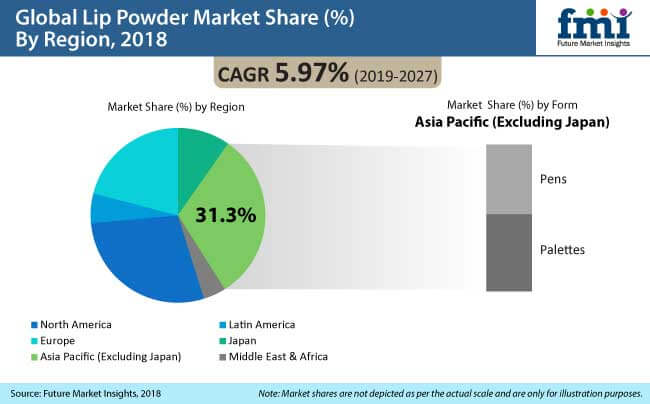 The advantages of lip powder over conventional lipsticks are expected to contribute to the growth of the market

The global market for lip powder is witnessing growth based on a few unique advantages over conventional lipsticks. One of the most sought after benefits of using lip powder is the ethereal shimmery 'mermaid' look that can be easily created by lip powders, which is otherwise difficult to achieve with conventional lipsticks.

Innovative product lines such as shimmer metallic lip powder allow users to achieve an intriguing look at night and a playful look through day. Such trends will continue to drive the demand for lip powder in the years to come.

Long-lasting color and vibrancy of lip powders are among factors boosting the sales of lip powder

Most of the lip powders available in the market contain Vitamin E that enhances smooth look and provides a nourishing effect. The lip powder liquefies when in contact with lips, followed by superior endurance compared to that of conventional lipsticks. Moreover, it has been claimed to enhance the texture of lips, which is another strong factor pushing demand for lip powder in the global market.

Growing demand for matte-finish beauty products is benefiting sales of lip powder

Matte & blurred finish looks are among the most recent trends in the beauty industry. This beauty trend that first took off in Korea and later spread across the US has become among the most popular peculiarities within beauty circle of several other regions in recent past. Apart from its matte finish, lip powder has also gained popularity, as it renders a diffused, natural look to the lips.
Lip Powder Market: Structure Analysis
The global lip powder market represents a consolidated competition landscape; wherein tier 1 & tier 2 companies hold more than 37% revenue share.
Some of the most prominent brands active in the lip powder market include L'Oréal S.A., Maybelline LLC, M·A·C Cosmetics.
Most of the key players in lip powder market are likely to concentrate on enhancing the look and feel of lip powders, in addition to better texture.
Product innovations in line with evolving consumer preferences will be an important long-term strategy adopted by significant companies competing in the lip powder market.
Leading players in the lip powder market are also concentrating on introducing matte and blurred products in their existing product portfolio, with an intension to extend outreach to new customer bases.
Sales channel expansion is also cited as an impactful developmental strategy adopted by lip powder market players, according to FMI's report.
Lip Powder- The Latest Innovation in Lip Makeup
The demand for matte lipsticks has taken off at a very impressive rate, which could possibly mean that consumers wish to go beyond conventional lip products. Demand for lip products doesn't solely revolve around usability and functionality, rather experimentation holds a significant spot among all the key trends. Consumers are steadily transitioning to lip powder, for the fact that lip powder offers a smoother and long-lasting finish along with added aesthetics that include shimmer and matte finishes.
Will Lip Powders Replace Go-To Lipsticks?
Modern consumers are showing marked preference for experimentation, which offers ample room for lip brands to innovate. Multiple brands are venturing into the space of lip powder via launch of new products to capitalize on the ever-evolving consumer preferences. This, in turn, will give more scope for consumers to choose new and interesting lip product types, thereby setting an optimistic tone for lip powder market during the forecast period.
Lip Powder Sales at Supermarkets/ Hypermarkets to Soar Upwards
Consumers will continue to show marked preference to purchase lip powders from supermarkets and hypermarkets, given that modern trade channels hold advantages in terms of variety and pricing. Considering the above-mentioned, key brands are emphasizing on product differentiation to make their offerings stand out on market aisles.
Hypermarket and supermarket chains are also focusing on identifying ties between the current and futuristic consumer preferences, which, in turn, would help rearrange their aisles with multiple varieties catering to different consumer segments.
The Broader Perspective
Though the demand for pens and pallets are growing parallelly in the lip powder landscape, lip powder palettes are estimated to rapidly get into consumers' shopping carts owing to ease-of-application and high convenience. However, it is likely that sales of lip powder pens will gather significant pace, primarily due to their compact sizes and affordable prices. Manufacturers are striving to focus on product innovations, in terms of design and usability, which will be instrumental in boosting their market sustenance.
Lip Powders with 'Value Added'- A New Preference Gaining Grounds
Growing demand for lip powder with essential oils and organic pigments is on the horizon, as modern consumers have started looking for value in almost every product they use. High resistance to chemicals is paving the way for lip powder varieties with essential oils and organic pigments to make their mark on the market shelves. However, trusted habits and comfort concerns will make majority of the customers to stick to conventional lip products, thereby creating challenges for adoption of lip powder.
Key Segment
By Form
By End User
Under 18
Up to 30
Up to 45
Above 45
By Sales Channel
Specialty Outlets
Supermarkets/Hypermarkets
Convenience Stores
Beauty Stores
E-Retailers
Others
Region
North America
Latin America
Europe
Japan
APEJ
Middle East & Africa
Need specific information?