Lip Fillers Market By Product (Hyaluronic Acid Lip Fillers, Poly-L-Lactic Acid Lip Fillers), End User (Hospitals, Ambulatory Surgical Centers, Office Based Clinics, Spas/Beauty Clinics) & Region Forecast to 2019 - 2029
Lip Fillers Market - Analysis, Outlook, Growth, Trends, Forecasts
August 2019

REP-GB-10271

204 pages
Lip Fillers Market - Key Research Findings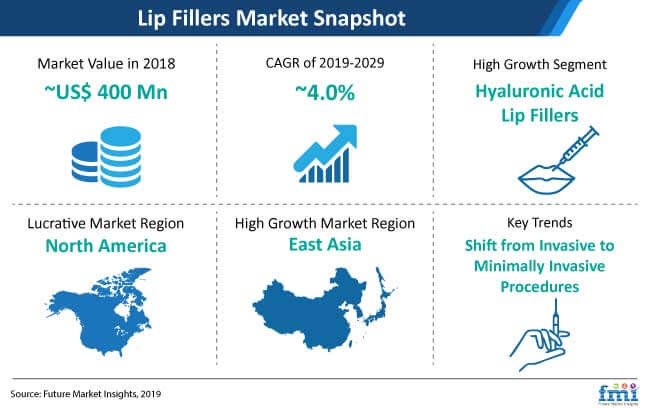 The global lip fillers market size in 2018 was ~US$ 400 Mn.
The lip fillers market is expected to grow at a CAGR of ~4.0% during the forecast period of 2019-2029.
Collectively, regions of North America and East Asia and are likely to account for more than half of the revenue shares of the lip fillers market by the end of 2029.

North America, due to the strong presence of lip fillers, is estimated to continue to be a prominent regional market for the manufacturers of lip fillers.

Hyaluronic acid lip fillers are expected to remain a prominent application area to provide investments to lip fillers market players.

The Poly-L-Lactic Acid segment in the lip fillers market has witnessed significantly low growth over the recent past, due the non-absorbable nature of these fillers.
Key Factors Shaping the Lip Fillers Market
Increase in the Number of Aesthetic Procedures to Boost the Lip Fillers Market
Among the aesthetic procedures performed worldwide, the demand for non-invasive procedures is more and is rising at double digits. The low complexity of the procedure, possibility for reversal of the procedure, and the less time taken as compared to other surgical aesthetic procedures are among factors boosting the demand for non-invasive aesthetic procedures and eventually for lip filler procedures.
According to AASPS, more than 15.9 million minimally invasive cosmetic procedures were performed in the U.S. in 2018. Moreover, increasing training of medical aesthetic providers is expected to improve outcomes.
Proliferation of Payment Options to Increase the Aesthetic Procedure Rate contributing to the Growth of the Lip Fillers Market
Companies have adopted various unique and alternative methods for financing surgical and non-surgical aesthetic treatments, which has made several procedures affordable. However, customers of companies such as Patient Payment Solutions and Care Credit are aware about the fact that cosmetic procedures are not covered under insurance and all the expenses are paid out of pocket.
On the other hand, technological advancements are revolutionizing the beauty industry with cutting-edge treatments and procedures, thus enhancing aesthetic improvements, which is boosting the number of lip filler procedures.
Social Media Influencing the Young Generation for Lip Filler Procedures
Consumers of aesthetic products/treatments have become very receptive of technologically advanced products. The age range for medical aesthetics continues and has further extended. Younger patients in the age group of early 20s to 30s have started realising the benefits of early intervention to suspend the signs of aging.
Social media and celebrities have made it sound like a routine. Patients are taking care of the facial volume and loss associated with aging. Rising individual expenditure on aesthetic and wellness procedures is expected to increase the demand for lip fillers.
Increasing Research and Development Activities for Better Outcomes after Lip Procedures
Improvements in the preparation processes of lip fillers have led to a higher demand for lip procedures.
The development of advanced lip fillers with focus on stabilising the main ingredients and further cross-linking with the gel medium so as to prolong their effect are among the focus areas of manufacturers. Companies are also developing application-specific dermal fillers and expanding their product range to include fillers specific for lip augmentation, those that help increase the volume of the lips, etc.
Technological advancements leading to lip fillers will boost research activities and help boost the demand for modern injection techniques, which are also among factors expected to boost the lip fillers market.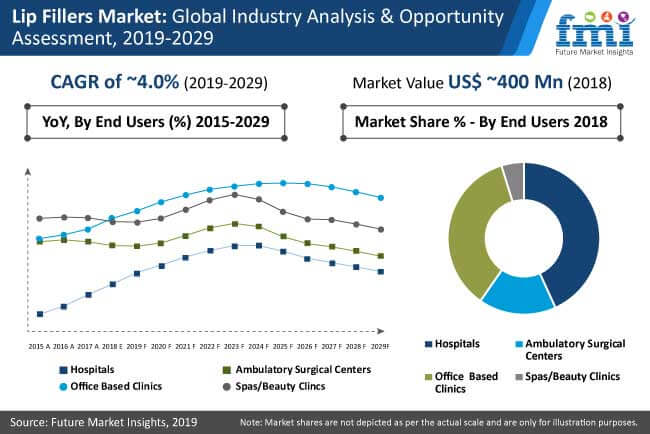 Lip Fillers Market Structure Analysis
The global lip fillers market represents a fragmented competition landscape, where majority of the key players maintain their strategic focus on product launches, expansions in the Asia Pacific region, and targeting a concrete global footprint.
The lip fillers market has been relatively steady in size, which remains a key factor for its dynamic competitive nature.
The leading manufacturers of lip fillers are presently prioritising new product launches and organizing special events to increase training of medical aesthetics, which is expected to significantly boost the adoption of lip fillers in North America, Europe, South Korea, and Thailand.
Regional expansion has also been identified to remain one of the crucial developmental strategies followed by the manufacturers of the lip fillers.
For a stronger foothold in target markets, the manufacturers of lip fillers will continue to rely on inorganic strategies such as acquisitions and mergers.
Lip Fillers - The New Aesthetic Normal?
Lip augmentation, or cosmetic lip enhancement, has made its way into one of the 'most-searched' cosmetological procedures worldwide, primarily driven by the growing focus on facial aesthetics. Prior to the 1990s, the concept of cosmetic lip enhancement or lip augmentation wasn't popular enough and was considered as an expensive and risky procedure, with only an affluent section of the society opting for it.
However, these assumptions were soon upended by the introduction of non-surgical techniques that not were highly affordable and accessible but also promised enhanced outcomes with minimum inconvenience.
Lip fillers have gained immense popularity among all other types of lip augmentation procedures, for the fact that they can be easily availed for affordable prices at the nearby hospitals or outpatient clinics. Recent approvals by FDA have further pushed the commercialization of lip fillers, making it one of the fastest-growing facial procedures both in the U.S. and the U.K.
Deciphering the Shift from 'Silicone' to 'Hyaluronic Acid'
Use of liquid silicone for lip augmentation is losing its space in the consumer space, as dermal fillers are overshadowing the former with high convenience and enhanced outcomes. Considering the fact that hyaluronic acid products is a naturally-occurring compound found in human bodies, the hyaluronic acid-based lip fillers pose minimum to no risks, unlike silicone injections that are unsafe in most of the cases.
In addition, hyaluronic acid also has moisture-retaining effect that keeps the lips soft and makes it look hydrated, which is also a key attraction of hyaluronic acid-based lip fillers.
However, the voluminous lips offered by hyaluronic acid-based solutions do come at a heavy price, for the fact that use of these fillers trigger minor to major complications in rare cases. Vascular occlusion is one of the serious complications associated with use of hyaluronic acid-based lip fillers, which can potentially harm the blood vessels via clot formations.
Tracking Opportunities in East Asia: Dawn of a New Era of Expansion
Companies active in the lip fillers market are eyeing significant expansion opportunities in the East Asian countries, such as China, Japan, and South Korea. Consumers across China, Japan, and South Korea continues to be at the forefront of demand for various types of cosmetological procedures, which collectively make these countries no less than gold mines of growth and expansion opportunities for companies operating in the lip fillers market.
Though there are marked differences between preferences of Japanese, Chinese and South Koreans and what trends they embrace, these three markets mutually benefit from cultural diffusion and reciprocal influences.
Social Media Influence - The Booster to Build-Up of Lip Filler Demand
Over the past few years, it has become apparent that social media culture is shaping beauty trends and in which patterns consumers embrace these trends. With this impact growing strong with each passing year, it wouldn't be wrong to say that consumers will increasingly rely on social media channels to not only comprehend personal traits but also make purchase decisions.
Ever since 'selfie' has come out as one of the most popular hashtags across social media platforms, the obsession with voluminous and contoured lips have gained new heights, thereby making social media rank among the biggest growth catalysts in the lip fillers market space.
On one end where social media rules as a key precursor of cosmetic surgery growth, it is also serving as a primary marketing channel with the potential of creating huge differences. Brands developing lip filler solutions continue to focus on social media marketing for devising influential campaigns, which, in turn, would help them to get hold of larger customer bases.
How Growth will Unfold?
Manufacturers are entering into long-term contracts with hospitals, surgical centers, and spas & beauty clinics, which ensures continued revenue growth of the market players. Also, a handful of manufacturers are launching lip fillers that can be tailored to meet every individual patient's requirements and needs, by considering the fact that personalization is emerging as the new normal across every industry.
Market players' focus on mergers and acquisitions will remain intact, with a primary objective of attaining high growth via combined expertise and shared pool of resources. The lip fillers market reflects a fair degree of consolidation by the top three leading players - ALLERGAN, Galderma Laboratories, and Merz Pharma GmbH & Co. KGaA - who are commanding for a hefty chunk of the global market share.
World's Most Profilic Intelligence Engine
Get Access To The World's Largest Market Research Database.
Sign Up Now
Key Segment
By Product Type
Hyaluronic Acid Lip Fillers
Poly-L-Lactic Acid Lip Fillers
By End User
Hospitals
Ambulatory Surgical Centers
Office Based Clinics
Spas/Beauty Clinics
By Region
North America
Latin America
Europe
South Asia
East Asia
Oceania
Middle East and Africa
Need specific information?
Our Clients