Introduction
Commonly known for catalyzing the hydrolysis of the lipids, lipase continues to witness significant demand in the enzyme industry. Besides the enzyme industry, lipase is expected to witness increasing demand other industries such as food and beverage industry, oleo chemical industry, cosmetic industry and biosensors industry.
Demand for lipase is further bound to production of the biodiesel and organic synthesis. Attributed to increasing demand for lipase in various industries, growth prospects of the global lipase market will remain positive.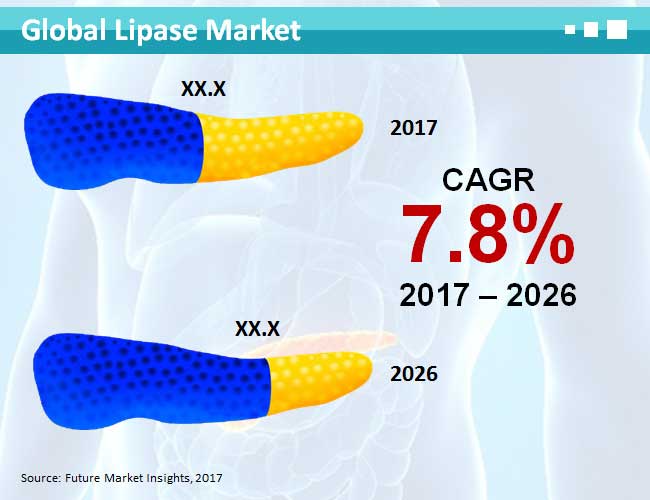 According to Future Market Insights, the global lipase market is expected to represent a value of over US$ 1,000 Mn by the end of 2026.
Obesity to Impact Growth of Global Market
Consumption of fatty food items and carbohydrate rich food products has led to various health related disorders including indigestion, bloating and abdominal discomfort. Growing need to prevent prevalence of such disorders has led to an upsurge in demand for lipase globally. Moreover, prevalence of obesity, cholesterol, celiac disease and high triglyceride further continues to contribute towards growth of the global lipase market.
According to a recent report by the World Health Organization, 39% of the adults within the age bracket of 18 years and above were recorded overweight in 2016, and 13% were recorded obese. Lipase breaks down the fats into glycerol and fatty acids and prevents possibilities of obesity and weight gains. Bound to these factors, growth of the global lipase market is expected to represent a positive growth.
Demand to Remain High in Dairy and Food Industry
Bound to various benefits such as enhanced texture, flavor and shelf life, demand for lipase continues to increase in the food industry. Growing need for hydrolysis of the milk fat has continued to rev up demand for lipase in the dairy industry globally. Surge in demand to modify the flavor and fragrance compounds in the food products is further expected to impact growth prospects of the global lipase market.
Manufacturers increasingly use lipase as a flavor enhancer and manufacture of dairy products such as cheese and coffee whiteners. Application of lipase in the coffee whiteners produces buttery texture of caramel and toffees and also produces creamy flavor. Attributed to various industrial and health benefits, demand for lipase is expected to remain positive in the food and beverage industry.
Biosensors Technology to Underscore Lucrative Growth Opportunities
With the recent progress in the field of nanotechnology, electronics and biology, the biosensors technology has continued to witness significant development. As they are resistant to solvents, lipases are significantly exploited in the broad spectrum of the biotechnological applications. Lipase can hydrolyze the fats into glycerol synthesis and fatty acids at the water-lipid interference and can conveniently reverse the process in the non-aqueous medium.
Leading biotechnological applications such as biodiesel production, biopolymer synthesis, nutraceutical agents, biotechnological applications and pharmaceutical applications have successfully been established bound to lipase technology.
Detergent Industry to Boost Demand
Demand for lipase continues to increase for the production of various house cleaning products and detergents. With the growing need to clean the clogged drains and removing the fatty deposits has led to an upsurge in demand for the lipase in the detergent industry. As lipase enzyme application enables in removing the fatty residues, manufacturers are increasingly looking for various lipases such as amylases and proteases to offer products with enhanced efficiency.
Moreover, the detergent industry regulated by the European Commission is considered as a major enzyme consuming sector. Growing concerns regarding the persistence of detergent chemicals and its possible contamination of the environment and ground water along with the other health related issues has continued to raise speculations regarding its biodegradability. This continues to provide impetus for significant consumption of enzymes with the increasing demand for green laundry detergents.
Microbial Source to Represent a Leading Segment
With the rapid development in the enzyme technology, demand for the microbial lipases market is expected to increase globally. On the basis of source type, the microbial source segment is expected to generate significant revenues, accounting for a value of over US$ 300 Mn by the end of 2026. On the other hand, the animal source type segment is expected to register a robust CAGR in the global lipase market during the forecast period.
Based on application, the food segment is expected to witness significant revenue growth, recording a value of less than US$ 100 Mn by the end of 2017. On the contrary, the animal feed application segment is expected to register the highest CAGR in the global lipase market through 2026.
By forms, the liquid segment is expected to represent the highest growth in terms of revenue, accounting for a value of over US$ 200 Mn by the end of 2022. However, the powder form segment is expected to register a healthy CAGR during the forecast period.
Competition Tracking
Leading market players operating in the global lipase market include Novozymes A/S, Koninklijke DSM N.V., Chr. Hansen Holdings A/S, Amano Enzymes Inc., Associated British Foods PLC, E. I. Du Pont De Nemours and Company, Advanced Enzymes, Clerici-Sacco Group, Renco New Zealand and Enzyme Development Corporation.
Key Questions Answered by the Report
What is the size of the lipase market?

The lipase market is expected to grow at a promising 7.8% CAGR between 2017 and 2026. The market crossed a US$ 1 billion valuation by 2026.

Which is the largest market for lipase?

Europe is a critical market for lipase. Growing demand for processed foods such as bread and other baked goods, and growing health consciousness in the region support regional lipase demand.

Which are the top companies in lipase market?

Enzyme Development Corp., Novozymes A/S, Renco New Zealand, Koninklijke DSM N.V., Clerici Sacco Group, and Chr. Hansen Holdings A/S are among the key market players in the global lipases market.

What are the applications of lipase?

Lipase is largely used in the food and beverage sector. The market is also gaining demand through applications in the production of cleaning products such as detergents.

From what sources can lipase be extracted?

Manufacturers produce lipases from 3 key sources – plant, animal, and microbial. The production of microbial lipase has grown on the back of innovations in enzyme technologies.

What is the outlook on Europe lipase market?

Europe is displaying strong growth on the back of bakery and dairy industry applications, particularly in cheese processing applications, with new tech to produce genetically modified strains.

What is the market positioning and strategies of market players?

The global lipase market is largely fragmented with a number of regional and global players. Owing to wide scope of applications market players are pushing for efforts towards innovation and production expansion. This includes acquisitions of small-scale players in foreign nations.
Market Taxonomy
Region
North America
Latin America
Europe
Japan
APEJ
MEA
Source
Microbial Source
Animal Source
Plant Source
End-Use
Dairy
Animal Feed
Food
Chemicals
Others
Form
Need specific information?